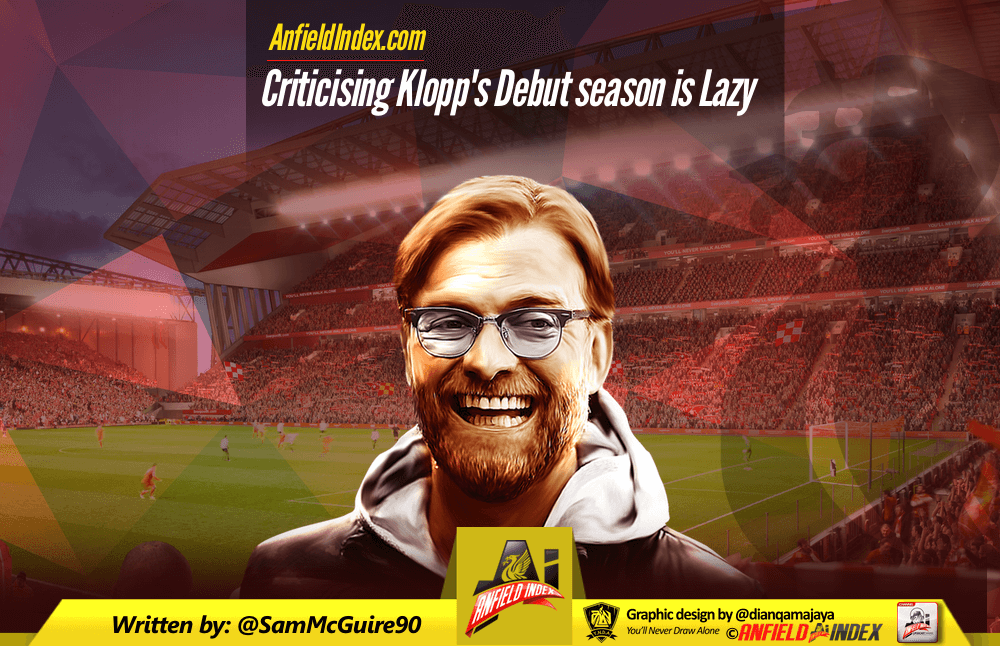 Criticising Klopp's Debut season is Lazy
It's bewildering to me but there are some fans who are dissatisfied with how Jurgen Klopp's first season as Reds boss panned out. A run to the Europa League final littered with memorable moments and a League Cup final wasn't enough to appease an impatient, Premier League deprived bunch of fans. Those who seem offended at the God like status Klopp already has with the Anfield faithful.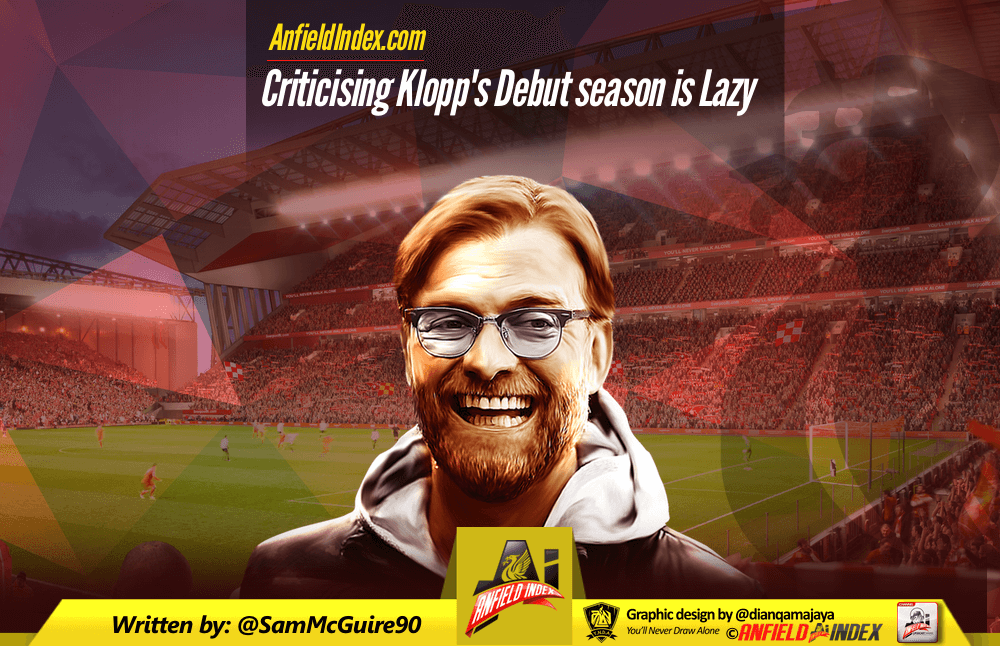 Tony Evans recently wrote a piece for ESPN about Klopp's debut season in England with a special emphasis on just how he's failed to live up to the lofty expectations set by jubilant fans when he was appointed in October 2015.

"Klopp is clearly an upgrade on Rodgers but that has barely shown in results. He had 31 Premier League matches to organise and inspire the team. Before Klopp, the team were averaging 1.5 points per game. After the German's arrival that figure rose to 1.6."
A stat without context is basically a just a number.  Mr Evans has certainly been creative with his use of numbers here. A review of the entire season yet he's only included league points in the comparison. It doesn't take into account Liverpool played weakened sides for the majority of the final eight league games with the Europa League rightly taking priority and still managed to accumulate only two points fewer than Brendan Rodgers' Liverpool in the 2014/15 season. For a bit more context Manchester City's points per game total was just the 1.7, so Klopp isn't far behind that.
I'm fairly certain when I say Liverpool fans would've preferred being in a situation where they were just the 45 minutes away from a Champions League football ahead of having a 1.8 points won per game total in the league over the entirety of Klopp's first season . Perhaps I'm mistaken though.
He also fails to take into account the number of games Liverpool played this season, 63 in total. Of course a club like Liverpool should plan to go deep into the competitions but what you've got to realise is Jurgen Klopp didn't have a pre season with these guys. These players weren't conditioned to play that amount of games in Jurgen Klopp's style so they were adapting as they went along. It would've been easy for Klopp to bin off the cup compeitions and concentrate on a good league finish but that's not the type of man he is. He's a winner and he wants to win every competition available to him.
Evans talks about there not being a noticeable difference between results under Klopp and results under Rodgers when in fact there was a stark contrast between the two managers. Rodgers' Liverpool scored 10 goals in those opening eight matches conceding 12. In the reverse set of fixtures Klopp's side scored 24 and conceded 12. Klopp took 16 points from the 24 on offer, Rodgers took 11.
The Reds under Klopp ran riot against City, both at home and away, and dismantled Chelsea at Stamford Bridge. They beat Manchester United in Europe when the pressure was really on. They followed up that victory with memorable turnarounds against Dortmund, who were arguably the most in form side in Europe at the side, and Villarreal, a side who finished 4th in La Liga with relative ease.
Liverpool are a force in Europe once again. That's not a jab at Rodgers, that's just stating the obvious. His LFC sides didn't turn up in European fixtures.
The German had his side playing some fluid attacking football reminiscent to when Liverpool blitzed the league in 2013/14. They were unrecognisable to the Liverpool side who looked as though it was a struggle to score goals earlier on in the season. Klopp unlocked and unleashed his side. In Rodgers' last 50 games as manager Liverpool only scored 3 or more five times, Klopp's first 50 saw his sides score 3+ on twelve occasions, and against much better opposition.
Rodgers' 3+ came against Spurs, Villa, Swansea, Leicester and Bournemouth. Klopp's 3+ arrived against Chelsea, City x2, Dortmund, Villarreal, Everton, Stoke, Villa, Southampton, Arsenal, Exeter and Norwich.
Rodgers' final 50 saw him register 23 wins an 13 draws, Klopp's first 50 saw his Reds side win 23 and draw 17. So that's fewer defeats and more goals scored under Klopp.
There's a difference.
There's also a difference in the character shown by the players under Klopp. Liverpool got something a losing position on fifteen occasions last season having done so only twice under Rodgers in the previous season.
Few defeats. More goals scored. Added fight in the players.
Such a turnaround occurred whilst Liverpool were in the midst of an ongoing injury crisis. I can't recall if Klopp had the opportunity to name what many would say is his strongest squad once last season. At one stage or another Liverpool were without Dejan Lovren, Mamadou Sakho, Jordan Henderson, Emre Can, Joe Allen, Christian Benteke, Daniel Sturridge, Danny Ings, Divock Origi, Adam Lallana and of course Joe Gomez.
Klopp not only had to adapt to a new squad midway through the season, he also had to learn about them as he went along whilst simultaneously putting together a team capable of competing despite so many injuries.
Tony Evans in the past has lambasted this 'average squad' yet expects miracles from Klopp. Reaching the Europa League final was a miracle and even that wasn't enough to appease him. There's an abundance of proof to show things have improved under the charismatic German yet he uses a solidarity stat without context as proof to show very little has changed.
He seems to resent the fact people are fawning over a manager who has come in and changed the feeling around the club almost instantly. He deserves our trust and our support. To put it bluntly Klopp could've gone anywhere in the world, he chose us when we were at a low ebb so it's no wonder he's treated like a rock star. Many can't quite believe their luck.
He's by no means perfect. There have been a few occasions throughout the season were his in game management has been called into question. He seemed sluggish to react to what was happening in the Europa League final as Liverpool crumbled under the Sevilla pressure. In hindsight he probably would've subbed Joe Allen on for an attacker when it was 1-1 to restore some balance and control in midfield. He's human though, he's allowed imperfections.
The circus that surrounded his appointment may have been over the top but come on, give him some credit eh?