After Liverpool announced the signing of Loris Karius my wife, who has a fleeting interest in football at best, asked if he was a footballer or model which left me thinking what would be the club's best looking team?
From the '90s Spice Boys to the face cream team in the Nivea adverts here's a look back at past and present Liverpool players who arguably make the best looking team of all time.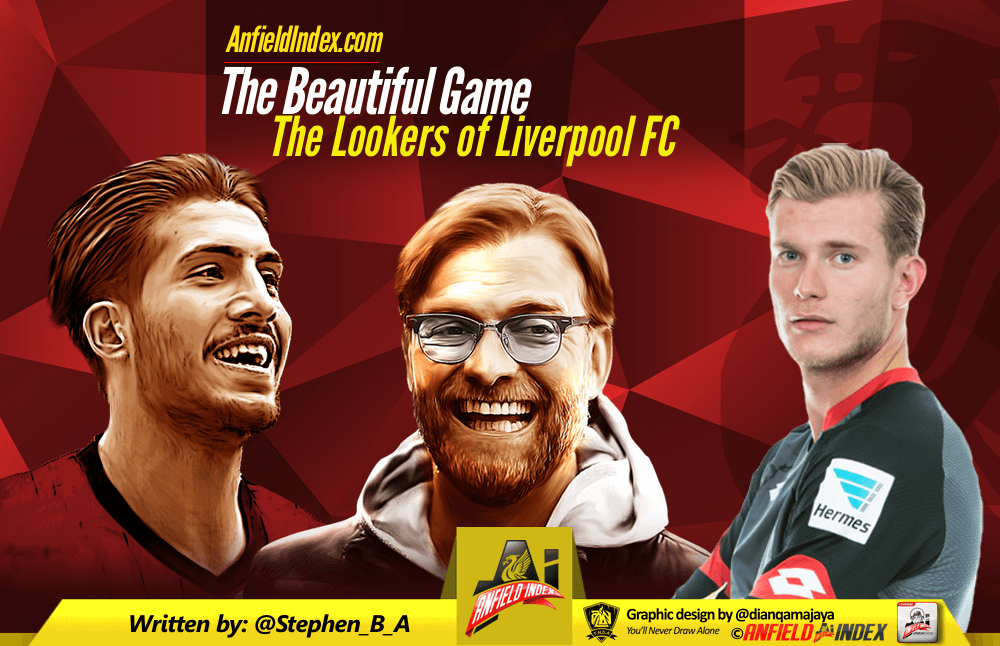 The Manager: Jurgen Klopp
There's only one candidate here and it's Jurgen Klopp. Partly due to his charisma and charm and partly because I'd never get a Tweet from Nina again if he wasn't in here! The German charms us with his pitch side passion, his honest press conferences and laid back good looks.
Goalkeeper: Loris Kairus
The new signing has inspired the team so there's no way he's not one of the stars of the show. 6ft 2, blond and probably as happy in front of a camera as he is staring down a penalty taker, Karius is part of a new wave of post boy players.
Left Back: Fabio Aurelio
With Flanno, Dossena and Riise recently filling the number 3 shirt, this was one of the easier decisions. Easy on the eye and the master of a beautifully placed dead ball, his goal against Utd will forever add to his charm.
Centre Back : Daniel Agger (captain)
Not only is Agger the best looking defender to have played for Liverpool, he's also the best looking player to have captained the team. Whether it's his model-esque looks, his YNWA tattoo or his open love for the club and the fans, he's the heartbeat of this good looking team.
Centre Back: Kolo Toure
Kolo Toure's smile. Need I say more?
Right Back: Jason McAteer
Another Nina favourite, the cheeky Irishman might be a dreadful pundit but he was a '90s poster boy and part of the infamous men in white suits. He might not have been as popular with teenage girls as Redknapp, but his more rugged looks were not doubt popular in our fan base.
Defensive Midfield: Emre Can
Probably Sachin's favourite on the list going by his recent tweets and a firm fan favourite, Emre is a mountain of a man. Is he a Spartan, a footballer, or both? Can's chiseled jaw and immaculate hair will hopefully be gracing the Anfield pitch for years to come.
Centre Midfielder: Xabi Alonso
A cultured, deep lying playmaker who combines beautiful football with being a beautiful footballer. A true gent, a club hero and still among the best looking men in the stadium during his regular visits to Anfield.
Centre Midfield: Jamie Redknapp
Redders is another one for the fans of my generation. He may turn off many as soon as he speaks, but at the peak of his footballing powers he was the club poster boy and alongside Louise one of the best looking couples to grace Anfield's Main Stand. They were our very own, if slightly less glamorous, Posh & Becks.
Left Wing: John Barnes
A legend on and off the pitch and among Liverpool's original heart throbs. Silky skills, masculine looks although a terrible rapper — well, something had to give.
Right Wing: Patrick Berger
Long hair, check. Official club poster, check. Alice band, check. Berger pulled off the looks and style of a stereotypical pre-madonna flair player in ways that David James can only wish to.
Centre Forward: Fernando Torres
Not just a heart breaker for how he left the club, but also for his looks.
Notable mentions, also known as the bench:
Pepe Reina, just because.
Dejan Lovren, more chiseled in looks than refined as a player.
Glen Johnson, if only he was as good a footballer as he is a model!
Adam Lallana, baby faced pin-up and the face of the LFC Nivea Cream team.
Joe Allen's beard.
Albert Reira, his jawline alone gets him a place on the bench.
Fernando Morientes, the epitome of tall, dark and handsome.
With 123 years of history I've no doubt missed a few gems, but in my humble opinion this is one dashing bunch of red men!