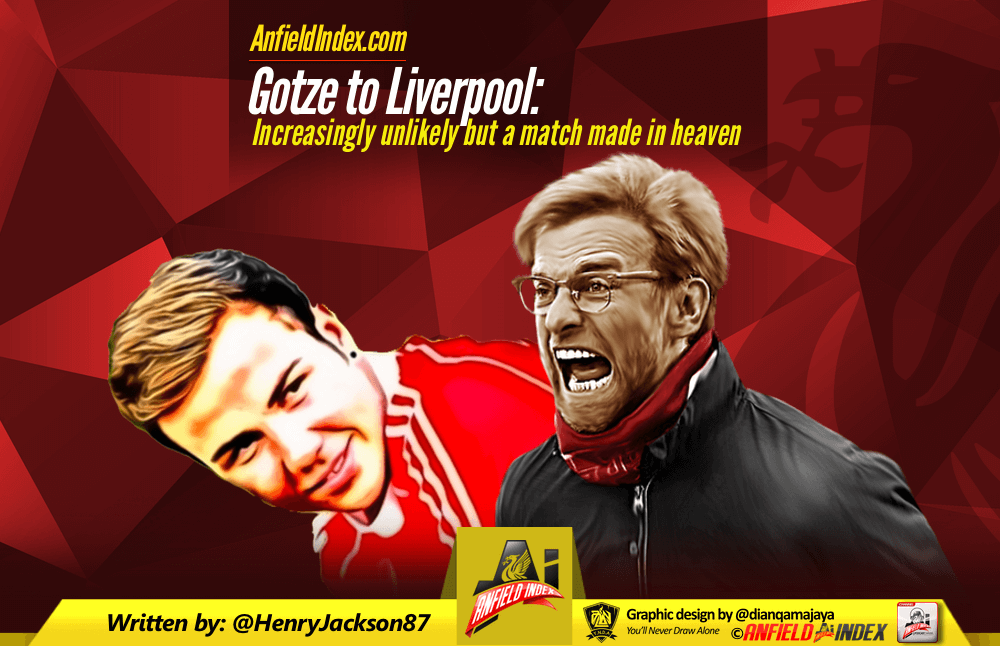 Gotze to Liverpool: Increasingly unlikely but a match made in heaven

Mario Gotze's mind must be absolutely pickled.
He has current club Bayern Munich making it abundantly clear that they don't want him, despite the 23-year-old expressing his desire to stay. It's almost a bit sad.
Then there's former team Borussia Dortmund, who remain an option this summer, but don't exactly seem desperate to re-sign their golden boy from the early part of this decade.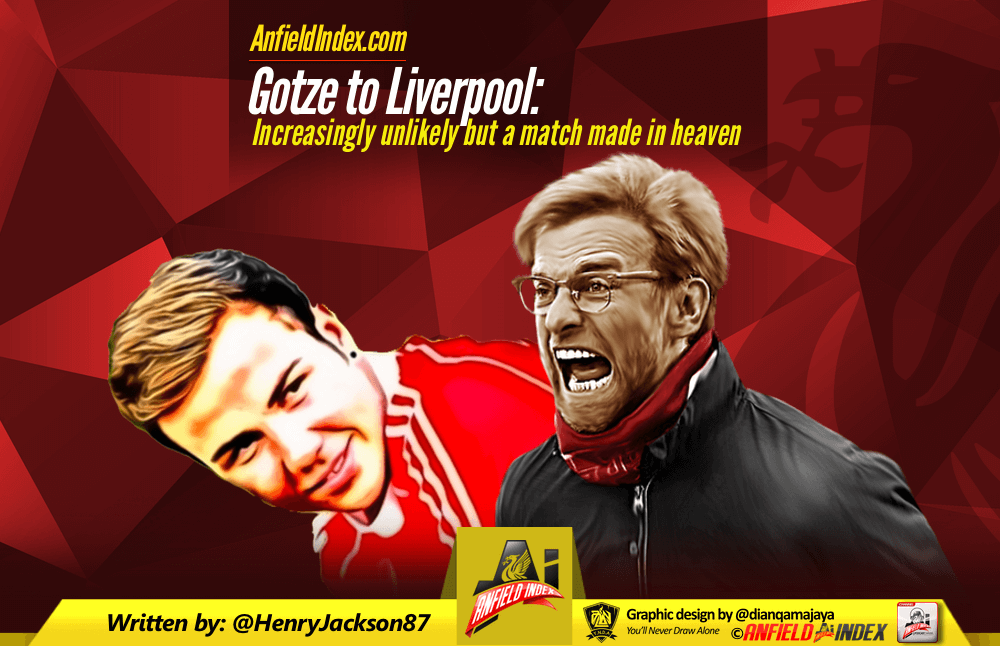 Then, of course, there is Liverpool. The club that we all love so much, but who consistently leave us tearing our hair out in the transfer window. I've already got Mark Noble's name on the back of my shirt, in preparation for his shock Deadline Day arrival.
Anyway, back to Gotze.
He reportedly had a €25million move to Anfield sewn up earlier in the month, only to sack his agent and do an enormous U-turn. Did the insipid Europa League final defeat to Sevilla, robbing the Reds of Champions League football, play a part? Or are we reading too much into it all, this early in the summer?
Either way, it looks set to be a transfer saga that will roll on and on, and with Euro 2016 dominating a chunk of the summer, it may not be until July or August that we find out for definite where Gotze's future lies.
Call it bias, and trust me rival supporters will, but the young German will be making a huge mistake if he chooses not to reconvene with former mentor Jurgen Klopp and move to Liverpool this summer.
It is a match made in heaven for both Gotze and the Reds, and the former's stuttering career would receive a much-needed injection of momentum, following a disappointing few years.
Gotze's time at Bayern has to go down as a failure, since moving from Dortmund in the summer of 2013, even if he has still managed a respectable 36 goals in 114 appearances.
He was tipped to do great things at Allianz Arena, having shone so brightly with BVB, but his form has been inconsistent and he failed to nail down a regular place in the starting line-up under Pep Guardiola.
The likes of Robert Lewandowski, Thomas Muller, Arjen Robben, Franck Ribery and Douglas Costa have all stolen the limelight from their talented younger teammate, and even teenager Kingsley Coman is now ahead of him in the pecking order. His reputation has suffered because of it, and it has all gone rather stagnant.
New Bayern manager Carlo Ancelotti has made it clear he doesn't see him as part of his future plans, but this is nothing to be ashamed of. Sometimes, a transfer simply won't work out. Look at Angel Di Maria at Manchester United, for example.
Moving to Liverpool would make Gotze the main man – something he has thrived on since youth team days – despite the obvious brilliance of Philippe Coutinho, Roberto Firmino and Daniel Sturridge.
Coutinho is majestic on his day, Firmino is a proven match-winner and Sturridge scores relentless streams of goals. But Gotze is better than all of them, when fully fit and firing.
This is a footballer of serious pedigree, who famously scored the winning goal in the 2014 World Cup final. That goal is criminally underrated, by the way. It is effortlessly brilliant.
Gotze has played in the biggest games, under the biggest pressure, and he would bring a winning mentality that often gets downplayed because of his cherub-like features. His best years are also ahead of him.
Much like Firmino, a lot of Gotze's brilliance goes under the radar, but his world-class blend of goals, assists, clever movement and underrated work-rate would help Liverpool go up another gear.
It feels like the perfect move for him in so many ways, and he would be instantly adored by Reds supporters.
He knows exactly what Klopp is like to work with – he famously had an almost father-son relationship with him at Dortmund – and he would come straight into a team playing a style of football that perfectly suits his game.
There would, understandably, be concerns on Gotze's part about a lack of European football, but you'd like to think he sees the bigger picture.
He can join a 'project' – a horrible saying – that is in its early stages, and a little like Eric Cantona when he moved to United in 1992, he can be the talisman who takes Liverpool to the next level.
It is easy to forget that, in 2010, German legend Matthias Sammer described him as "one of the best talents Germany has ever had", with many tipping him for future greatness.
Sammer is not one to mince his words, and considering the remarkable players Germany have produced throughout history, it highlights just what Gotze is capable of.
It may sound high and mighty to say that his future should belong at Liverpool, but much like Klopp, he seems like the perfect fit.
A fresh challenge is required, and rather than sit on the substitutes' bench at Bayern or potentially even risk the same at Dortmund, being Liverpool's stellar signing and new hero would suit him down to the ground.
It would be an understandably bold decision for Gotze to make, but one that would pay off handsomely in the long-term.
The move looks increasingly unlikely, but if things take a rapid turn, it would be a game-changer for both Liverpool and Gotze.
There should be no meltdown from supporters if it doesn't come to fruition, but if it does, there would be reason to feel extremely positive.