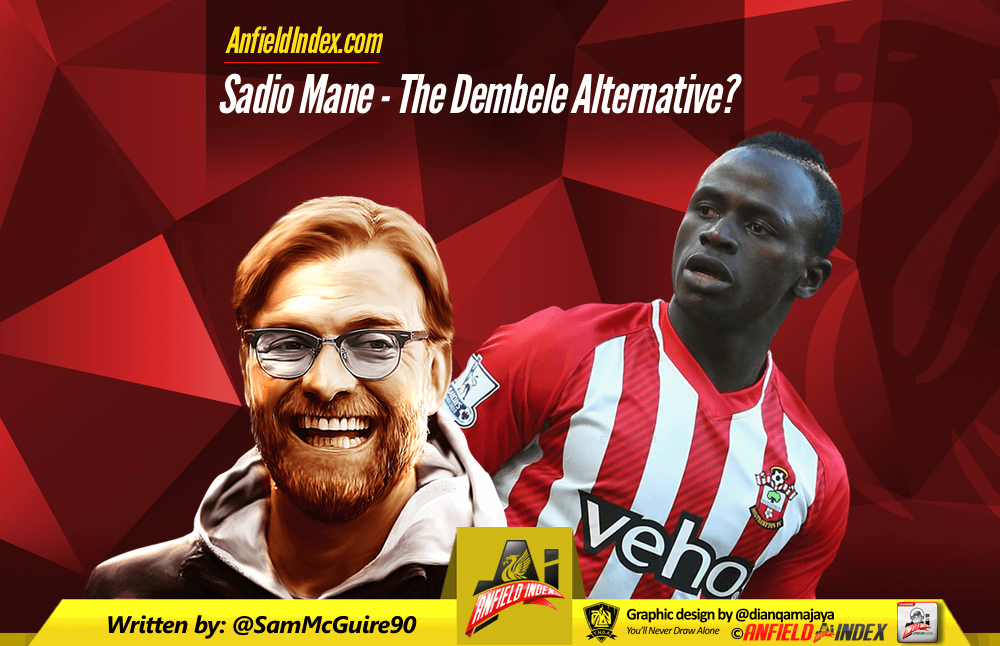 Sadio Mane - The Dembele Alternative?
Paul Joyce sent Twitter into a bit of a meltdown with the news that Liverpool were looking at £25 million Southampton attacker Sadio Mane as an alternative to Mario Gotze. Reports surfaced earlier this week about how the German looked set to join Liverpool, even agreeing personal terms, before an amazing u turn saw him sack his long term agent and imply his future was with Bayern.
Initially many people were sceptical of the link. £25 million for yet another Southampton player who isn't similar in terms of playing style to top target Mario Gotze. It didn't really make sense and the fact this was the contingency play for missing out on a world class player in Gotze seemed to antagonise an already frustrated fan base. If you take a step back to look at the bigger picture a link to Mane makes sense.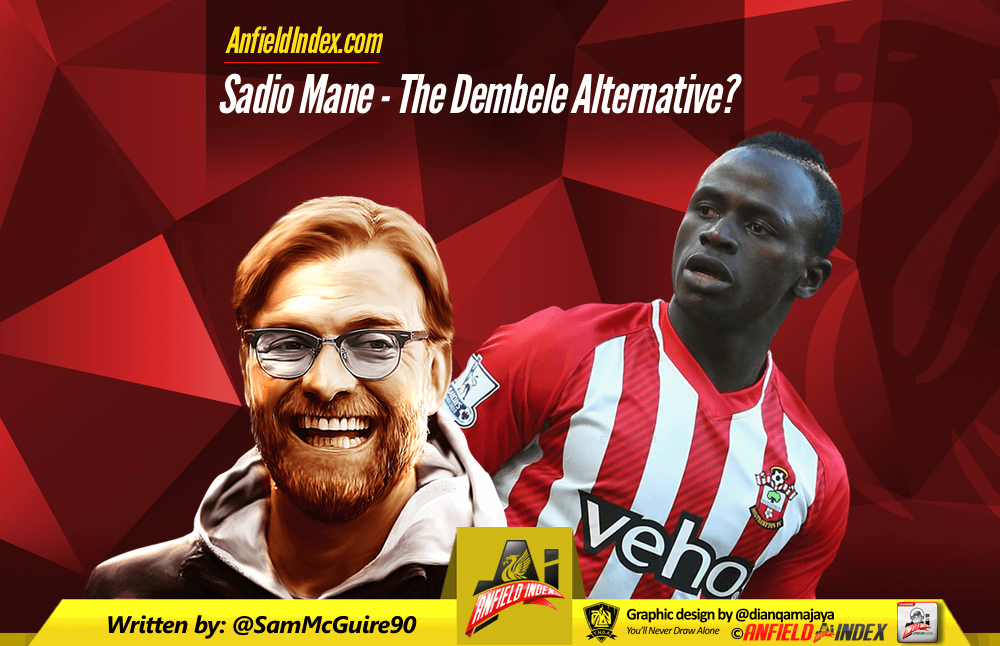 Cast your minds back to January when Liverpool had an Interest in Shakhtar attacker Alex Teixeira. The versatile Brazilian had an abundance of pace, an eye for goal and an admirable work rate. Reds boss Jurgen Klopp liked his Dortmund side to have goals throughout the team, especially from the players supporting the striker, so Teixeira made sense. It was a player with this sort of profile that Klopp seemed to want to add to the squad. The move never materialised because apparently Klopp didn't feel Teixeira was value for money in January.
The link to Mario Gotze seemed to be more opportunistic. It's not often a player of that calibre becomes available, and it's almost unheard of for a player of his quality to be available for such a small fee (£20 million). It makes sense to revert back to a Teixeira type of player after missing out on Gotze.
There's also a chance that Mane is the Ousmane Dembele fallback option. It's no secret that Liverpool were in for the Frenchman and Mario Gotze. It wasn't one or the other. Had Paul Joyce worded his piece a little differently to imply the Southampton player was an alternative to Dembele then perhaps the reaction on Twitter would have been a little different.
Working off the assumption Mane is the back-up option to Dembele, who in turn was a plan B to Alex Teixeira, it's a link that has a lot of credibility to it.
The new Dortmund attacker had a superb season for Ligue 1 side Rennes. His end of season stats make interesting reading. He finished the season with 12 goals and 5 assists, a 71% pass success rate, he successfully completed 4.2 dribbles per 90 and won 0.8 tackles and made 0.7 interceptions per 90. Influential in attack but he didn't shirk his defensive responsibilities.
Alex Teixeira's stats aren't too dissimilar. His final season with Shakhtar before his move to China, saw him register 26 goals in 25 games. He had an 82% pass success rate, 2.2 dribbles, 1 tackle and 0.8 interceptions per 90.
So how does Sadio Mane compare on paper?
The Southampton attacker finished the season with 11 goals and 6 assists. He did finish the season with 8 goals in the final 8 games to pad his stats slightly, meaning he only scored 3 goals throughout the rest of the season. He was involved in a goal ever 153 minutes. For context here Philippe Coutinho was involved in a goal ever 154 minutes. Goals and assists aren't the be all and end all though when judging a player.
He finished with an average pass success rate of 80%, 1.5 tackles and 1 interception per 90 and 2.1 completed dribbles. When looking at attacking players anything over 2.3 when you combine tackles and interceptions is impressive. As a reference point Liverpool's Roberto FIrmino's combined total was 2.7 in his debut season at Liverpool.
What is interesting though is the fact prior to his move to Southampton Mane played for Salzburg in Austria. In his final season there he averaged 2.7 tackles per game. It's an inferior league but it helps paint a picture of the player. Before moving to Liverpool Firmino, renowned for his work rate, averaged 2.7 tackles over three seasons for Hoffenheim. It's clear to see why Mane may be an appealing prospect for Klopp, on paper nevertheless.
If this is the type of player that Klopp is after then one name that may be near the top of his list is Lyon's Rachid Ghezzal. Skilful, pacey, direct and confident. The 24 year old Algerian had an impressive season in Ligue 1, he was integral in Lyon turning their season around.
The versatile attacking midfielder had a 77% pass success rate, 1.2 tackles and 0.8 interceptions and he completed 2.2 dribbles per 90. He was involved in a goal every 99 minutes. The versatile left footer would bring some balance to the Liverpool attack. He'd also cost about £10 million less than Mane.
https://www.youtube.com/watch?v=nZKGygUtrhw
If you strip away the fact Mane plays for Southampton and look at his profile he's the sort of player who Liverpool could do with. However his inconsistent form and the price tag attached to him make him a risk. Liverpool don't exactly have the best track record with risks in general and buys from Southampton.