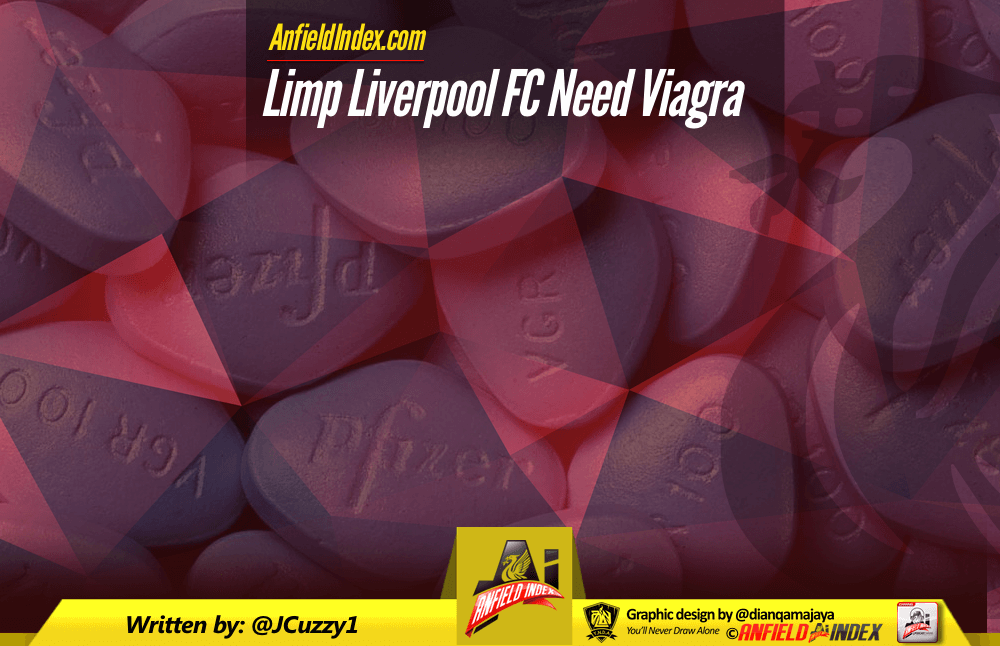 Limp Liverpool FC Need Viagra
A few weeks ago I said on the Nina Kauser show that I'd write an article on Daniel Sturridge. I very much meant it at the time but a few days later I came to regret making such a very public promise.
The very thought of another Sturridge article or debate bores me to tears. So I fucked it off and instead tried to come up with something different.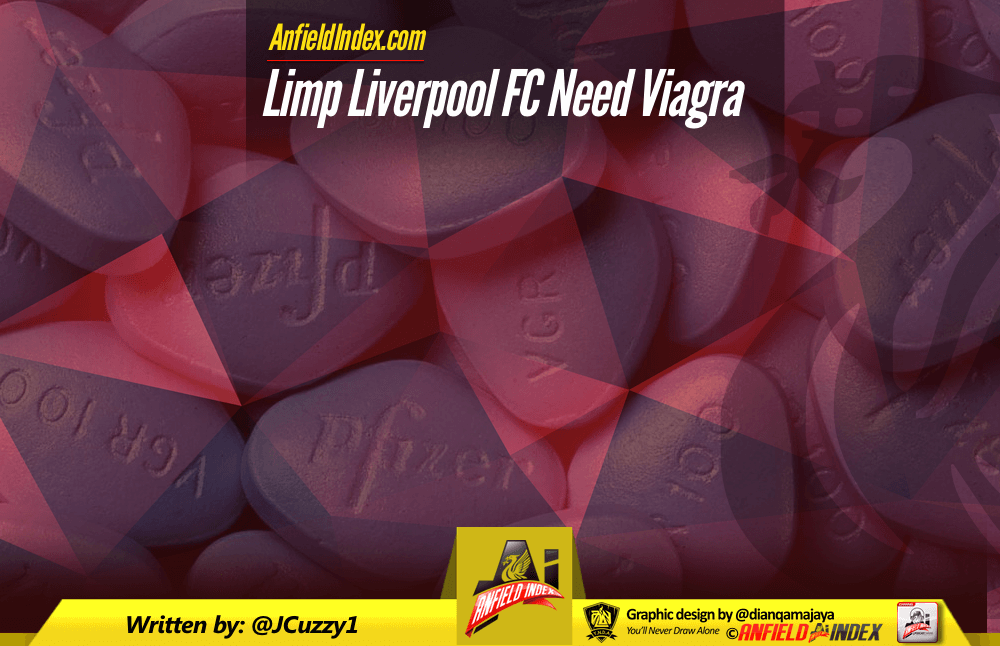 To be honest with you I've been struggling to come up with anything that might give you pause for thought or make you laugh. I've attempted five different pieces and they have all ended up in the bin. It has to make me pause for thought or make me laugh before I release it to you good folk, so, like most of the Liverpool players in Basle, I quit!
I thought I had gotten away with quitting too, until Gags, aka The PodFather aka Darth Tandon, put me on blast on Twitter. The bastard.
If you've read any of my previous stuff you'll know that I like to come up with witty analogies to describe a particular predicament that Liverpool football club find itself in. This time will be no different.
That Europa League final performance stunk and I can still smell it. They beat Manchester United comfortably, they beat Dortmund in the most dramatic circumstances and then they beat Villarreal in a very comprehensive manner, only to go limp in the final against a team that is, in my opinion, inferior to the three aforementioned.
I thought the Liverpool players had finally turned a corner. Having won those matches to get to the final suggested they had come of age. They responded to pressure brilliantly and handled adversity admirably.
So watching them freeze when it really mattered was tough to take. Did you see Klopp's face at the end? I've never seen him look so gutted. If you looked up 'what the fuck just happened!?' in a dictionary you'd see that Klopp expression staring right back at you!
I used the word "limp" earlier and I think that word is very accurate to describe Liverpool FC when it really matters. They just can't get it up for the big occasion.
Your Cuzzy analogy
You've fancied a girl in the office for a long time. You make the odd small talk which goes down well. You think she likes you but you're not sure. You test the waters with some cheeky banter. It's well received. One day you ask one of the other girls if she has a fella. Nope. Single. And as a matter-of-fact rumour is she likes you.
You can't help but walk back to your desk with extra swagger. But first you go to the kitchen for a tea.
All of a sudden the girl you fancy walks into the kitchen. She has a beaming smile and is confident. She gently touches your arm "hi, how you doing?" You open your mouth to respond but no words come out. Your throat has never been this dry before and you're stirring the milk into the fucking tea for what seems like an hour.
Finally your brain clicks into gear and you offer her the milk. She flashes that smile again and touches your hand as she grabs the bottle. Suddenly you've developed a bit of a stiffy in your shorts, not full on Will Ferrell in Anchor Man but enough for it to be awkward should she look down. It's a good thing you're wearing jeans.
The good news is she still attempts to instigate small talk. The bad news is your responses make Odor from Game of Thrones sound articulate. Eventually you both leave the kitchen. You go back to your desk feeling like Emanuelle Eboue at the Emirates minus the booing and the tears. It's not that bad but you've put in a shocking performance. 2-0 down so to speak.
Fortunately for you there's after work drinks that day. You go into it determined to make amends. Fire in your belly. You get to the pub, find the girl and you deliver! You're at your most witty and charming. James Bond ain't got shit on you. Later you move on to a night club. Just the two of you. Have a little smooch. You go your separate ways at the very end but you're there. You've turned it right around. You did a Coutinho at Old Trafford in the pub and a Lovren at Anfield at the night club.
You go on a few more dates where you are the personification of cool. Other men see you with your chick and look in awe. You're carrying a natural swagger. This is your Villarreal moment. You are the fucking man!
A few days later you get a text asking if you wanna go back to hers after work. Your mouth goes dry again. "Of course" you message back. For the rest of the day you're thinking about the performance you'll put in.
The lads at lunch ask you if you're coming for a drink. You tell them you got plans with your bird. "Oooohhh" they respond. And they act like 14 year olds as they comment on the performance you'll put in. They've seen your swagger of late and just assume you'll be nothing less than Dirk Diggler from Boogie Nights. This is your James Pearce moment. Fucking tweeting that Liverpool won't freeze.
If only you were as confident in your cocksmanship as the lads seem to be.
Later that night you're bricking it but trying to play it cool. After a couple of movies she goes to the bathroom. She's been gone ages. Next thing you know she appears at the living room doorway. It's like Margot Robbie's nude scene in Wolf of Wall Street but unlike Leonardo DiCaprio your night goes downhill from there.
Dry throat and racing heart rate again just like in the kitchen at work. But, catastrophically, no stiffy. You're as limp as Heinz Spaghetti. A fucking soft-on when it matters most. This is your 2-1 down in the final moment. Your girl is asking what's wrong? Don't you find her attractive? Probing questions like Coke against the LFC back line.
"It's not you, it's me" you mumble. 3-1 down and it's over. You know it too and all you want now is the final whistle.
A few days later you start to look ahead to the transfer window. That's when, just like Liverpool, you look to improve your chances of redeeming yourself next time around.
But it's not world class players you want. No. It's those extra strong Viagra pills your cousin smuggled from Thailand you've got your eye on.