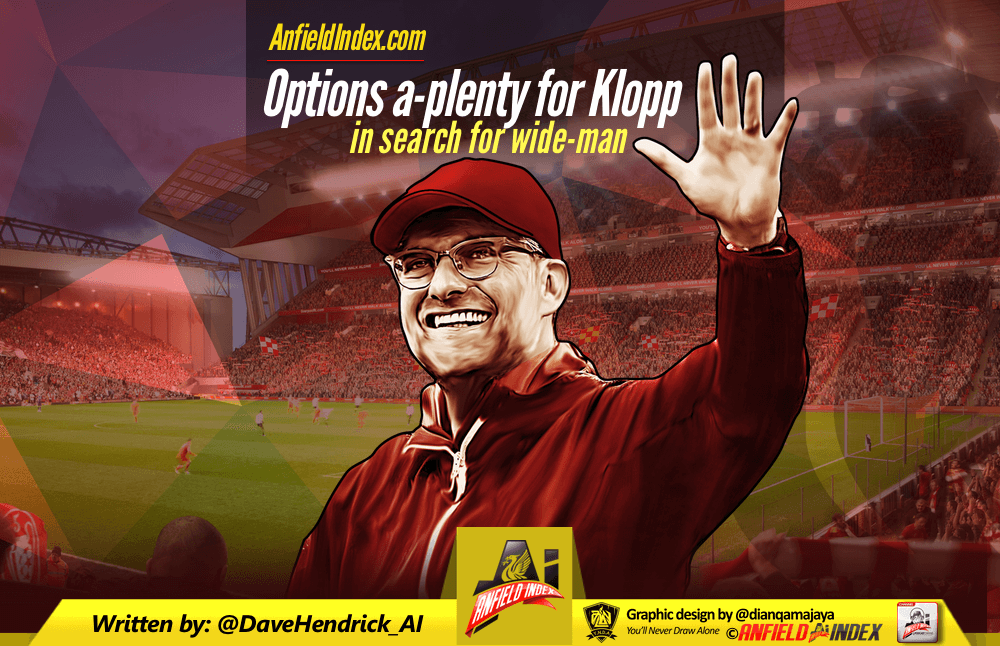 Options a-plenty for Klopp in search for wide-man
Jurgen Klopp wants to buy a goal-scoring winger. He hasn't told me this personally, nor has he said it publicly, but based on his targeting of Leroy Sane, Ousmane Dembele and possibly Mario Gotze and Sadio Mane, it seems a certainty that Klopp wants to add more goals into the trio who play behind his lone striker.
Sane was the first player linked with the Reds after Klopp took over but very quickly, and rather strangely, his supposed asking price sky-rocketed from about £20million to anything from £35million to £50million depending on which newspaper or website you read.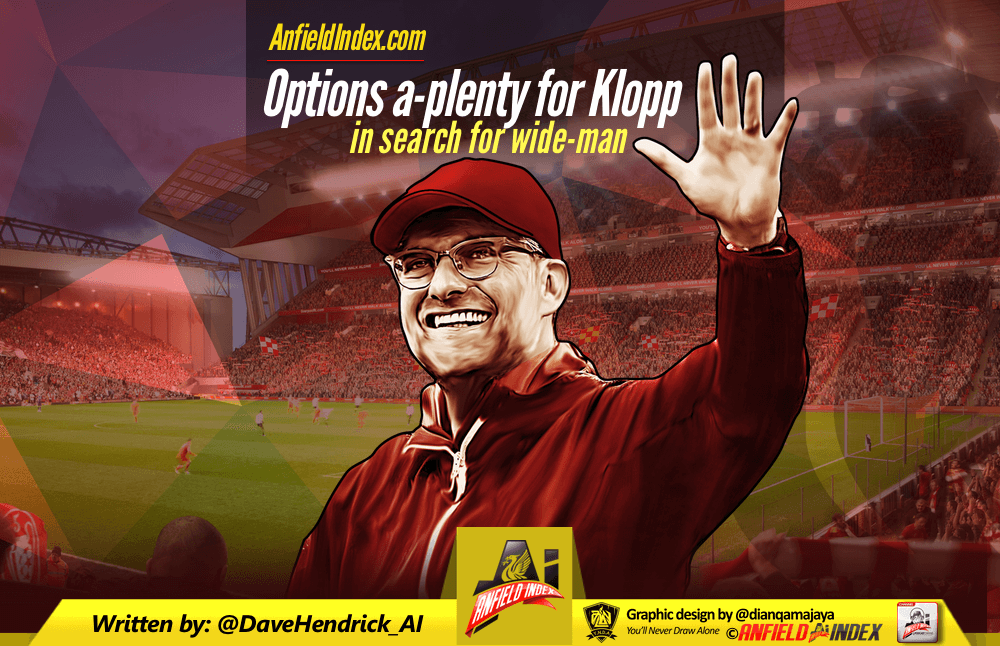 With the Reds unlikely to pay that sort of money for a player who's proven little, despite unquestionable talent, the next name up was Ousmane Dembele. The fantastically gifted wideman had burst onto the season this past season with Rennes and began tearing apart any and all Ligue 1 defences that dared stand in his way. With 12 goals in 26 league matches he put everyone on notice that, along with Anthony Martial and Kingsley Coman, he would be leading the next generation of French football. Unfortunately for Liverpool they weren't the only club keen to add him to their ranks and were beaten to the punch by Borussia Dortmund, who secured his signature on a five year contract.
After Dembele came a deviation from what seemed a clearly defined profile of a target. Mario Gotze seems an odd fit in this Liverpool team given what they need and what he offers. There's no doubting his talent, or his production in his previous spell under Klopp, but having him, Firmino and Coutinho in the one team will result in many of the same problems they experience when Adam Lallana is paired with the Brazilians. Gotze is unquestionable a better and far more talented player than Lallana but buying him wouldn't solve the problems Liverpool experience in attack. Lack of width, pace in wide areas, runners breaking behind the defence, Gotze provides none of that. Nevertheless Gotze went from being "wanted" to "close" in a millisecond before news came from Germany that he had decided to stay with Bayern.
When news that Gotze was unlikely broke, Sadio Mane was linked by all and sundry, with rumoured prices ranging from a silly £25million to a frankly ridiculous £40million. Mane is one of the Premier League's most inconsistent players and personally I'd avoid this move like the plague. Liverpool need to learn their lesson, "Premier League proven" means nothing and after years of overpaying for mediocre midtable Premier League players the club need to look abroad where the prices paid are far more in-line with the talent purchased. Mane scored in only eight of the 37 Premier League games he featured in last season, had a poor shots to goals ratio, and isn't even an actual winger. Mane is a striker. He plays in a front two, off the main striker or as an inside forward in a front three. And inside-forwards are different creators to wingers. Mane scored 14 goals in all competitions last season, only one of them came from him starting in a wide position to begin the attack. He plays centrally and Liverpool already have Roberto Firmino and Philip Coutinho to play centrally behind Daniel Sturridge or Divock Origi, their need is for someone who actually plays wide.
So with that said, I thought I'd take a look at a few options who I believe would represent good signings, and good value for money, to fill the wide role for Jurgen Klopp's team. Some fit what seemed to have been the defined profile, pace and goals with natural width, while others are more in line with Gotze stylistically. I've tried to be as realistic as possible and taken the rumoured £40million price for Mane and tried to come in £10million below that at the very least. While some might look at a couple of name on this list and think they are not players Liverpool could sign, think of it this way; If Liverpool offered the fee Southampton wanted for any of these players there's no question it would be accepted. With the exception of six or seven, every club in Europe is a selling club. For the players themselves, there's nobody on this list earning even half of what Mane is rumoured to be wanting, £120,000 p/w. If Liverpool offered that, the players would sign. Take that as a starting point, and work backwards.
Hakim Ziyech
Club: FC Twente    Age: 23     Nationality: Moroccan     Estimated Price: £15million
Riyad Mahrez set the league alight this past season and went from virtual unknown to a player every fan wants their club to sign. Unfortunately, his immense form this past season means that the price for him has skyrocketed to somewhere in the £35m-40mil range and that's a big gamble on a player who may just have been a one season wonder. So why not find the next Mahrez? I believe Ziyech has the potential to match Mahrez and maybe even become a better player. His form for FC Twente has been nothing short of spectacular and he'd cost less than half, probably close to a third, of what Leicester will ask for Mahrez.
Ziyech brings goals and creativity. He brings versatility and work rate. Most importantly for Liverpool, he brings fantastic set-pieces. He'd be a very good fit for Liverpool and wouldn't cost an outlandish amount.
Nabil Fekir
Club: Lyon     Age: 22     Nationality: French     Estimated Price: £18million
https://www.youtube.com/watch?v=AxBsW4i8e3c
Everyone knows about Lyon's star striker Alexandre Lacazette but his team-mate Nabil Fekir might be an even better signing for a club like Liverpool. A gifted creator who can score goals and play anywhere across the attack Fekir became a star for Lyon in the 14/15 season when he bagged 13 goals while creating chances galore for those around him. A torn ACL in September of 2015 robbed him of his 15/16 season but he return in April and pretty quickly looked like he hadn't been away.
Fekir has been rumoured to want a move to the Premier League and the harsh reality for Lyon is that they can't hold on to their biggest stars long-term. While Fekir may stay for one more season if teams are scared off by the recent ACL injury, it will be no surprise if he moves to a top club this summer.
Sofiane Boufal
Club: Lille     Age: 22     Nationality: Moroccan     Estimated Price: £15million
Arguably one of the finest dribblers in world football, Boufal is a player who has recent been mentioned in connection with Liverpool. He joined Lille in January 2015 and has been in impressive form ever since, scoring and creating goals for a team that struggled desperately to find the net between the time Eden Hazard left, and he arrived. He spent 5 months playing in the team with Divock Origi so there's an established relationship there which may sway him towards Merseyside over the other options he's bound to have.
He normally plays off the left but with Coutinho entrenched there he could easily switch to the right. £15million should be enough to land this fantastically talented player.
Anwar El Ghazi
Club: Ajax     Age: 21     Nationality: Dutch     Estimated Price: £18million
https://www.youtube.com/watch?v=O5kvOwZBpzA
Anwar El Ghazi is the latest potential superstar to come from the Ajax school of witchcraft and wizardry. A tall, powerful winger who possesses powerful shooting from distance in both feet. With a similar build and style of play to Cristiano he's an exciting prospect who still has a lot to learn as his decision-making can be extremely questionable at times. Ajax would want a big fee for him, because they're Ajax and they always want big fees, but he's the type of player who might be worth gambling on. Already a full Dutch international he's taken the place of Memphis as Holland's next big thing.
As with some others on this list he probably wouldn't be an every game starter straight away, but definitely has the talent to become one.
Julian Brandt
Club: Bayer Leverkusen    Age: 20     Nationality: German     Estimated Price: £20million
Brandt was linked to Liverpool in the summer of 2014 when the Reds raided Leverkusen for Emre Can and has likely been monitored since as he is without question one of the brightest young players in the Bundesliga. His progress seemed to stall a bit in the 14/15 season but he bounced back with an excellent 15/16 becoming a valuable source of goals for Leverkusen. An extremely intelligent player, his movement off the ball and ability to always know where his team-mates are at all times are what set him apart. He's more naturally a creator but showed his goalscoring ability by scoring in six consecutive Bundesliga games this past season.
His versatility and potential have to be appealing to a manager like Klopp, and his work rate is fantastic. Under a manager like Klopp, Brandt could become a world-class player.
Munir El Haddadi
Club: Barcelona     Age: 20     Nationality: Spanish     Estimated Price: £12million
https://www.youtube.com/watch?v=FqSdX8baR1o
Munir El Haddadi might be the most talented out-and-out attacker Spain have produced since Fernando Torres. A natural goalscorer with the pace and ability to play wide and give fullbacks nightmares he would start for most clubs. Unfortunately for him, Barcelona have three lads called Messi, Neymar and Suarez who block his path. Some Liverpool fans have seen the impact Bojan has had in the Premier League since joining Stoke and have called for the Reds to make a move for him, why not sign a better, younger version.
Barcelona will almost certainly insist on a buy-back clause if they do sell El Haddadi so this may not be the type of deal Liverpool want, but if they miss out on other targets it's definitely one they should consider.
Ahmed Musa
Club: CSKA Moscow     Age: 23     Nationality: Nigerian     Estimated Price: £18million
https://www.youtube.com/watch?v=e99Lvu9XfM8
Of all the players on this list, Musa is the most similar to Mane stylistically but unlike the Saints man, he's an actual winger. While Mane plays upfront, either in a 2 or 3, Musa is a natural wide man who can also play as an inside forward. He's a cheaper, and in my view more talented, alternative to Sadio Mane with him he shares many traits. He's pacey, direct and can score goals, but he also tends to go missing in games, and then for stretches of games. There's clear talent here though, and he has been linked to Leicester for the last few months.
If Klopp does want a player of this ilk, I'd rather Musa than Mane because he would cost roughly half of what Southampton are believed to be asking for Mane and he actually plays the position Liverpool are looking to fill.
Do continue reading as I look at Breel Embolo, Timo Werner, Berardi, Draxler, Marlos Moreno and Gabriel Jesus next!
Breel Embolo
Club: Basle     Age: 19     Nationality: Swiss     Estimated Price: £18million
https://www.youtube.com/watch?v=NHuXBQTnSWY
Possibly the most talented player every to come through the Basle academy, Breel Embolo is one of the most sought after young players in the world. He's been linked to a whole heap of clubs including, most recently, Manchester United who are said to be keen to pair him with Anthony Martial in a young attack that would terrorise Premier League defences for years to come. Embolo is naturally a striker and has similarities in his game to Samuel Eto'o, but last season he made the move to a wide role and by season's end he was performing very well there.
United are alleged to be quite close to signing him so if Liverpool do hold an interest in him they can't act like Liverpool. They'd have to move quickly and decisively to get him signed. He's the type of signing that would really excite people once they see him play a run of games.
Timo Werner
Club: Stuttgart     Age: 20     Nationality: German     Estimated Price: £8million
Werner isn't all that well-known by non-Bundesliga watchers but he's a very talented player with a lot of room for development. He's a natural wide player who spent last season being transitioned into a more central role that he seemed to struggle with. It would be a pretty easy move to switch him back to a wide role. He'll bring goals, he'll bring pace and he'll bring big time potential, and he shouldn't cost a fortune given Stuttgart have been relegated from the Bundesliga.
He's not ready to be a starter for a club like Liverpool just yet but he can certainly develop into one, getting him now would be a wise move.
Domenico Berardi
Club: Sassualo     Age: 21     Nationality: Italian     Estimated Price: £20million
https://www.youtube.com/watch?v=T9AdsdKIO9U
"NO MORE ITALIANS!" is what people shout whenever someone suggests Liverpool should sign one, but Berardi is absolutely worthy of consideration. A tall pacey goalscorer who thrives cutting in from wide positions, he's the most talented attacker Italy have produced in a while. In his first two seasons in Serie A he scored 31 goals in 61 games, an excellent return in what is still a league where defending comes first.
He has a bit of a temper and there's something unusual about his personality, which has led to Antonio Conte leaving him out of the national team set-up, but his talent, his work rate and his natural ability to score goals make him an ideal candidate to fill one of Liverpool's problem positions.
Julian Draxler
Club: Wolfsburg     Age: 22     Nationality: German     Estimated Price: £30million
https://www.youtube.com/watch?v=tMzcacx5WfI
A player who has been linked with moves to the Premier League for a number of years, Draxler seemed to have stalled badly in his progression during his final two years at Schalke. Injuries hampered him badly and his goalscoring suffered, but following a move to Wolfsburg last summer he seems to have rediscovered much of the form that made him one of the most sought-after young players in Europe for a couple of years. Now 22 he seems ready to take the step up to a top club and there's no question he has the ability to play for almost any team in Europe. Stylistically he's similar to a young Gerrard with a similar frame, running style and ability to shoot from distance with both feet.
He was linked with Dortmund when Klopp was there and the chance to play under a German manager, in a team that includes Emre Can who's he known for years in the German set-up, might be very tempting. He'd cost a lot but he's got the potential to become a truly world-class player.
Marlos Moreno
Club: Atletico National     Age: 19     Nationality: Colombian     Estimated Price: £5million
Two weeks ago he'd probably have been the least well-known player on this list, and he may well still be, but now he's come into a bigger spotlight after scoring for Colombia at the Copa America. He's more naturally a wide player in a 4-3-3 than Klopp's preferred 4-2-3-1 but he definitely has the talent to make the adjustment and become a big time player. Liverpool have been linked to him over the last month or two and with Klopp at the Copa America, maybe he'll keep an eye on him. He's got good pace, quick feet and the ability to score and create.
Signing Moreno wouldn't hamper deals for another player in the wide area because the likely fee for him would be around £5million, maybe less.
Gabriel Jesus
Club: Palmeiras     Age: 19     Nationality: Brazilian     Estimated Price: £15million
Pace? Check.
Goals? Check.
Outrageous ability? Check.
Gabriel Jesus may not be a name everyone knows right now, but he soon will be. The latest product from the Palmeiras academy might just be the best. While's he's been overshadowed globally in terms of hype by the other Gabriel, Gabriel Barbosa aka Gabigol, regularly watchers of Campeonato Brasileiro will tell you that this kid is just as good and just as talented, if not more so. If Dembele was Klopp's top summer target, then Gabriel Jesus is the perfect alternative as he brings a similar style of play, a similar level of talent and a similar level of potential. He's been called the "New Neymar" and while he's a slightly different type of player, there are similarities.
He's going to be on the target list of a lot of clubs, and if Liverpool want to secure his services they'll have to move quickly to do so. Having Coutinho and Firmino already at the club could play a big part in securing the talents of one of the very best young players in the world.
If I had to give an order of preference for this I'd actually like to see Liverpool sign two of them. One from a group of Draxler, Jesus and Berardi plus either Moreno or Werner. I really want Liverpool to sign Embolo as well, but to play as a striker as I think he'll develop better where he's most comfortable. I'd genuinely be happy with any player on this list bar Musa who'd be content with as long as we signed quality in other areas. In fact, pretty much any combination of two that would come to less than the Mane price would represent excellent business.
There's plenty of options out there for Klopp and Liverpool to fill the wide role this summer, hopefully they get one and hopefully it's the right one.