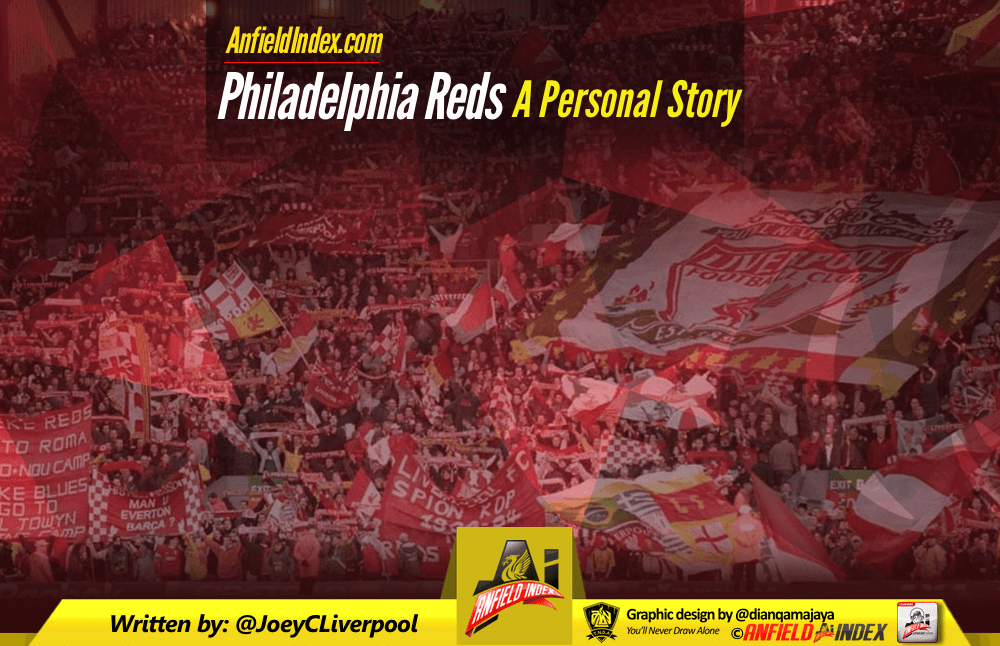 Philadelphia Reds - A Personal Story

Growing up in America, Philadelphia to be exact, is not exactly a hot bed for soccer. I started following Liverpool Football Club in 1998. I grew up playing just about every sport except soccer. One might ask how I became such a Red fanatic then? Well, let me tell you…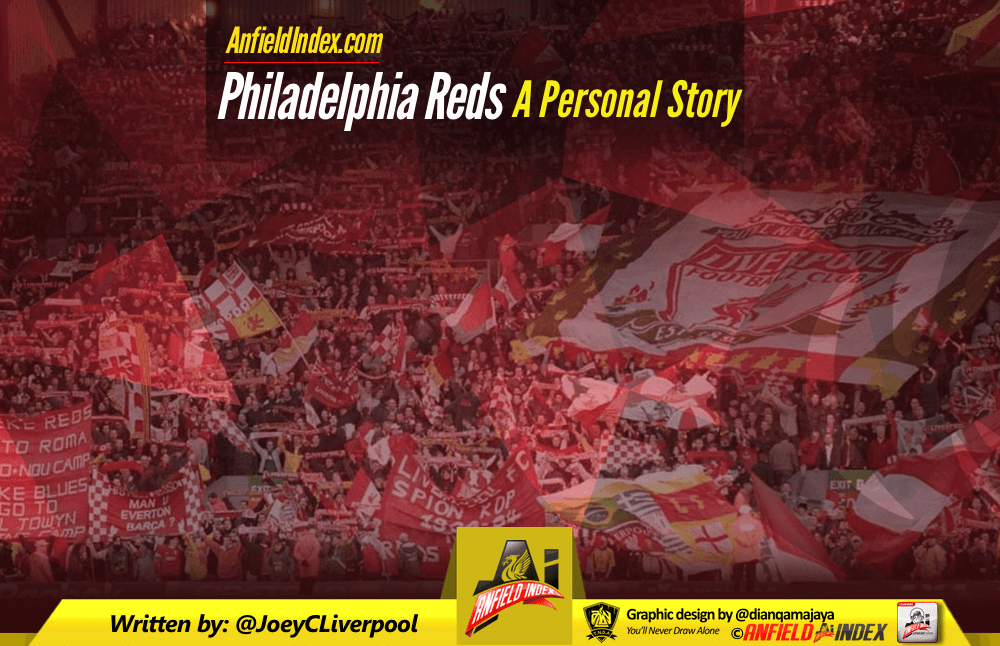 Being from Philadelphia there are certain things we are born with: toughness, blue-collar attitude, having our own language, worst drivers in the world (yes it's in our DNA), and a passion for our sports teams. Growing up, basketball was my best sport, I played it until the end of my college career. For a kid from a bad neighbourhood I ended up doing damn well for myself. In High School I would see ESPN Sports Center highlights of soccer games a lot. Keep in mind Major League Soccer or MLS was founded in 1993 but didn't have the following it does today considering the 1994 World Cup was in the States and the league didn't start actually playing games until 1996. MLS always struck me as an inferior league that I had no interest in. I had to get more of this exciting game I've seen on TV but I wanted to watch the best of the best. My AOL dial-up internet just wasn't cutting it then.
While doing my "research" online as to who I would root for I didn't know where to start. I didn't want to be that guy who picked a team for their jersey, (kits to Brits) colour, or something silly like that. My first ever Liverpool game I watched was versus Everton, October 17th, 1998, which was a draw at Goodison. In those days games here were broadcast on Fox Sports, which as any American knows is terrible for watching soccer games. I noticed the singing during games, the intensity even in a draw, the fierce rivalry between opponents who are so close to each other geographically. Even though that season ended in no trophies or Champions League, it was my new love.
While Philadelphia has rivalries with teams (Dallas Cowboys being a BIG one) I've never seen anything like it. Fans who would do anything to help their team win. Like a modern day Coliseum show-down. I thought after watching, "where has this been all my life?" Liverpool has become my addiction I'm happy to say. While there's not much interaction with fans over here unless you're at bars or your friends grew up rooting, the people I've "met" on Twitter are some of the most knowledgeable, passionate fans I've ever interacted with. I spend ridiculous amounts of time on Twitter talking about every moment of every game (side note, married with children) that I'm sure my wife loves it when my iPhone never leaves my side, including at the dinner table.
One HUGE thing I haven't touched on yet is that the same '98 season was the first one of a certain club legend Steven Gerrard. While he would go on to become a local hero, legend, world class player, idol that first season we never knew that he would become all these things. To see his career play out like this from afar has been an amazing experience. Philadelphia has never had a home-grown athlete accomplish what Stevie has. To be able to call one of your greatest all-time players local is truly special. Other than the amazing supporters, Michael Owen (I know, I know) was a huge reason I loved Liverpool as well. Taking over from Robbie Fowler isn't easy but for as much flack he gets from fans, man what a player he was. While Gerrard is my all-time favourite player, Michael Owen will always have a special place in my heart, even though he's a turncoat. I remember that 1998 World Cup where I was left open-mouthed when he scored that goal against Argentina. I could go on and on about him but I fear I might have to turn my fan card over! My one and only trip to Anfield came during the 2006-07 season when I went to see my beloved Reds play Tottenham. While many who read this may think, "Who cares I go all the time", it was such a joy to be able to go. The experience and people was everything I thought it would be. We smashed them 3-0 behind Kuyt, Riise, and one Mark Gonzalez of all people. I'll never forget my time there and I hope to go back soon!
When I think back on my childhood and all the amazing teams I follow locally, maybe it was always written in the stars to be a Liverpool fan. With so many similarities between the cities and supporters I'm proud to say I'll be red or dead my whole life.