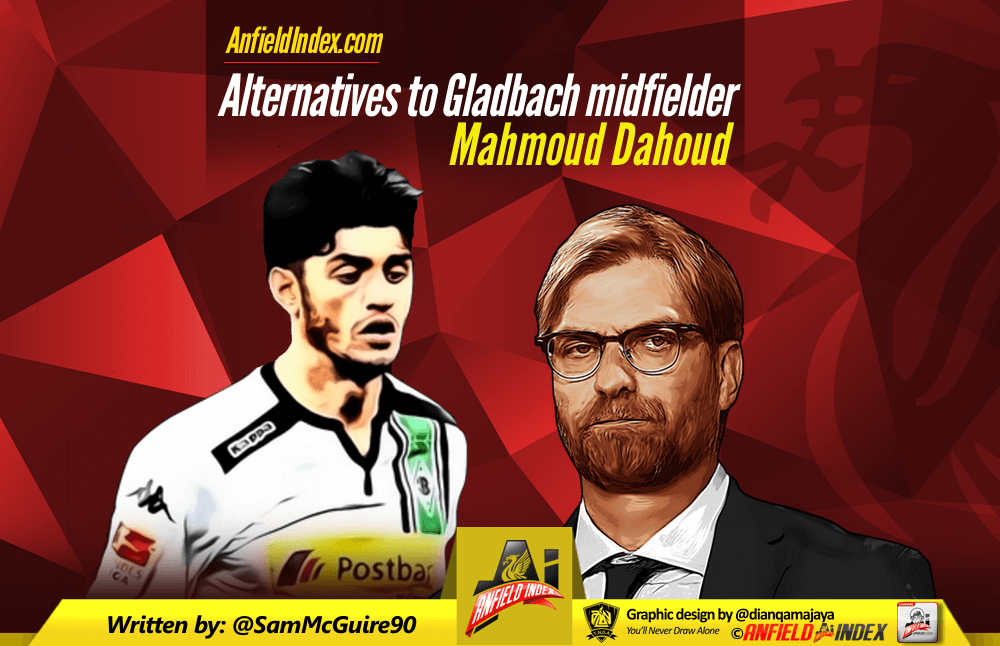 Alternatives to Gladbach midfielder Mahmoud Dahoud
As things stand Gladbach midfielder Mahmoud Dahoud is currently the top target for Liverpool this Summer. Reliable journalists like Paul Joyce reported Liverpool's interest a few weeks back and since then most of the reports from various online publications highlight this. As we all know though, things can change with Liverpool and how they brief the media. Next week another player could be the 'top target' and the club will be 'doing all they can to sign them'.
Liverpool's recent actions in the transfer window has turned many fans into cynics and if you scroll through Twitter you get a feeling fans have already accepted that Dahoud won't sign. They've seen this dance before. Liverpool start negotiations with a club, haggle over £4/5 million or how the fee will be paid, miss out on the player and then scramble to bring in another player. Sounds familiar, right?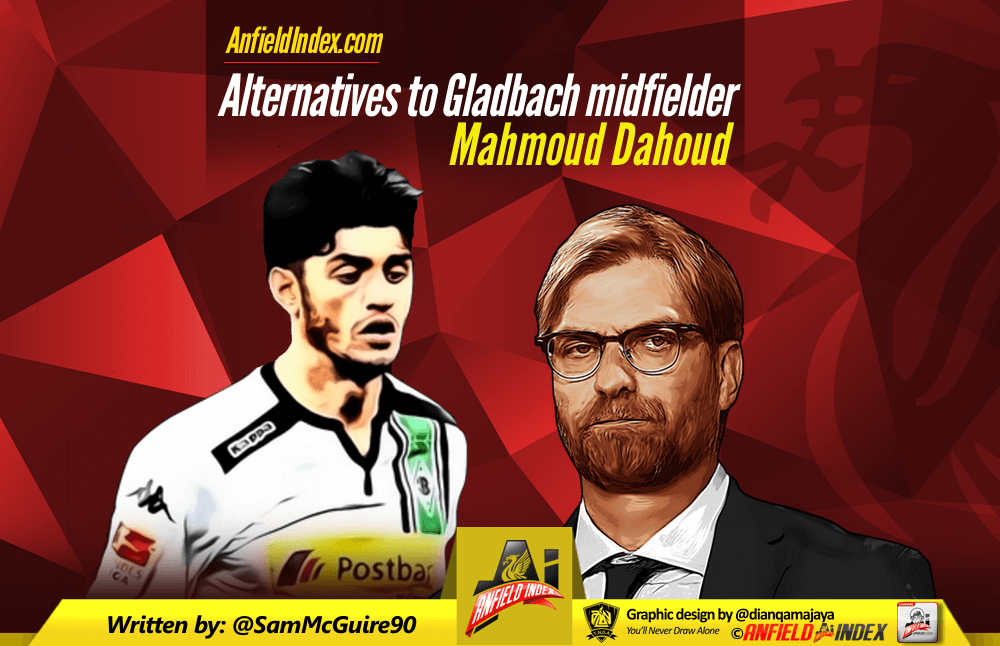 There's a reason many fans feel Dahoud was never a feasible option. Gladbach have just sold Granit Xhaka and to prize Dahoud away in the same window would take some serious money. Money Reds boss has been reluctant to fork out if reports are to be believed that it was he who vetoed the Alex Teixiera and Ruben Neves deals because there was better value for money out there.
If Liverpool don't manage to get the Dahoud deal over the line what are the contingency plans? It's clear the team needs a midfielder partner for Emre Can, someone who can balance the two man pivot and make the team more solid.
With this in mind I've looked at Dahoud's profile and tried to find similar players that the club could potentially look at as an alternative. These won't be identical in every sense to Dahoud but they'll all bring balance to the midfield and they will share some similarities.
| | | | | | | | |
| --- | --- | --- | --- | --- | --- | --- | --- |
| Name | Age | Goal Involvement | Aerials Won | Dribbles Completed | Pass Success % | Tackles | Interceptions |
| Mahmoud Dahoud | 20 | 13 | 0.6 | 1 | 84 | 2.2 | 1.8 |
| Marc Stendera | 20 | 3 | 0.7 | 1.7 | 76 | 3.2 | 2 |
| Vincent Koziello | 20 | 9 | 0.2 | 0.9 | 92 | 3.1 | 1.2 |
| Adrien Rabiot | 21 | 7 | 0.9 | 1.9 | 90 | 2.5 | 1.6 |
| Leon Goretzka | 21 | 5 | 1.9 | 1.1 | 83 | 2.7 | 2.8 |
| Coretin Tolisso | 21 | 14 | 2.8 | 0.4 | 85 | 2.7 | 2 |
| Leandro Paredes | 21 | 3 | 0.7 | 0.9 | 83 | 2.5 | 1.5 |
| Johannes Geis | 22 | 11 | 1.5 | 0.3 | 85 | 2.1 | 1.5 |
| Pierre Emile Hjojberg | 20 | 1 | 1.7 | 1.3 | 88 | 1.4 | 2.3 |
The table above shows Dahoud along with 8 other young midfielders. Green is the best stat from that row, Amber is the 2nd best and yellow represents the 3rd best. The reasoning behind the stats selected are:
Goal Involvement – Klopp likes his team to score goals and not be reliant on a select few. If they aren't scoring they need to be assisting. This isn't a necessity to have because as many fans have witnessed over the years, if you sign a player that suits the style you intend to play they will flourish, regardless of their history.
Aerials won – In the Premier League teams go long. If they win the initial headers around the penalty area then they can build from there. It's important that the midfielders tasked with protecting the midfield are good aerially. Both Lucas and Emre Can win a fair amount of headers.
Dribbles Completed – Another trait Klopp tends to like from his midfielders. The ability to run with the ball and drive past players is something that appeals to him. It's a tool when you're looking to counter teams, it's not always about passing the ball quickly.
Pass Success – On a few occasions last season Klopp called the team erratic in possession. The midfielders need the ability to not just attempt risky passes but complete them.
Tackles and Interceptions – The pressing game Liverpool use means the midfielders need to have the ability to tackle and intercept quickly and frequently in the hope of starting counter attackers. For context Emre Can averaged 2.8 tackles and 2 interceptions per 90 minutes last season.
From the list of players you can't ignore how well Lyon's Coretin Tolisso fares. He leads the way for goal involvement and aerials won and is in the top 3 for both tackles and interceptions. The only area he fails to impress in is dribbles completed and that could be because Lyon play a possession based game, there's not much dribbling from deep when you have the likes of Lacazette, Cornet, Ghezzal and Fekir ahead of you.
Another player who impresses is Adrien Rabiot. The PSG midfielder has a bit of a reputation for having attitude issues but he's knuckled down this season and impressed when called upon. His completed dribbles and pass success rate implies he's solid, and positive, when in possession.
Vincent Koziello is a real hidden talent. The only reason it's unlikely Liverpool would make a move for him is because of his height. At 160 cm there is a chance he would get bullied in the Premier League. It's worth highlighting however that his pass success rate, at 92% over 2800 minutes, is ridiculously good.
Many of these players in the table won't come cheap. These aren't going to be £5/6 million signings but sometimes you need to pay more. It's just the way of life and if Liverpool want to challenge regularly for the Champions League then they'll have to pay the going rate. With how the rates are forever on the rise it won't be long before these players are worth £30/40 million so if you want to act on them the club should do so now.