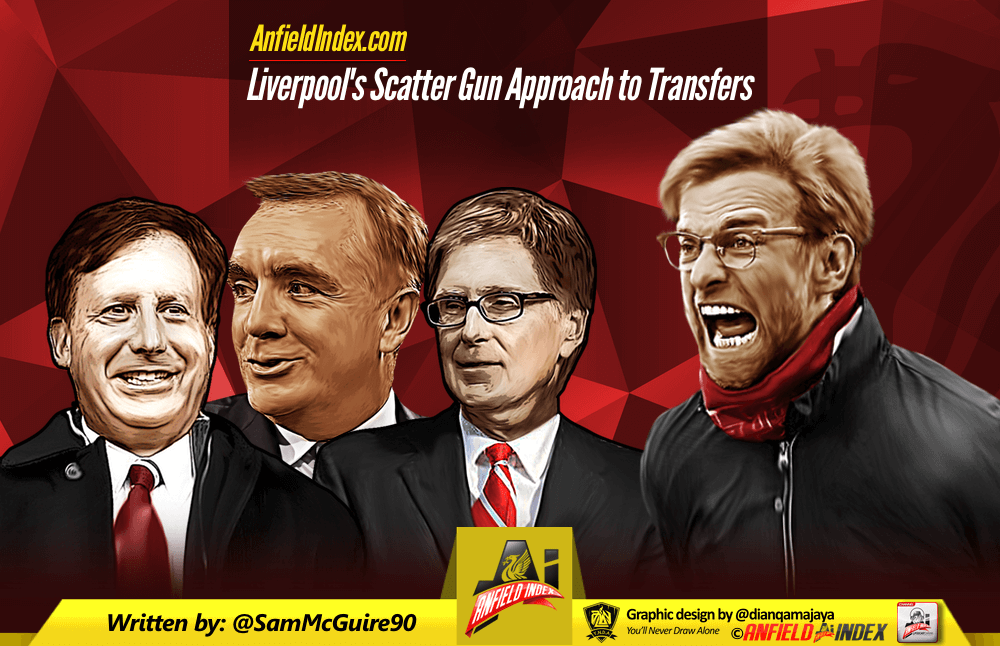 Liverpool's Scatter Gun Approach to Transfers

The Summer Transfer Window isn't officially open for another month but there are already Liverpool fans writing it off as a failure. The pitiful attempt in the second half of the Europa League final knocked the wind out of a confident Liverpool fan base. Since then the failure to land Bayern Munich's Mario Gotze so publicly has seen the feel good factor around the club that Jurgen Klopp worked so hard to build up quickly ebb away.
We're a bunch of negative bastards with this incessant need for immediate results. Kind of like when you're girlfriend asks what you think of her outfit while there's some football on and you don't respond immediately. That slight between her finishing the question and you answering means you hate what she's wearing.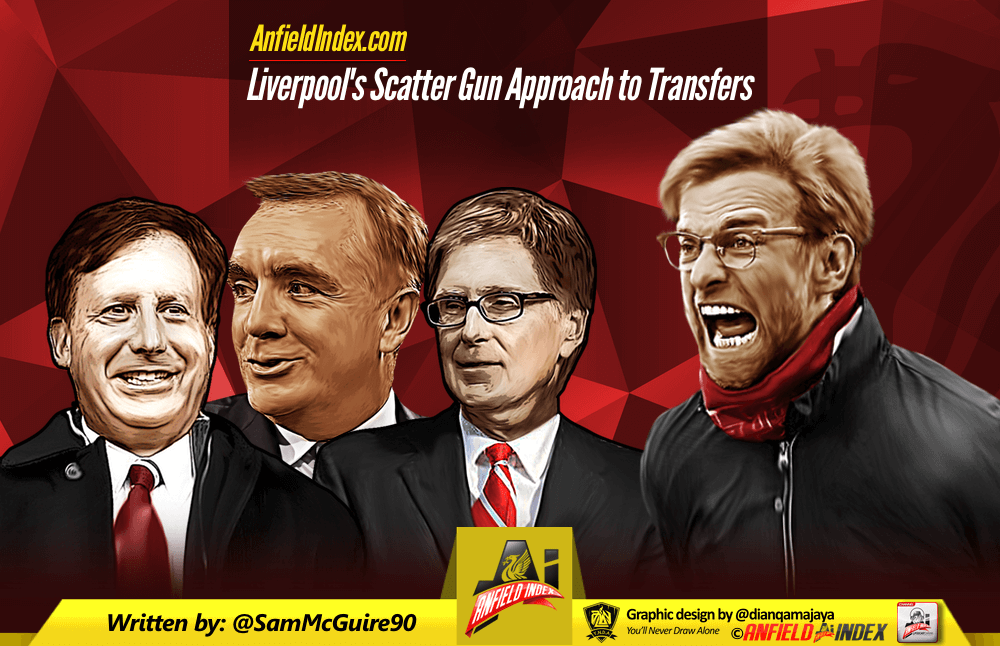 "Liverpool can compete now Klopp's here. Gotze will arrive and there will be posters of them hugging all around town."
"….ye"
"You mean Gotze isn't signing now? All our rivals are strengthening and we can't even sign Klopp's adopted son. Same old Liverpool"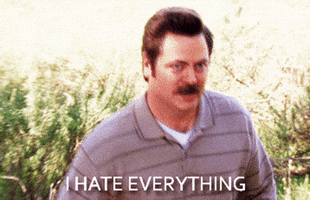 Liverpool fans have been hurt before. Inside every fan there's a scrapbook. Open it and you'll find photoshopped pictures of Luis Suarez and Fernando Torres together. Henrikh Mkhitaryan in a Liverpool shirt with love hearts as a border. Alex Teixiera's head on Lucas Leiva's body beside Roberto Firmino and Philippe Coutinho and they're all smiling. Insecurity is rife, and rightly so.
The Reds have made a couple of shrewd signings so far. Joel Matip arrived on a free and immediately bolsters the defensive options, Loris Karius looks set to be the new number 1 and Marko Grujic's arrival gives Liverpool even more physicality in midfield. Three weaknesses in the squad have been addressed. If the rest of the window followed suit, then it's a successful window. The club may not have signed a marquee name or two but they would have went about fixing the problems that have plagued the team for years. It's never that simple though, is it?
Conversations on Twitter as of late have centred around what the 'reliable' journalists close to the club have been reporting, with much attention being placed on their wording of certain things. The club don't really excel when it comes to the PR game and often brief the press on targets, especially ones that shed some positive light on the club. Links to big names are something to brag about.
The issue as of late is how the press have implied that 'top' targets Mario Gotze and Mahmoud Dahoud are opportunistic targets. The wording in these reports insinuates Gotze was considered a target because a player of his quality doesn't become available at such a reasonable price that often. They would have the fans believe Gotze wasn't initially a target. Likewise with Mahmoud Dahoud, rumours and reports seem to suggest the interest in the player only arose after the club met with the players agent to discuss another player on his books and for whatever reason the fact Dahoud wanted to play under Klopp was mentioned. Reports back that up with many papers saying 'Dahoud is now at the top of the Summer list.'
Of course without any proof this is all just hearsay, but with the timing, and the wording, of these reports linking Liverpool to the players you can't help but feel they may have some credence to them.
So if both Dahoud and Gotze are opportunistic targets, and both are more of a chance signing as opposed to a planned one, just what did Liverpool originally have planned for this summer? Even though it's good to be reactive to the market, which in this case is exactly what Liverpool would be doing, can you deviate from the original plan so much that you almost forget what it was?
It's encouraging that we've things done early with Karius and Matip but the big signings, the ones that really change and shape a squad, they shouldn't be so risky, should they?  As was stated earlier this is all just gossip based on reports by journalists affiliated with the club. They've been briefed no doubt but can anybody see a plan with the links so far? Has there been a clear identity in what the club intend to do? Are we as fans in for yet another scatter gun bi-polar transfer window were very little makes sense and like a nomad we just roam around Europe naming players as top targets in the hope we finally land one of them? If you were a cynical person you'd maybe think the journalists don't know as much as they're letting on these days and a lot of what they're reporting is guesswork so they're being as vague as possible so they can't actually be 'wrong'.