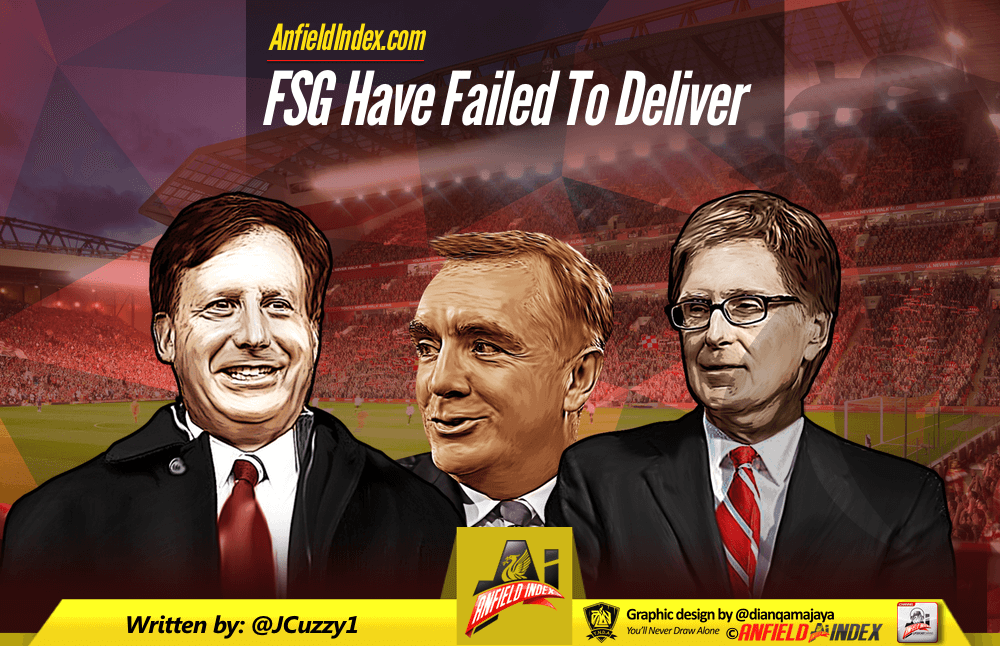 FSG Have Failed to Deliver
If ever there was a headline to cause debate this is it. No doubt many will read the title of this piece and either strongly agree or disagree without reading the bloody article.
In the last few years I have strongly defended FSG and also given them heavy criticism. There are things they have done very well and things they have done very poorly. Let's begin with the positives.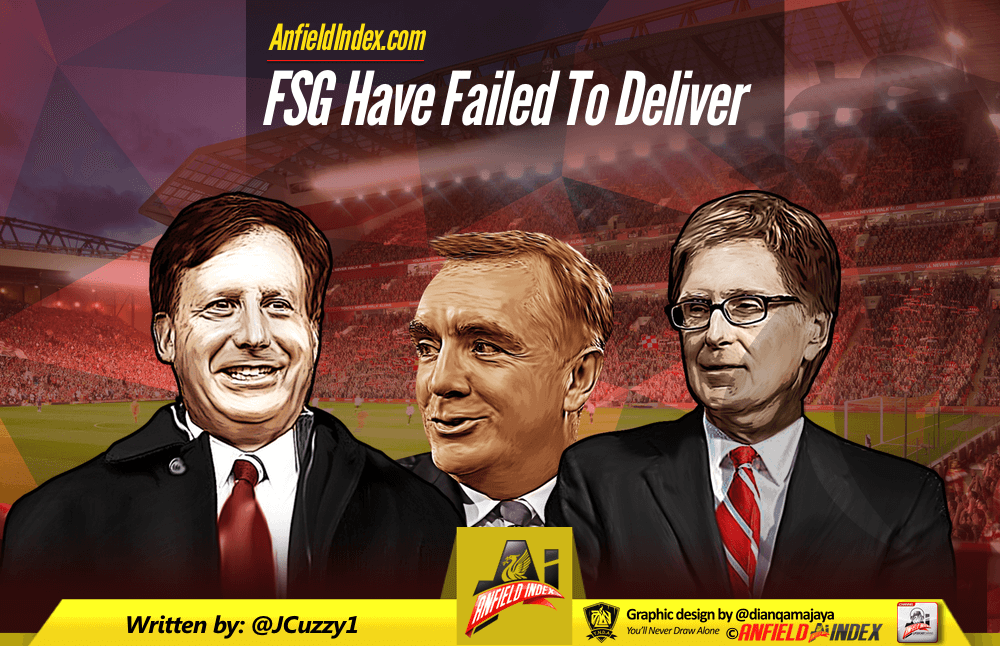 On 15th October 2010, much to all our relief, FSG, then known as NESV, completed the takeover of Liverpool Football Club. Prior to the takeover the club was in a financial mess.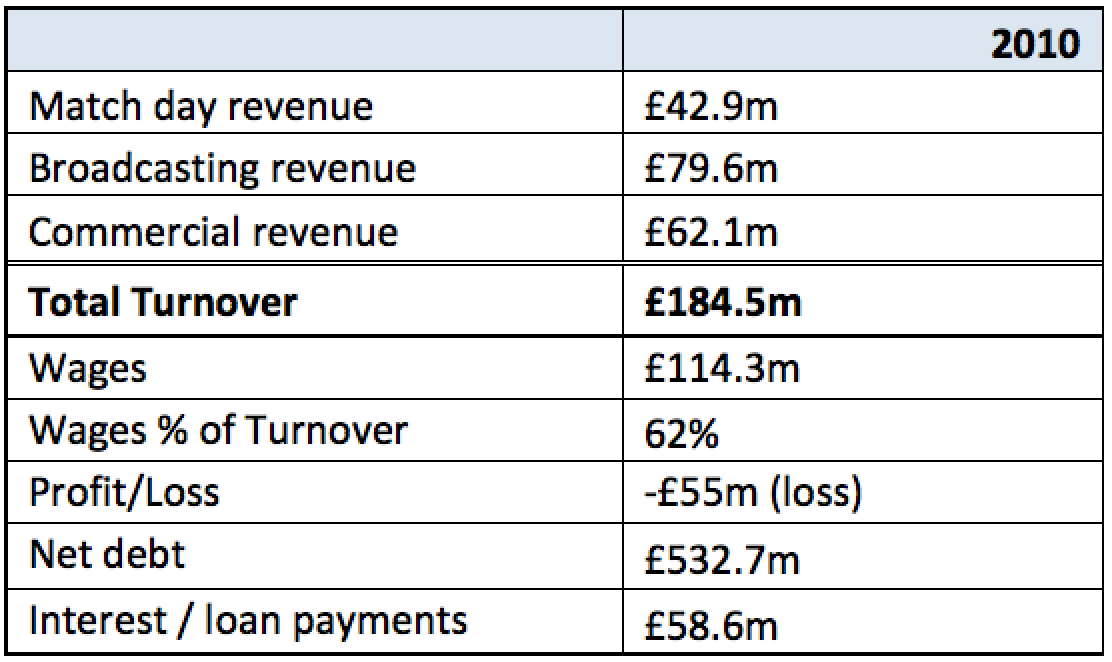 We were in a position where we had to sell to buy rather than add to the quality. Out went world class talent like Alonso and Mascherano. The annual net spend on transfers had gone from £40m in 2007/08 to -£8.6m in 2009/10. Have a look at the pattern below.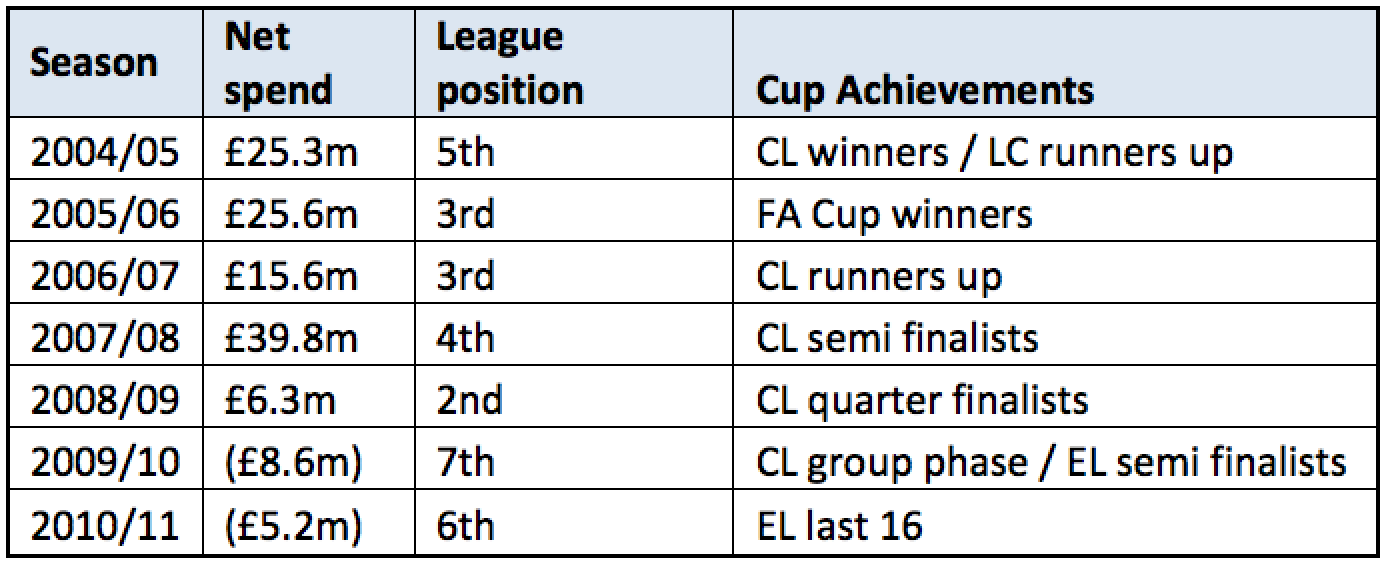 You can see how the financial mismanagement caught up with the club and started to impact results on the pitch.
FSG's number one priority would have been to get the club out of the financial pickle it was in. The following needed to be achieved.
Grow turnover
Reduce proportion of expenses to turnover
Reduce bad debt
So how did they do? See table below.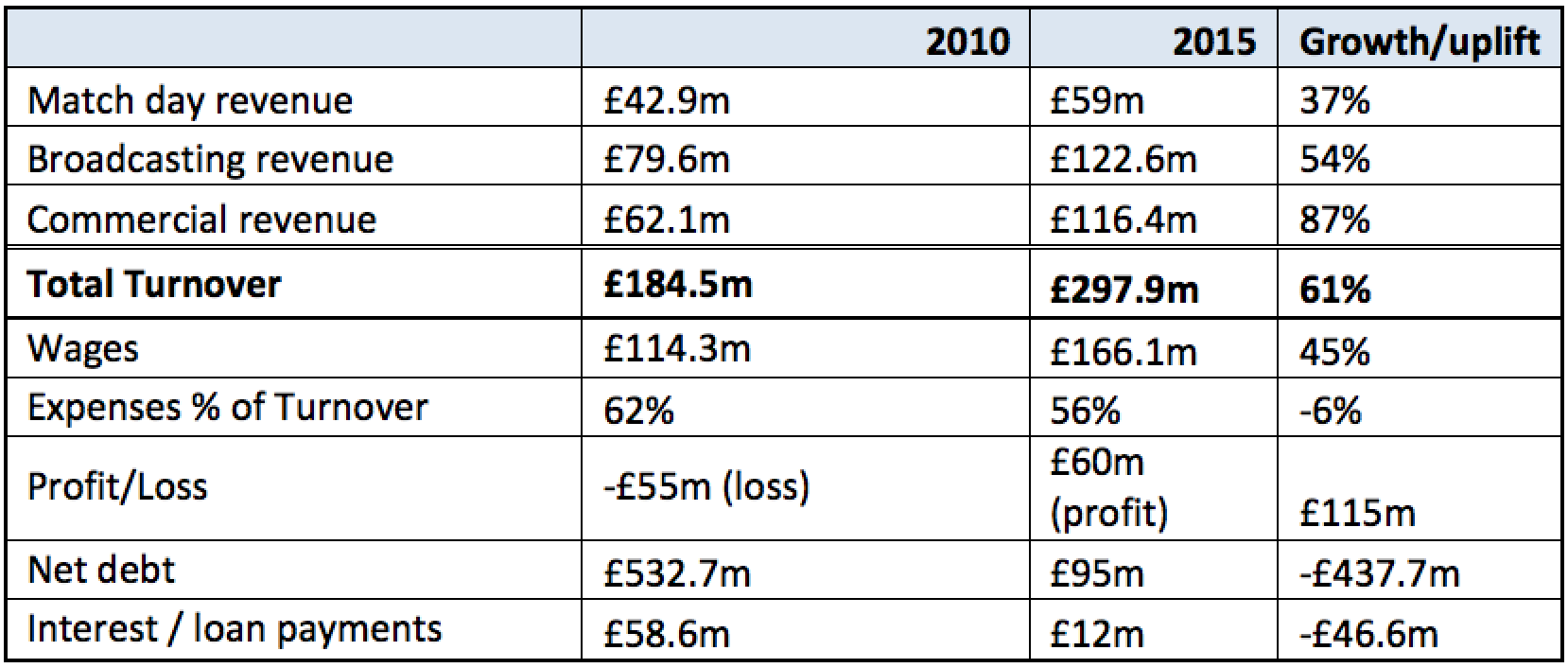 Since the takeover, turnover has been increased by 61% and it's not just down to the increased TV rights deal. Matchday revenue has increased by 37% and Commercial revenue has increased by a very impressive 87%.
Despite what you might hear about wages, they have not being reduced, on the contrary it has increased by 45% but importantly, the proportion of wages to turnover has been reduced from 62% to 55%. Football finance experts (of which I am not) have said that 50% is about where you want to be.
Net debt has been reduced by 82% coming down from £533m to £95m. The £95m is made up of bank loans (£50m) which have a repayment structure of £9m (repayment) + £3m (interest payments) per year and an interest free loan from FSG (£45m) which is funding the stadium development and will be repaid when FSG sell the club.
There's a lot more detailed elements to LFC's finances than is shown above (for a more detailed look you can check out the source I got the info from http://swissramble.blogspot.co.uk/2016/03/liverpool-over-wall.html ) but to the layman (like me) it looks like the club is in a very healthy financial situation.
If you were Liverpool's bank manager you'd be pleased. But how is the club doing against its rivals? Increasing our revenue by 61% is great but not if our rivals increased theirs by more.
Let's have a look.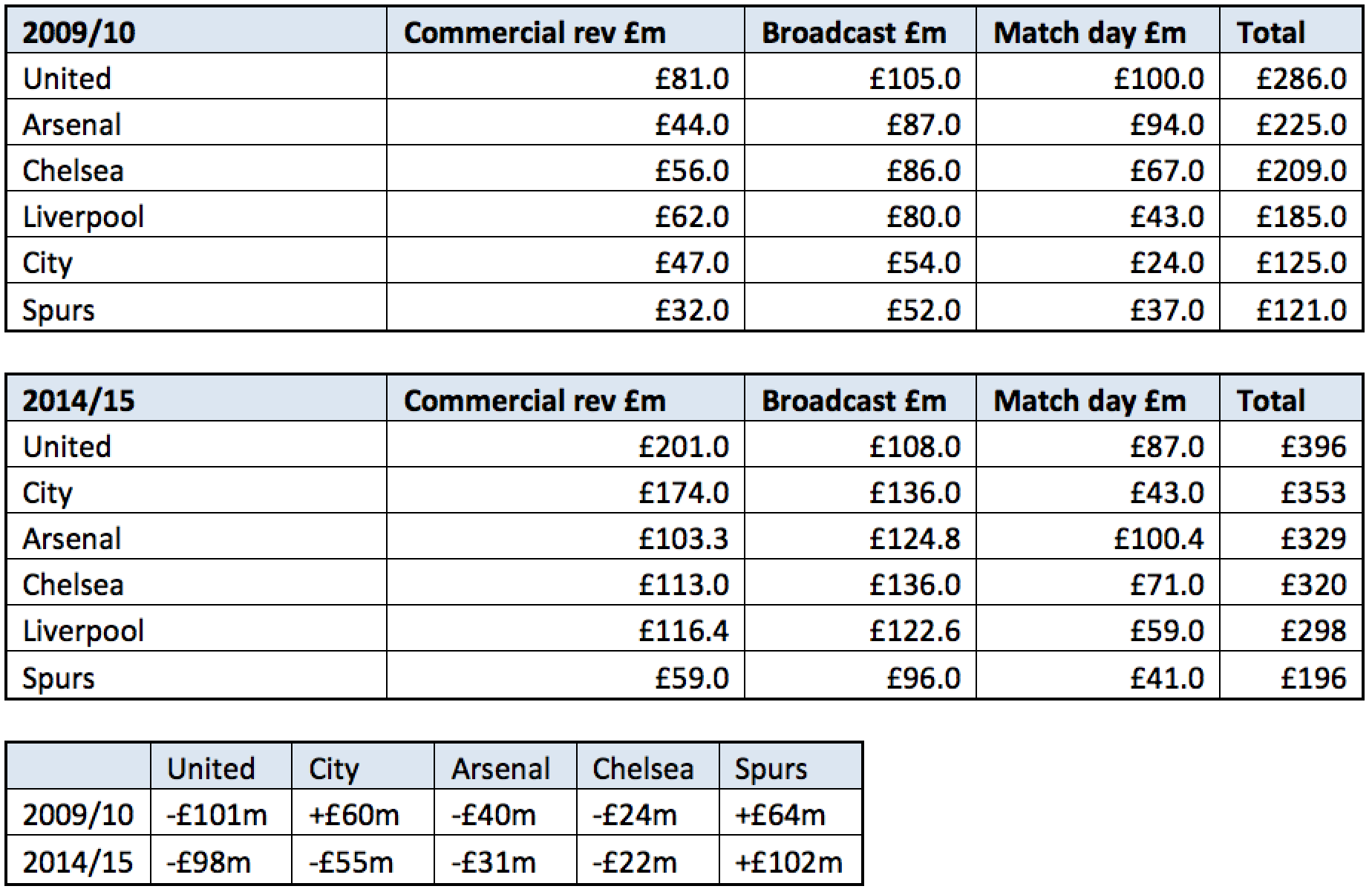 The good news is that we've significantly increased our financial advantage over Spurs (though you wouldn't think it, more on this later) and we've reigned in Arsenal by 9 million quid (we're now just a Christian Benteke transfer fee away from them). We have cut into the deficit to United and Chelsea by £3m and £2m respectively. (Every little helps!)
From next season the new main stand will be open and according to reports the club is expecting to match Chelsea's matchday revenue. So that's an additional £12m and would close the gap to Chelsea and Arsenal even more. (Though Arsenal are just beginning to flex their muscles commercially).
The bad news is that we're still almost £100m behind Manchester United and now £55m behind Manchester City (though City's commercial revenue figures should come with an asterisk). Not to mention the sugar daddies that we don't benefit from whereas Chelsea and City do.
When looking at football finances the one thing I assume most fans want to know is what it means in terms of being able to buy players and pay wages. "Ok the numbers look alright. But can we buy Lacazette?" Would be my question.
What has the spending been like under FSG compared to our rivals?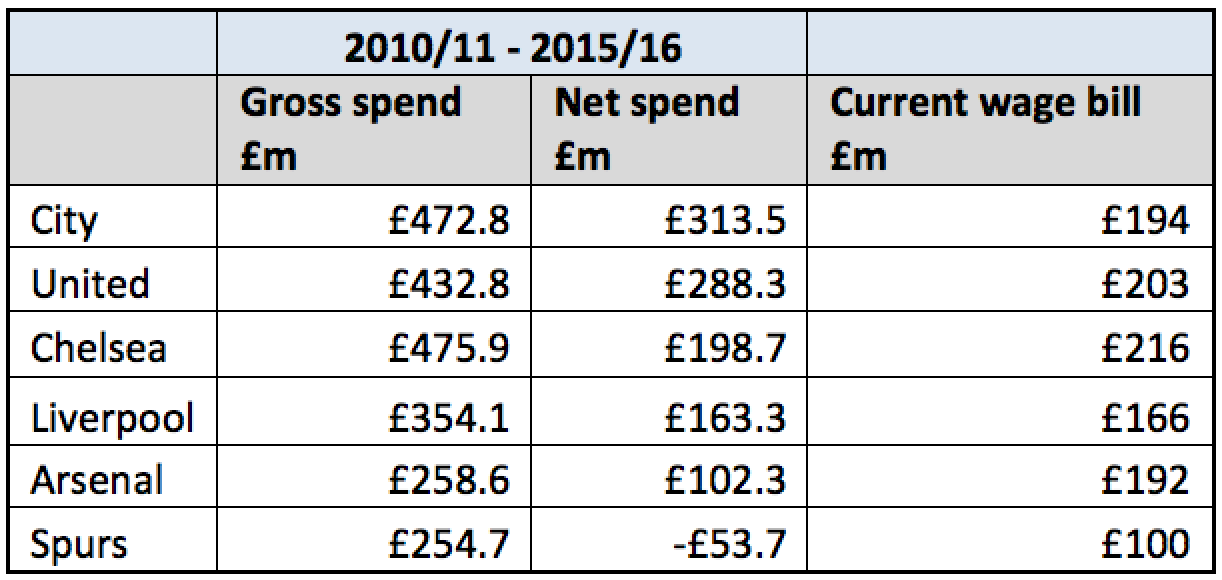 Interestingly Liverpool, in terms of net spend, have spent £61m more than Arsenal in the last five years. But currently spend £26m less in wages.
In the 5 full seasons under FSG the club has spent £220m more than Spurs in net spend and currently paying £66m more in wages.
Manchester City have the biggest net spend here. They've spent £147m more than Liverpool, a smaller difference than that between the Reds and Spurs.
In terms of wages it's Chelsea that top the table with £216m. That's £50m more than Liverpool. Again a smaller gap in wage spend than between the Reds than Spurs.
When looking at the spending table it's quite reasonable to expect the club to struggle to compete with Chelsea, City and United. You would expect them to have squads with more depth and quality. But by the same notion you'd expect Liverpool to be competing with Arsenal and you'd expect the Reds to be far ahead of Spurs.
The reality is that in the last five years we've finished above Arsenal just once and above Spurs just once.
The next page looks at the money spent and sporting structure at Atletico Madrid, Sevilla, BVB, Southampton and Leicester City.
I believe a club's sporting achievements is determined by two main areas.
Money (which I've covered and think FSG have done a fine job)
Sporting infrastructure.
FSG, as owners are responsible for both of these areas.
In a letter to the Spirit of Shankly group, the club's principle owner was talking about what it would take to be competitive, to challenge for the big prizes. He spoke of the importance of increasing revenues. With commercial revenue being the main focus at the time. He also wrote something I have repeated a million times since….
"We must have the best football operation in the world".
These words excited me. At the time I thought we'd struggle to be competitive for the big prizes due to resources but if we were better and smarter with our academy, coaching, recruitment and fitness then we'd have a real chance. This guy might new to football, but he got it. He understood what it took to win.
This letter was written in January 2011. Five and a half years later and I'm not sure if we have the best football operation on Merseyside, let alone the world.
I'm no expert on how football club's should be run, if I was I could probably get a job as a football club consultant, charging fees that might make Jorge Mendes blush. No, what I've tended to do is look at which clubs are consistently punching above their weight.
A couple years of over achievement can be put down to luck or exceptional circumstances, a magnificent player or manager making the difference. But multiple years of over achievement suggests an efficient structure is in place, there are good people in key positions and some sound fundamentals are being adhered to.
So who does have a world class football operation? Well the following clubs come to my mind: Atletico Madrid, Sevilla, Borussia Dortmund, Southampton and Leicester City.
On the next page I'll look at each of the clubs mentioned above…
Atletico Madrid

Diego Simeone took charge midway through 2011/12 so one would be forgiven for thinking the club's success is solely down to his world class coaching methods. But they did win the Europa League under Quique Sánchez Flores back in 2009/10. Despite selling their best player to us two seasons prior. I'm inclined to think the reasons for their success go a bit deeper.
They have six football directors completely separate to the business side. Three of them look after the academy and the following three for the first team.
General Director of Football (Clemente Villaverde, former player)
Technical Director (Andrea Berta, former banker. AC Milan wanted him a couple years ago but he snubbed them and according to reports Man United have been wanting him since February of this year but he has rejected them)
Sporting Director (José Luis Caminero, another former player).
I won't pretend to know what the exact individual responsibilities of these three gentlemen are but they sure do seem to doing things right.
Atletico's gross spend since 2011/12 is £100.1m and in that time they have brought in £202m in player sales. Net profit £102m.
Notable players sold: David De gea, Sergio Aguero, Radamel Falcao, Diego Costa, Filipe Luis, Arda Turan, Toby Alderweireld.
Most teams selling that kind of talent, consistently, year after year, would sink. You've seen what happened to Liverpool since we started selling our better players towards the end of the Hicks and Gillet era and continued to do through to 2014/15. Atletico sure haven't sunk.
Notable purchases.: Radamel Falcao (replaced Aguero), Arda Turan (free signing), David Villa (replaced Falcao), Toby Alderweireld, Jan Oblak, Jackson Martinez (since sold for a profit), Antoine Greizmann. Going further back you have the likes of Diego Godin, Juanfran, Diego Costa.
Sevilla

Unai Emery took charge in January 2013 so the success there certainly coincides with the manager's input.
They do have success going further back however, qualifying for the Champions League by finishing fourth in 2009/10, under Manuel Jimenez, they also won the Copa del Rey that season. They finished third in La Liga in 2006/07 and won the UEFA cup in 2006/07 and 2005/06 under Juande Ramos. All of this success after being relegated from La Liga in 1999/2000 after finishing rock bottom.
Rather like Atletico, their success goes a bit deeper than hiring a great coach.
Sevilla have a structure a lot more common than Atletico. The club is run by the president, vice presidents and directors. The sporting director is of course Ramón Rodríguez Verdejo, otherwise known as Monchi. He was hired in 2000 while they were in the second division and was given two objectives:
Develop the club's youth system and implement a vast scouting policy inside and outside Spain.
He created a network of over 700 scouts around the world and presided over a youth system that produced the likes of Diego Capel, Alberto Moreno, Jesús Navas, Antonio Puerta, Sergio Ramos and José Antonio Reyes.
Notable purchases that were bought cheap and sold on for big money include:  Adriano, Dani Alves, Júlio Baptista, Federico Fazio, Seydou Keita, Ivan Rakitić and Carlos Bacca.
Since 2011/12 they've made a player transfer net profit of £69.5m.
Borussia Dortmund


I'm going to assume everyone reading this is aware of the Klopp years at Dortmund. How they bought players on the cheap, turned them into superstars, won trophies, got to the champions league final and then sold them all to Bayern. Well not quite that. We're aware of the Klopp effect but let's dig a little deeper.
BVB look like they have a similar set up to Sevilla. With the chairman having various directors, heads of business units if you will, reporting into him. One of those is Michael Zorc, who looks after the football.
Zorc, a former player, has been in his role as Sporting director since 1998. Getting the job straight after retiring at 36 years old. They won the league in 01/02 with Matthaus Sammer as manager and came runners up in the UEFA cup and DFB Porkal.
They went into a decline, apparently due to poor financial management until they hired Klopp in 2008/09.
What Dortmund achieved during the Klopp years is remarkable when you consider how skint they were and having to rely on unearthing gems.
BVB transfer fees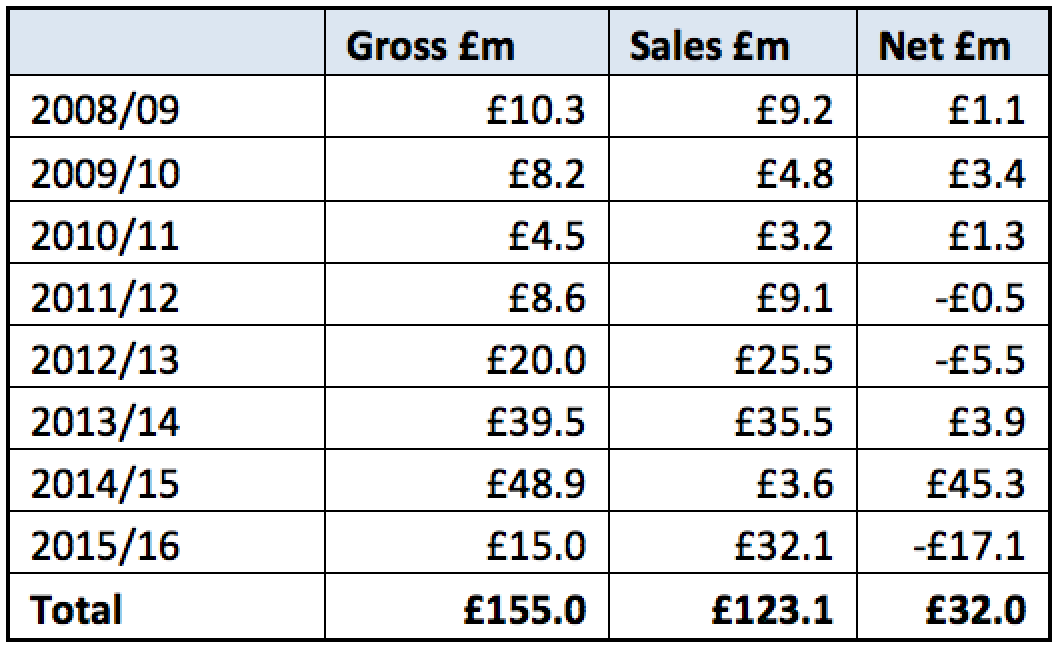 Notable gems purchased on the cheap: Neven Subotic, Mats Hummels, Sven Bender, Robert Lewandowski, Shinji Kagawa, Lukasz Piszczek, Ijkay Gundogan, Marco Reus, Pierre-Emerick Aubameyang, Nuri Sahin, Julian Weigl.
Similar to Atletico, BVB have had to sell their top players, if not every year then every other year. Last summer, they lost their world class manager. It's to their credit that, through good recruitment, they are have remained a very good side.
Southampton

It wasn't so long ago (2004/05) the Saints were a bit of a joke after being relegated under Harry Redknapp, that summer their chairman, Rupert Lowe, hired former England Rugby coach Sir Clive Woodward as Technical Director. They got relegated again in 2008/09 after receiving a 10 point deduction following their parent company going into administration.
During the summer of 2009 Markus Liebherr completed his takeover of Southampton. He died in August 2010 leaving the club to his daughter. Though Cortese ran the club. They sacked Alan Pardew a couple weeks later and hired Nigel Adkins. Promotion to the Championship was secured in 2010/11 and then again to the Premier League in 2011/12. Since then they have sacked Adkins, Cortese had a falling out with the owner and resigned, Pochetino was hired, then poached by Spurs and Ronald Koeman hired. Meanwhile key players have left every summer.
A constant since April 2010 has been Les Reed (former manager of Charlton and technical director at the FA) in his role of head of football development. Southampton also have a Technical director and head of recruitment.
Transfer fees paid and received under Reed's watch.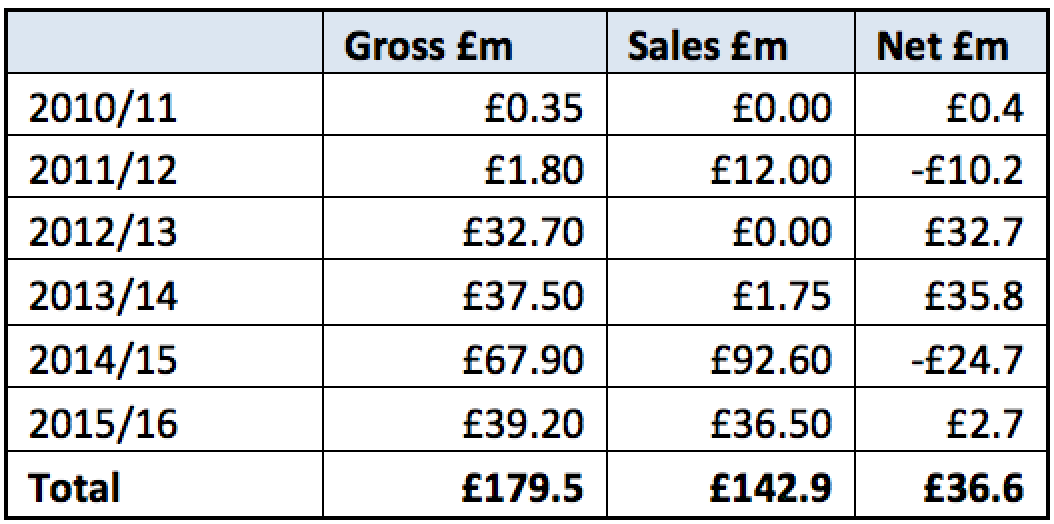 Notable player purchases and academy graduates: Jay Rodriquez, Nathaniel Clyne, Victor Wanyama, Morgan Schneiderlin, Dušan Tadić, Graziano Pellè, Sadio Mané, Luke Shaw, Callum Chambers, Adam Lallana, Alex Oxlade-Chamberlain.
Leicester City

How's that for year on year improvement? Leicester finished rock bottom of the Premier League in 2001/02 and were relegated. They bounced straight back the following season but then got relegated to the Championship again and in 2007/08, relegated to League One. This was the first time in Leicester's history they had been relegated to the third tier. They won the division, under Nigel Pearson, bouncing back to the Championship.
Thai-led consortium Asian Football Investments (AFI) fronted by King Power Group's Vichai Srivaddhanaprabha bought the club in August 2010 (about 2 months before the NESV takeover of Liverpool).
Leicester hired Terry Robinson as Director of Football in July 2013. Their CEO made this statement at the time:
"The appointment of Terry Robinson will add another dimension to the Club and to our football operations. The appointment of Terry will complement the wealth of football experience already in place in our First Team Manager, Nigel Pearson; Academy Director, Jon Rudkin and Football Operations Director, Andrew Neville, whose roles all remain unchanged.I would like to take this opportunity to welcome Terry to Leicester City and wish him great success in his new role."
Robinson was sacked 18 months later. (He lasted about as long as Comolli did at Liverpool.)
Maybe it would have been easy for Leicester to sack Terry Robinson and, like some other clubs, conclude that the role of Director of Football doesn't work. Instead they promoted academy director Jon Rudkin to the role.
Transfer fees paid and received: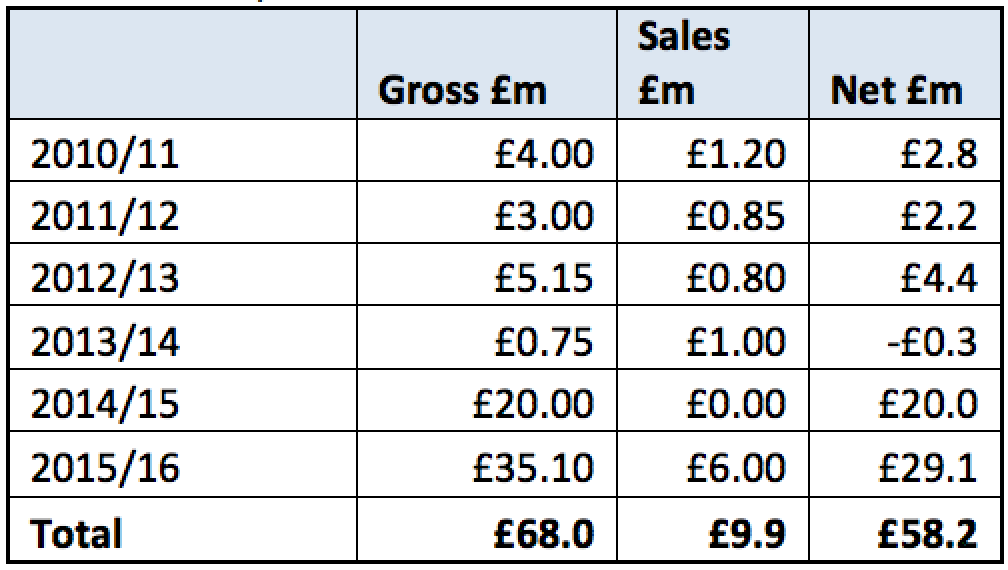 It looks to me like the Leicester ownership thought it best to hire a director of football before spending the big Premier League bucks.
Notable purchases: Jamie Vardy, Wes Morgan, Danny Drinkwater, Kasper Schmeichel, Paul Konchesky (J), Riyad Mahrez, Danny Simpson, Esteban Cambiasso, N'Golo Kante, Christian Fuchs, Shinji Okazaki.
It isn't only the clubs on a budget that benefit from having people at director level whose sole focus is the football. Most of the best performing teams have at least one. Bayern Munich have a similar set up to Atletico Madrid. They have a supervisory board and an executive board of which Karl-Heinz Rummenigge is chairman and Matthaus Sammer is Sporting Director.
Barcelona have a vice president of sports and a director of football. Juventus have a sporting director as do PSG, Real Madrid, Chelsea and Manchester City.
Arsenal and Manchester United are two big clubs still using the traditional model.
It worked well for United while Alex Ferguson and David Gill was there but since both left their positions in the summer of 2013 the club seems to have lost its identity. Gone from all conquering, at least domestically, to an absolute mess.
Arsenal's model worked very well while David Dein was there. I feel that between Dein and Wenger they pretty much covered the role of a sporting director. But since Dein left the club in 2007 they haven't got near winning the league.
The next page looks at Liverpool's performance and expenditure under FSG…
Liverpool

Shortly after the takeover, JWH gave a number of interviews to local media. In one of them, he said the following "Within five years, sooner than that, we have to be competitive with Arsenal, Chelsea and Manchester United, we have to be right there with them ever year. That's what we have to do."
Henry has said that Billy Beane, the former general manager of the Oakland Athletics baseball team, was his initial adviser on the football side. Beane recommended Damian Comolli to Henry and the Frenchman was appointed as Director of Football Strategy.
Question for you readers: do you find it strange a baseball general manager being John Henry's football adviser? And should said baseball general manager be the one to recommend who the director of football strategy should be?
Whatever your answer, he looked to be a good appointment initially, having impressed enough to get promoted to Director of Football four months later.
Here's what John Henry said at the time.
"I am delighted to announce the promotion of Damien Comolli to Director of Football,"

"In the short time that Damien has been at the Club, he has impressed us greatly with his knowledge of the sport, his work ethic and his incisive intelligence.

"He is a clear thinker and understands exactly what is needed to form a long-term, consistent approach with the philosophy we all share here. He has a track record of identifying young talent and has already made significant contributions to the first team and academy."

"Damien played a leading role in our January transfer window activity with the recruitment of Luis Suarez and Andy Carroll. These two additions will play a significant role in the future of the Club

"All of us at Liverpool Football Club who have been working on a day-to-day basis with Damien believe he will be a key contributor for many, many years here as we build a football operation second to none."
A year later Comolli was sacked as a result of failed transfers and a 2nd half of the season collapse in 2011/12.
Personally I was in favour of Comolli's appointment but began to see red flags when I read this in an interview he did with LFCTV.
He said that our priority was to bring in British players, then foreign premier league players and then players from abroad. In that order.
I've always thought the 'premier league proven' thing was bullshit so to read this from our Director of Football was very concerning.
After Kenny got the sack at the end of 2011/12 the expectation was that the club would appoint a replacement for Comolli and then a new manager. The likes of Cruyff, Begiristain and Van Gaal were linked for the Director of Football role and managers such as Frank Deboer, AVB and Roberto Martinez for the manager's position.
Eventually Brendan Rodgers was appointed and it was he, in his press conference, sitting next to an uncomfortable looking Ian Ayre, that told us there would be no Director of Football or Sporting Director joining the club.
Ayre confirmed and mumbled something about a committee.
A few experts, with Rodgers and Ayre performing the role of a director of football didn't sound too bad. But who were these experts and when we're they joining the club?
The who: Dave Fallows, head of recruitment from Man City and Barry Hunter, chief scout from Man City.
The when: They were on gardening leave and couldn't join until September. So the alternative to the director of football, the most important position during a transfer window, wouldn't be able to join us until the transfer window was closed. Great. Ian Ayre and Brendan Rodgers would have to wing it.
The transfer window was such a shambles the manager called it an 'absolute debacle' and the owner felt the need to write an open letter to the fans.
By the time the January transfer window came round Fallows and Hunter had their feet under the table and Michael Edwards (appointed by Comolli as head of analysis) had been promoted to head of performance & analysis.
On January 1st 2013 the club signed Daniel Sturridge. Great start by the committee. Then at the ending the transfer window Phil Coutinho was signed. Fantastic. The two new signings made an instant impact and we finished the season very impressively.
That summer and the following January we were all excited about what signings we'd make.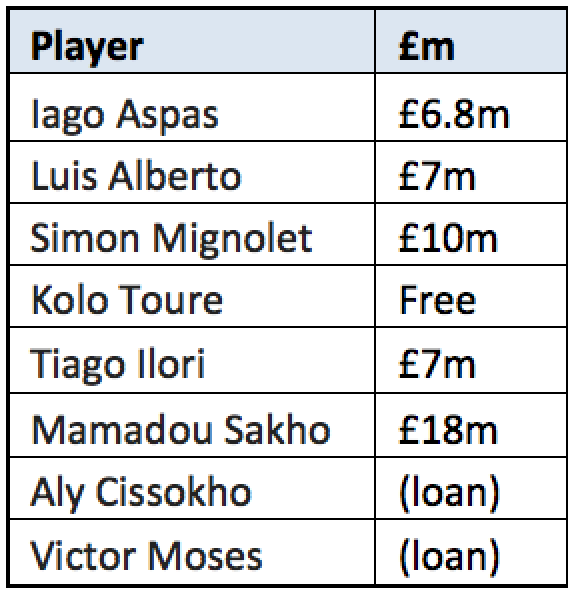 A shocking transfer window and made worse by the players we made offers for but missed out on: Willian, Diego Costa, Mkhitaryan, Salah, Konoplyanka.
Liverpool almost win the league despite the dreadful transfer dealings and it's no surprise to me that Rodgers sought to get more control over transfers when negotiating his new contract. If a committee brought me Aspas, Alberto and Cissokho I'd want them to get the Comolli treatment.
The summer of 2014 when most fans were thinking about building on a near title winning season the club was preparing to lose its best player and had a farcical situation where, if you believe reports, the manager would get to pick some players to sign and the committee would get some. Take turns if you will.
Here are the signings: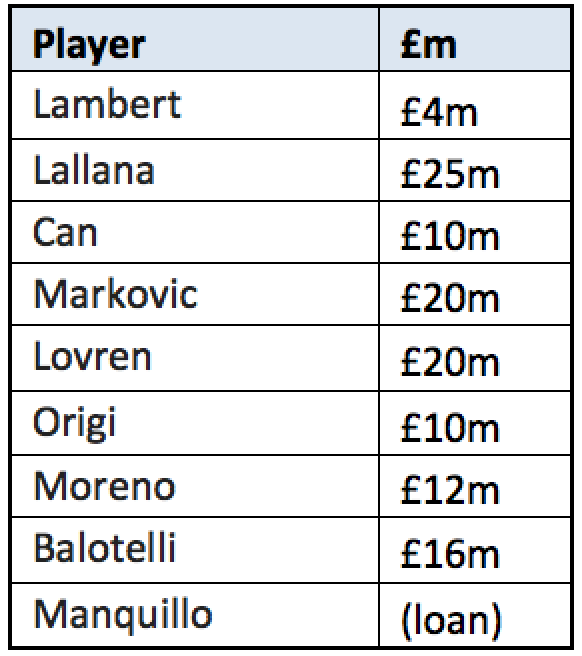 Balotelli is an interesting one because it came about after the club tried and failed to sign Alexis Sanchez. The manager wanted a striker and was apparently presented with these options. Samuel Eto'o or Mario Balotelli or do without. I wonder if Atletico's recruitment team would have provided better options than that?
We then went on to have a season to forget. One where the manager didn't trust half of his squad because they were recruited by people he'd lost faith in. The likes of Can, Markovic and Balotelli could hardly get a start and when they did they were often terrible. The players we think were Rodgers' boys: Lambert, Lovren and Lallana, were shite as well.
We finished the season sixth with a 6-1 hammering at Stoke. Our football operation was a bit of a cluster fuck. A proper route and branch review would take place. That's what we were led to believe.
I wanted the lot of them sacked but instead the club just sacked, for me, the people with the least influence, the easy targets. Colin Pascoe and Mike Marsh fired and replaced by Sean O'driscoll and Gary McAllister.
I wondered what was discussed in that review for the agreed solution to be "get O'driscoll and McAllister and we'll be alright".
After the review the transfer strategy seemed to be to back Rodgers more than ever. This is what we got.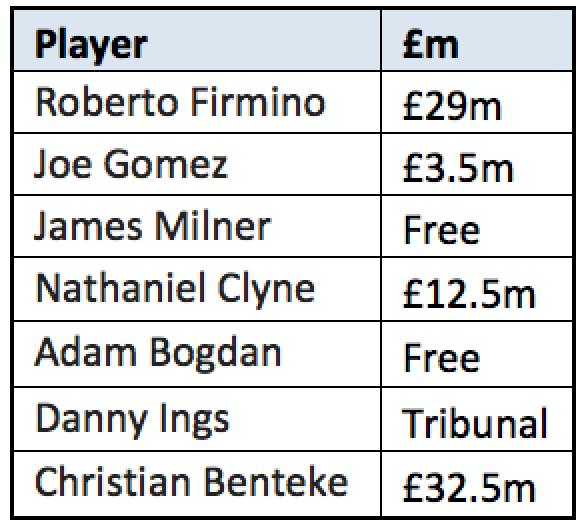 There's a lot of British/Premier league/Championship proven in there plus Firmino. Result? Rodgers sacked after just eight games. This suggests to me that they (FSG) had lost faith in him towards the end of last season but decided to back him to the tune of £73.8m anyway.
Appointing Klopp was a major coup and the hope is it's the catalyst for building the world class football operation that is needed.
January wasn't a great start. Missing out on Texeira and not having a plan b option was all too familiar. The club hasn't made a permanent signing in January since Coutinho.
The best performing clubs have people at director level who know the game. Liverpool need to follow that model.
Having the ability to execute deals is crucial. This is Ian Ayre's responsibility. Should it be?
Evidence suggests maybe it shouldn't. We need someone who can sell the club's project to agents and someone who has a good relationship with their counter parts at other clubs. That's key to negotiations.
Also we need someone that has the balls to sell a deal to FSG. For example say the club scouts Sane and valued him at £28m but Schalke refuse to budge from £32m we need someone to convince FSG to sign off. I get the impression Ayre is a "sorry, computer says no" kinda guy. It would explain how he was in talks for Salah for three months when the asking price was just £12m.
I'm aware Ayre is leaving at the end of 2016/17 but I don't want to wait that long before we get someone in who can close a deal.
So have FSG failed to deliver? My answer is yes. As John Henry said himself in 2010, within five years we should be competing with the big boys, every year. We're still waiting for that to materialise and still waiting for that world class football operation.