The Famous "Spine"
Every successful team needs one.  
In the '80s Liverpool had Grobbelaar, Hansen, Whelan and Rush.  United's dominance of the '90s was largely down to their leaders through the middle – Schmeichel, Bruce, Keane and Cantona.  
Wenger's Invincibles had Lehmann, Campbell, Viera and Henry and Chelsea's successes during the last 12 years or so had the solid foundation of Cech, Terry, Lampard and Drogba.  

The common traits of most, or all, of these players are leadership, consistency and unerring commitment.  They were the men the team could count on, the ones who would get the game by the scruff of the neck and drag their teams back from the brink of defeat.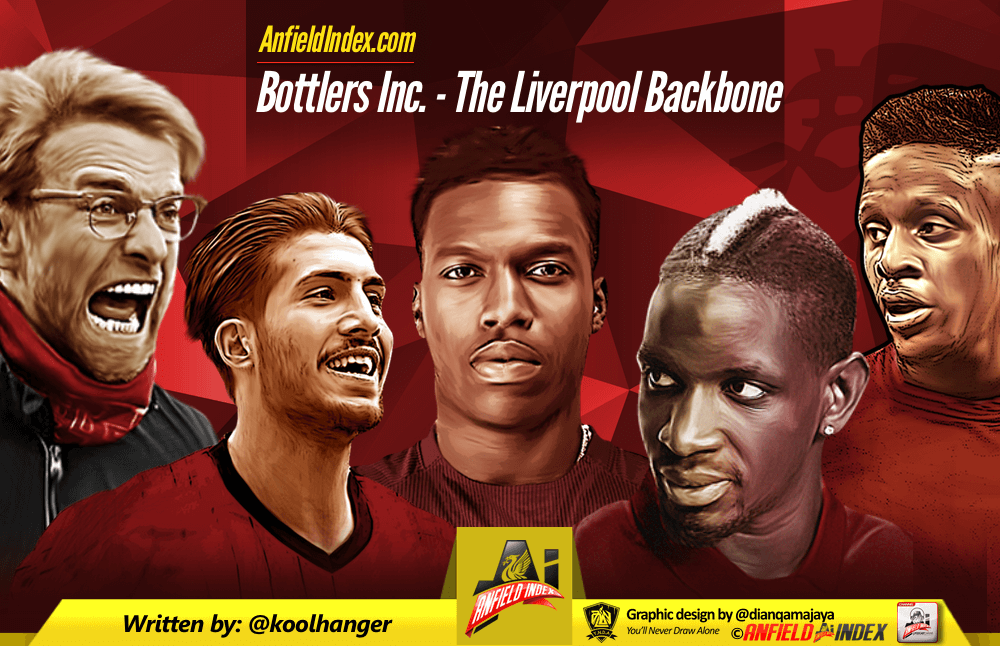 The Curvature of the Liverpool Frame
Since our title-winning days of 1990 we have rarely possessed what one would call a strong spine throughout our first eleven.  Evans' era had David James, Wright, Redknapp and Fowler.  Gerard Houllier shook things up with Westerveld, Hyypia, Hamann (later Gerrard) and Owen and Rafa's era had Reina, Carragher, Gerrard and Torres.  Benitez built such a strong team that we could put Hyypia, Alonso and Mascherano in their as well.
Let's ignore the fact Hodgson was ever at our club.  
Kenny steadied the ship for a couple of years.  He also added a certain Mr Suarez to strengthen us through the middle.
Rodgers arrived in 2012.  Carragher was at the end of the road, retiring at the end of Brendan's first season.  Gerrard was slowing down and Rodgers and Reina never saw eye to eye.  Rodgers did the right thing of building his team around the ever-improving Suarez.  Unfortunately, the rest of his squad (Gerrard excluded) lacked what the Uruguayan had in abundance, and what Rodgers himself spoke about constantly – character.  
Rodgers' post-match interviews and mentions of the "character" the team had displayed became infamous.  I'm still not sure if he was trying to fool us, or himself.
Klopp's Time
When Jurgen Klopp arrived in October of last year he knew he had a job to do.  Eight months on and the exact magnitude of that job has now become apparent.  
Much like Rafa in 2005, Klopp almost achieved a memorable European success in his first season here. Much like Rafa, this was despite of the players at his disposal, rather than because of them.
In Klopp's debut-season, the first eleven backbone consisted mainly of Mignolet, Sakho, Can and Origi (or Sturridge when fit).
Divock Origi has improved brilliantly under Klopp and may well be leading the line instead of Sturridge next season when both of them are fit.  Despite all the obvious class and talent that Sturridge possesses, Klopp seems to have a soft spot for young Origi.  
Mignolet has been our number one by default for a few years now.  He has not had any serious competition.  Hopefully, that has now changed with the arrival of Loris Karius.  The 22-year-old German goalkeeper arrives from one of Klopp's previous clubs, Mainz.  Karius was voted the second best goalkeeper in the Bundesliga this season, only beaten by Manuel Neuer.
In light of UEFA's turnaround regarding the Sakho case he should now be back to us for pre-season.  He had been forging a decent centre-back pairing with Lovren as the season progressed, only for it to be halted needlessly by UEFA's ineptitude.  They may be our first-choice defensive partnership come August, even with the arrival of Joel Matip from Schalke.
Emre Can is the diamond in the rough.  With the potential to become a Rolls-Royce of a midfielder, Klopp needs to hold onto this young talent with everything he's got (hard to believe Can is still only 22). We could always see Can was good in patches, but now he's adding consistency to his game as well.  In fairness to him, it's the first proper long-term spell he's had in his favoured midfield position since his arrival at Anfield. 
Can is a leader.  He is captain material, and with the obvious advantage of sharing the same native tongue as his manager, he is the obvious choice to become Klopp's representative on the pitch.  He also has the physical presence which can win half the battle with opponents before it's even begun.  Can may well go on to possess those same traits I spoke of at the start of this piece.
Can is going to have Henderson, Coutinho, Marko Grujic, and maybe Joe Allen around him but I expect the German international to be the regular in the centre.
Origi and Sturridge seem set to battle it out for the strikers role.  Klopp rarely goes with two out-and-out strikers so it might be a case of using whichever of these two frontmen are more suited to a specific game or opposition.
Rotating around them will be Bobby Firmino, Lallana and maybe a returning Lazar Markovic.  I don't see our attacking options changing this summer, either through anyone leaving or arriving.
Klopp's Approach
We know Klopp likes to mould and develop young players, allowing them to reach their potential and creating stars of his own.  Karius, Can and Origi seem to fit this profile perfectly for Klopp.  Sakho, Can and Origi have the perfect attitude and professional outlook.  I'm hoping Karius does too.
If Klopp can instill his drive and desire to the rest of the squad, plus any newcomers, then with a spine of Karius, Sakho, Can and Origi / Sturridge we may be looking good for a few years to come.
We need strength through the middle.  Every team does.  It makes up for an underperforming full-back or a wide player who isn't pressing as he should.
Let's build from the back, and out from the centre.  I don't expect any big-name signings, more a change of culture from within the club.  Klopp is a leader.
Let me finish with this quote:
"True leaders don't create followers, they create more leaders" – Anonymous