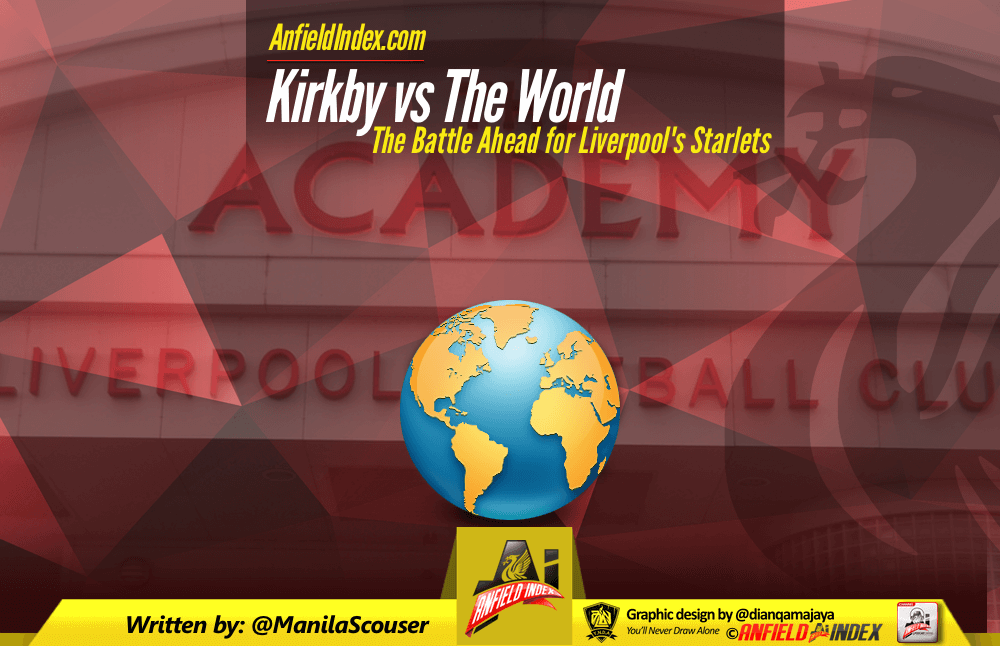 Kirkby vs The World: The Battle Ahead for Liverpool's Starlets
Liverpool Football Club are abundant (to say the least) in talented players over at Kirkby. Toni Gomes, Bobby Adekanye, Trent Alexander-Arnold, Ben Woodburn, and Adam Philipps are just a few of the boys shining in the academy. But leaping to Melwood isn't a walk in the park for these players.
Since 2013, Liverpool have brought in the likes of Marko Grujic (18), Divock Origi (20), Lazar Markovic (20), Philippe Coutinho (20), Joe Gomez (18), Emre Can (21), and Daniel Sturridge (23). Seven players who coincide in the same age bracket among academy players who have just recently graduated to Melwood such as Kevin Stewart, Pedro Chirivella, Brad Smith, Joao Teixeira, Connor Randall, etc.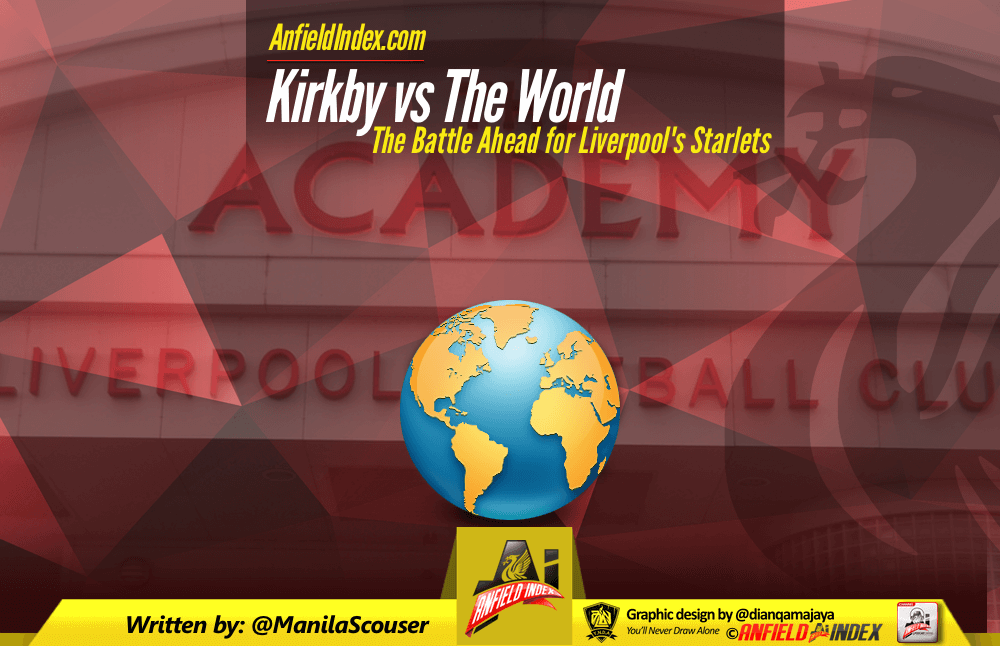 In October last year, statistics show that Liverpool ranked second in fielding the youngest team in the Premier League, with an average age of 25.5 years old. The youngest team that a PL club has fielded is Tottenham Hotspur with 24.7, and West Bromwich Albion come in last with an average of 29.2 years of age.
The fact that Liverpool have such a young, senior squad makes it even more difficult for these boys at Kirkby to have a shot at getting first team experience at Liverpool. It won't be exactly a "breath of fresh air" these kids will bring regarding their age, when their counterparts at Melwood are just as young.
Some of the players who have even graduated the academy or were bought at a young age, spend a year or two in Melwood, can't get enough time on the pitch as they would've liked, so they move on to different clubs. Examples of such are Suso, Dani Pacheco, Jonjo Shelvey, Sebastian Coates, with the latest departure being Jordan Rossiter and Jerome Sinclair.
But it's not only the average age that Liverpool fields in their first team squad, it's also us fans who are not making it any easier for them.
"Sterling can go. Jordon Ibe's better."

"Rossiter could be the next Gerrard."

"Jon Flanagan is the mini Jamie Carragher."
Twelve players from the academy have made their official Premier League debut the past season, according to Nathan Stalker (@VoiceOfNathan), regular on the AI Academy Podcast. He also mentioned that the kids have to be exceptional to break into any Premier League team, and that very often, these players have to go out on loan to show their talent, with Sergi Canos being a very good example. Is it because they go to a lower league? Or is it because of the pressure of the fans?
To some extent, the lower league is a very good reason for it. You get used to competitive football at a senior level. And you get used to playing around less of a crowd, somewhere around the thirty thousand mark at most, compared to most Premier League grounds which could rise up to 80,000. And the young players coming from Liverpool who go out on loan would probably be somewhat relieved. Our fans can sometimes get too intimidating that they just crumble and fall like a failed soufflé, instead of showing what they're capable of.
These players can see every single day how they're being judged through social media. We judge them as the next big thing when they're at Kirkby or when they arrive at Melwood. And after one or two games they're suddenly horrible and need to be shipped out. Most of us don't give these players a single ounce of breathing room. Playing for the first time in front of forty-five thousand people looking at your every move isn't exactly a picnic.
In hindsight, there are young players who grow tremendously into huge talents in an environment seemingly without pressure in Germany, and are now becoming the hottest commodity in football. Some have even cemented their names in the starting lineup. Mahmoud Dahoud, Hakan Calhanoglu, Leroy Sane, Timo Horn, Leon Goretzka, Jonathan Tah, and Nicklas Sule are all examples. And that's just scratching the surface.
I'm not going to pretend to have any first hand knowledge on how the Germans run their academies and their process of integrating their graduates into the senior squad without any pressure, but judging how much their players have progressed over the last few years, it could certainly be something to look at.
But we also have to look at ourselves as well. It's probably less of the system at Liverpool and more of us. We can't follow the same model for young players, academy-grown or not, 24 year old or a thirty year old; as we do when meeting people, judging a book by its cover. Yes, Liverpool is a big club that should be competing for the title on a regular basis. Or we don't have the luxury to give these players time to settle. But does that mean we should ship them out first chance we get? If we followed that mindset to the dot, we wouldn't have Jordan Henderson who was a major key in our title challenge in 2013/2014, or him being a focal point in a seemingly poor season performance in 2014/2015.
It even happened to Divock Origi, who was one of the rising stars in the 2014 World Cup. When he arrived at Liverpool, we were all excited. He was thrown into the deep end at 20 years of age when Daniel Sturridge was still consistently injured and Brendan Rodgers played Roberto Firmino on the flanks. After a poor run of form he was dubbed as a flop. Klopp came in, gave him a run of games, bulked up his muscle and he scored ten goals this season for us, which isn't a bad return for his age, given he was also injured a few times, more notably as a result of Funes Mori's despicable tackle which almost broke his ankle. Funnily enough, someone even had the audacity to say that he isn't a natural goalscorer and that all he had was his pace. I think that person is still in love with Raheem Sterling…
There's more to these players than what they show you in the first or second month, or even throughout their first year at the club, as I've mentioned in my previous article about a player settling in a new environment. Whether these young players have the character or talent to be one of the first names on the team sheet on a regular basis, I don't know. I'm not Charles Xavier. But I can tell you if you give them a little leeway, they might be regular names in the future. Maybe not a Steven Gerrard, a Robbie Fowler, a Jamie Carragher, or a Kenny Dalglish, but surely they could play an important role as an impact sub, like a David Fairclough type of player.