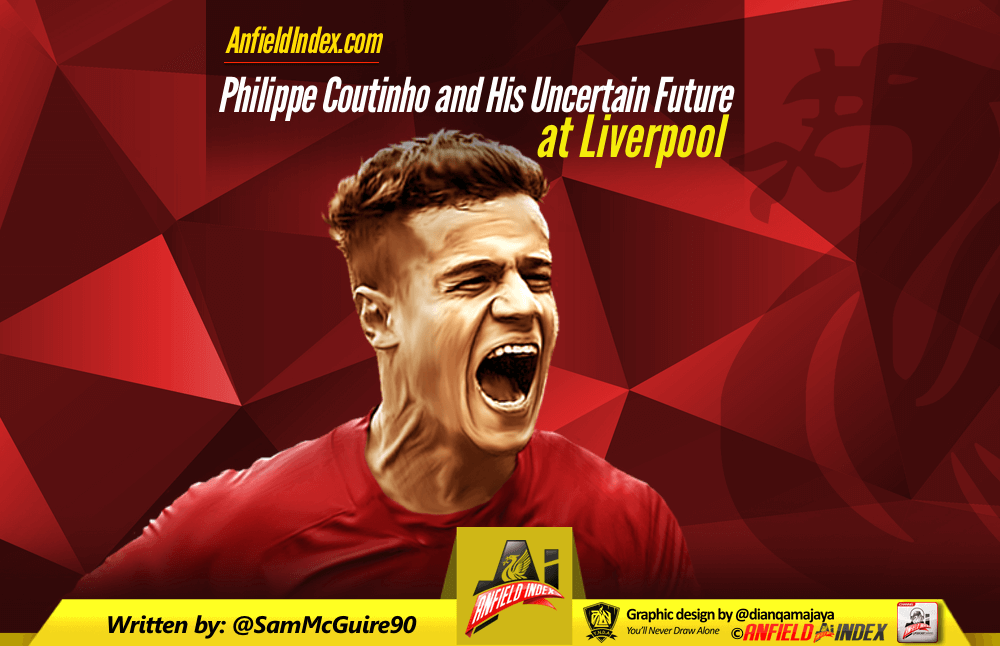 Philippe Coutinho and His Uncertain Future at Liverpool

Silly season is upon us and as tradition dictates one of Liverpool's star players is linked with a move away from Anfield.
The player in question this time is the little Brazilian magician, Philippe Coutinho. The Liverpool number 10 is rumoured to be interesting both Paris Saint-Germain and Barcelona. Can Liverpool break tradition and make it through the summer without losing one of their key players? Or will it be a similar story to the sales of Luis Suarez and Raheem Sterling in which the club names a price for a want-away player and if it's met he's allowed to leave.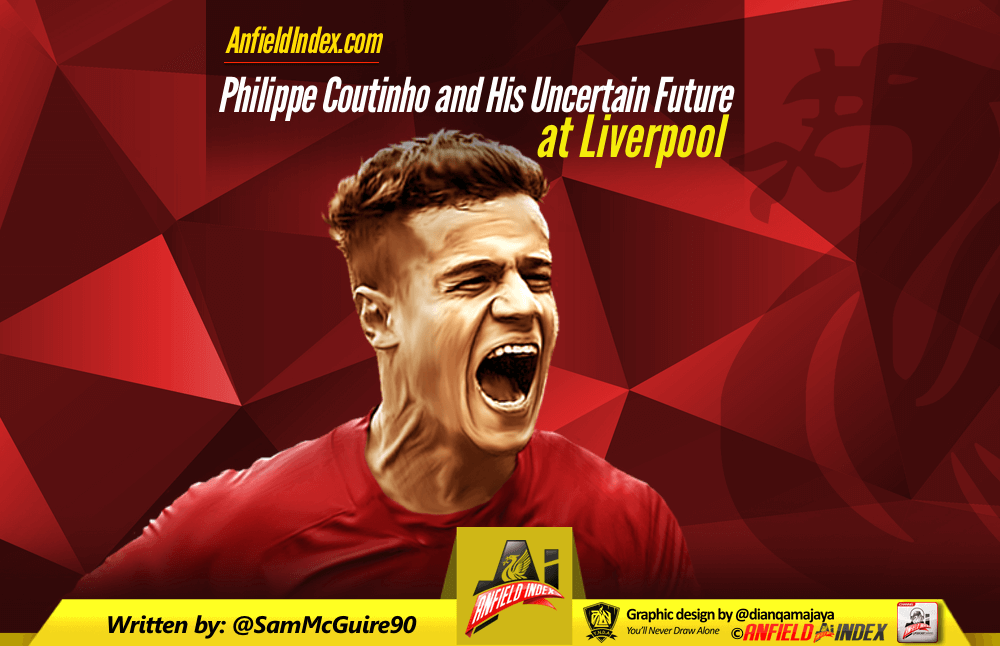 What is Coutinho worth in today's market? Social media was alive with this question last week with many fans indicating they'd sell him for £60 million, that puts him in between the fees achieved for the two aforementioned players. Something tells me the fans wanting that fee aren't being honest with themselves. Liverpool only received a fee close to £50 million because he was going to a Premier League club and the fact he's English, there's always an added premium for that. Even with the new TV deal I personally can't help but feel a bid of £35 million or over would be entertained by FSG. Why wouldn't it? Liverpool paid £8 million for him three and a half seasons ago, from a business perspective a profit of £30 million isn't something that can be ignored.
Many on social media have been drawn to the fact Coutinho hasn't come out and said he's unhappy or he wants a move. If it is true he does want out then it's not something he's pushing publicly. If you remove the raw emotion from this debate, if Coutinho did come out and say he wanted to leave, could fans actually blame him?
When he signed in January 2012 he came into a team containing Luis Suarez, Steven Gerrard, Pepe Reina, Jamie Carragher and a newly acquired Daniel Sturridge. There was leadership there in abundance. There was undoubted quality. Match winners and game changers. The 2013/14 season saw him become a vital cog in Brendan Rodgers' expressive, free flowing, attacking Liverpool side that got so close to that elusive Premier League title.
He had very little pressure on his shoulders. He was electric, majestic, spellbinding and entertaining. The Kop took this baby faced 'baller to their hearts. Entertain them and you'll have their adulation for life… and that's what he went about doing. The less pressure on him meant he was starting to once again show the promise that saw him touted as Neymar's rival during his youth.
These types of players flourish at a young age when the pressure isn't on them solely to perform.
The following season, the 2014/15 one, saw Liverpool without Luis Suarez, without the constantly injured Daniel Sturridge and although Raheem Sterling was with him in body his mind was preoccupied with contract talk. It was Coutinho FC on Gerrard's farewell tour and the added pressure on the youngster was visible in his play. He didn't just want to do it all by himself, he had to.
Another season and another positional change for Coutinho as Jurgen Klopp replaced Brendan Rodgers and proceeded to use him as a de-facto left midfielder in a 4411 formation. All of Klopp's systems demand discipline and high concentration levels so it's no surprise he's looked a little off the boil at times. Less creative and more workman like. He's done what's been asked of him superbly and he chipped in with big goals and assists along the way.
Is this what Coutinho signed up for though? He's carrying out the team instructions but it's to the detriment of him as an individual. Less breathtaking moments mean fans have fewer standout Coutinho moments meaning he's easier to criticise when the team perform badly.
"He didn't turn up in the final."
"He's too inconsistent and unreliable."
He wasn't the only player to disappear in the Europa League final. His first big final and people expected him to tear it up. He's a big game player and it's criminal just how under appreciated he is. This season alone he scored vital goals against Chelsea, City, United and Dortmund.
A lot has changed since he was signed. He may not want to carry a team going through yet another transition. He's taken that mantle up before and look at the criticism he received when his performances dropped.
He has over 200 appearances to his name already yet there's been no consistency in his play throughout that time probably because there's been no consistency in the sides he's played in. The goalposts are forever moving. Despite this he's scored 21 league goals and has 22 assists to his name meaning throughout his Liverpool career he's scored or assisted in the league every 187 minutes. Not bad for a player who has featured in various positions for a team in a perpetual state of transition.
Coutinho may look at the bigger picture and think at just a week away from turning 24 he needs to be playing Champions League football regularly and he needs to be winning trophies. He needs that experience before entering his prime and possibly moving on to an even bigger club. Can Liverpool offer that on a consistent basis? As things stand, probably not.
The clubs rumoured to be interested in him makes a lot of sense.
Touted as the heir to Iniesta's throne since his performances in 2013/14, it was almost written as a prophecy for the Brazilian to wear the Barcelona top at some stage in his career. Many thought that was years away but perhaps it's closer than imagined? He wouldn't be a guaranteed starter but just playing with Luis Suarez, Lionel Messi and Neymar on a frequent basis will improve him as a player.
Then there is PSG. On the precipice of finally being labelled as one of Europe's elite. They're rumoured to be interested in rebuilding and rebranding following on from the departure of Zlatan Ibrahimovic. Not a European powerhouse but a move to France guarantees trophies and regular Champions League football. With an abundance of stars there would be less emphasis on Coutinho pulling it out of his arse to win a game. He'd be able to develop. Perform to a high level in Europe consistently and Barcelona couldn't ignore him for long. There is also a large Brazilian contingent at the club and with a new baby and a young family it may be something that appeals to him.
Much like Suarez it's near impossible to replace Coutinho. There's not a player in world football out there like him. Capable of the sublime, his creativity is matched by his desire to win and his work rate. It's not often you'd find a player with so much ability who would do the defensive job that Coutinho does, he's on a leash but he's professional about it. You can't improve the individual but there are other areas you can upgrade on. But what if a move is needed to help him fulfil his potential, and to help Liverpool improve as a team. Jurgen Klopp may feel playing him in a disciplined role is just 'making do' because there's nowhere else to play him and a move for a player better suited to that position makes sense.