Users of Twitter were feverishly woken up to images of Jurgen Klopp at the Argentina – Chile game. Pictures showed him standing next to Higuain's brother (and agent) 'apparently'. Once the family tree of Higuain had been explored to the hilt, there were proper discussions online whether Higuain was actually a possible transfer to Liverpool.
There is no doubting Higuain's prowess as a player. He was one of the best players across the top leagues in terms of goals scored per 90 minutes last season. 38 goals in 42 games is an outstanding record in any season in any league.
Record in 14/15 : 29 goals in 58 games, in other words, a goal every 2 games

Record in 13/14 : 24 goals in 46 games, an average of just above 1 goal every 2 games.
His track record over three seasons proves that he knows where the goal is, and more importantly knows to put it into the goal.
My personal points of contention about this transfer are as listed below.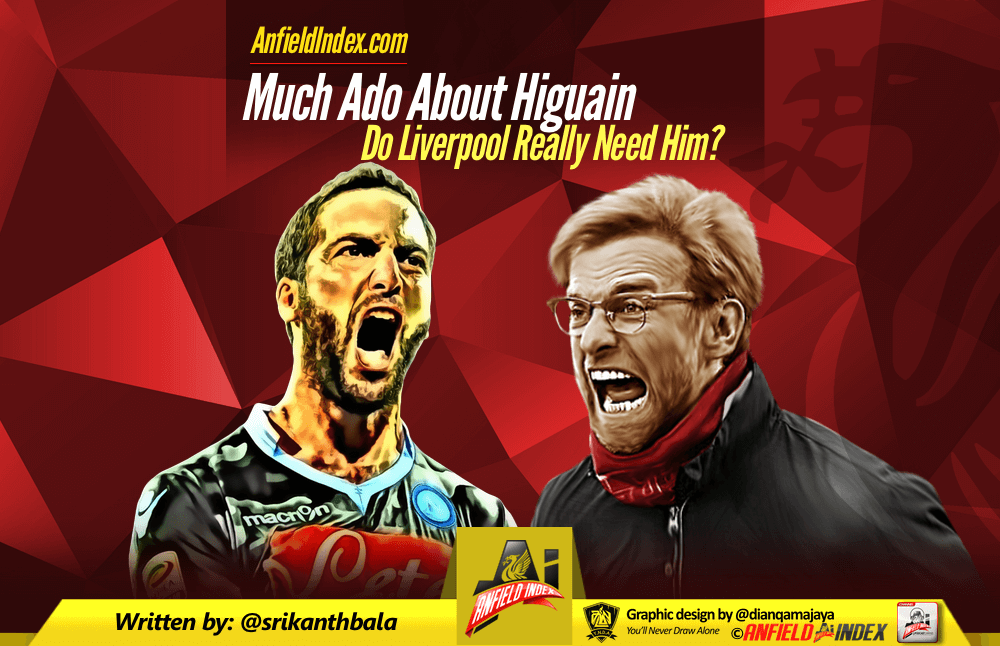 Transfer Fee
Transfermarkt currently put the market value of Higuain at 45 million pounds, and there have been rumors that Napoli would want at-least 60 million pounds to consider selling their prized asset. It is debatable whether Liverpool would pay such a fee for one player considering the rumors that Liverpool pulled out of the Alex Texeira deal over the fee demanded by Shakhtar.
Liverpool have a limited number of games next season due to a lack of European football, and considering we will definitely have three strikers in Sturridge, Origi and Danny Ings (with Firmino who could play the false 9), it makes very little economic sense to invest 60 million pounds in a position we are decently stocked in for the short term.
What happens to Origi and Ings?
Which leads me to the next point. Last season saw the break through of Divock Origi who showed what an exciting player he is, and more importantly what a good player he could become. Buying a player like Higuain at that fee would indicate that he is first choice to start, which is fair considering his scoring prowess. Where does that leave players like Origi and Ings though? Would a substitute appearance here and there, alongside cup games be their future looking ahead, as their game seemed to get better with more playing time.
Is a 60m forward our need?
The Liverpool fans have bemoaned through-out the last 5 to 6 years that we have not adequately replaced players like Alonso and Mascherano following their departures. We have seen a couple of managers come and go, but our deficiencies in the squad still remain as it was few years ago.
Under Brendan Rodgers, the team oscillated from a team-that-cannot-score to a team-that-cannot-defend. What was missing in those three seasons was 'balance' . Once Jurgen Klopp took over, we saw that this team has goals in it, and those goals came from various sources.
In 2015/16, Liverpool had 22 different goal scorers across competitions, a club record surpassing the previous record of 18 in 1991-92.

Liverpool scored 41 goals in the Premier League from Jan 2016 to May 2016, the highest in the league. (Just for reference, Liverpool scored 22 goals from August to December 2015)
The above two statistics at-least show that goal scoring and goal scorers are not the burning issue for Liverpool. The balance between attack and defence was being re-imposed by Klopp as Liverpool had the 5th best goal difference from Jan to May 2016.(12th in GD from Aug to Dec 2015). Further fine-tuning this balance by reinforcing the defence and midfield should be the top most priority for this team. A 60 million investment, primarily in our midfield and then defence would ensure that this team competes at the top table for the next few years.
Why would he join Liverpool?
Napoli finished 2nd in Serie A last season,which assures them of a direct entry into the group stages of the Champions League. Let us assume that he does not want to stay at Napoli, in which case his agent will be pretty sure to make other clubs know that his client is available. So what would make a transfer go through then?
A club willing to outlay such an investment.
The player being convinced he can compete at the highest level, or can take care of his future economically with the money on offer.
We have already examined whether Liverpool under Jurgen Klopp would be willing to fork out the fee demanded by Napoli. When a player like Higuain becomes available on the market, there would not be any shortage of suitors. Lets consider a club like PSG.
They have just lost the services of Ibrahimovic. That not only takes out star power, but also takes out their top goal scorer. Higuain would satisfy their requirements on both counts.
PSG are regularly in the Champions League and are a shoo-in for the league title.
Wages would not be a problem for PSG.
Their President recently came out and said that PSG need to move into the next level, and a player like Higuain would be a statement.
The above is just a hypothetical scenario, and this might be true for any of the super rich clubs, or traditional super powers. Whether Liverpool can compete at the same level, without the economic power and the lack of European presence is a question worth asking.
More importantly, the question I would ask is, do Liverpool really need to compete for Higuain?