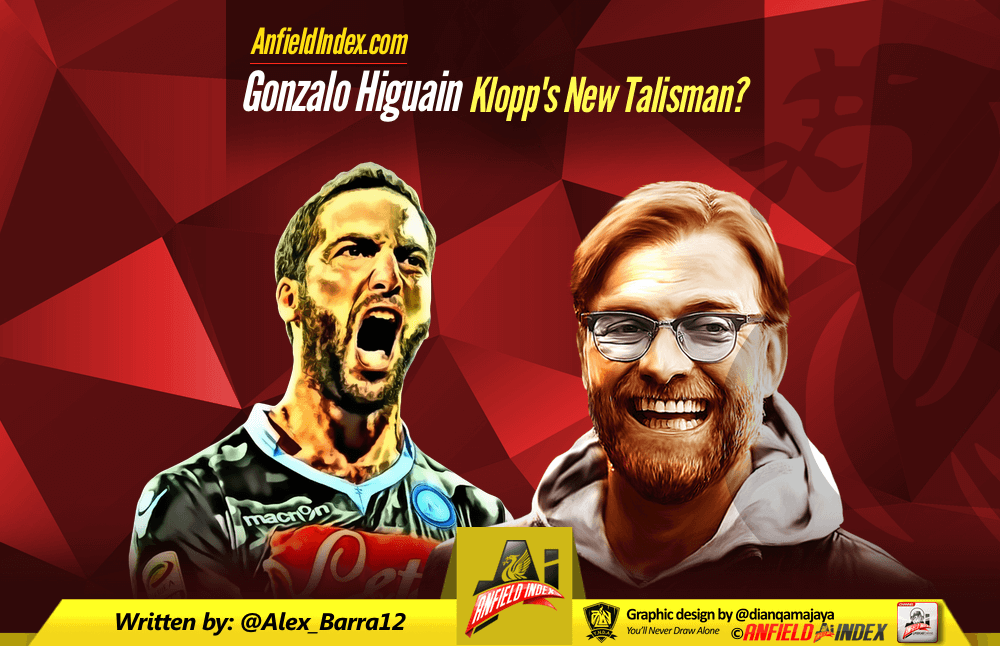 Gonzalo Higuain - Klopp's New Talisman?
Psychology has the power to make you feel things with a few choice words.
So here goes.
Higuain, Sturridge, Firmino.

Now that this piece has gotten to its intended introduction, and your imagination is stimulated with the idea of the sheer frenzy that trio would bring to our front line; the goals and excitement, the dynamism and movement, the exhilaration, and a blitz of Jurgen Klopp fuelled extravagance and…
You get the point.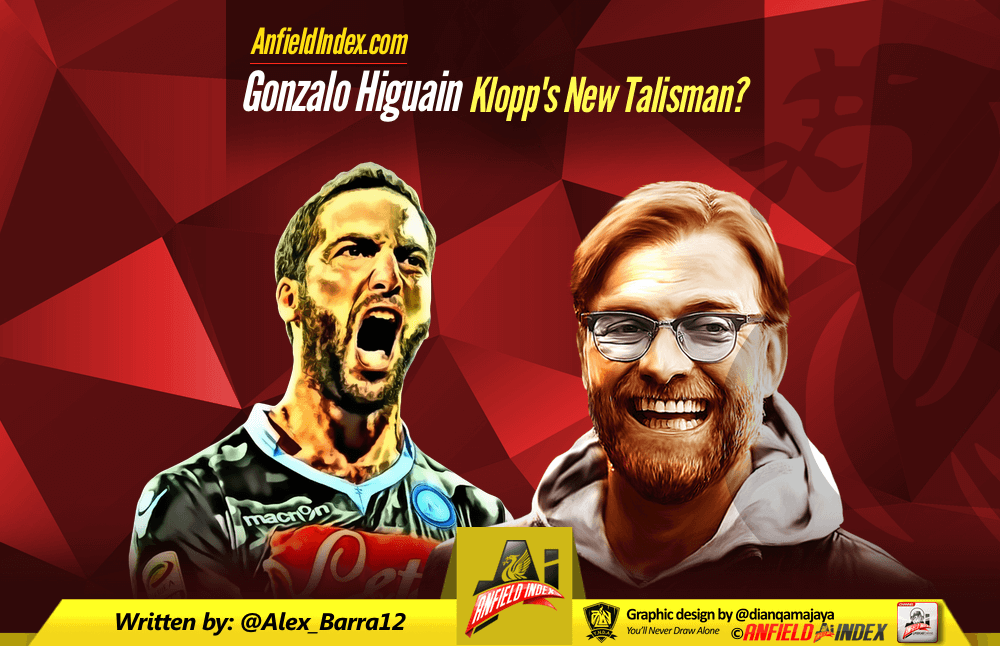 Gonzalo Higuain scored 38 goals in 38 games during the 2015/16 season, in which he led Napoli to a second place finish – a season in which he nearly single-handedly (he had some help from Lorenzo Insigne) held up Napoli's title charge with his astonishing proficiency in front of goal. But he wasn't just a one-hit wonder; the twenty-eight year old was once Real Madrid's lead man in front of goal, but following his £37.5 million move to Napoli, he really turned the jets on. In particular, his right-footed jet; one which saw him score 71 goals in 104 Serie A appearances for the Naples side.
So what would he bring to Jurgen Klopp's Anfield revolution? Would he be worth it? Is Higuain worth all the hype and excitement?
Of course he is. Yes. Yes he is, put simply. In fact, he's worth more than most fans give him credit for.
His goal record is as good as a fit Daniel Sturridge's, except Higuain's record is far, far less blemished with injuries. He's become a key role in a riveting Napoli side that thrived on the counter-attack, and with some deft little link-up amidst the attacking line. Especially involved in many of his attacks is the little wizard Lorenzo Insigne, who's become one of Europe's hottest young(ish) attackers.
And such does the Roberto Firmino connection come into play. If Higuain can thrive with that kind of player buzzing about him via Insigne – the likes of which he has played with before at Real Madrid, a team known for technically impressive players – the things he and Liverpool's little Brazilian machine could do together would be astounding. There's also the matter of the aforementioned Daniel Sturridge, and how much fans have seen him prosper in a striker pairing. Alone, he's still exceptionally talented, but he lacks the cutting edge that saw him show just how good he can be when he was paired with Luis Suarez in 2013/14. Even this season; his best games came when he was deployed alongside Divock Origi in a partnership up front.
Should Klopp re-visit the diamond, Higuain and Sturridge would be the best strike partnership in the Premier League.
But what about Higuain, the player, himself? What does he bring to the Liverpool team that others don't?
Well, for one, his presence inside the box is predator-like. He hunts down loose balls and half chances and puts them away with clinical precision. With every delicate through-ball put through from Napoli's midfield, Higuain's movement and presence made the attack flow. In a stark contrast to Christian Benteke, the Argentinian talisman's movement would be second to none in the Liverpool side.
Maybe, just maybe, it would unlock the dazzling, incisive through balls from Phil Coutinho that seemed to go missing this season.
His ability to take both centre halves for a ride is equally as impressive as his delicate or demolishing finishes; the way Higuain moves in between the centre-halves, allowing other attackers to use the space is typical of a class number nine, as are his instincts in front of goal. Below is a video depicting nearly every goal he scored for Napoli this season – all thirty-eight – in which his predator-instincts are in full swing.
https://www.youtube.com/watch?v=NELyIrafKn4
But all this can be perceived from a YouTube compilation, so what about the football he plays?
Well, the noticeable thing, which I touched upon in the previous point, is the way he's able to get into the right positions at the right times. It leads to him being caught offside more than a few times, though when he gets it right, which he does consistently, centre-halves are on their heels and full-backs are shouting irrelevant obscenities; they know what happens when Gonzalo Higuain gets a clear-cut chance in the box.
Then, there's the defensive side of things. Napoli aren't slouches; their system demands constant movement and harassing from their players in order to win the ball back, and the Argentinian's ability to press and hound opposition defenders; while maybe not to the level of Luis Suarez, and certainly not comparable to the machine in Roberto Firmino, is more than reliable.
Systemically, he's best suited to a counter-attacking style where he has room to move; in order to utilise his pace and deftness of touch, including a potency to dribble with the ball. It creates a possible problem against the likes of West Bromwich Albion and Crystal Palace, but with players moving around him and Bobby Firmino buzzing about, the slick, intricate passing Jurgen Klopp favours would be able to unlock defences in a heartbeat. Though he may not be the most effective hold-up man, and his link-up isn't at the level of someone like Robert Lewandowski, his ability to create space and use it to release his teammates, something he adapted during his time at Real, is what makes him an ideal Jurgen Klopp striker.
The fact is, he scored thirty-eight goals in the most defensively sound league in the world. Then, cast your eye to the way Liverpool's new messiah Jurgen tried to make his team play this season. Sure, Benteke didn't fit into that mould, but Daniel Sturridge impressed on multiple occasions; possessing the natural finishing talent needed to score those vital goals, despite not possessing the work-rate of a typical front-man in Klopp's system.
Gonzalo Higuain, well, he's got that. He's also got Sturridge's natural, predator ability inside the box. Higuain could also release Liverpool's other attacking weapons; the likes of Firmino, Coutinho and Lallana would be enhanced greatly by the presence of the former Madrid front-man.
There are some complications, yes. Well, there's a big one; the price tag. His release clause is said to be somewhere around the £60 million mark. But Napoli are a selling club, their prized asset is nearing twenty-nine years old, and Higuain only has two years left on his contract. This is the best chance they'll ever get to cash in on their talisman, probably for a sum of around £40 million.
It would be nice to finally say our record signing isn't Andy Carroll.
So, I do hope you're excited, because that's kind of the point of transfer rumours isn't it? And yes, I realise that as I'm currently writing this certain journalists have outright denied that Liverpool are after Gonzalo Higuain. All at once. It's not like after the Götze debacle the club would specifically brief journalists about releasing information about a high value target, would they? No, of course not, of course they wouldn't do that.
Here's to the silly season. Here's to the Argentinian predator adorned with a Liverbird on his chest next season.