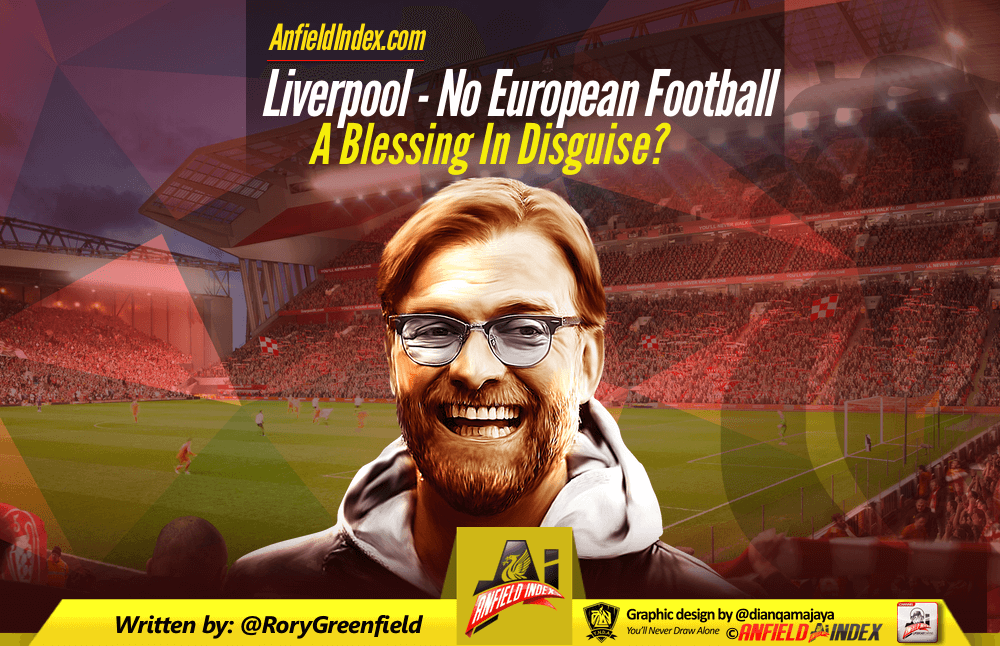 Liverpool - No European Football, A Blessing In Disguise?

The Europa League campaign has been the shining light, in what was a season of mixed fortune. Many supporters claim it's been a failure, well I for one certainly don't. As bitter a pill losing a final to Sevilla was, just a year former the club had been embarrassed 6-1 by the hands of Stoke, with the dismal European campaign long over. Not only that, but the players looked dejected, with no signs of hope, progression or success on the horizon. We were a club rudderless, drifting aimlessly out to sea. So yes, losing hurts but if you honestly have no hope, if you can't see that everything is improving with Klopp in charge, then you never will.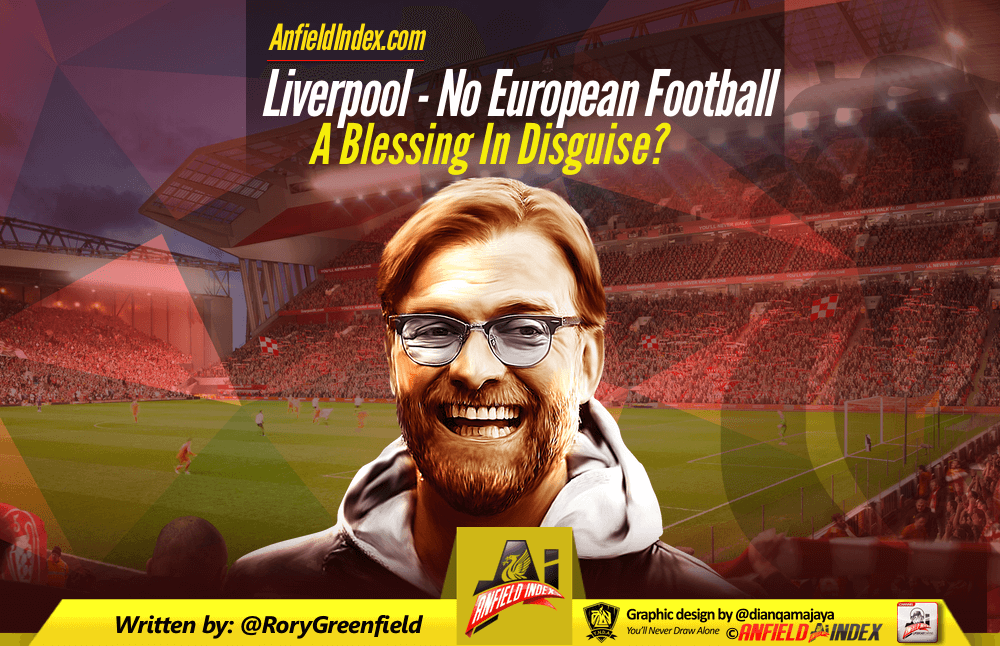 We may not have finished the season on the high we would have all loved, but that doesn't mean the long-term ambitions of Jürgen Klopp, the owners, players and supporters need to be adjusted. If anything, this may prove a blessing in disguise. Klopp has been desperate for a pre-season, for an opportunity to spend longer with the players. Well without European football he'll have that much needed time, to develop relationships and an understanding between players, to ingrain his tactics and ideals, to develop the players at his disposal and work with the new signings arriving this summer.
Playing twice a week, regularly over 8 times a month, takes its toll on any squad, particularly one so fragile as Liverpool's. Injuries started to stack up and the resistance of the players to the harder training and volume of matches at first was very poor. Regular hamstring strains was a sign of the fatigue, which without the much needed recovery time, became a serious issue. I always struggle to see how these clear mitigating factors, are instantly dismissed by some sections of the support?!
Every game, every competition, no matter the level of opposition Jürgen Klopp will always respect the opponent. There were games this season, where he was forced to play a younger team, in domestic cups, because ultimately he had no choice. However, it wasn't until late into the league campaign, when Europa was the sole focus, that he rested key players in the Premier League. Klopp wants to play his strongest team but the squad deficiency is, as always, the main problem. We simply can't compete on all fronts, until we have an established and well-balanced squad.
I argued just before the quarter-final stage of the Europa League that we simply don't have the talent in the squad to compete with Europe's finest, to be in the Champions League. I was scarred after the humiliation of the previous seasons Champions League group failure. I didn't believe that this team, despite my trust in Klopp, could beat Dortmund let alone Europe's elite. We very nearly didn't, but to even be competitive, to go blow-for-blow, I would have been proud. But to win, in the manner we did, with that level of support in the stadium, I changed my mind. In fact I craved more, despite the potential heart failings.
Liverpool football club, have a long and illustrious history in Europe. I'll never not want to see this club play under the lights of Anfield, but we need to establish our position in the league first. With so much competition for top four, every game in the league needs to be first priority. We afford to fall further behind. For all the quality of Klopp and his coaching staff, the other clubs new management negates that advantage, when combined with their vast spending potential.
When you get to the crux of the argument, you realise it's still all about the quality of depth in the squad. I've read this week, that supporters are concerned with bringing in high quality players this summer, if it means player x, may not play enough or player y is relegated to the bench. The key is that we strengthen the core of the team and the competition amongst players increases. For too long we've been a club, that relies too heavily on a handful of players, to control, to create, to score. With a stronger squad, these responsibilities are split more evenly, if a player loses form or is injured, then a player of a similar level and impact, can be introduced.
When we do return to European football, (ideally the Champions League) I want the squad to be primed and ready. A season focused on the domestic campaign, with three transfer windows before a potential furore back into Europe, to me sounds like perfect preparation time. Let's see what damage Klopp and his team, can do in the league first. Klopp's shown what he can do with a fit squad in one-off games and you can't deny, that after a pre-season and new signings (which will happen), we're going to be a stronger force. Yes, others will improve, but we just have to focus on our team and our game. Without the distraction and difficultly of Thursday – Sunday fixtures, maybe we can make some real inroads. I for one, am looking forward to what this season has to offer, it's the most optimistic I've felt about a league campaign in a very long time.