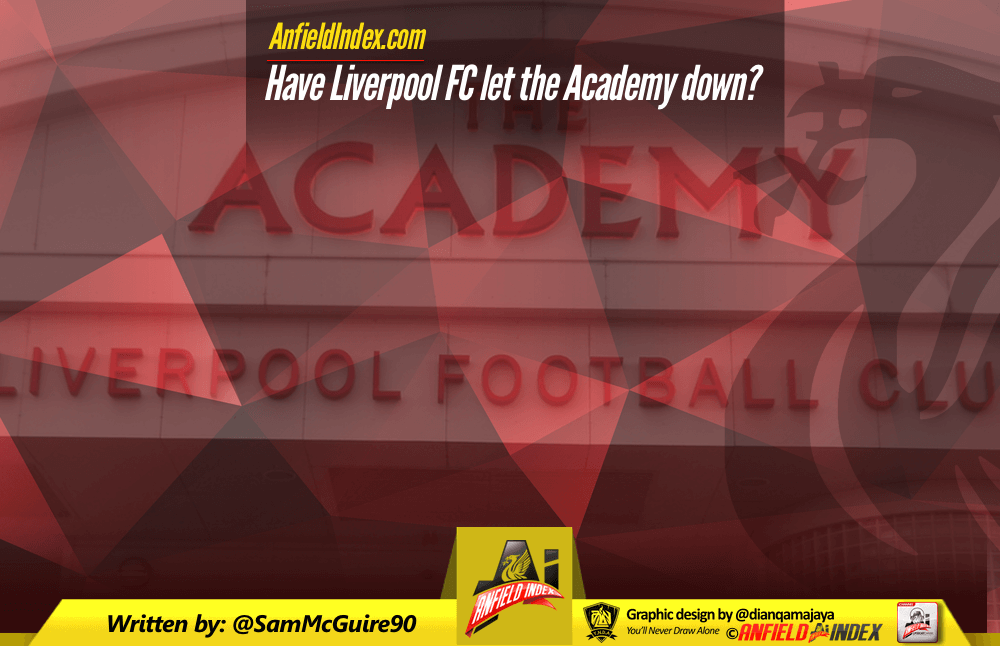 Have Liverpool FC let the Academy down?
*"Baby I don't need dollar bills to have fun tonight (I love cheap thrills) But I don't need no money as long as I can feel the beat. Cheap thrills, Yeah I love those cheap thrills…"
An acapella version of the Sia song rings out around the bathroom as he finishes his morning shave.
"John, is that you singing again?"*

Since Fenway Sports Group bought the club in 2011 they've been trying to beat the system and yet they've neglected, for the most part, possibly the biggest asset at their disposal – The Liverpool Academy.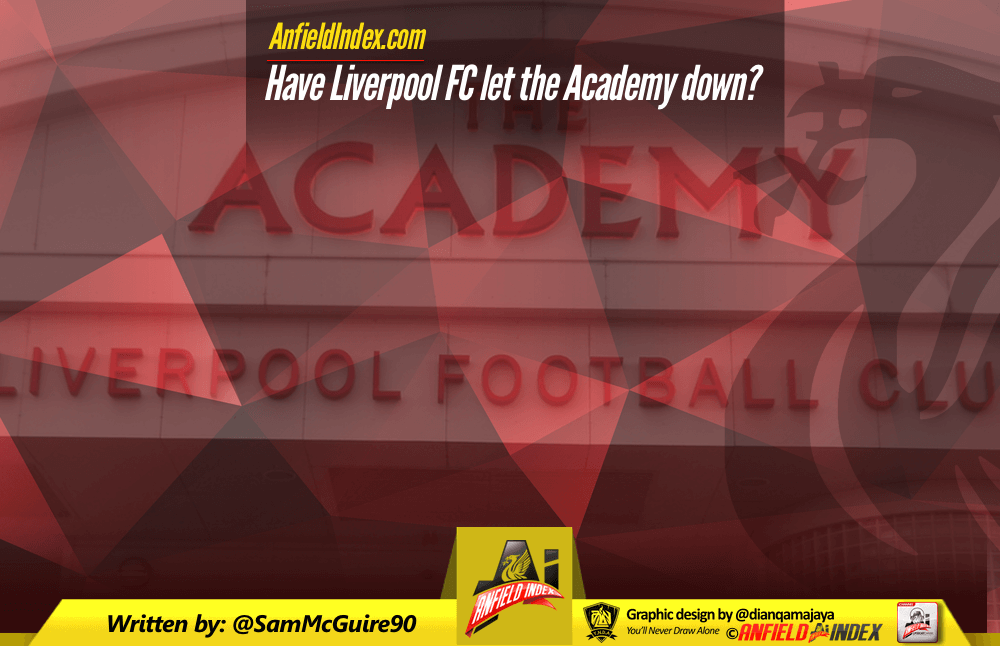 Steven Gerrard, Jamie Carragher, Michael Owen, Steve McManaman and Robbie Fowler. All players who came through the Liverpool academy and made an impact on the first team. Their legacies vary; Owen isn't remembered fondly after turning out for United, McManaman's hero-like status with fans seemed to wane after moving to Madrid on a free, Fowler will be forever known as God and the other two, Gerrard and Carra, are immortalised in that Istanbul win.
The academy has produced, unearthed and developed some of the clubs best players in its history, but for the past twenty years the academy players graduating into first team players has been scarce. Plenty have been handed debuts but none have been able to make a position in the first team, or even a squad, their own.
What changed?
Is the quality of these youngsters not on a par with what went before them? Are they not getting adequate chances? Or is the player recruitment side of the academy letting the club down?
It's probably a mix of the above three reasons but, and this is often overlooked, the academy as a whole has suffered because of the managerial changes over the past decade. With every manager comes a new philosophy, a new set of academy coaches and a new style of play. It means the players recruited for a certain style of play are now basically redundant unless they're an exceptional talent. How many exceptional talents are there in the North West? Then look at how many clubs there are competing for signatures of these kids in the catchment area. Manchester United, Manchester City, Everton and even the Lancashire clubs are competing with Liverpool for the signatures of these kids.
Given such fierce competition, and a reputation for not really giving youngsters a chance, it's little wonder the club isn't producing world class talents from its academy. There's a difference between giving players the odd game and actually giving them a chance. Liverpool do the former whereas Everton do the latter. Perhaps they can afford to invest time in these youngsters given their position in the league, there's extra pressure for Liverpool. Is the risk of playing these kids in must win games too great?
The players who made their debuts and moved on haven't gone on to pull up trees in their career but there are some there who ended up no worse than players the club has spent millions on.
Stephen Warnock was moved on for £1.5 million after making 67 appearances.
John Welsh, the new Gerrard, managed a mere 4 appearances for the Reds before being moved on at the age of 21.
Conor Coady made just the 2 appearances before joining Huddersfield for £500k.
Tom Ince, at 19, featured once before joining Blackpool after being unhappy with the limited first team chances.
Jon Otsemobor, 20 at the time, left on a free, again citing lack of first-team opportunities, having played 6 times.
Emiliano Insua played 62 times for Liverpool but left for Sporting Lisbon aged 21.
Darren Potter left Liverpool after making 17 appearances by the age of 22.
Daniel Ayala left for £800k at the age of 20 despite having made 5 first team appearances the season prior to his move.
Danny Guthrie signed for Newcastle aged 21 for £2.5 million. He'd played 7 first-team games.
Martin Kelly. Featured 62 times for Liverpool and would've been many more had it not been for injuries. Palace paid £2.5 million for him at the age of 24.
Jack Hobbs made 5 appearances for Liverpool before moving to Leicester in the search for first team football aged 21.
Mikel San Jose – Didn't make a first team appearance for Liverpool, went back to Bilbao aged 19 and now he's in the Spanish Euro 2016 squad.
Then you get Raheem Sterling who made 129 appearances for the Reds and left for a rumoured £50 million aged 20.
Other debutants from the academy include the vast array of those who featured under Jurgen Klopp last season, then you get the likes of Jordon Ibe, Joao Teixeira, Daniel Pacheco, Jack Robinson and Jerome Sinclair.
First up, the elephant in the room. Yes, Liverpool did sell Emiliano Insua, Martin Kelly, Stephen Warnock and Jack Robinson combined for less than they paid for Jose Enrique to join them from Newcastle.
The majority of these players left for first-team football elsewhere.  What's noticeable for the most part is those that left were all aged 21 or under. It's premature to be selling off players at this age, especially defenders given the fact they tend to peak at 26/27.  Look at Mikel San Jose's rise. He's been exposed to first team football since the age of 19 and he's now considered a £30 million player.  There's no saying he would have developed into the player he is now playing in the Premier League but there was certainly talent there and he wasn't given the chance at the club for whatever reason.
The blame can't be laid at the feet of the manager at the time, it's very much a club issue. A lack of identity and no Director of Football has meant whenever the club appoints a new manager he brings in his staff and his vision for the academy and a re-jig has to happen.
When Rafa was at the club he appointed Rodolfo Borrell and there was a set way of running things. They cast their eyes abroad to bring in talent as opposed to looking at home and looked to try to build a La Masia type scenario. Hodgson replaced Rafa, FSG bought the club and their idea was to get English talent coming through the academy once again. Unearth one brilliant English youngster and he can be worth millions, they didn't sign Sterling but that was their idea for the academy. To unearth those types of talents. They appointed Rodgers, a manager who would blood these youngsters, but he had different ideas for the academy and Borrell was replaced with Alex Inglethorpe. A new style was introduced to the academy teams and this was going to be the philosophy moving forward. He wanted the players in the academy playing the same way as the first team so the transition was easier.
The first team went to three at the back and the academy followed suit. The problem is you appoint staff for a certain way of playing, you change that and their strengths aren't being utilised. Mike Marsh and Colin Pascoe weren't the only members of staff that left that summer, some of the academy coaches did. Yet more change. Klopp then replaces Rodgers and there's talk that he doesn't like the club loaning so many players out. He wants them back at the academy and involved with the first team. His style of play is different to Rodgers' so it's yet another change of style at the academy. Hopefully the last change for a while.
It's difficult to develop players with various style and coaching changes in a short space of time.
It's time for Liverpool to start using their academy properly. The objective should be to develop players who, if they aren't good enough to be a regular for Liverpool, can be sold on to a lower end Premier League club and it earns the club money in the process. Look at how United academy players fill lower end Premier League club sides. They're good, just not the requisite quality for United. Doesn't stop them at least blooding them in their first team.
Jurgen Klopp is used to the German way of giving youngsters a chance if they're showing potential. He'll develop and nurture them and only really make a decision on them after giving them a proper judging period. The best players in the world today are all those who were given a chance at a young age. The potential was evident but the exposure to first-team football is what really helped them develop into who they are today.
The French do it. The Germans do it. The Spanish do it. You could argue Liverpool are too big to take the risk and play these kids regularly. We're historically big, but right now there are 5/6 teams ahead of us. We can't compete financially. We're doing a good job buying in these potentially good players and developing but why not gamble and try out these highly rated kids? Use Dortmund, Lyon, Bilbao and others of that ilk as an example. Use what's at your disposal.
Klopp's the perfect manager for this. If Liverpool really do have exceptional talents in their academy then you can guarantee he will give them ample opportunities to prove their worth. Perhaps finally the academy will have the stability it deserves.