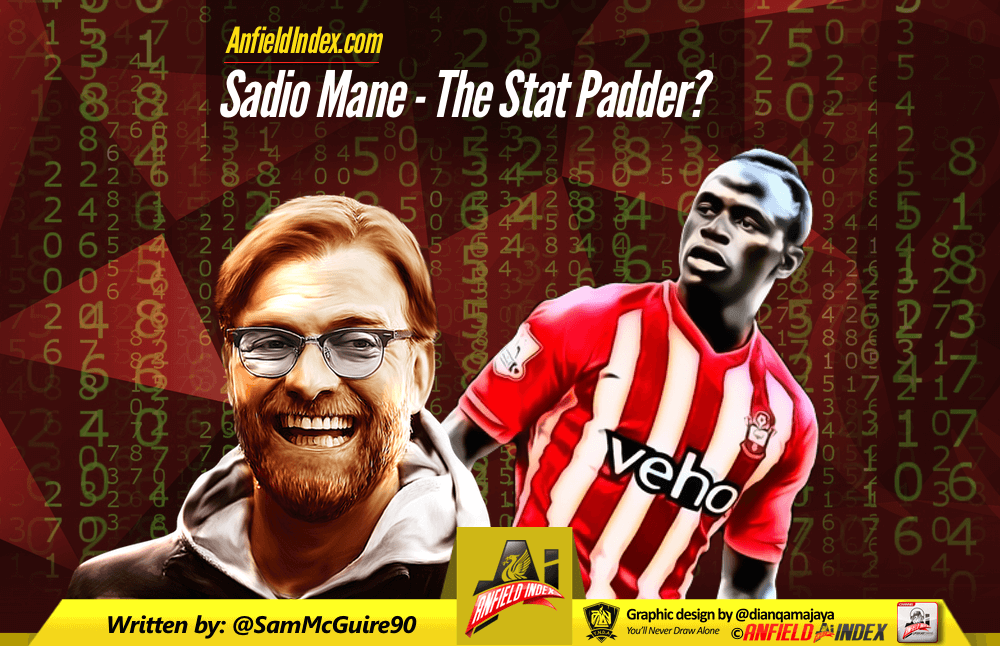 Sadio Mane - The Stat Padder?

Stats changed how people viewed football completely. People no longer solely trust their eyes, they now need the added security of stats when trying to get across an opinion or an argument. You often see people on Twitter throwing around numbers in the middle of a debate to justify their opinion. It's often seen as a finishing move. The checkmate to the debate.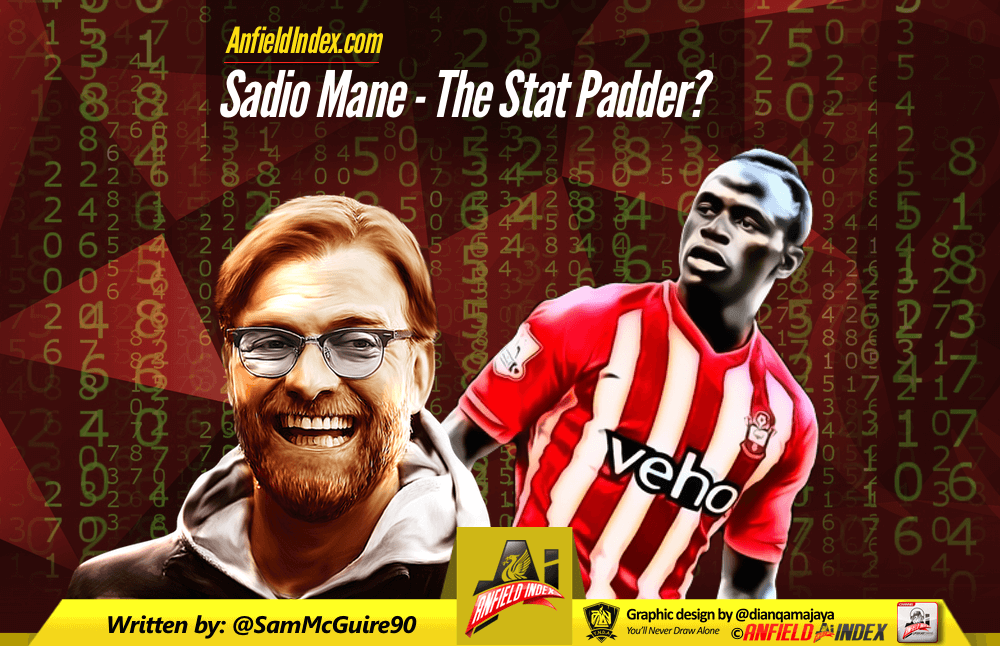 Surely you can't argue with cold hard facts?
Well, you can. Stats without context are just numbers. Too many people on social media just throw numbers at you, they don't use stats. It's dodgy ground to base an entire argument or form an opinion off the back of stats without looking into them properly. Stats can be manipulated to suit any argument. You can find stats that make it look like Lucas is a superior player to Sergio Busquets. It's hard to find a balance; some people over analyse stats (stat wankers) whereas others don't look hard enough (stat voyeurs). Depending which side of the fence you find yourself on will dictate how you view a player. One player, one set of numbers, two opinions.
One such player suffering this sort of fate is Southampton's Sadio Mane. The attacking midfielder has been linked with a move to Liverpool this. The fees reported have varied from £20 million to an eye watering £45 million.
The link divides the fan base (no surprise there) and it seems to centre around his consistency, or lack of.
Since signing for Southampton in the summer of 2014 for a reported £12 million, replacing the outgoing Adam Lallana, the 24 year old has scored 21 goals and notched up 9 assists in 4743 minutes. The minutes played equate to almost fifty-three full 90 minutes matches. Over his two seasons at Southampton he's been involved in a goal every 158 minutes. On the surface that's impressive. An attacking midfielder averaging that in the Premier League is some achievement, no wonder a £40 million fee is getting thrown about.
Dig a little deeper though and your opinion will change.
The attacking midfielder went 25 games without a goal or assist throughout the 2015/2016 season. Prior to that the Senegalese attacker went 20 games without a goal or assist in 2014/15 and 19 without a goal or an assist during his final season in Austria. These stats courtesy of Jack Lusby.
Head scratching given the fact his final season at Red Bull Salzburg saw him score 23 goals in 50 games. Depending what sort of person you are in real life will influence how you view Mane. Are you a glass half full type, 44 goals over three seasons, or are you a glass half empty cynical type, 64 games without a goal or an assist over three seasons?
An inconsistent stat-padder is how the cynical fans view Mane. A stat padder is basically a player who scores in bursts to make his goal record look a lot better than it actually is. You can't take those 21 Southampton goals away from him because he scored them in a peculiar way, however you can judge them to see how 'transferable' this type of goal record is.
He finished the season scoring 8 goals in the final 8 league games. Before this incredible run his last goal in the league arrived on the 25th October, against Liverpool in a 1-1 draw. A Martin Skrtel assisted double kicked off his scoring run in March. He followed that double up with a goal against Everton, a goal against relegated Aston Villa, a hat-trick against a weakened Manchester City side and then a goal against a Palace side with their eyes on the FA Cup final the following weekend. His earlier goals in the season arrived in three successive games; Manchester United, Swansea and Chelsea. His last assist in the league was Boxing Day meaning he didn't have an assist to his name in 2016.
His debut season in England was similar. He'd scored 7 goals by the March 3rd, but then went without a goal until the 16th May when he scored a hat-trick against Aston Villa.
What's more valuable – a player who scores 12 goals and grabs three assists in fifteen games throughout the season or a player who scores 12 goals and gets three assists in ten games but doesn't influence the team in terms of goals or assists for a large chunk of the season?
Last summer, Liverpool signed Christian Benteke who has a similar knack of scoring in fits and bursts to pad his goal record. After Tim Sherwood was appointed the big Belgian scored 11 goals in just 9 matches to take his tally for the season to 15. So 11 goals in 9 matches or 4 for the rest of the season, how are you looking at it?
Can you really rely on these types of players? Liverpool will be playing around 50 games per season, they need players capable of performing throughout, not just for 10/15 games per season. Both Roberto Firmino and Philippe Coutinho have been accused of inconsistency yet last season Coutinho's longest run of games without a goal or an assist was 6 games and Firmino's run was 9 (this was when he was first signed and his appearances were just cameos). Since the turn of the year Firmino scored 10 and assisted 5 in 25 games. That's not form, that's consistency.
Sadio Mane is the definition of a stat padder, but the hope would be that if he signs that Klopp manages to turn him into a more consistent player who manages to performs for the entire season. For the fees quoted though you're paying for an established player, not one that needs such work. As some have rightly pointed out though, If Mane was consistent he wouldn't be playing for Southampton and he'd be well out of our price range.