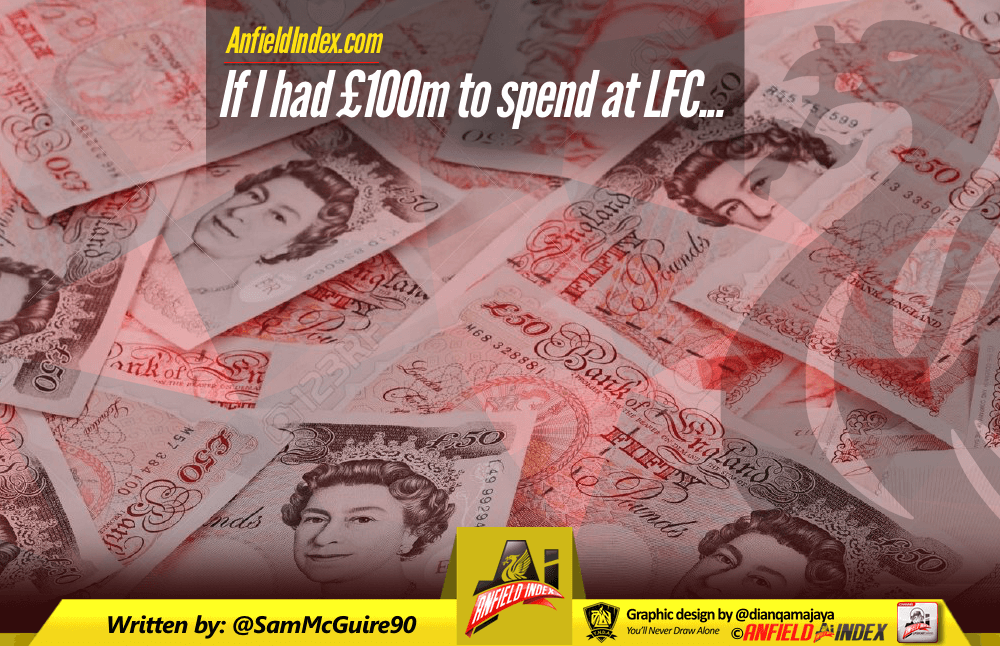 If I had £100 million to spend at Liverpool FC

"Write an article about who you would sign if you had £100 million to spend at Liverpool."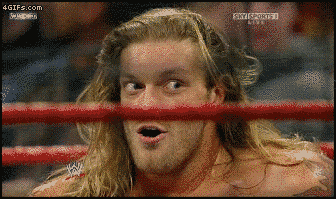 AnfieldIndex overlord Gags and editor of the site Dan Rhodes tempted me with this topic. I've not replaced Jurgen Klopp as Reds boss, this isn't Football Manager, Instead I've decided to head up the much fabled transfer committee; I've appointed myself as the Director of Football.
I have £100 million to spend plus whatever I raise from sales to bring in players I believe will get Liverpool into the Champions League, and possibly challenge for the title.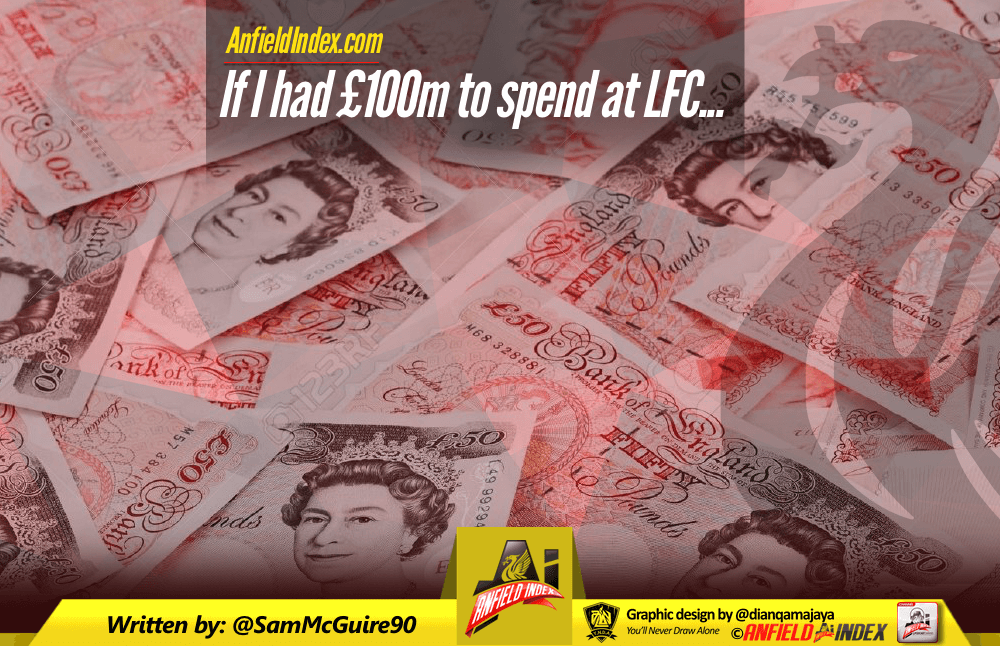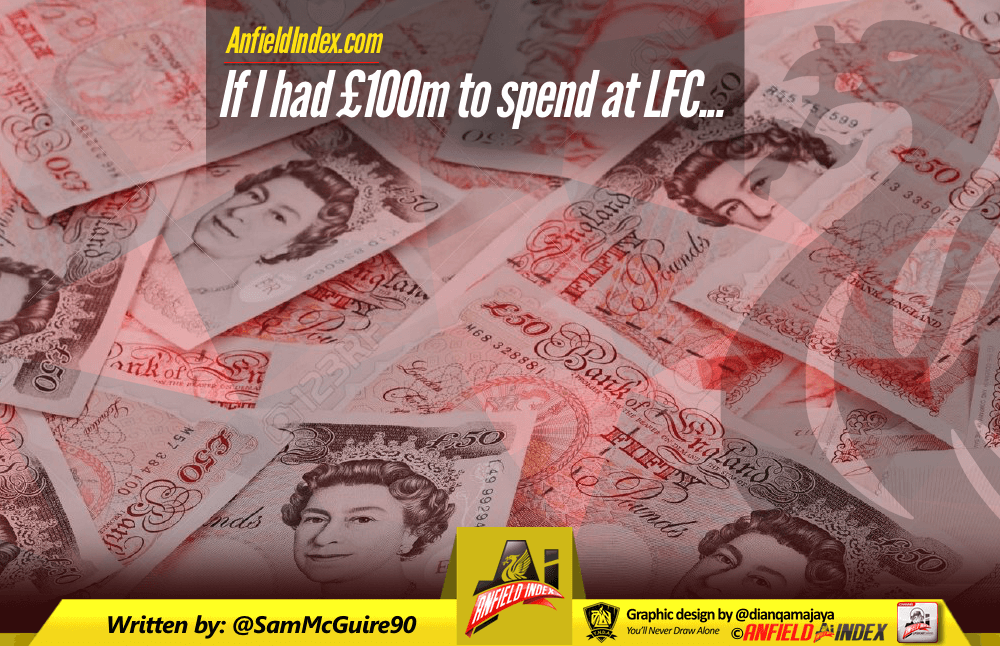 Firstly, I'll address the players I'd sell this summer and reasons for it.
Christian Benteke. On top of the 'For Sale' list in my eyes. The Belgian striker still has a good reputation within the Premier League and given the fact the new TV deal comes into play soon It's not out of the question to hope Liverpool to get close to £30 million for him. If a club showed an interest I'd head into negotiations fully prepared to handcuff myself to the chairman of the selling club's seat to ensure they offered us at least £25 million for him.
Martin Skrtel. I'm not sure how legal this is but i'd pay somebody to take him off of our hands. The Slovakian looks set to be heading to Turkey for a fee reportedly to be between £4-6 million. Actual money for the haphazard defender would be welcomed.
Joe Allen. He has a cult like following but he also has just the 12 months remaining on his deal. He's not guaranteed to be a starter so it makes sense to cash in on him now. Swansea are rumoured to be keen on bringing him back to Wales and £10 million would be enough to do so.
Mario Balotelli. He too has one year remaining on his contract but unlike Joe Allen there doesn't seem to be a queue of clubs waiting to give him yet another fresh start. Given this It's hard to ask for more than £10 million for the enigmatic Italian. His marketability has to be worth something to someone?
Lucas Leiva. The last of the Rafa signings. He won't be a starter next season, is he worth keeping around as a squad player with the reported wages he's on? He'd be a starter for another club so I'd let him leave for around the £5 million mark.
Five definite sales. This would add roughly £50 million to the transfer budget if all goes as planned. Now comes the questionable departures.
Jordan Henderson. The current club captain divides the fan base. His output in terms of goals and assists over the past couple of seasons has been impressive but that was in a different system under Brendan Rodgers. The problem many seem to have with him is the fact he's still yet to impress when played in a two man midfield, a tactic current manager Jurgen Klopp tends to favour. Given the fact he may not be a guaranteed starter may mean the player himself could look to move elsewhere, this is a key age for his development so game time is necessary. If an offer of around £25 million arrived, and replacements are at hand, I may be convinced to sell him.
Adam Lallana. Much like many Liverpool players you either love him or you hate him. His form picked up when Klopp was appointed, he was influential in many of the good performances but the links to wide players so far seem to indicate Klopp wants pace and a goal scoring threat out wide. Coutinho is the gem so by default it may mean Lallana is the one who misses out. At 28 he won't retain value for much longer, given many Premier League clubs are flush this summer a £25 million offer may be enough to tempt me into selling.
Jurgen Klopp doesn't seem to be a fan of loaning players but there are going to be some exceptions to the rule.
Jordon Ibe. The youngster needs minutes under his belt to improve and it's unlikely he's going to get that at Liverpool considering the club don't have the luxury of European football next season. With Lazar Markovic returning from loan and Klopp looking at wide playes Ibe's position on the bench doesn't look secure. It would be a mistake to sell when he's still a bit of a wildcard so a loan may be the right move.
Danny Ings. In interviews Klopp raves about him. Jamie Carragher said the staff at Melwood are all impressed with him. But it's the playing time issue. Having missed almost the entire 2015/16 season through injury he's going to need a full season of playing to get back to where he wants to be. Will he get that at Liverpool? It's unlikely.
Now it's time to look at the players I would sign. I've tried to use profiles of players Liverpool have been linked with and players Klopp seemed to prefer at Dortmund. I'm going off the assumption Klopp will use the 4231 system and use the academy to supplement the first team squad as and when is needed.
Sofiane Boufal – Lille – £15 million (19 million Euros). The versatile attacker is the sort of player tailor-made for Jurgen Klopp. An abundance of pace, a goal threat out wide, a dribbling sensation and a defensive work rate to match.  He's capable of taking up any of the positions behind the striker, the fact he likes to drive forward with the ball is something that will appeal to Klopp given the similarities to both Marco Reus and Pierre Emerick Aubameyang. He creates space for others and against those deep sitting teams it could be vital. He's only 22 and is nowhere near his prime, Klopp could turn him into a monster. At around £15 million Euros he'd be a bargain in today's market.
Corentin Tolisso – Lyon – £15 million (19 million Euros). If you aren't Alexandre Lacazette, Nabil Fekir or Samuel Umtiti you tend to get ignored by the general public if you play for Lyon. The industrious midfielder has been impressive over the last couple of seasons and on paper is a perfect fit for Klopp. The 21 year old is dominant in the air, a physical presence in midfield, scores, assists and does the defensive part of the game superbly. He could be a squad replacement if Jordan Henderson were to be sold.
Jonas Hector – FC Koln – £13/5 million (19 million Euros). Every good defence has that reliable, not so flashy, almost boring player who may seem to underrate. Liverpool currently lack that and It's exactly what Jonas Hector would bring.
Mahmoud Dahoud – Gladbach – £25 million (32 million Euros).  There have been plenty of articles written on this player. His strengths are evident and his potential is scary. £25 million may seem steep given he's only played one full season of first team football and he wasn't called up to the Germany Euro 2016 squad but if you wait a year, considering how prices are rising exponentially, he may be closer to the £35 million mark and out of our comfort zone. He'd bring  touch of class and balance to the midfield and he's a signing that sets the club up for the best part of a decade if everything goes to plan.
Arkadiusz Milik – Ajax – £17 million ( 24 million Euros). The 21 year old Polish wingman to Robert Lewandowski could become a star on his own in the near future. Klopp has a record with Polish players and giving him a striker like Milik has endless possibilities. The Ajax frontman is already pretty well rounded but a year or two under Klopp could see him turn into something special. Benteke is moving on, Ings is out on loan so it means there is a striking position up for grabs in the Liverpool squad. It may end up that Sturridge has another injury ridden season and is sold in the summer of 2017.
Vincenzo Grifo – Freiburg – £5 million (6.3 million Euros). He's a bit of a wildcard. The attacking midfielder has been plying his trade in the Bundesliga II (the German equivalent of the Championship) and has very little Bundesliga experience. At the age of 23 many will say he should have made an impact already which is true, in an ideal world he would have, but there are rumours he has a questionable attitude and it's holding him back. There is undoubted ability there, his technique from distance screams Steven Gerrard. He's a dead ball specialist and for the fee he's a risk worth taking. Only to be signed really if Adam Lallana is sold.
Jonathan Tah – Leverkusen – £25 million (32 million Euros). A defensive beast and he's only 20. Manchester United just spent 30 million Euros on Eric Bailly so Tah for 32 million would be on the cheap side given he'd arrive with more experience and a higher ceiling. He may be viewed as an expensive luxury when you consider the fact Liverpool already have Joel Matip, Mamadou Sakho, Dejan Lovren and Joe Gomez vying for the centre-back positions but Tah would be a constant in the Liverpool defence for the next decade. The club would end up building around both him and Gomez.
Goalkeepers – Loris Karius and Simon Mignolet.
Defenders – Mamdou Sakho, Dejan Lovren, Joe Gomez (can play full-back), Jonathan Tah and Joel Matip.
Full-backs – Nathaniel Clyne, Alberto Moreno, Jonas Hector and Jon Flanagan (for now)
Midfielders – Emre Can, Marko Grujic, Mahmoud Dahoud, Corentin Tolisso.
Attacking Midfielders – Roberto Firmino, Lazar Markovic, Philippe Coutinho, Sofiane Boufal and Vincenzo Grifo.
Strikers – Daniel Sturridge, Divock Origi and Milik.
Those players mentioned above come in at a combined total of £117 million plus the £5 million arrival of Loris Karius means the Summer spend comes in at £123 million, so there's still £27 million remaining from the player sales. Those signed are viewed as not just long term investments but short term improvements too and the club would have managed to rid themselves of some of the deadwood eating into the wage expenditure. You'd imagine the eight arrivals combined would be on less wages per week than the five definite outgoing players.
This Director of Football business is easy.