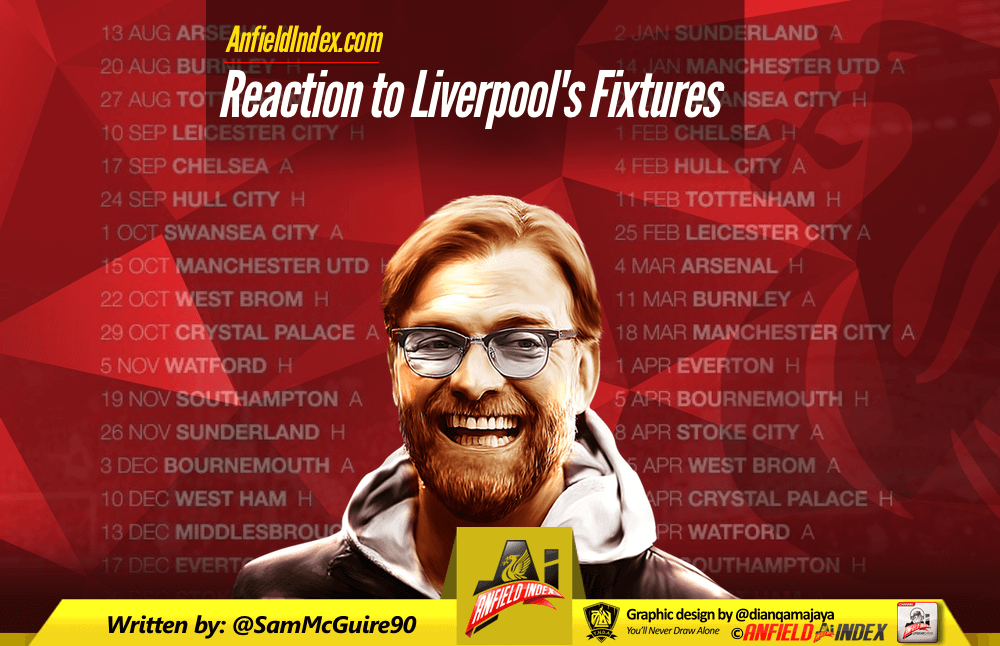 Reaction to Liverpool's Fixture List
The Premier League released the fixture list for the upcoming season on Wednesday morning. You have to play every team twice but the order in which you play these games does have an impact on your season, it's indisputable.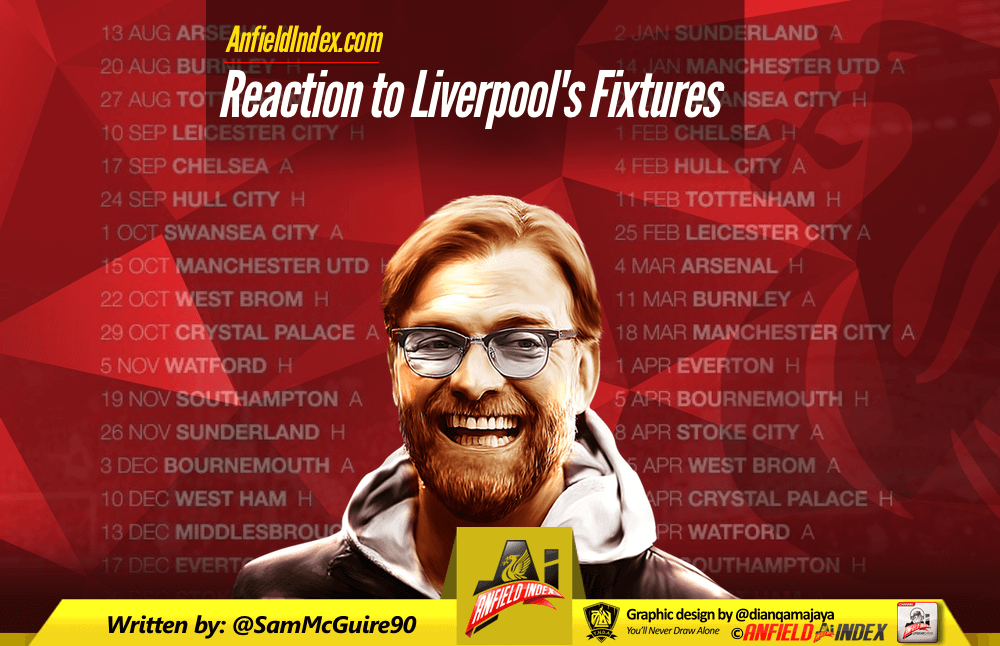 The fixture list hasn't been too kind for Jurgen Klopp's Liverpool.  There are two big blocks of games for the Reds to navigate. Arsenal, Spurs, Chelsea and Premier League Champions Leicester are four of the first five fixtures then the turn of the year sees Liverpool up against Manchester United, Chelsea, Spurs, Leicester, Arsenal and Manchester City in the first ten games of the new year.

However, there are some positives to come from this. It means Liverpool have a favourable November and December; Watford, Southampton, Sunderland, Bournemouth, West Ham, Middlesbrough, Everton and Stoke. There's a chance there to build some momentum.
Similarly, they have, on paper at least, a decent end to the season. April and May see fixtures against Everton, Bournemouth, Stoke, West Brom, Crystal Palace, Watford, Southampton, West Ham and Middlesbrough.
No European football and these two encouraging runs of fixtures can give Liverpool fans some optimism. There are a potential 51 points on offer in those two blocks, take near maximum points and it's a good base for a successful season.
Fixtures to look out for –
Everton –
Anfield 1st April
Goodison Park 17th December
Manchester United –
Anfield – 15th October
Old Trafford – 14th January
Against the Rivals
Manchester City –
Anfield 31st December
Eithad 18th March
Arsenal
Anfield 4th March
Emirates 13th August
Chelsea
Anfield 1st February
Stamford Bridge 17th September
The full fixture list for the season can be found on the LFC website.