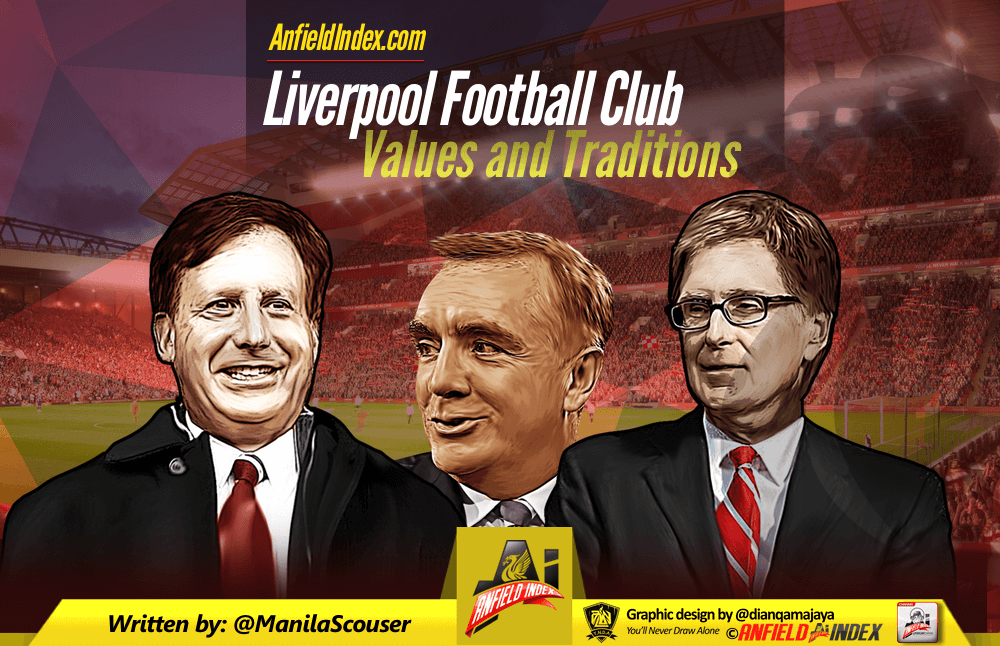 Liverpool Football Club; Values and Traditions

Before I start everything, I'd like to say that I am not an expert in economics or business, nor am I old enough to become an expert into Liverpool's history. But what I am is a passionate supporter who has grown to understand Liverpool Football Club, what it means to me and others alike.
Liverpool FC has been linked with a sale to ludicrously rich people from the Sheikh of Dubai, boys in Singapore, to the most recent, SinoFortone. Some dudes in China.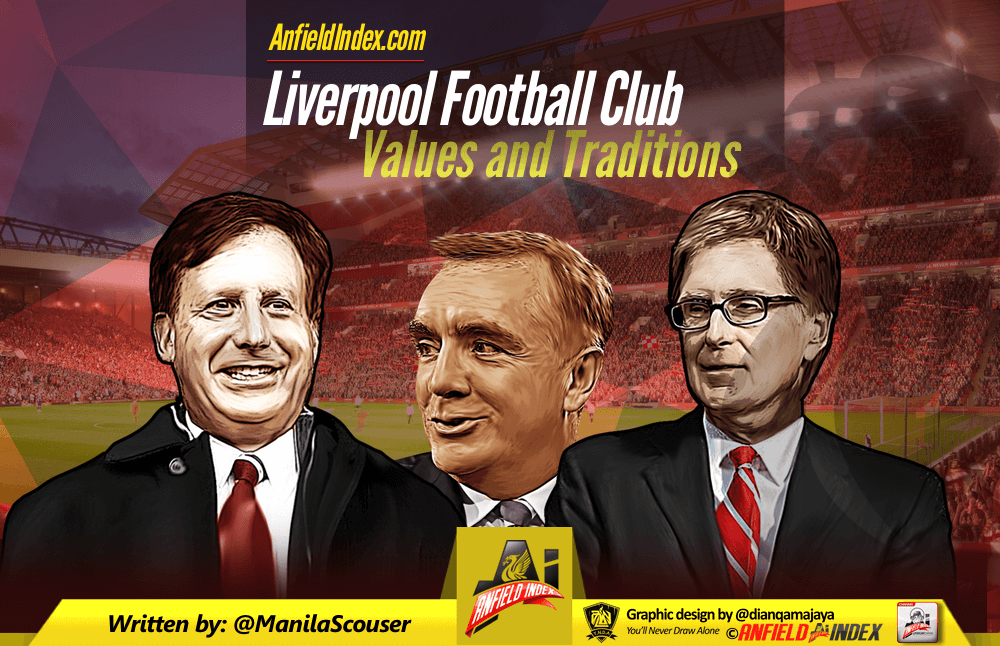 This football club has been in a period of transition on and off the pitch for quite some time. But since FSG took over, our debts have been massively reduced, we've increased sponsorships from 1 to twenty, a new and improved main stand will soon be finished, and a world class manager who's fit this club and FSG's hated system perfectly. Klopp has been doing the "moneyball" system at Dortmund, where you buy talented players and develop them into who they are today without probably knowing what the term is until he arrived at Liverpool. And I need not mention the names that have passed through Klopp's hands.
It might be a broken record, but Liverpool's transformation in the past eight months have been crazy. I've mentioned before that Liverpool has lacked an identity on the pitch since the Benitez era, but today we can go to bed soundly and know we're on the right path.
Taking over a football club and team mid-season, going to two a domestic and European cup final is an achievement on its own, considering even two years ago, we had arguably the best striker in the world and couldn't even win the league with no other competitions to focus on. That's not down to FSG or it's system. We'd have never progressed under Brendan Rodgers. He lacked European pedigree to compete in the big leagues, which we have now under Klopp.
I understand we've waited too long for a title, or we need to compete with the other clubs. I completely agree. But is selling the club the only option? Can't we give ourselves, Jurgen, and FSG the benefit of the doubt before we succumb to the riches upon us and how money is taking over football, a game that was just played for the love of it?
Liverpool Football Club is not only known for it's history, but the tradition the club and fans alike upholds. It's also one of the reasons I fell in love with the club. I never fell in love with the glory or the history. I fell in love with the Spion Kop.
You know, I've not been a supporter for long. I'm not the most knowledgeable fan in the world. I've only supported Liverpool for five years. I remembered the first game I watched. It was the 2011 FA Cup final against Chelsea. Liverpool was losing at halftime. When the second half resumed I could just hear people singing all together in sync. It was so beautiful. But what boggled my head was how in the world could they have the will to sing when they were losing? I was so baffled that I needed to ask my friend how it was possible?
He just answered me with three words. "They always believe.". I felt confused but moments later told me to start searching about a 2005 Champions League Final. We lost the match 2-1 after Andy Carroll's header was deemed a no-goal but the fans were still singing and appreciating the hard work the players gave. I didn't care about the result then. It was just a game to me. I was only watching it for fun, without any investment to anything. But as soon as I got home I went on and searched what my mate told me. I was lost for words. The songs they sung were like prayers, and I've never seen any sports team in the world like that. Since then, I've unconsciously invested the biggest part of my life to Liverpool. I live and breathe Liverpool Football Club. Heartbreak or glee, I understood what the football club is and what it means to the people at Liverpool and all over the world. Tradition.
It reminds us that once upon a time, a humble man took over a football club and changed lives forever. We are known for having the best sets of fans in the world. Forget Dortmund, Real Madrid or Barcelona. While the latter two have the biggest amount of fans and success in the world, it's meaningless to me. When it comes to tradition, there's nothing quite like Liverpool Football Club and its fans. We sing, we dance, we applaud the hard work players put on the pitch, we support anything or anyone remotely involved with the club. And we don't back down. Everyone has supported the fight of Hillsborough for twenty-seven years for justice. Liverpool is not just a global brand. It's a family. And I finally understood what Bill Shankly implied about football being a matter of life and death, and how the fans of Liverpool see it as a religion.
I've seen a lot of people in a span of five minutes since news broke out regarding a possible sale of the club to forget tradition, and it doesn't mean anything. Sorry sir, but in my opinion, you don't know Liverpool if you'd think forgetting tradition is acceptable.
We've been in a period of transition for nearly a decade that we've forgotten the traditions that so many people in and out of Merseyside unconsciously and tirelessly uphold to the highest order. Can we be guaranteed that these bidders are willing to uphold these traditions? For as long as they can uphold the values, image, and traditions of the club and it's family, I'm all for it.
Just remember that our players should be playing for the crest above their hearts, first and foremost, before the money.
Success can be bought, but it will never feel as valuable as it is being earned.
"I don't like champagne, I don't smoke cigars, I haven't any real jewelry at all, apart from the eight pieces of gold I picked up at Anfield. The most important relationship at a football club is not between the manger and the chairman, but the players and the fans." – John Toshack

"If a player to be good enough to play at Liverpool, he must be prepared to run through a brick wall for me then come out fighting on the other side." – Bill Shankly

"At a football club, there's a holy trinity. The players, the manager, and the supporters. Directors don't come into it. They're only there to sign the cheques." – Bill Shankly

"That sign is there to remind our lads who they are playing for, and who they're up against!" – Bill Shankly