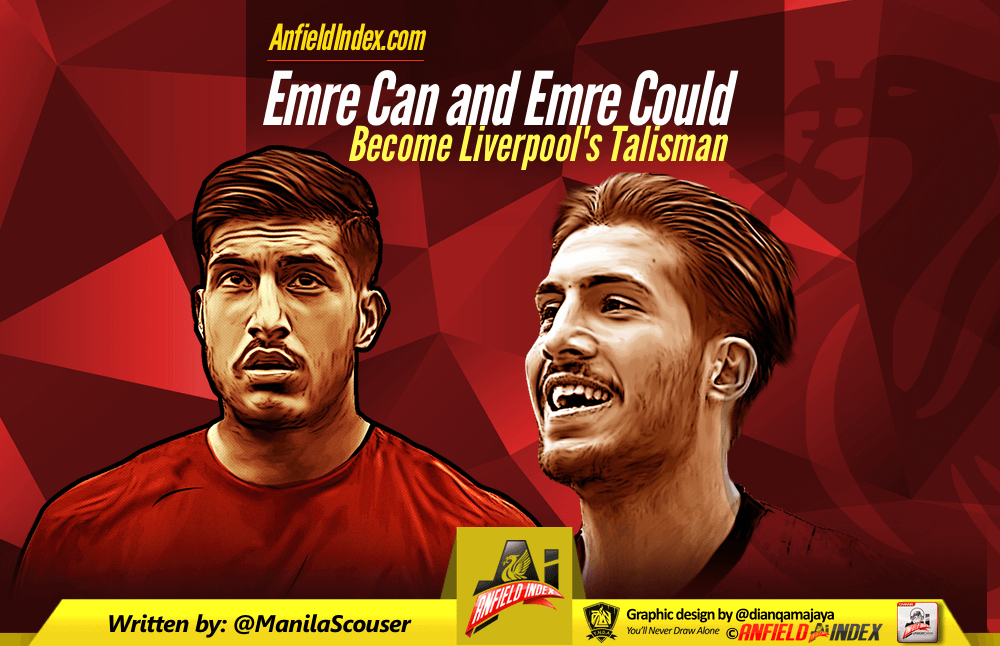 Emre Can and Emre Could Become Liverpool's Talisman
Emre Can is arguably Liverpool's biggest bargain in the past six years, second only to Philippe Coutinho. who was bought at a measly 8.5 million pounds, who now is easily worth 6-8 times that amount.The versatile central midfielder's first season at Liverpool under Brendan Rodgers, saw him shift to multiple positions from centre-half, full-back, and central midfield. LFC's own Dora The Explorer, if you may.He proved to be a solid addition in his first few months at the club, putting in sublime performances in all the defensive positions he's been put in. Pundits were full of plaudit as he's shown his composure on the ball. Despite that, he had a few really terrible games, and the same pundits and fans alike were instantly unimpressed, as he was judged unfit to play a central role in the Premier League due to his lack of pace.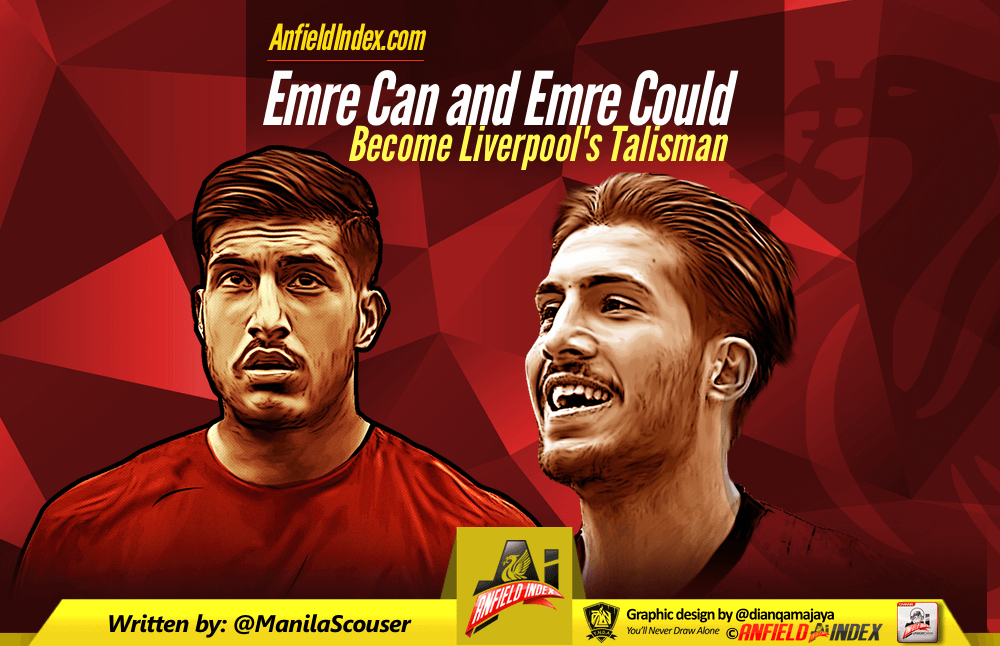 A managerial change at the helm of the club the season after has transformed him (as much as every other player that surprised us). And he's now returned to his original role in the middle of the park and has made it into his own. At the moment, there's no Liverpool player good enough to take that away from him. The German put in masterful performance after performance, more notably the 3-0 victory against Villareal in the Europa League semi-final, which was highlighted even more after coming back into the lineup weeks ahead of schedule.
However, like any footballer, he's also had his fair share of shockers.   As a twenty-two year old, it should be okay. It should be allowed, but sometimes we tend to forget just how young he is, and instead we forget that nine times out of ten, he's put in what's expected of him, and then some. But that single time he's had a bad game his good deed have suddenly evaporated into thin air. The upcoming season is filled with promise, anxiety, and excitement. We have belief that Jurgen Klopp can lead Liverpool back to where it belongs, but at the same time we're anxious that we've not fully strengthen our squad to our hearts content while West Ham have signed Feghouli, and Manchester City have brought in Gundogan. At the moment, Can is already gathering votes to take the captaincy away from Jordan Henderson, but face fierce competition from both the Englishman and the President of the Liverpool Country. This season could be a testament as to how he can influence the team on and off the pitch on a much more consistent basis.
Can Emre Can? Certainly. We've seen him quite a few times as a vocal leader, despite his young age.   And his passion is unquestionable, if you haven't already seen it, losing both cup finals the club has participated in last season. It's there, just as much as seeing Mama gouge his eyes out during the Merseyside Derby, or throwing his baby bottle in anger when he got a concussion in the Capital One Cup Final. For him to be able to become the talisman at Liverpool Football Club, something the club has lacked since Steven Gerrard's departure, he must learn. We've seen him try to take the game onto his own hands. It is admirable to say the least, and you need that type of player, but there's a needs for balance. He must learn when to burst forward and when to release the ball, because he often ends up giving it away to the opponent.
By no means am I saying that Henderson should have the captaincy stripped away from him. It's unjustifiable at this stage considering he's missed a lot of games due to injury, and played through it whenever he's on the pitch, especially when he was one of the focal points of the attack and defense in the 2014/15 campaign. But there is a case to be made that Emre is more than capable of taking the armband, should he want it.