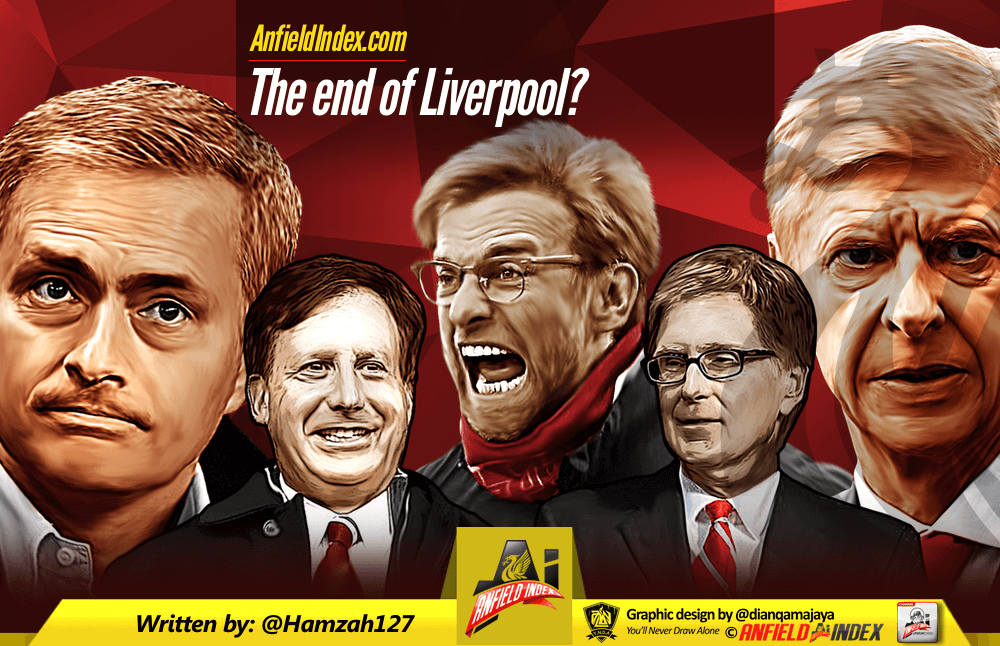 The end of Liverpool?

Mourinho. Guardiola. Conte. Wenger. Klopp.
If there was an Expendables movie for football managers, it would surely include all five of these esteemed and widely respected managers, all of whom have a history of success at the top level. Yet whilst the movement of two of the most impressive managers of recent years, in Mourinho and Guardiola, to the Premier League is a spectacle for both the neutral observer and fans of competition teams alike, it may well herald the definitive end of any chances for Liverpool FC success in both the short and long term; thus the end of Liverpool as a European and footballing giant.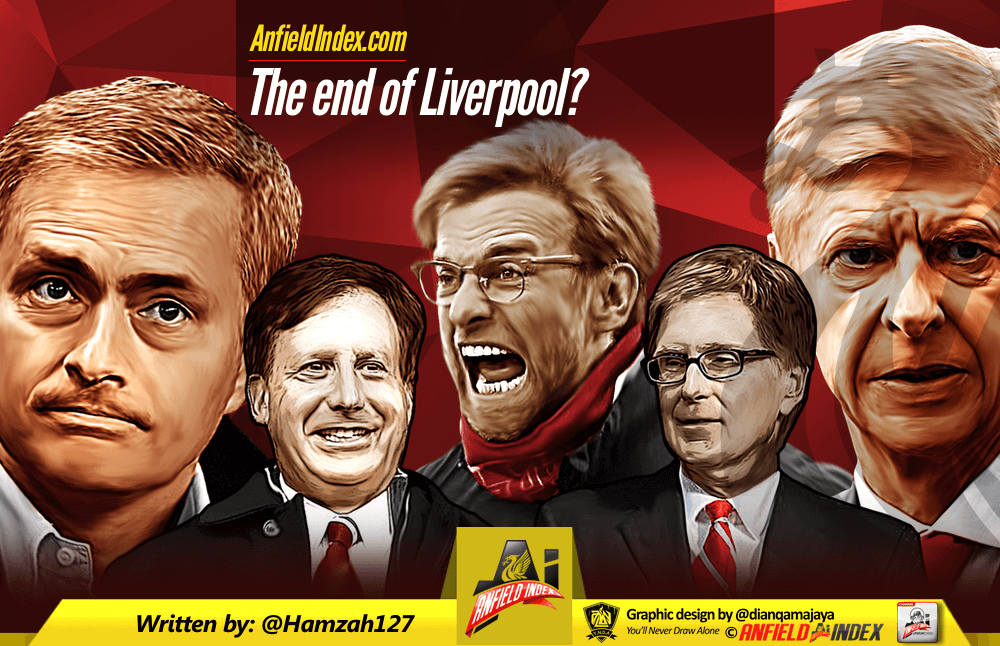 In economics, the basic principal of competition is meant to drive firms to become more efficient and generally better; but this model does not apply to the world of Premier League football. With the unparalleled spending power of both Manchester City and United, alongside the almost guaranteed success of Guardiola and Mourinho at the respective helms of either clubs, there is a potential for a dominance of the Premier League over the next few years that could potentially mirror that of Real Madrid and Barcelona in Spain; with clubs such as Liverpool – with relatively poorer finances and a less attractive proposition in terms of the current project (which looks to build a young and promising team on bargain buys) – arguably in a position where they could be left behind the competition and face a future challenging to just achieve European qualification. Whilst the two Manchester sides vie for European titles through their ability to construct teams of that quality through consistent and serious investment from their owners.
Those of the view that Liverpool are too big of a club to slide down the pecking order are deeply mistaken. The world of football waits for no-one. Aston Villa, a club with more Champions League trophies than Arsenal, Spurs and Manchester City combined have just been relegated – and over in Serie A, AC Milan, the team which less than a decade ago won their seventh major European title, and boasted a team with Thiago Silva, Ibrahimovic, Robinho, Seedorf etc., is not even in the qualifying rounds of the Europa League next season. Liverpool may have a truly impressive manager, and a fairly impressive group of forwards in the squad, but it pales in comparison to the potential forward line of Agüero, Aubameyang, De Brunye and David Silva. Put simply, without serious investment there is no chance of Liverpool competing at the highest level, as the appointment of Klopp was meant to achieve.
FSG have undoubtedly invested in the club, but the extent to whether that is truly meaningful is debatable. Christian Benteke has been Liverpool's most expensive signing under them, at £32.5 million, which not only represents a misguided transfer policy, but an unwillingness to pay the price for players that will genuinely take the Liverpool team to a higher level. Liverpool have a track record on missing out on players, some of whom were not even world class names; Alex Teixeira for example, whilst he may have been offered a lucrative contract by Jiangsu Suning, should have certainly have been a simple deal, especially at a period where Liverpool really lacked firepower. This failure to get signings done that were not even of a stellar nature, seen again in the Mkhiratyan, Willian, Costa, Konoplyanka, and Remy sagas is frankly a total embarrassment, whilst the failure to convince Sanchez to sign for Liverpool, despite having ownership of the Barcelona courted Luis Suarez at the time was farcical, and either the Liverpool project itself was not attractive enough or the wages were not. Then when you consider Sanchez is currently on a reported £130,000 p/w, it would seem that the Liverpool negotiators failed to convince Sanchez and those aforementioned signings of what Liverpool has to offer and what it intends to do in the future. A vindication of the view that the owners are not doing enough for Liverpool, and that Liverpool are declining, and without considerable investment may fall away into the mid-table for good.
Whilst City and United are expected to make signings such as Gündogan, Ibrahimović, Aubameyang, Liverpool are reportedly stuck fussing over small change for Zielinski and unable to definitively attract Mario Götze from Bayern Munich, a player who has been told he is expected to leave. If Liverpool want to perform at the highest level, they will need to buy players of that calibre; perhaps Leicester have disproved that model, but last season was woefully uncompetitive, with Leicester only requiring 77 points to secure the title, and was almost certainly a unique event, dismissing any credence lent to the 'Leicester model' thesis. And there is a guarantee that next season will be far more competitve, through the appointments of Conte, Guardiola and Mourinho, all of whom are looking to sign multiple world class players.
Klopp is quite clearly a fantastic manager, but there are limits to what he can do without serious financial backing. In Germany, he won two league titles, but that was for the most part a two horse race, whereas the Premier League next season looks to be at the very least a three-way competition without even considering Liverpool.
Now whilst some of the limitations on Klopp are out of his hands, such as the current prospect of the club to potential signings when compared with the proposition of working with Guardiola or Mourinho in larger stadiums and prettier cities, some are institutional. For example, without any disrespect at all to Divock Origi or Danny Ings, (as he certainly has promise and great potential) but a team with Divock Origi or Danny Ings as their second and third choice strikers cannot and will not win any league titles; as at thier current age and level of experience, they do not yet possess the qualities to fire Liverpool to challenge at the top end of the table. The same can be said of Simon Mignolet, Alberto Moreno, Lucas and multiple other players – they simply are not deemed 'title winning' players. To compete at that level, Liverpool would need another striker of Sturridge's ability, a top class winger of at least international level, as well as an established creative centre midfielder, centre-back and left-back. With all of that, then Liverpool would perhaps have a team with the potential to compete with the top teams in individual games, but even then, further investment would be necessary to increase the depth and quality of the squad to the levels of Liverpool's competitors.
This is all without even accounting for the strengthening of Arsenal, Chelsea or Spurs, and let alone teams such as West Ham, Southampton and Everton, who are all looking to move into the European qualification positions more consistently. Arsenal for instance have already signed Xhaka, a defensive midfielder who will most likely solve or go a long way to solving their issues in defensive midfield, and have both Özil and Sanchez in attacking midfield, which instantaneously gives them an advantage over Liverpool, whereas Liverpool have Coutinho and Firmino – who are both excellent, but not yet on that world class level. Liverpool need players that are of that level, or at least who will reach that level soon; and that is most likely achieved through fully committed investment from the owners.
One or two key signings in a transfer window is simply not enough, as Benteke and Firmino were last season. Even the most shrewd of businessmen would struggle in the current market to buy top class players on a restricted budget – as shown with Arsene Wenger, who has finally recognised the inability to win league titles without some investment in top level players.
The current policy of the club is to buy promising young players, develop them, and then in a few years have a team ready to win titles. But this is all provisional to Liverpool's best players staying, and also those top teams not building teams of a galactico nature, (as City, United, and Chelsea, have intended/are doing), and pulling well ahead of the competition.
This not to completely dismiss the policy of buying promising young players and developing them. But that policy must be considered in tandem with a greater policy of moving the club forward simultaneously, as if the club keeps sliding down the table, while top players are sold on, there is simply no chance of success in the long term, as the proposition of joining Liverpool for top players in the future would be a poor one.
It is clearly not about the cost of investment either for the club, which was recently valued at £1,042bn by Forbes, and is the recipient of huge cash windfalls from the Premier League. The attitude of the club and its aversion to buying proven top quality and often expensive players must stop. To be at the top, as the fans, the manager and the owners wish for it to be, the club need investment on a scale similar to Manchester City, or risk becoming a permanent bit-part player in the Premier League, let alone Europe.
With all of the above considered, the necessity of a successful and impressive summer transfer window for Liverpool is paramount. Signing one world class player, regardless of their wages, will encourage other players of that level to consider joining the Liverpool FC project to restore itself to past glories. However, consistent seasons outside of the Champions League and without challenging for titles or cups will surely signal the end of any potential world class players joining Liverpool and allowing the club to compete at the top level. If the owners do not act now, and put serious investment into the team, the prospect of success in the future for Liverpool could be a minute one.