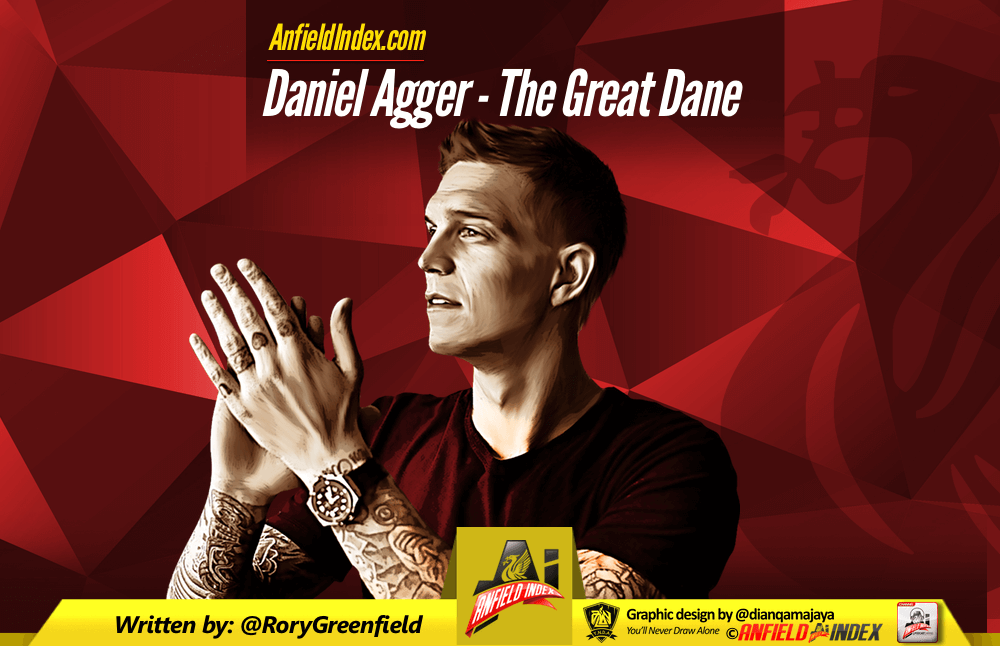 Daniel Agger - The Great Dane
When the news broke last week that Daniel Agger was going to retire aged just 31, I was devastated. Here stands a player, who was a personal hero of mine, so cruelly robbed of what could have been the finest of careers, due to the failings of his body. It's a narrative of the nearly moments, of wondering what quite could have been, for one of the most talented defensive players the club has signed this century.
Whenever anyone discusses Agger, they remember the injuries, the missed games, but rarely mention that he was an elite centre back, who lived, ate, breathed and slept Liverpool football club. So much so, that he famously tattooed Y.N.W.A across his knuckles, as a sign of solidarity when strongly linked with a move away from the club. It inspired me to write this ode to him, to remember and thank Daniel, for his significant contribution to my beloved club.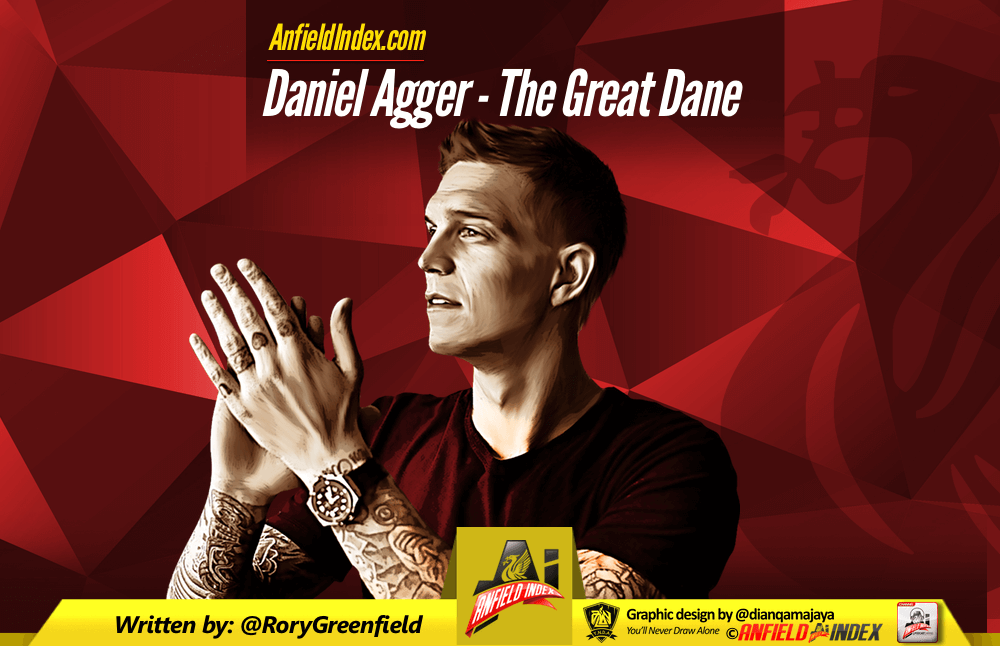 Agger joined the club in January 2004, signed from his boyhood club Brondby for £6 million by Rafa Benitez. He joined at a time when Jamie Carragher and Sami Hyypia, were the established first choice pairing, two players he sights for having a significant positive impact on his development. Rather than shy away from competing for his place, he fought hard to display his undoubted potential and add a new and exciting dynamic to a formidable back line. He was a breath of fresh air, so comfortable, composed and confident. I was immediately impressed.
Standing 6 foot, 3 inches he was a formidable presence in defence. He was never shy of a physical battle, in fact there were times when he craved it, particularly against Didier Drogba who he regularly clashed with. He was known as a football playing centre back, but first and foremost he was a strong defender. Powerful, combative, aggressive, good in the air, all the while with an calming presence. He was excellent at reading the game and sensing danger, he never rushed in for the wrong tackle or made poor decisions and 9/10 when the ball was there to be won, he did just that.
The game changer with Agger, was his ability on the ball. Who could forget watching him stride so comfortably and confidently out of defence, ghosting past players, like they weren't even there. That ability, that control, that grace. At times he made the game look effortless. His technique to pass, to shoot from distance was another key component to his game, one which reaped huge rewards. He had the perfect blend of attributes, as described above. I saw very few weaknesses, in fact if I was to describe a perfect defender I'd want in this current LFC side, it would always be Agger at his peak. This may be a bold statement, but if (yes its hypothetical), he could have stayed fit, I believe he would have likely ranked among the worlds finest.
In total the Dane spent eight and a half years at Anfield between 2006 and 2014. He played 232 times for the club, in all, which there in describes part of the problem. I'm left thinking what could have been, if his body could withstand the riggers of the unforgiving Premier League. He missed one full season in his time at the club, through injury but countless other months. In average he played 26 games per season, not nearly enough.
His leadership qualities are severely missed in this side. He had the balls to stand up when others didn't, once famously disagreeing with Roy Hodgson's dreadful long ball playing style. Despite staying through the many periods of transition, he never really seemed settled under a manager after Rafa left. The tactical setup and partnerships, particularly with Carragher were where he truly excelled. He was of the calibre that he always improved his centre back partner, even managing to make Martin Skrtel seem a stable defender, for a period.
Agger returned to Brondby in 2014 but, after two years back with the Danish Superliga club, he has now elected to call time on his playing career. He left LFC for two reasons, one to extend his career, which sadly hasn't happened. The other because of Brendan Rodgers. No I'm not one to live in the past, but I can't help but feel if he wasn't so badly managed after Rafa left, his career could have been so much more. He was offered opportunities to play for some of Europe's finest, yet stayed to try and improve this team.
Despite being handed the Vice Captaincy, just one season earlier. As soon as the opportunity arrived, he was forced out of the club by Rodgers, only to be replaced by Dejan Lovren. Now, this isn't me looking to slate other players; but for me it's clear who still offered more as a player and a leader in the side. I feel it's a regrettable error and one that undoubtably did a disservice, to a genuinely loyal servant to this club. One who left without the accolades and praise that he'd earn't.
Daniel was nothing but respectful and honest in his actions, both on and off the pitch. For me he was the perfect role model, one who all supporters should fondly remember. He like many players before and hopefully to come, will forever be linked to the club, directly connected with the supporters. A few players, even supporters could learn a thing or two from Daniel Agger, his passion for this club was and will always remain unwavering. He gave his all, until his final minute in a red shirt, he was and remains a hero of mine and one I'll always remain thankful for.