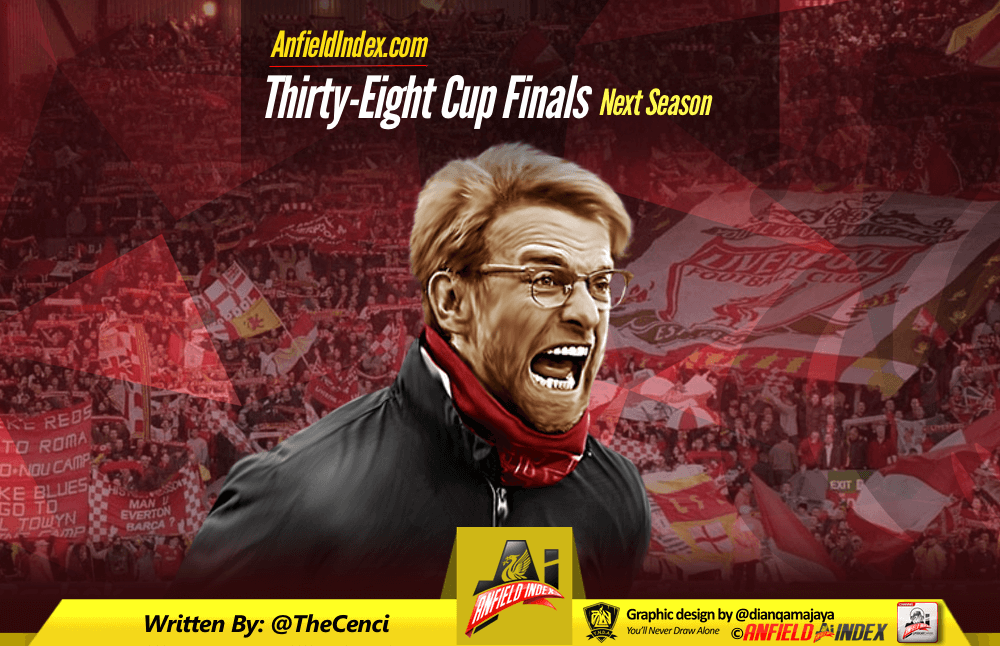 Thirty-Eight Cup Finals For Liverpool Next Season

I've had a week off and it's been lovely. I got to go back to Liverpool for a few days, see some mates and do some research for my next book, which involved me standing on a wet beach on the Wirral. I've been looking forward to this for a while as it's not just a break from work that was needed. Oh, no. I needed a break from something else.
See, every May I sit back in my rickety chair and throw my metaphorical pen on the equally rickety desk. I place my hands behind my head and perform an elaborate yawn to signify that that's the end of that.
Football.
No more writing about football.
Time for a break.
Oh, there's plenty of other writing to do. The second novel (the first being https://www.amazon.co.uk/What-Do-You-ebook/dp/B00HNOXVKC and the 263,384th top selling book in the UK today) – is way behind schedule and I'm late on at least four other ideas – including contributions to comedy things, mental health charities and, honestly, Victorian London publications, but when domestic football ends, so do I.
Then I had a message from Gags. 'Anything you'd like to write about, mate?'
I thought about it. Nah. Not really. Not me. Nothing at all. I'm done with bristling at Nivea adverts and endangering my health with fixating on what Liverpool were up to for 45 minutes in Switzerland. This is my time now. I have nothing more to say. Let a man rest.
Except…
Well, this.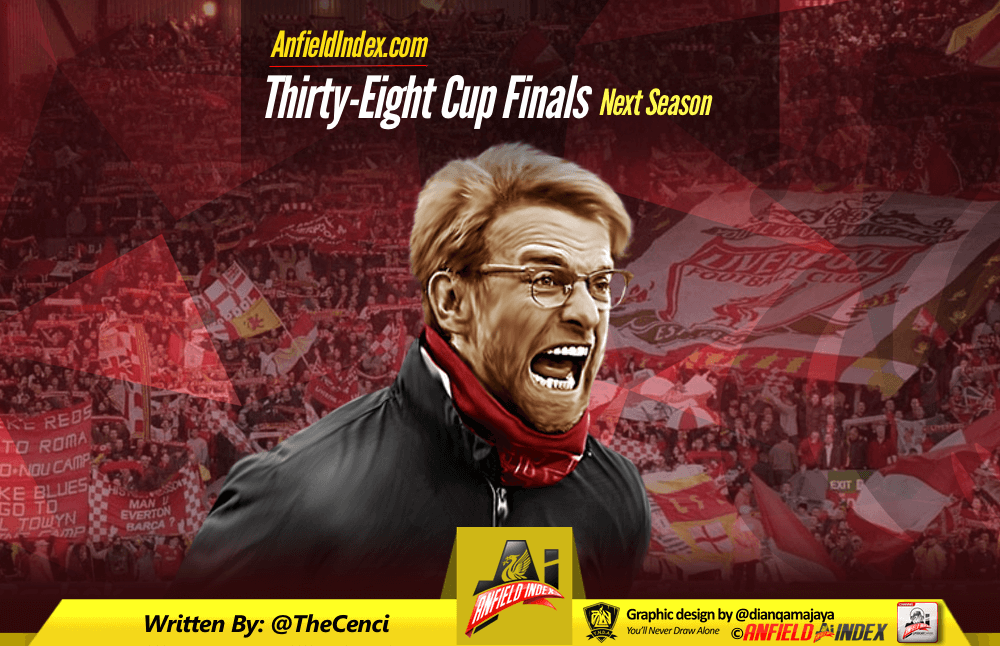 I'm just a bit pissed off with this one thing. Well, two.
Firstly, Liverpool finished eighth in the league last season. That's been bugging me for weeks. Eighth! That's the joint lowest since Shankly's time. Eighth is shocking. An abomination. Unconscionable. Liverpool Football Club finished there. Down there. Eighth.
I know, I know. The caveats are flying out. The Europa League final, would have been a higher place had we not had Europe to concentrate on, we've got a great manager now so etc., but there it is in black and white. Eighth.
I can't get on with that.
And the response to this? Acceptance in most quarters. A shrug of the shoulders. Just one of those things. We got to two finals and had big days out. It's simply the price you pay for having a small squad.
I get that but, well, Liverpool don't have a small squad. Injuries, yes, but there's plenty of legs in that dressing room. We cater for injuries. We plan for those crazy times when half the team are out. We have a second team on standby. No, this is something else. Let's call this for what it is – point budgeting.
Point budgeting drives me mad. Make me wretch. Makes me keck. I despise the notion that we accept that, say, seven points from four games is okay. A good 'return'. Jesus, that drives me insane. Liverpool shouldn't be happy with seven from twelve. We should want twelve from twelve. All you've done there with your seven points is accepted a defeat as collateral damage and you know what type of people accept defeats.
Come the end of the season with Basel on the horizon we weren't just point budgeting – we were just fulfilling fixtures. Just getting through the game while hoping we could rest the better players. There was even a shout of bringing back Jose Enrique. We just wanted to get a day and a game closer to the big one.
Don't get me wrong here. It's clear just what the priority was and I'd have done the same thing, but I would have wanted a lot fucking better than eighth place. The truth is that we were never really going to do much in the league when the last manager was practically a dead man walking before the season even began. Jurgen's holiday meant that the season would just be about bedding in rather than an all-out assault on everything. No one saw a double cup run coming and that's to his credit.
The second thing is about the manager. Hmm. This won't be popular.
I'd like to make a suggestion that's going to encourage frowns, abuse, unfollows and dog turds in the post. It's this.
Can we lay off the Klopp love-in?
Well, alright, not lay off as such but just calm it down a bit. Move the dial from frenzied to full support.
I like Jurgen Klopp a lot. He's everything I like about a manager. He pulls us all in, he slaps our back, he makes it fun, he's shouty when he needs to be and he doesn't play to anyone's rules. I love that. More importantly, I like how he tries to outsmart the opposition. That thing he does where he stands in the centre circle before kick-off and examines the other team's warm up is great. He's looking for an edge. Always working.
He's great. He's going to great for us. My support for him is unwavering.
But he hasn't won anything yet. Oh, he's come close and he's done brilliantly with another man's squad in a short space of time, but can we ease up on the Shanklification of the manager? Look at poor Brendan. He'd barely left his first press conference before comparisons were being made with our greatest ever manager. I remember one observer saying 'take away the Ulster accent and that could have been Shankly speaking'. Not a ball kicked, not a player born and already Shankly. As Alphonsia Emmanuel says in 'Peter's Friends' we just commit very early.
It's nice and everything but it's unfair on everyone. It turns out that Brendan wasn't Bill and those internet jpegs and memes of him with Shankly's ghost looking down on him just wanted to make me vomit until the contents of my stomach lay in front of me. How can he live up to that sort of billing? It's like being given an artist's easel while the people calling you Da Vinci while waiting for you to knock up the Mona Lisa.
It's not passion. It's setting us up for a fall. Or eighth.
Jurgen's brilliant. Jurgen's going to be magnificent for this club, but Jurgen isn't Bill Shankly either. He's making people happy – me included, but he's also left an eighth place league finish behind and it's sticking around like a wet fart at a buffet. He's done well so far and, to some extent, that eighth is the product of a situation beyond his control but let's not start canonising people just yet, eh? Let the man work.
I say 'to some extent' as I'm still surprised that he didn't buy in January. Was that due to us blowing a load the previous summer or him giving people a chance? I'm not sure. Maybe a mixture of the two.
This summer will be the first chance to see what a Jurgen Klopp Liverpool will look like and it's interesting to see who he'll ship out as well as bring in.
One thing though, next year has to be about the league. With no European distractions and a plethora of players who need games but won't have the opportunity to play in anything but the cups, he can settle down and concentrate on wiping away the memory of that league position. He'll do it too. In 2005 Rafa blew off the cups by picking a second string against lowly Burnley as, as he said, he didn't see the competition as a priority. There was uproar from sections of the crowd. Liverpool try to win everything after all. He got the hint and the next year we won the bloody thing.
I don't think anyone would settle for a good yet exhausting cup run next year and a mid-table finish. We need to get back to the league. The bread and butter. The real tabasco.
Now the real work starts.
And when I say 'the league' I mean just that. Not fourth or 'progress'- that's point budgeting. I mean the league. Try to win it. Expend every available calorie working on number 19. And don't let's have any of that 'be realistic' nonsense. Talk to Claudio Ranieri about being realistic.
And if we don't win it but make a concerted effort to do so, the fans will still be here for him. We love a mad dream at this club. Sadly though, at times we also reward people before they've done a sodding thing (the Emre love-in before he improved, for example). Jurgen hasn't done anything yet, but he will.
Let's just let the man work and not put his face on Mount Rushmore just yet. That's all.
I'm definitely having a holiday now.