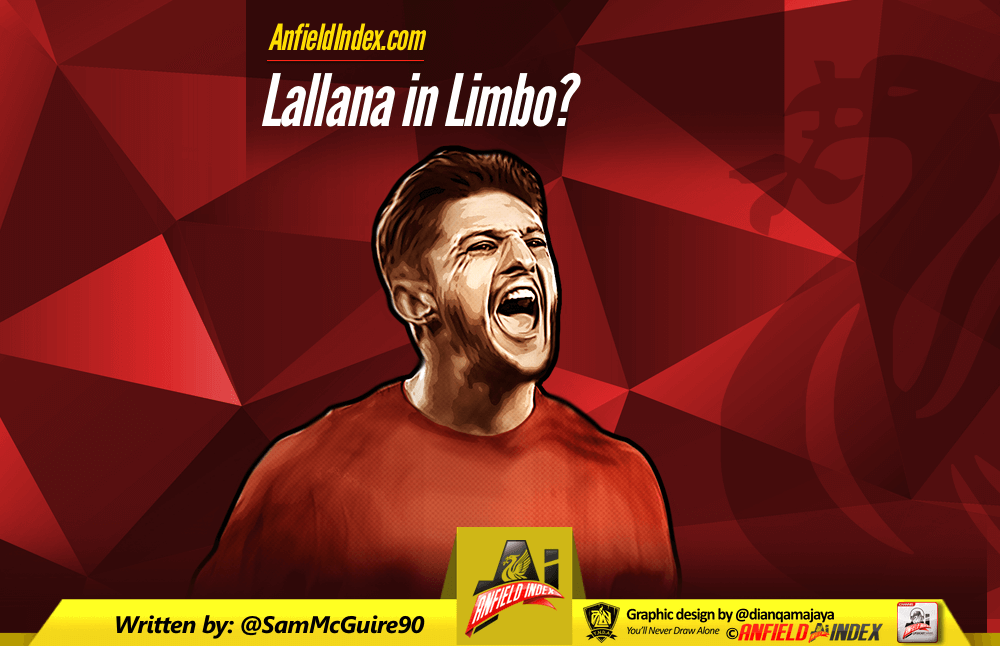 Lallana in Limbo?
One of the key reasons Nivea linked up with Liverpool. Maybe. An integral part of the #Handsomepool movement the club is currently in the clutches of. Interview extraordinaire. Since signing in the Summer of 2014 Adam Lallana has managed to establish a cult like following amongst the fan base more due to his off the field work as opposed to his on the field performances.
He joined the club with a £25 million price tag placed firmly on his shoulders. A knee injury sustained in one of his first training sessions with the Reds saw him ruled out for six weeks – missing at least the first three Premier League games of the season. His debut arrived when he replaced Raheem Sterling after 60 minutes of Liverpool's fourth league game, against Villa, which ended in a 1-0 defeat.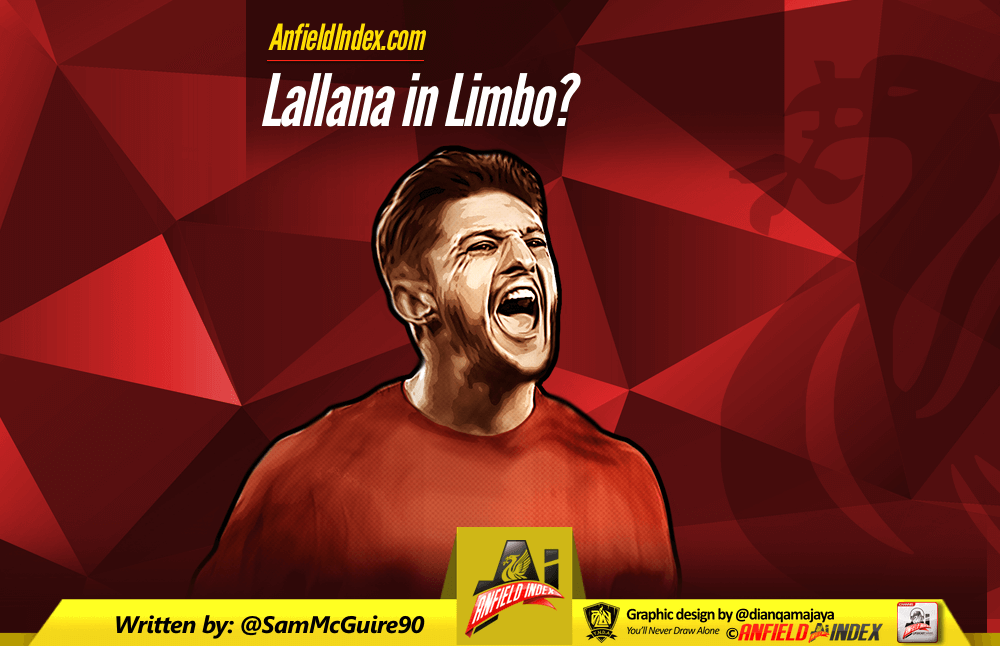 Lallana's first season with the club was a forgettable one. Liverpool toiled in the absence of the recently departed Luis Suarez and the injury ridden Daniel Sturridge. Brendan Rodgers was proven to be a mere mortal after his meteoric rise in the minds of Liverpool fans throughout the 2013/14 season. Baffling tactical decisions, accusations of playing politics with team selections and some bemusing press conferences, like a reckless gambler getting ahead of themselves after a big win chasing even richer fortunes, Rodgers wasted the credit built up in a matter of months.
Lallana was tarred for being a 'Rodgers buy'. As soon as the band aids began to fall off and the Bredan Rodgers failures resurfaced once again it was his signings who took the main brunt of the fan's anger and disappointment. Make no mistakes, some of these players deserved criticism but sometimes these players were hated no matter what. Lallana was lumped in, unfairly, with the likes of Rickie Lambert and Dejan Lovren. His flitting form meant it was easy for fans to justify their stance on the Liverpool no 20.
To a casual observer his style of play is nice on the eye, it's aesthetically pleasing, but it's hard to overlook the glaringly obvious fact he takes too many touches. He's not clinical enough. Fans even started to question his bottle. There were pictures of him in tears after being subbed off against Southampton after the home side spent the entire match jeering him. Stomach wrenching misses against Manchester United, Besiktas and Aston Villa didn't endear himself to the Anfield faithful. All players miss chances, nothing abnormal there, but given the circumstances of these misses – basically a play-off for fourth place in the League, a Europa League tie and an FA Cup Semi-final –  Lallana wasn't justifying the price the club paid.
£25 million, Premier League proven, and supposedly coming into his prime.
His debut season with Liverpool finished with disappointing numbers given the expectations that a £25 million price tag sets. 5 goals and 3 assists in 2130 minutes played meaning he was involved in a goal every 266 minutes, basically every three games. The season prior to joining Liverpool Lallana scored 9 and managed to register 5 assists, but he played more minutes meaning he was involved in a goal every 2.4 matches. So his most productive season for Southampton wasn't far off his poor debut season for Liverpool.
The Summer of 2015 was upon us and change was in the air. "Firmino is here now so that's Lallana relegated to a squad player"
But it wasn't.
Lallana started under Brendan Rodgers. He started under Jurgen Klopp. Many thought it was due to necessity but Klopp carried on selecting him even when he had a full squad at his disposal. Klopp harnessed Lallana's strengths and made him an important cog in the system. Less touches, more direct play and Lallana was entrusted with more responsibility. Klopp moulded Lallana into one of the pressing triggers for the team, when he goes the others follow. The Brazilians get the plaudits but Lallana played the full 90 minutes in the 3-1 win at Stamford Bridge and the 4-1 win at the Etihad. In the latter victory it was Lallana pressing Clichy chasing a nothing ball that was the instigator for the first goal. A hurried Hart clearance lead to Liverpool nicking the ball and scoring.
Kind of like a heel turning face organically in Wresting, Lallana's popularity with LFC fans seemed to pick up momentum in the second half of 2016. It coincided with his upturn in fortunes in front of goal. An assist and the winner in the memorable 5-4 victory against Norwich, a goal and an assist in the 3-0 win against Manchester City, an important assist in the 2-0 Europa League win against Manchester United and then a goal against Villarreal in the Europa League Semi-Final turnaround.
Despite this though, he was still involved in a goal every 220 minutes. It was his average. Two Premier League seasons with Southampton and two with Liverpool and he averages a goal or an assist every 2.5 matches. He's fairly consistent in terms of goal involvement but can he kick on? He's failed to do so over the past four seasons so why now?
Lallana in Limbo.
There are rumours that Liverpool are looking to bring in another attacking midfielder this Summer. Links to Ousmane Dembele, Mario Gotze, Sofiane Boufal and Sadio Mane. With every single link the fan base seems to respond in the same way.
"Well he's better than Lallana."
The same sentiment as when the Reds signed Roberto Firmino and look how that turned out. Can he survive yet another high profile attacker joining the squad?
He has almost hero status with the fans not many would put him at the top of their to sell list this Summer. If Liverpool are to sign an attacker in Lallana's position would he be happy to sit on the bench when he's he's coming into his prime?
Even the fiercest Lallana detractors can't deny the fact he does add fluidity to the attacking set-up, and whatever people may think it's always going to be team > individual in a Klopp system. Inferior player on an individual basis but their role in the team makes them important. It can't be a coincidence that Liverpool looked at their most compelling when Lallana was in the team. There seems to be relationships there with Daniel Sturridge and Roberto Firmino, two of Liverpool's most potent attackers. Lallana is an easy scapegoat because Firmino is Firmino and Coutinho is Coutinho, but there's not many attackers in world football now who manage to be involved in a goal every 220 minutes yet do so much defensive work for an attacker.
This gives Klopp a bit of a conundrum. Lallana does the dirty work, averaging 3 tackles and interceptions per 90 minutes, he's arguably Liverpool's most effective presser of the ball and believe it or not he's consistent – just not Liverpool consistency. Does this make him a worthy starter? No. But is he too valuable to the system to sell? Possibly.
He puts in some graft and contributes. He may not be perfect but Klopp values work ethic. At BVB Klopp had Jakub Blaszczykowski Kevin Grosskreutz, players who aren't the best but they did a job as part of the team. Is he the perfect 12th man? Could this be Lallana's role to the surprise of many?