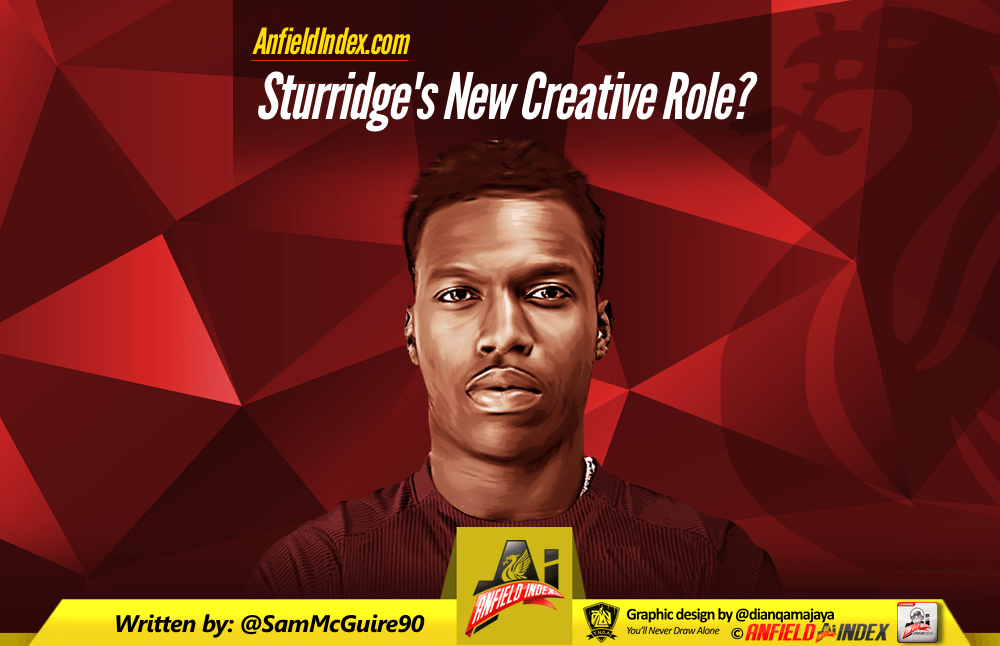 Sturridge's New Creative Role?

Daniel Sturridge has been up against it since his move to Chelsea.
He's had to prove he isn't a money grabber after leaving Manchester City to join Chelsea. He's had to prove he doesn't have a 'poor attitude'. He's had to prove to the masses that he isn't lazy; and that accusation in itself is lazy. He's had to convince people that he's worth the wait and the hassle, despite many injuries restricting him to limited appearances since his move to Anfield.
His career has been nothing but an uphill struggle and a hard fought battle with people refusing to acknowledge just how good he is.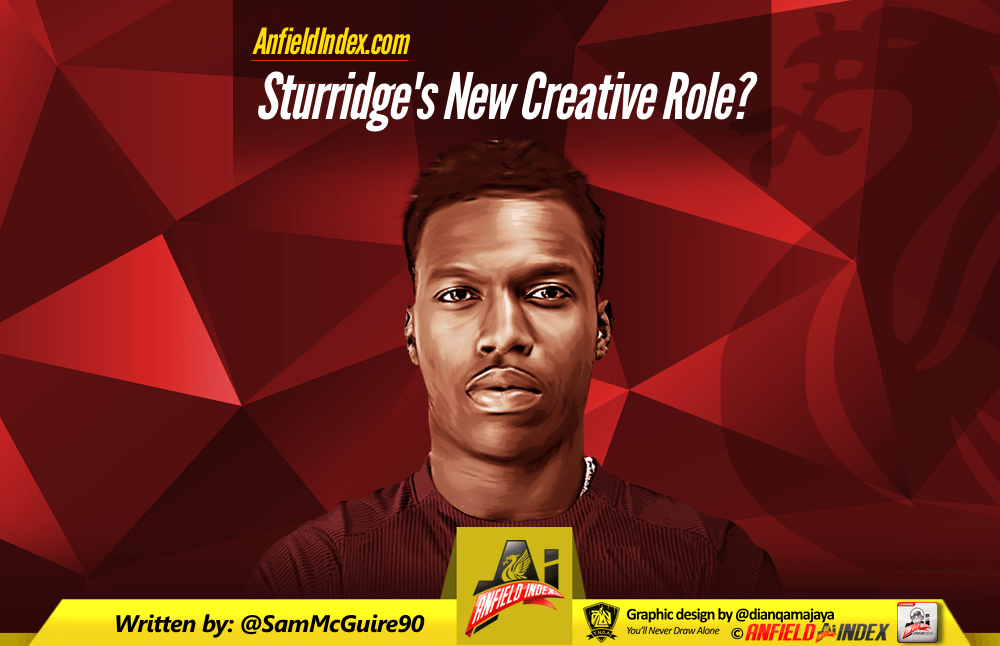 Sturridge reached 50 goals for Liverpool in fewer games than the likes of Luis Suarez, Kenny Dalglish. John Aldridge, Robbie Fowler and Michael Owen. He's currently ranked fourth in the table of games needed to reach that milestone behind only Roger Hunt, Fernando Torres and Albert Stubbins.
All of the names in that list are considered legends among the Liverpool fan base (with Owen perhaps being the exception due to his endeavours post Liverpool). Stories are told and songs are sung. These players are legends in the Liverpool storybook. Daniel Sturridge is ranked firmly amongst these greats in terms of goals scored yet he rarely gets any of the praise or plaudits the others are afforded. There's a feeling the supporters of the club won't actually realise what they've got in Sturridge until he's gone for good.
He shouldn't have to continually prove himself. But he does. Now his biggest challenge may be to prove to people he can be a hybrid number 10.
Redesign. Rebuild. Reclaim.
There's no ignoring it. Injuries have decimated Daniel Sturridge's career up to now. He's had three and a half seasons at Liverpool and practically a season and a half of those have been missed due to injury. It's testament to the player that he is that, even with so many injuries in the 5100 Premier League minutes he's featured in for Liverpool, he's averaged a goal every 118 minutes. If you include assists Sturridge's goal involvement throughout his Liverpool career works out at 92 minutes. He's basically scoring or assisting in every single game he features in.
Injuries will inevitably take their toll on any player. They're highly-tuned athletes with the world's best sports scientists managing their bodies but it doesn't mean that they're robots. Age and general wear and tear always impact a player eventually. Sturridge is no different.
After returning from his most recent long term injury there was a visible difference to Sturridge's style of play. His once explosive pace is no longer evident. Instead he's creating space with clever movement to get an advantage over his opponent. Instead of playing on the shoulder of the last man he's dropping deeper to influence play.
At first people put it down to the player easing his way back in after such a long injury lay-off. He'll stretch his legs soon, you watch. Then it was due to Sturridge adapting to Klopp's tactics and style. He's showing he can be a Klopp player. After seeing how destructive he was in the 2013/14 season not many fans even contemplated the idea that Sturridge could be a creator instead of a finisher.
Could the redesign in his style be the player himself acknowledging he'll never be 2013/14 version of Sturridge again, but instead a modified potentially better version? He's rebuilt himself in a different style in his quest to reclaim a title he never actually lost. Coming off the back of the perfect storm season he was considered the best striker in the Premier League after Sergio Aguero, at times his equal. In his absence players like Harry Kane and Jamie Vardy came to the fore. Impersonators to Sturridge's crown. Going into Euro 2016 there were question marks over whether Sturridge should even go. Sturridge once again had to prove himself. All the hype going into the tournament surrounded Vardy and Kane yet it's Sturridge that's showed he's a class above. Form is temporary, class is permanent.
Hodgson doesn't do subtle, in both of Sturridge's appearances for England at the Euro's he's played off the striker (Vardy). It's been glaringly obvious that he's been playing off the right hand side and drifting centrally at times. His performances in this role have impressed people and it's lead to people asking the question: could Sturridge play a withdrawn role?
Yes.
This isn't an answer based solely on his performances for England, it's the fact he's been playing a similar role for Liverpool since returning under Klopp.
It was noticeable in the 6-1 victory against Southampton when Sturridge was partnered with Divock Origi. The threat of Origi in behind meant the game was stretched and Sturridge could find pockets of space between the lines. He was dropping deep and dragging defenders all over the show. The same thing against West Ham in the FA Cup when he was substituted on. Christian Benteke was the focal point and Sturridge was dropping really deep to start attacks. His clever movement meant a usually compact West Ham side looked stretched. He was isolating defenders so Benteke could bully them. He didn't but the thought was there.
Sturridge continually played the role of almost a false 9 at times, a 9.5 if you want, and in the Europa League win against United at Anfield he spent most of the first half drifting wide, dragging Blind out of position and enabling both Adam Lallana and Roberto Firmino to take up the space centrally. Even though he started matches as the lone striker he rotated with Liverpool's attacking midfielders.
It went unnoticed but Sturridge maintained an impressive goals per minutes ratio despite this tweak in position. A clinical, clever player in a market that sees Troy Deeney reportedly being sold to Leicester for £30 million, Sturridge is priceless and could well be integral to Klopp's Liverpool next season.
Imagine for a moment Klopp does sign a wide forward with pace that he's rumoured to be targeting. Liverpool could line up with Coutinho, Firmino and, for the purpose of this piece, Mane. That front four could by dynamite.
Sturridge, Firmino and Mane are all interchangeable. Mane's pace would give defences a headache if Sturridge did drop deep as they couldn't press *that* high. Firmino's movement would cause trouble and that's before even mentioning the joy Coutinho would have in such space the other three would create.
Just because he's lost pace doesn't mean he's finished. He's not Michael Owen or  Jamie Vardy. He's not reliant on his pace. He can and he has evolved. He's intelligent, he's creative. Klopp likes goals from all over and Sturridge certainly offers that.
This Sturridge 2.0 version has the potential to be as dominant and destructive as the original version but with a refined bit of class added to his all round game. He's always had the potential, just watch that lob against WBA, but now he's fully embracing that creative genius part of his game. Yet another challenge for him to excel at.