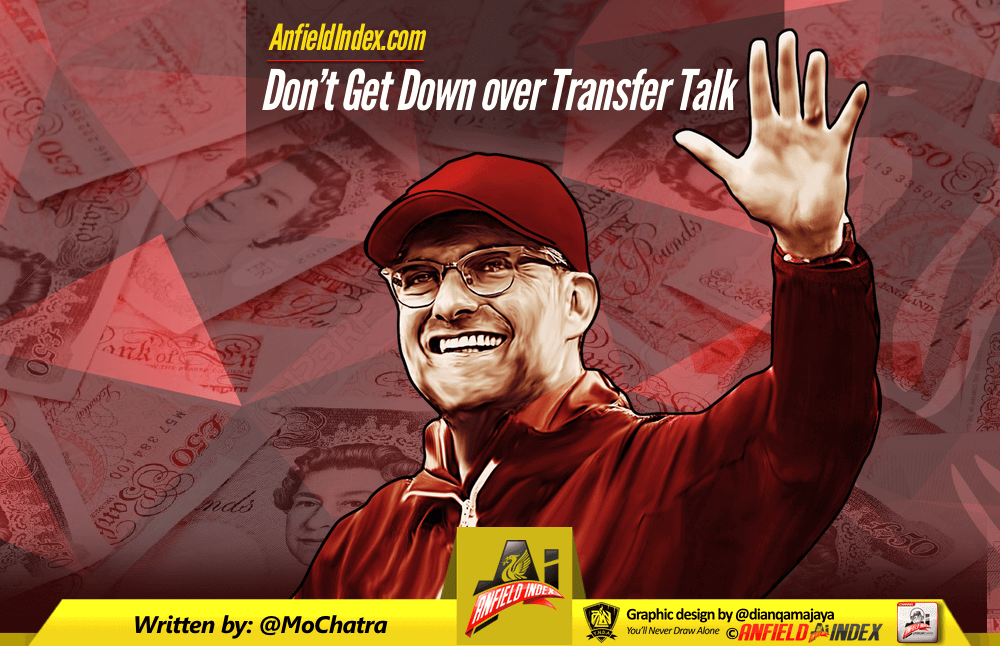 Don't Get Down over Transfer Talk

Wimbledon. The British Grand Prix. Glastonbury. The Edinburgh Fringe Festival. All much loved and well established summer staples. For Liverpool fans, online transfer speculation can be added to that list.
Once football seasons end (and occasionally before they draw to their usual disappointing conclusion for supporters of the Reds), fans' attention diverts immediately to transfer talk. Initially, supporters assess the squad for weaknesses based on the previous nine months of frustration and heartache and identify areas of the team they consider in urgent need of attention. Once that's done, then the fun begins.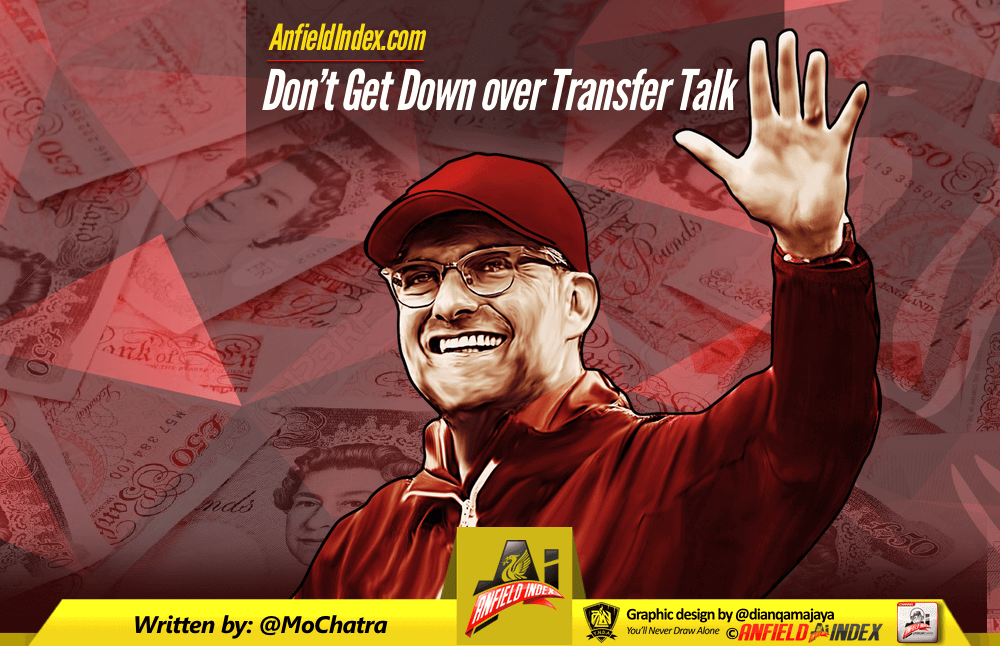 Let's take Liverpool's left back position as a case in point. Alberto Moreno divides opinion in much the same way as KFC. Some have unconditional amour for said line of fast food whilst others become physically repulsed at mere mention of the three-lettered acronym. It's fair to say, however, that after the goalkeeper position (which was universally accepted as an area Liverpool had to improve on- and they did with Loris Karius, the anti-Iain Dowie if ever there was one, much to the glee of LFC's marketing department), the left back role is the one many fans identified as requiring a change of personnel and are desperate to see the club spend money on.
Twitter, Facebook, forums and doubtless many thousands of WhatsApp group chats experience a daily and incessant barrage of discussion over any player who plays or can play left back who may have been linked with the Anfield outfit by even the most dubious of sources. Whenever Jonas Hector links resurface, excitement levels for some reach orgasmic levels. Speculation about Keiran Gibbs or Ben Chilwell emerges and the virtual fumes can be seen from the outer reaches of the world wide web. Simply put, transfer rumours have become an obsession for many and emotionally draining for those that allow themselves to be sucked in by the free-for-all circus that surrounds them.
The Reds finished in eighth place last season and nearly all of the club's fans yearn for and expect the team to finish far higher up the Premier League table. Needless to say, improvement in the squad is desired by all supporters. However, this belief that Liverpool's route to success can only be realised by splashing tens of millions on several marquee signings over the summer suggests fans have little faith in or appreciation for the importance of coaching in all its forms.
One of the best examples is Tottenham Hotspur. Much like Liverpool fans, Spurs supporters believe their club should regularly finish in the top four and challenge for the league. Over the years they've seen some magnificent players dazzle crowds within the confines of White Hart Lane – Bale, Modric and Van der Vaart to name a few – but they've never been able to establish a firm footing at the top table. Given this, there had been a belief amongst many if not most Spurs fans that fighting for fifth with Liverpool was Spurs' purpose in the footballing world.
Last summer, this ingrained pessimism was not alleviated with the lack of 'big' names the club was being linked with. Whilst Arsenal were being strongly linked with Peter Cech, United with Memphis Depay, Liverpool with Roberto Firmino, Chelsea with Pedro and City with Kevin De Bruyne, Tottenham were linked most closely with Kieran Trippier.
To compound the air of negativity, Pochettino decided to have a mass clear-out of the Spurs squad with no fewer than eleven of the first team group – Paulinho, Fazio, Lennon and Soldado amongst them – culled and numerous under-21s shown the door. Heck, Andros Townsend was confined to a role somewhere between the tea lady and Chirpy the mascot within Spurs' pecking order before eventually exiting his boyhood club for a move to Newcastle United last January. No surprise, then, that over at noted Spurs fan forum, The Fighting Cock (insert your own puns here), a thread last August saw most fans predict another fifth or sixth place finish (some even speculated about a relegation battle).
As for incomings, Kieran Trippier did put pen to paper as did other low-key signings in Kevin Wimmer and Clinton N'Jie. Only Toby Alderweireld and Heung-Min Son were seen as arrivals to get excited about that could slot into the first team. What Spurs fans had spectacularly underestimated, however, was the plans Pochettino had in place to bring improvements of a different nature to his team.
Much like Jürgen Klopp used the 2015-16 season to separate the wheat from the chaff (and the exodus of those surplus to requirements will doubtless be in full swing after the Euros), Poch did much the same with 2014-15. He had a very clear system and style of play in mind and decided to identify those from his squad who either fit or could be moulded to slot into his grand plan. All that who weren't suitable were swiftly moved on.
Complementing all this was a strong desire to establish a super-fit squad of players that would and could play in a relentless pressing style not too dissimilar to that favoured by Klopp. He looked to ingrain and imprint this, as well as needed pinches of tenacity and fight, into the hearts and minds of his players over the pre-season period. As the 2015-16 season proved, his results were spectacular.
A defence that had conceded an average of fifty goals over the previous three seasons (sound familiar) became the joint-meanest defence in the Premier League; all with the addition of only one player from our favourite shopping destination- Southampton. The full backs – Walker and Rose – looked fitter and better conditioned and their performances were noticeably improved and more consistent. Eric Dier, who looked promising yet unpredictable in the Spurs backline in 2014-15 was transformed as a beastly and combative defensive midfielder with an underrated eye for a chance-creating pass.
Moussa Dembele and Dele Alli (the latter of whom hardly anyone expected to become an established first team player as quickly as he did) became energetic dynamos who felt they had let the team down had they not covered every single blade of grass. Even Erik Lamela – a prodigious prospect at Roma but one who seemed destined to go the way of many an import who hadn't been able to adapt to and thrive in English football – finally found his mojo. All of this was no coincidence.
The holistic coaching and development methods of the Spurs manager and his support staff were instrumental in achieving this. Granted, they finished third but for much of last season this team was quite the irresistible force, often looked the best team in the Premier League and was barely recognisable to the one from 2014-15. All this achieved with negligible net spend (or a modest profit, depending on which sources you believe).
Even if Liverpool end up having a transfer window that leaves many fans clamouring for Prozac, and the only other arrivals end up being Chilwell, Piotr Zielinski and Sadio Mane, this writer will be far from despondent. In Klopp we Liverpool fans have a world class manager. He's our most valuable asset, and for fans to misguidedly believe spending £100m on an array of top names is the only way to become a force again, it would suggest such supporters severely underestimate what Jürgen is capable of.
Last season proved to be disappointing but the rays of optimism were plentiful. Stunning performances against the likes of Man City, Chelsea, Man United, Southampton, Villarreal and Dortmund, of course, were a sneak-peak into Liverpool's future. The club already has a number of players who showed significant improvement under our manager last season and there's every reason to believe that development will continue. Furthermore, with the benefit of a full pre-season those whose improvement wasn't as acute in 2015-16 should still start the new term as better players.
Klopp is a mastermind (look at how many relative unknowns he turned into football superstars at Dortmund). He knows what he's doing and he knows what is needed far better than you or I. Finishing and fitness as well as mentality are obvious issues he'll look to focus on, but there will be plenty more areas largely oblivious to most fans he will look to bring changes to, both at individual and collective levels within the squad as well as at club level. Trust in him and most importantly support him and his team and he'll provide us with a Liverpool Football Club that we can all take pride in.
So in the meantime, rather than obsess and stress over every Liverpool-related tweet by Gianni Di Marzio or James Pearce, have strawberries at the ready (unless you're fasting like yours truly) and enjoy racquet and ball brilliance from Murray et. al. instead.