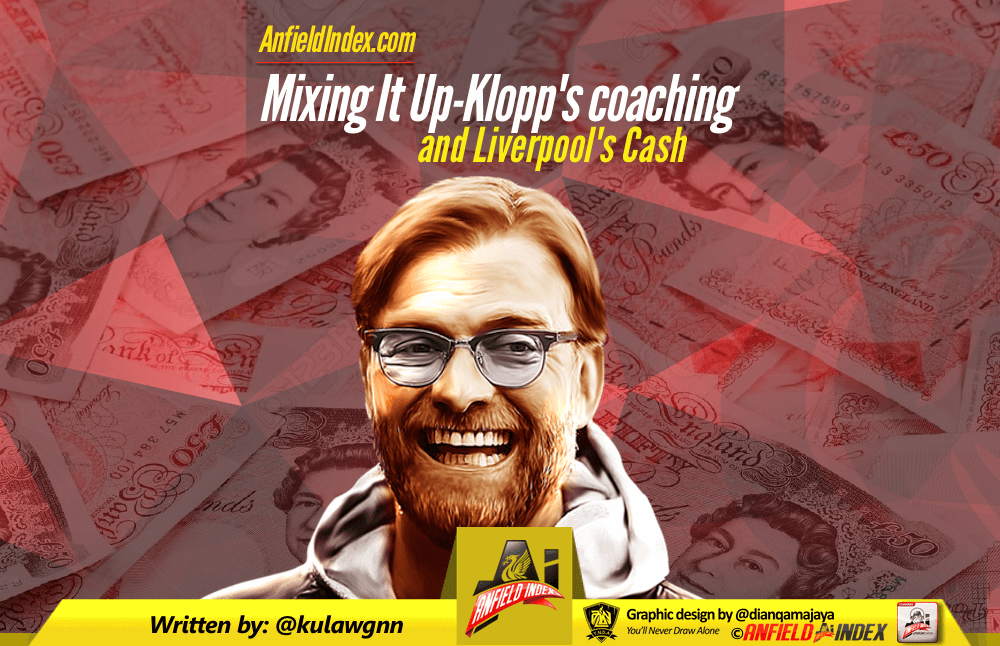 Mixing It Up - Klopp's coaching and Liverpool's Cash
The fume has always been a constant feature of LFC's transfer window in the Twitter era. Failing to land a target and LFC targeting underwhelming players always set LFC's" twittersphere" ablaze for days. Also a constant feature is the penchant of journalists and agents to link every man who calls football his profession to a transfer to Liverpool. One change in this summer's transfer window is the concept of "a perfect Klopp" player. Being linked with an underwhelming name, for instance a Zielisnki last summer would have led to massive fuming. However this season pursuit of players of such low profile is explained away by some fans with the concept of " a perfect Klopp player". Loosely explaining the concept, such players are promising and relatively unknown talents who have the gengen pressing gene and technical ability Klopp can turn into stars. The concept is drawn from the work of Klopp at Dortmund, where he turned Lewandowski, Goetze, Hummels, Aubameyang and a host of others from relative unknowns to stars. Liverpool's modus operandi in the transfer market in the last few years has been about buying young talented players and developing them into stars. That and Klopp's methods at Dortmund seem to fit together like the hand and a glove. No wonder the media and agents are busy linking Liverpool with all sorts of names.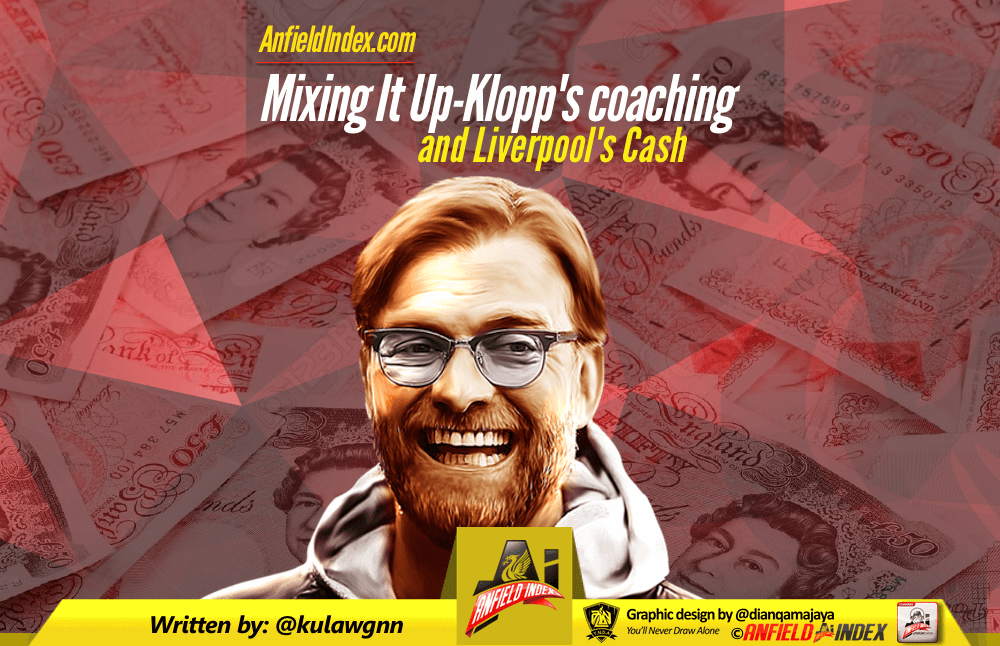 "Joel Matip, Marko Grujic, Loris Karius, Piotr Zielinski……….If the same quartet had arrived last summer questions would have been asked by Reds fans. The oft-criticsed transfer committee would be in the firing line. But Jurgen Klopp has changed all that……….They (Liverpool) set up the transfer committee, now they have the best candidate to lead it"
Liverpool Echo: Jurgen Klopp's Liverpool transfer strategy mirroring his time at Dortmund; June 19, 2016
These lines reflect the lens Liverpool's transfers are being viewed by the media as well as a number of fans. Jurgen klopp is an elite manager who if given the right environment and resources can do great things with Liverpool. Last season offers inkling on what can be achieved with the German at the helm. But what does the right environment and resources mean? The same methods at Dortmund? Will the transfer approach he worked with at Dortmund hinder or promote the success of his reign at Merseyside? Klopp's ability to turn unheralded players into stars during his Dortmund days is rooted in his strong belief in training over transfers.
"If we have a good idea we try to implement it on the football field. It takes time. I believe in training sessions, and sometimes I think I'm the only one in this country who still believes in them. Others rely only on transfers. I love this game and the training can make the difference".
Klopp was quoted by Sky Sports in November, 2015. His conviction in training has honed the talents of many and created a successful Dortmund team. But does his Liverpool team have to follow the same path?
When Jurgen Klopp became Dortmund manager in 2008, the club was recovering from the financial crisis of 5 years earlier. The financial crisis could potentially have led to the collapse of the club in 2005. The season prior to Klopp's appointment was one of the worst in terms of league position (13th) in the club's history. The club was therefore not an attractive proposition as it is now to top stars neither was it endowed with a bulging purse. A transfer orientation of scouring the Bundesliga, lower divisions of German football and Eastern Europe was a matter of consequence rather than design. Klopp's Liverpool had a poor league placement last season. But that may be it as far as the parallels between the contexts go. Klopp at Liverpool will have transfer budgets bigger than he was used to at Dortmund.
The Dortmund approach, as shown by other clubs-Sevilla, Athletico Madrid- which have adopted same or variants of it is a proven path to success. But it requires a certain amount of competence in structuring a scouting system and smartness in negotiating deals for talents. Dortmund buys for a few millions players bigger clubs then pursue for 20 or 30 million. This is not only indicative of brilliant coaching, but importantly spotting the right talents at the right times. If one is to write a two-sentence narrative on LFC's scouting and recruitment, it will not be as glowing as Dortmund's. Liverpool is the object of jokes on overpaying for mediocre players. We do that very well. With a competent structure overseen by Michel Zorc(Sporting Director) and Waltzke(CEO), Dortmund has had a very successful dealing in the transfer markets. Same cannot be said of Liverpool. So why should Klopp use the same approach he was used to at Dortmund? Besides it's being widely reported that Klopp did not have a hands-on approach as far as recruiting players was concerned. Much of that duty was the preserve of Zorc with Klopp having final word on those recommended by Zorc and his team. Liverpool's transfer committee has had some success with the recruitment of the likes of Emre Can, Coutinho, Origi and Sturridge. However overall the club has not been excellent in acquiring the promising talents Dortmund have excelled in.
Before the current Liverpool squad gained the tag of "gegen pressers", "bottlers" was one word that was regularly thrown about to describe them. League title 2013/14, FA Cup semi-finals 2015 and a place in top 4(2015) can all be held up as examples for why this LFC lacks the mental mettle to succeed. Since Klopp's arrival, they have not only "gengen pressed", they have also lost two finals. The team is always fails when the stakes are high. One major reason attributed to this is the lack of experienced players and leaders within the fold. Which of Zielinski, Chilwell, Mane and the other names the club is reportedly pursuing add any experience and leadership to team? None!
The gap between Liverpool and it rivals seems to widen season after season. Every summer seems to be a key one for the club. Yet over the last few years every season has turned out a failure. In Germany Klopp contended with just one rival whose financial and sporting might overpowered Dortmund. In England, his Liverpool side has at least 4 teams whose finances and sporting might over the last few years overpowers it. Liverpool is already losing attraction to top stars by its consistent absenteeism from the Champions' League. To say that the club is in a desperate catch-up will hardly be hyperbole. Patience of fans is wearing thin over the constant failures and that does not suggest the best environment to replicate the Dortmund model hook,line and sinker.
Klopp's predilection for training is renowned. So is his track record of the turning promising talents into stars. He did a brilliant job at Dortmund. However the context and peculiarities of the Liverpool situation mean that a wholesome adoption of the Dortmund approach may not be the way to go. Klopp gives Liverpool world class managerial expertise that has been missing since Rafa's departure. Liverpool presents to the German a bigger transfer budget than he was used to, which should enable him acquire more than just promising talents. Mixing up these two factors serves Liverpool's interest better.