 Jürgen Klopp and the Parallels of his Past
Jürgen Klopp is not at Liverpool for a quick fix and there is a probably a high proportion of fans that need to understand that. Klopp is not a Jose Mourinho – a short term, high spend, career manager looking for the next club to add to his CV. That's not to degrade Mourinho's career achievements, he's good at what he does and there are clubs that look for that kind of style. Liverpool however, are a club that have been searching for what seems like an eternity to rebuild a dynasty and if you want to have sustainable success you need to have a solid foundation. There are two ways to go about that: build over time or throw billions at the problem. Liverpool are a huge club with growing commercial value, but there is no bottomless pit of money and even the likes of Chelsea and Manchester City, who have fast-tracked success by spending big are now looking to balance the books. So, although I understand many fans' impatience for success, if we want the club to be back consistently competing for the biggest trophies then we are going to have to accept that it is not going to happen overnight.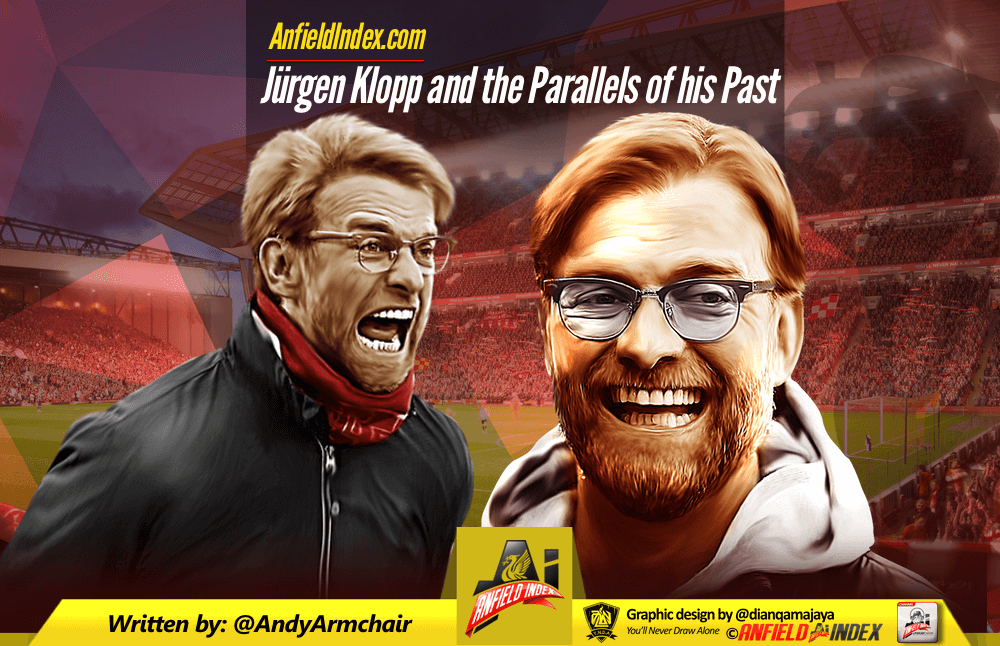 Those who recall Klopp's Dortmund side that won back to back Bundesliga titles and reached the Champions League final will also remember the exciting football they played, their connection with their fans and the incredible atmosphere that the swashbuckling team and charismatic manager helped to generate. That wasn't instantaneous, Dortmund were a mid-table side when Klopp took over at the Westfalenstadion. The former champions of Europe had slipped into the doldrums, had not been wise in their spending and even nearly went out of business, yet still had great support… sound familiar?

When Klopp joined Dortmund, he had built an impressive reputation at Mainz, so obviously, he already knew Dortmund well and knew the Bundesliga inside out; he also had a pre-season to prepare and plan his first season, which was not the case for him at Liverpool. In fact, it's probably only fair to consider Klopp's first season at Anfield as a period of learning, adapting and evaluation.
Fundamentally, there are some differences with his situation at Dortmund and here at Liverpool; for a start, at Dortmund he worked with a Director Of Football, Michael Zorc. The structure at Liverpool is obviously different, but the important fact there is that I said he worked WITH a Director Of Football; there was no 'off the record' power struggle. At Anfield, Klopp has a lot more say, but he is used to working within a structure, so is likely to work with the much-maligned 'Transfer Committee' at Liverpool and be accustomed to that system than feel threatened by them. Klopp does have the final say on transfers and it will be interesting to see how he performs on this front with more control than he is used to. Secondly, Liverpool carry more spending power than Borussia Dortmund now and certainly more than where Dortmund were when he took over there.  Thirdly, is time and expectation; Klopp was never expected to turn Dortmund into champions within three years, whereas at Liverpool he will be expected to deliver trophies. That brings a different kind of pressure and sadly, will probably impact upon the time he is allowed to achieve targets. Many Liverpool fans' hunger for success has turned into impatience and that could become a factor if significant improvements on the pitch are not seen before the end of the season.
Nevertheless, by looking at his first two seasons at Dortmund, we could gain some clues to the direction of his year ahead at Liverpool. There was a very high turnover of players in Klopp's first summer in charge of Dortmund, many of them peripheral players. That summer also saw nine brought in and Marcel Schmelzer and Nuri Sahin called up from the reserves. Of those signings, only Neven Subotic would go on to be part of the backbone of Klopp's successful side. The following summer is arguably the more interesting one because this was after he'd had a year at the club to formulate his plan and implement his system. This was the year Mats Hummels, Lucas Barrios, Sven Bender and Kevin Grosskreutz were all brought in and only six players went the other way.
Basically, Klopp went about constructing the spine of his team first. He already had a goalkeeper in Roman Weidenfeller and a defensive midfielder in Sebastian Kehl, but within a year had added Subotic, Hummels, Bender, Sahin and Barrios. After those first two seasons, Klopp then brought in Lukasz Piszczek, Robert Lewandowski and Shinji Kagawa, as well as promote Mario Götze from the youth side. In short, it took Klopp between two and three years to shape his team.
Klopp is used to the German way of conducting transfer business early, in order to have your squad ready for pre-season, but Euro 2016 and Copa America are both taking place and those international tournaments clearly impact on many clubs' ability to conclude deals. The transfer of goalkeeper Loris Karius and defender Joel Matip are the only summer arrivals thus far, but do indicate that Klopp is targeting the spine of the team. The few weeks following the conclusion of the international tournaments could be eventful ones, as you can be sure Klopp has a plan and will want to be setting about it as quickly as possible, but again, it can't all be done immediately.
Jürgen Klopp is a world class coach, but not a miracle worker. His credentials are proven, trust in them, trust in him; give him the time and opportunity to build his team at Liverpool. Parallels can be drawn to his time at Dortmund and lessons can be learned, his achievements there are surely worth more than him being second guessed in his first summer transfer window and pre-season?