We're all bad liars.
No matter how much we say "we trust Klopp" as things stand we don't, not wholeheartedly anyway, and repeating it won't make it any more truthful. The sad thing is it's through no fault of his own. The enigmatic German hasn't even had a summer transfer window in charge of Liverpool yet but the scars from previous regimes are too ugly to ignore.
Upon his arrival, Klopp talked about turning doubters into believers and for the most part he's been a positive influence on what was a fractured fan base. But when it comes to transfers there are still a lot of fresh wounds. They're yet to scab over.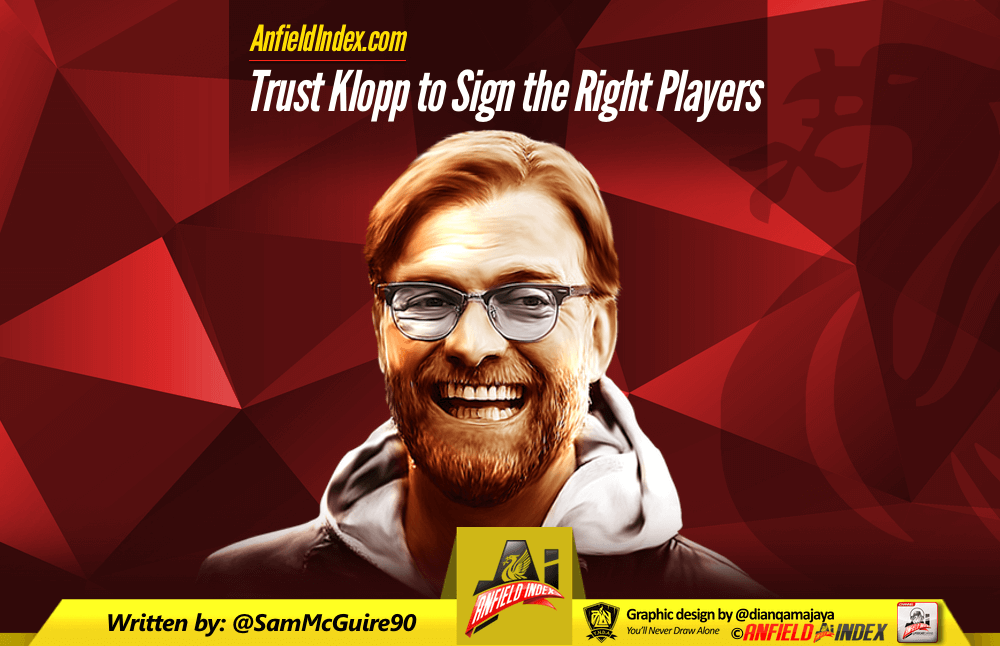 I can't be the only one hearing the ominous music from the Halloween movies whenever I see the club linked with a player from a lower league Premier League club.  Or have the music from the famous shower scene in Psycho going through my mind when I see Liverpool being linked with a £30 million move. The tension builds as I click off the pop-up ads before the horror really hits home and I realise we're being linked to yet another Southampton player.
It's not purposely being done but Klopp's being punished for past mistakes in the market. People are pretty stubborn and after seeing their club hand nearly £60 million to Southampton over the past two summers it's not hard to understand the resistance many are showing towards giving them another £30 million to bring Sadio Mane to the club, even if it's a player Klopp reportedly likes. He's at a disadvantage already.
Of course, not many will openly admit this. It's seen as treason to be question Klopp so soon into his reign as Liverpool boss so people will skirt round the idea and come up with other reasons for their reluctance to fully back a deal for Mane.
"We trust Klopp just not the Transfer Committee."
After Brendan Rodgers left the club the reliable journalists, the ones close to the club, lifted the lid on the dynamic behind the scenes with regards to transfers. If they're to be believed then the likes of Daniel Sturridge, Emre Can, Mamadou Sakho, Philippe Coutinho, Mario Balotelli and Roberto Firmino were all Committee ideas and Rodgers was responsible for the likes of Dejan Lovren, Joe Allen, Adam Lallana and Fabio Borini.
The committee don't always get it right but on the whole 'their' signings haven't been that bad, so why aren't people trusting them all of a sudden?
That entire opinion is centred around the fact the Transfer Committee are buying players that Klopp doesn't want which, if Klopp's first press conference as Liverpool manager is anything to go off, isn't the situation at all. Klopp said publicly he has first and final say on incoming players. If he's said this who are we to doubt it?
There's no obvious divide, at least not in public like there was with Rodgers. Klopp doesn't seem to be getting undermined by the owners or the committee. The club, for the first time since FSG bought it, seems to be pulling in the same direction.
"Yeah but Southampton will rip us off again."
The reported fee for Mane is £30 million. Given the value for money in other league he is overpriced but in terms of Premier League players it's probably cheap given Leicester had a £30 million bid for Troy Deeney rejected. There's no baseline for anything right now. £30 million isn't what it was two seasons ago and perhaps fans are finding it difficult to accept.
It's important to acknowledge this though. If Klopp is willing to spend £30 million on Mane after rejecting Alex Teixeira for £38 million then he (Mane) deserves time to show to us why our manager, the one we all yearned for, thinks he's worth it.
He looks set to be Klopp's first big signing if reports are to be believed, supporters wanted the club and the owners to back him in the market, they're seemingly doing that, yet now it's the supporters who aren't backing him. Klopp hasn't done anything to lose our trust so surely he deserves the benefit of the doubt, for now at least?
Signing Mane wouldn't be like repeating past mistakes. A new manager deserves a clean slate. A fresh start. Klopp's a winner, he knows how to turn players into stars, it was part of his charm, and he's already shown he won't overspend on players he doesn't feel are worth it.  If Mane has a Klopp seal of approval then supporters needs to give him every chance to prove Klopp was right to bring him to Anfield.
This is your first chance as a Liverpool fan to back up what you're saying. If you trust Klopp then trust him to get the first big money signing as Liverpool right. If Mane fails to live up to expectations then you have every reason not to unconditionally trust Klopp.