There's a strange narrative surrounding Nathaniel Clyne, a divide amongst Liverpool supporters. Some argue he's the finest right-back in the country, others doubt his contribution and want him to be replaced. For a player of such stability and consistency it amazes me that he draws such negative attention. So I thought best to explore both sides of this argument, discovering the reasons and the factors that drive them.
Signed last summer for a fee of £12.5 million, a relative snip for an English player, of his experience and level. Although I'd dread to think the price, if he had more than 12 months on his contract. He started the season strongly, looking comfortable and composed in defence. It's worth remembering however that he replaced the hapless Glen Johnson, so I admit it may have screwed some supporters' opinions, as compared to Johnson, he looks like Cafu in his prime. A determined, committed and fit full-back, was a breath of fresh air in comparison, so it was always likely he'd be overhyped initially, despite the positive signs.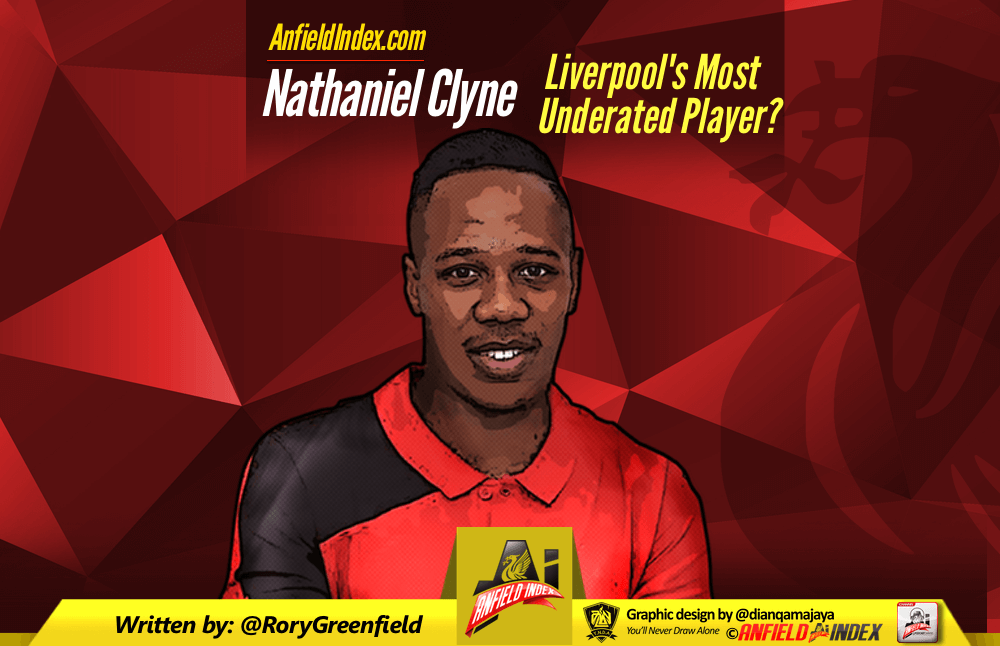 I'll admit to not watching Southampton very regularly, (I'm not a scout for Liverpool Football Club after all) so to me Clyne was a little bit of an unknown quantity. I'd seen the goals he scored and a level of attacking impetus, but had feared his defensive stability. What I've found since he joined the club, is the exact opposite. He's incredible assured in defence, but has shown little of the attacking verve I expected. That to me, simply highlights how views can easily get misjudged, by watching highlights, or occasional matches. It's a lesson I adopt with new signings, not to judge immediately, perhaps one that other supporters could well adopt, to save their stress levels?
It's no secret Clyne has his doubters and there are areas of his game which can frustrate, most notably his passing. He has the stamina, drive and determination to get up and down the pitch all game long, providing a good outlet at all times. But once in possession he looks nervous, unassured and fearful of leaving the defence exposed. I believe he has the ability to change this, certainly the pace to cause havoc and attack dangerous areas, as shown recently for England. He just seems to lack the confidence to do so, whether that be in himself, or his teammates.
The doubters also express that he wasn't actually needed in the first place. Why did a player that offers defensive solidity, but a lack of attacking impetus sign, when we had a perfectly acceptable player in Javier Manquillo. Now, I can't argue that I'll never understand the logic behind Javier's sudden return to Atletico. He had great potential, it was a smart deal in the first instance and he looked to have what it took to succeed in the EPL. That said, I can't help but feel it's not the full story. His sudden disappearance from the team, screamed of potential problems.
As soon as Javier returned to Madrid, he'd left on a similar deal to Marseille, a loan with an option to buy, so perhaps it's not as cut and dry as most claimed. If he had the desire to succeed, why wouldn't he be at Atletico, with a manager that knows a thing of two about developing defenders? He's clearly a capable player, one I hope succeeds, but in reality it's a moot point now.
Nathaniel Clyne doesn't deserve to be the subject of criticism due to mismanagement of former players, by a former manager. You can only judge Nathaniel on his own performance levels, not that of a player that's long left. The same sentiment applies to Glen Johnson as discussed earlier. He's his own player and one who I personally feel has the potential to grow into something special.
Clyne played an astonishing 52 times last season. Now in anyone's book that's a massive amount of minutes and games. He's not been perfect in all, I won't sugarcoat a certain roasting he was given by Anthony Martial in the Europa League. But for me that's a very rare occurrence, he's rarely dribbled past, and if he is, has excellent recovery pace. He always plays consistently well, a 7/10 man most games, without necessarily being outstanding or going above that level. Full-back is a position that requires consistency, especially without a stronger midfield for protection.
This consistency isn't shared by his counterpart Alberto Moreno. Much criticism is levelled at Moreno, some justified and in fairness some excessive. His mistakes and failings have certainly been more exposed than Clyne's and most argue a defender should be able to defend first and attack second. I tend to lean to this train of thought, but in truth the modern full-back needs to do both. That's why it's pivotal for the balance of the team to expose the opposition defence's weaknesses, and protect our own.
You only have to look to Danny Rose and Kyle Walker at Tottenham, to see how a balanced midfield and tactical approach can mask weaknesses and offer full-backs freedom to roam, without significant consequence. Pochettino's teams rely on balance and that word is far from synonymous with Liverpool in the last 18 months. From player recruitment to selection, things were a mess before Klopp arrived. Now Klopp has been able to instil some fluency, but injuries and truthfully player ability, has hamstrung the manager.
In Jürgen Klopp's preferred system, full-backs are pivotal. They need to provide width in attack with purpose and poise. Coupled with being mindful in defence, offering solidity and strength. I'd be lying if I thought both players always delivered those requirements and perhaps Moreno never truly will. Clyne on the other hand is flawless in defence, with potential to develop his attacking game. Add some protection and give him licence to overlap and we may yet see that attacking impetus I anticipated.
With the likely additions this summer, a stronger spine and balance throughout the team, I can only see improvements in all areas of the side. In one off games, this team has shown they're capable of great things. There are some very good individual players and whilst Nathaniel Clyne may not be the most glamorous of players, he's an essential part of the team Klopp is looking to build. He's one of the first names on the team sheet, who'll only continue to develop and establish himself as a key fixture for years to come.