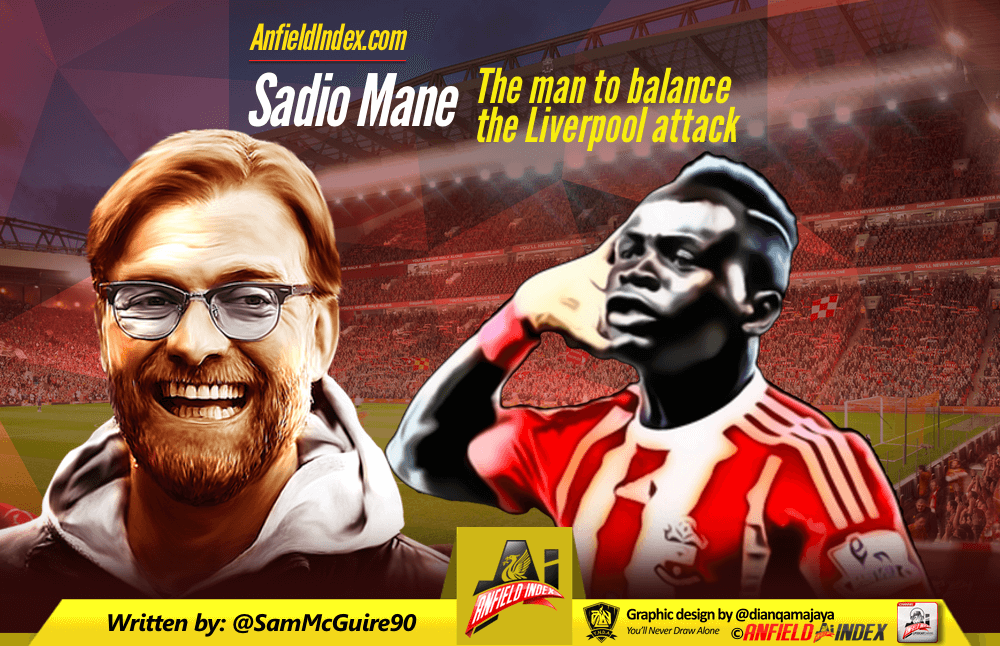 Sadio Mane - The man to balance the Liverpool attack

Sadio Mane has been the topic of much debate amongst Liverpool fans since news that the Reds were yet again set to raid Southampton became public knowledge. For all the positives surrounding the player and what he'd offer to the side fans, myself included, couldn't overlook two things; he's a Southampton player and the reported fee is £30 million.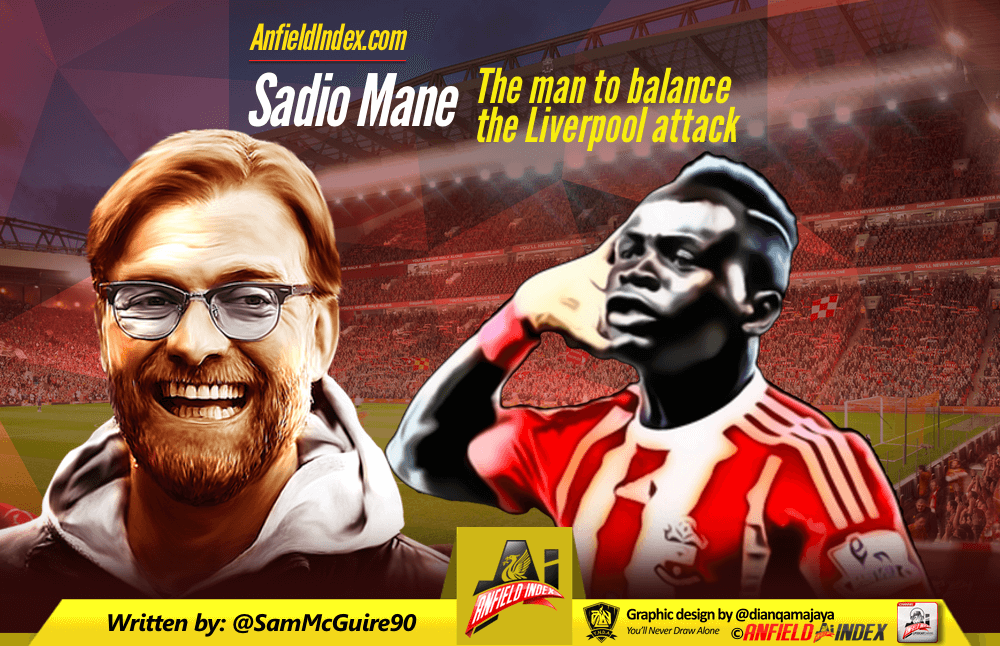 We've been here before, twice, and both times have scarred Liverpool fans. Why put your hand back in the fire for a third time?
To some those two reasons there are enough to completely shelve the idea. Their mind is made up and unless he turns into Lionel Messi there's not much he can do to change their feelings towards him.
However, this time it's not as black and white. You can't escape the fact he's a Southampton player but the fee isn't all it's cracked up to be. The new TV deal has created a monster. There's no base for transfer fees anymore, it's just chaotic and makes it hard for supporters to moan about fees when they literally have no idea if it's good value for money or not. The new TV deal ruined moaning for us. To add some context here a £30 million player this Summer was £18 million back in 2013.
Would fans still be dead against signing Mane if he was costing £18 million? You don't find many players going for that in the Premier League with the record he has – 21 league goals in open play and 9 assists in the last two seasons.
He's by no means the perfect player, there's plenty he can improve on, but he definitely ticks the boxes to be one of Klopp's attacking midfielders if we're to go off what he liked when he was managing Dortmund; he's young enough to be moulded by him, he's got an abundance of pace, he's a goal threat, he's clever both on and off the ball and, something Klopp seemingly values in a player, he puts in a shift defensively.
As many have highlighted Mane is Inconsistent. However, it's the fact that he's inconsistent which makes him attainable to Liverpool. Although his goal involvement seems impressive he does go months without a goal or an assist. If he reversed his form and managed to influence 20 odd games instead of the 10 he currently does then he'd be playing at your Bayern Munich's. The fact he has the potential to be that sort of player should be enough for Liverpool fans to be intrigued and excited with the signing.
Those in favour of Mane highlight his goal involvement as a reason to sign him. The problem with this argument is that goals aren't transferable. Just because a player has an impressive record at one club doesn't mean they'll be able to replicate it at another club (see Christian Benteke). You also have to consider that Mane played centrally for Southampton, will he be afforded such a luxury at Liverpool? If not then it's naive to expect a similar goal return, that's why a history of goals shouldn't be given much credence. What's vital is for the player's strengths to align with the clubs style of player.
Going off Klopp's Dortmund and Liverpool sides it's clear to see he likes his attacking players to press and harass opponents with the intention of winning the ball back higher up the pitch and springing the counter attack while the opposition aren't set up for it. They're still in transition from defence to attack. Mane does just that. He played under Roger Schmidt at Red Bull Salzburg and if you've managed to watch his Leverkusen side now you'll see they blitz teams. He brought that style with him from Salzburg and Mane is used to playing such a high pressing team. His final season in Austria saw Mane average 2.7 tackles per 90, almost unheard of for an attacking player.
It's not an ideal way to look at attackers defensive work but more often than not looking at tackles won and interceptions often helps paint a picture of an attacker. Anything over 2 usually implies they're hard working attackers. For Southampton Mane averaged 2.4 tackles and Interceptions per 90, so he does fit the style.
Although goal records aren't transferable what it does highlight is if you play to his style he is a goal threat.  He's scored 72 goals in 185 appearances throughout his career. He definitely knows where the goal is and as Liverpool fans witnessed firsthand last season he can score a goal out of nothing. There's a bit of a killer instinct in him and if Klopp can harness that then he could be onto a winner.
Balancing the attack
A criticism of the Liverpool attack last season was that it struggled against deep sitting teams. There was no dynamism there to unlock it and the game was played in front of the oppositions defence, much to their delight. Unless Divock Origi was playing there wasn't any explosive pace in the attack or a player willing to get in behind the defence. It's a stark contract to 13/14 when both Raheem Sterling and Daniel Sturridge offered such a threat.
Since returning from injury Sturridge has looked less likely to get in behind and more likely to drop deeper and link the play. Without his pace in behind Liverpool often look pedestrian in attack and desperately need pace. Mane offers than in abundance.
Alongside Sturridge, Roberto Firmino and Philippe Coutinho Liverpool would have an impressive, all rounded attacking quartet.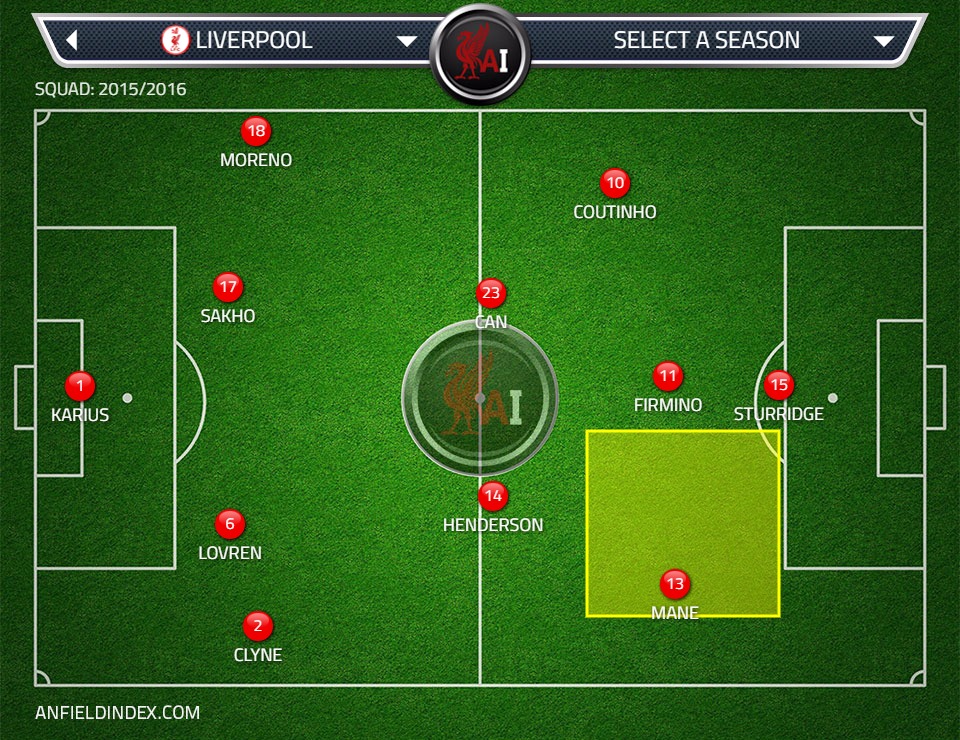 Mane's starting position would be on the right of the three behind Sturridge. Even though he's right footed he's going to look to drift inside and he's not really the sort of player to get chalk on his boots and rightly so, it would detract away from his game. He's going to drift centrally to impact the game and get into goal scoring positions.
More often than not Mane would position himself inside the left-back but on the back of the left centre-back. That clever position coupled with his pace means he'd not look dangerous but a second later he's baring down on the goalkeeper.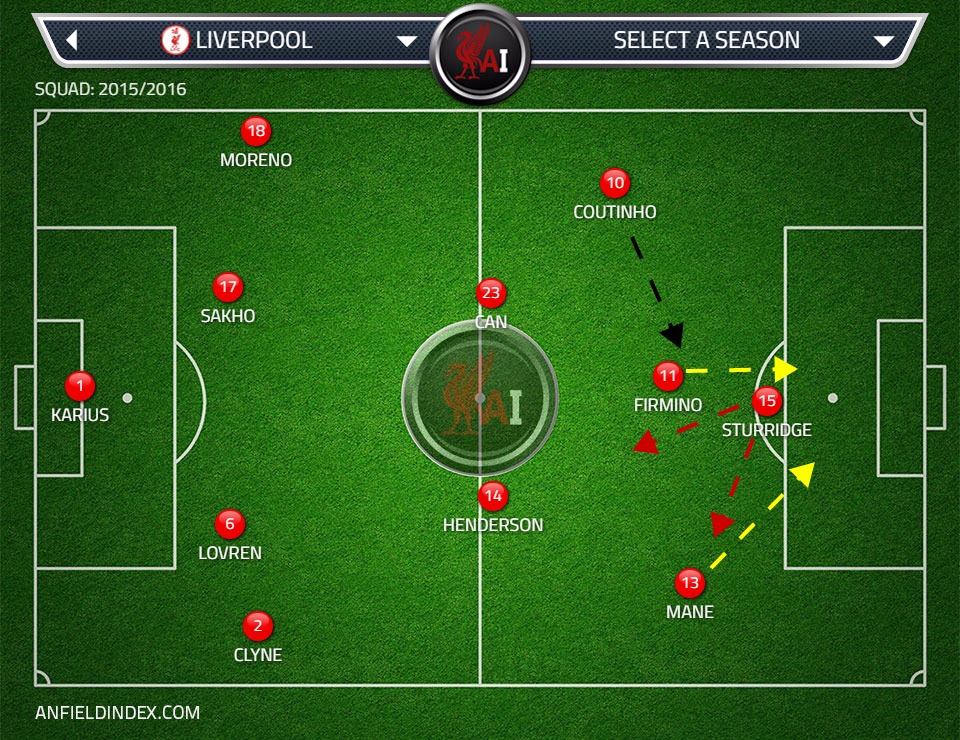 Liverpool have a versatile and interchangeable front four and it would be negligent not to make the most of that. Daniel Sturridge showed last season, like he has in the Euro's for England, that he's capable of being a creator. He has much more to his game than just being a finisher. Liverpool utilised that in 13/14 when he was dragging defenders into the channels and had Sterling and Luis Suarez exploiting it. Roberto Firmino and Adam Lallana tried it last season but without that pace it's all a bit blunt at times.
If Sturridge dropped deep or drifted wide then both Firmino and Mane would look to fill that space and it's a terrifying combination. Mane's pace would pin defenders whereas Firmino's clever movement would create space in and around the area. While these two have defenders engaged it gives Sturridge and Coutinho the opportunity to work their magic.
The width would come from the full-backs and it gives Liverpool the ability to overload either side with so many fluid players. Compact teams like structure, if their centre-backs don't know who to follow it's going to lead to spaces and they'll end up making mistakes. That extra bit of pace adds another level to this Liverpool side.
It's a tactic Klopp has used before. A quick player out wide who looks to drift in and become almost another striker at times when the actual striker drifts. It happened at Dortmund with Pierre Emerick Aubameyang. Many may read that quizzically but when he signed for BVB in 13/14 the Germans still had Robert Lewandowski. Aubameyang was seen more as a goal scoring threat from wide than he was a natural finisher at the time. Many of his goals during that season arrived after Lewandowski had dropped deep and he'd ran into the empty space behind.  That season saw Lewandowski finish with 28 goals, Aubameyang with 16, Mkhitaryan with 13 and Marco Reus with 23. With the right players it works.
Could Klopp be looking to replicate that style with Daniel Sturridge, Philippe Coutinho, Roberto Firmino and Sadio Mane? Mane could be the signing that finally ignites the attack. Liverpool fans should be excited.