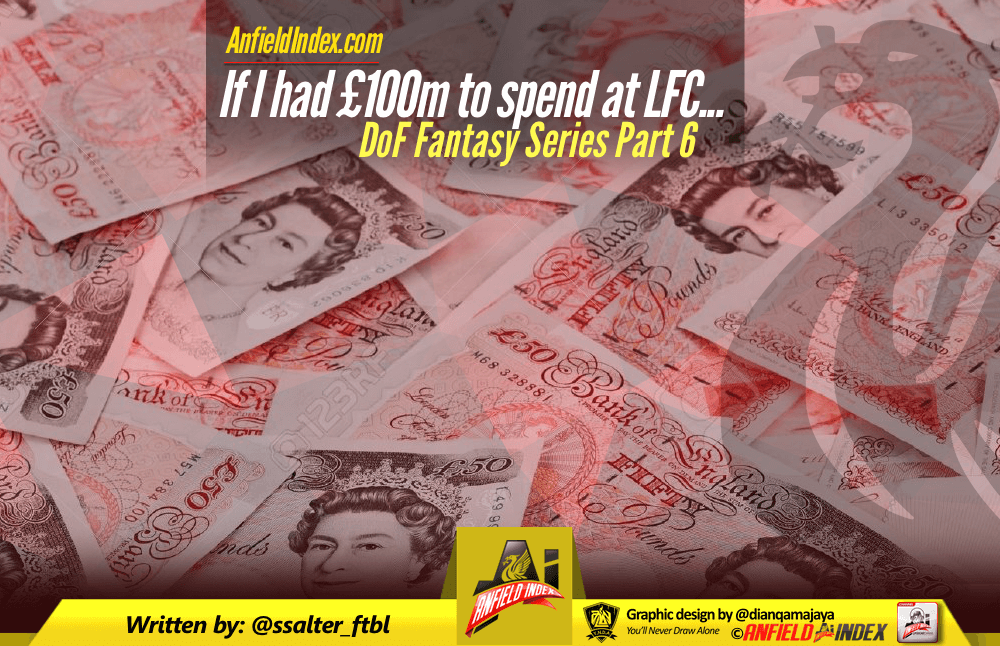 DoF Fantasy Series Part 6 - How I'd Spend £100m at Liverpool
With a move for Sadio Mane all but confirmed, I put my Director of Football hat on to consider what next for Liverpool in the summer transfer window.
Loris Karius, Marko Grujic and Joel Matip already confirmed to join Liverpool ahead of the new season; Sadio Mane represents a change in direction. The aforementioned three were signed for significantly small amounts, whilst Mane will cost £30million or more.
How much money Jurgen Klopp was given to invest in his Liverpool squad is unknown. £30million will represent a significant outlay, with several positions still a priority for the Reds manager.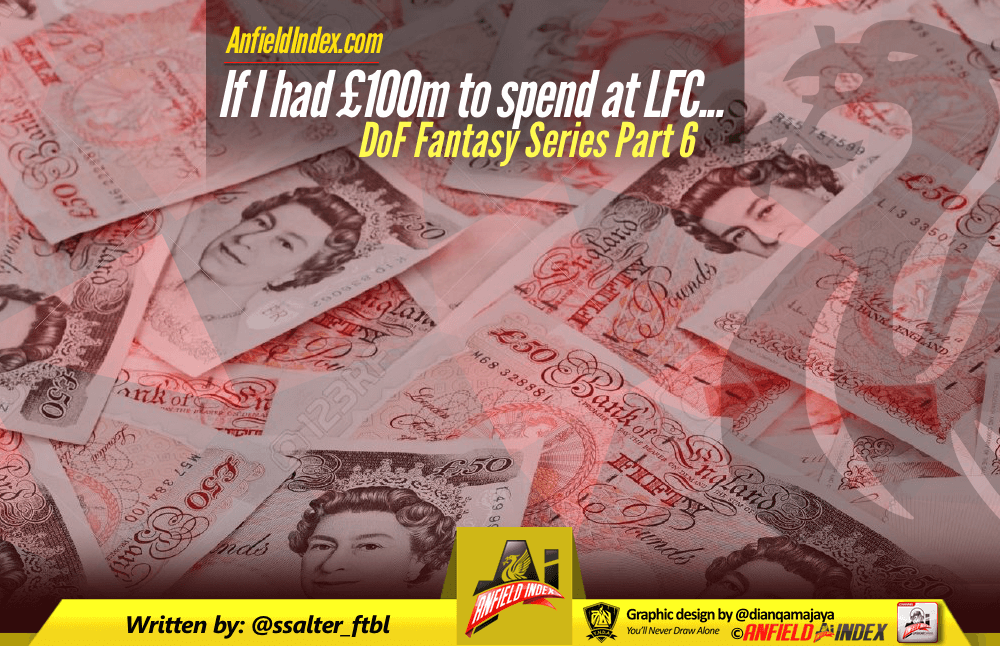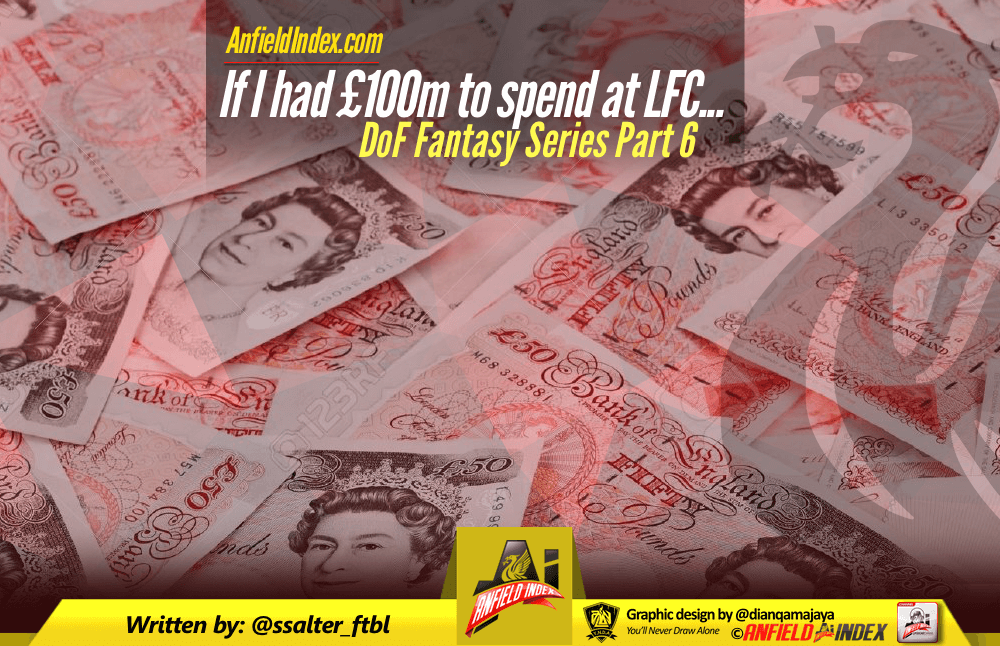 Starting with departures, there's 5 players I would sell if in place as Director of Football. They are:
Martin Skrtel – The Slovakian showed his problematic side in the match against Germany on the weekend, conceding a soft penalty after a shove on Mario Gomez. He's too limited and is past his best and could head to Turkey for £5million.
Christian Benteke – For all of his talent, Benteke just isn't suited to the Liverpool system. His signing, particularly for the price, was a poor misjudgement from Brendan Rodgers and the transfer committee. Benteke will go elsewhere and score goals, but it just won't happen at Liverpool. Sell for £20million or £25million to a Premiership club.
Andre Wisdom – The youngster stagnated at Norwich and now is too far away from Jurgen Klopp's squad to be worth keeping. A move will be good for his career, too. Sell for £3million.
Mario Balotelli – we all knew that Mario was never going to work at Liverpool. He has talent, no doubt, but his attitude and lack of work rate is alarming. A big error from Brendan Rodgers. Sell for £10million.
Lucas Leiva – It's hard not to love Lucas, but I think he's past his best. For the squad to move forward Lucas has to go and £6million should be enough.
In total, that adds between £44million and £49million – decent money to invest in the squad.
What areas do we need to improve on? For me, left-back and central midfield must be the priority, whilst centre back is another area of concern.
Left-Back
Alberto Moreno has looked suspect and has cost Liverpool at crucial moments, including the Europa League final. I think he's worth keeping as an option, but Liverpool must improve in this area going forward.
Ricardo Rodriguez – He may very well be out of Liverpool's reach, but with an apparent £18million release clause it's got to be worth trying. If he can be convinced to join Klopp's revolution, we may have the world's best left-backs on our hands. £18million.
Jonas Hector – The left-back has impressed for Germany in these European Championships, quietly going about his business with typical German efficiency. Something Liverpool craves in comparison to the erratic Alberto Moreno. £15-20million.
Ben Davies – The Welshman doesn't get the game time he deserves for Tottenham and would be an ideal signing for Liverpool. He's young, British, solid defensively and comfortable on the ball, he shouldn't cost the world either. £10million.
Centre Back
With Martin Skrtel sold, Liverpool is left with Dejan Lovren, Mamadou Sakho and Joel Matip as the senior centre halves, with Joe Gomez and Tiago Ilori as the youngsters in reserve. If Sakho is banned by UEFA, another centre half is vital.
Neven Subotić – The Serbian is out of favour at Dortmund and should be available for cheap. He knows Klopp's system and style of play having played under him for many years and would be happy rotating in the team. £5-8million.
Andreas Christensen – If Liverpool can convince Chelsea to part ways with Christensen, then they could have a talented player on their hands. He has impressed with Gladbach this year and is versatile at both centre-back and right back. £10million.
Fabian Schar – Many fans thought Liverpool should've signed Schar when he was available on a free last summer, but the Swiss international went to Hoffenheim from Basel. He has impressed at the Euros and would be a solid acquisition as a centre back option. £7-10million.
Centre Midfield
Liverpool desperately needs a top quality midfielder, something they have not had since the departures of Javier Mascherano, Xabi Alonso and Steven Gerrard respectively. Someone who could play in a two-man midfield with Emre Can would be preferable.
Lassana Diarra – The Frenchman rebuilt his career at Marseille last year, but is available on a free transfer. His experience and combative style would be a great addition to a sometimes soft Liverpool midfield.
Pierre-Emile Hojbjerg – The talented Dane spent last year on loan at Schalke, but has already announced his intention to leave parent club Bayern Munich in search of regular first-team football. Liverpool should be fighting for his signature. £10million.
Youri Tielemans – Another youngster who has a big future ahead of him, there are a long list of clubs looking at the talented Belgian. If Liverpool is willing to part with the cash, they could have a big player on their hands. £15-20million.
Attackers
Whilst the priority positions are left back and centre midfield, Liverpool could still do with someone to add a bit of width and pace to the side. Sadio Mane looks that man, but I still feel that one more option in there could be useful.
Hakim Ziyech – The Moroccan has been the only player to come out of an awful season with a bit of pride for FC Twente, contributing to an insane amount of their goals. With the club in financial peril, the talented attacker is a low-risk punt at £8-10million.
Julian Brandt – The Leverkusen winger has a bright future and was involved in the German national side before the European Championships. There's no doubt that he has a big future ahead of him and would be a positive addition for the future years under Klopp. £20-25million.
Viktor Kovalenko – Liverpool haven't had much luck in the past dealing with Ukrainian clubs, but the young Shakhtar star would be worth another attempt. A decent showing in a substandard Ukraine squad at Euro 2016 showed the positive future the attacker has.