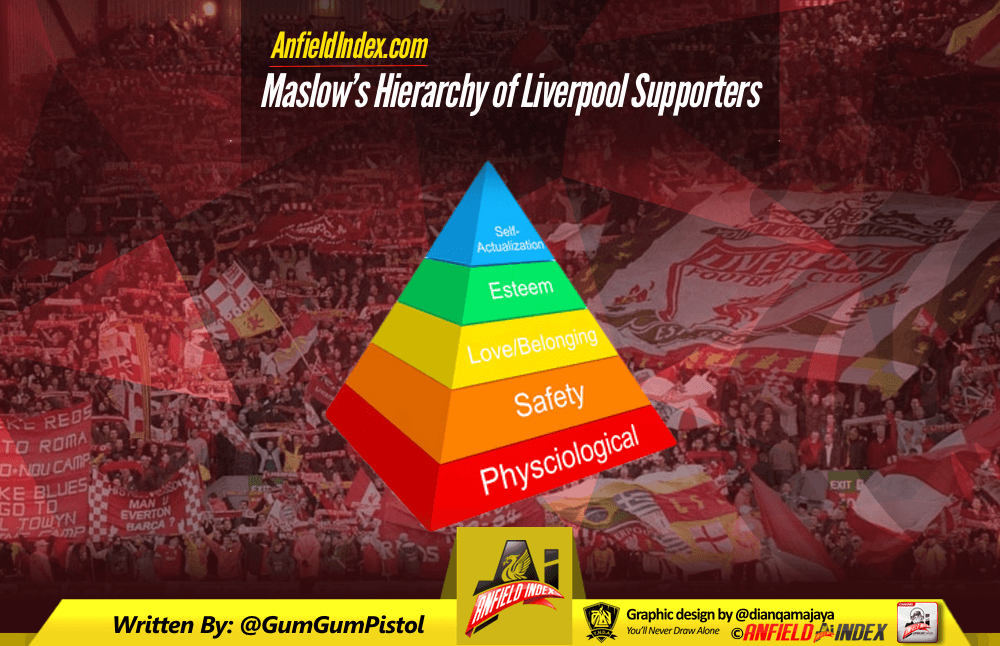 Maslow's Hierarchy of Liverpool Supporters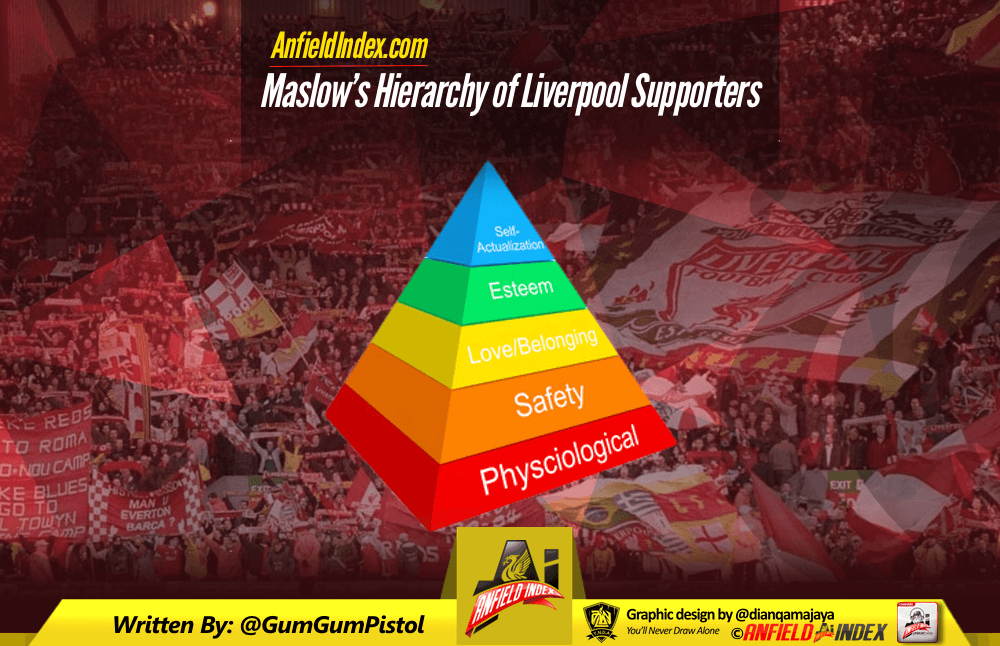 1) The casual supporter
2) IDK supporter – spews incorrect/false facts
3) ITK supporter – knows facts but executes them poorly
4) The knowledgeable supporter
5) The elite supporter

1) The casual supporter
These are your "fence sitters", the fans that watch the odd Liverpool match. They often miss massive blocks of games and go full-kit-wanker when cup finals come around or Man Utd are the fixture of the day. These are usually the loud and obnoxious bastards who would make up the most ridiculous excuses if results don't go their way. These fans would make up the majority of the Chelsea fan base if they didn't have some minuscule affiliation to Liverpool FC.
2) "I DON'T KNOW" – IDK
In many cases these are the most dangerous specimens as they can unwittingly land you in hot water. The pub is generally the environment you'll find these beasts grazing in and this is where the danger comes in; pubs are usually volatile locations where alcohol turns "puny Banners" into raging Hulks. They spit "facts" usually in a crowd which almost always spells dire straits as they are often found out. Loud speakers, projecting their ideals in all directions leaving "you" the ITK patron usually assuming the Captain Picard face palm position. Even more embarrassing is when you're related to this wanker and obligated to defend their shit talk. Cringeworthy.
3) "IN THE KNOW" – ITK
The opposite of the former, these fans usually have a well-rounded knowledge base of Liverpool FC and can generally hold a decent conversation around most Liverpool topics. These (I've found) are usually the introverted types who shy away from IDK's and constantly have their ITK ideas are shot down by IDK's. They question their ITK facts because Mr. Loud puts forward a "valid" argument and they start to doubt the facts they walked into the pub with. These are often challenged on their views and quite often silenced.
4) The knowledgeable supporter
These are both ITK and very knowledgeable on all things Liverpool FC. They usually provide the previous two with info not previously known and engage in enlightening them. They are so knowledgeable that they end up convincing you that you were wrong all along! Brainwashing the casual supporter is standard procedure. These will go toe to toe with any rival supporter and will proceed to destroy casuals; effectively shutting them up…*a cheer goes up in the Pub*. ITK's like to stick close by to these as it provides reassurance and ITK's can usually bounce ideas off them to steal for their own use amongst IDK's (circle of life).
5) The elite supporter
Finally we have our elite supporters. These are the "boss tha" characters who are held in high regard in all circles Liverpool FC. These will make you believe they live in Liverpool and attend every match; alternatively they've closely followed Liverpool for many years and have built up an enormous knowledge base. They usually are familiar with the game of football as well as strategies teams implement. Make no mistake you'd feel like a 3rd grader being schooled by this fan; in fact if they told you to support Spurs you'd probably consider it. If you had one of these within your friendship circles you'd enter the pub, chest out …steam out your Arse, free drinks headed your way…did I mention you were in a pub?
The common denominator is that fact that these are all Liverpool fans and at some point of our lives we've encountered one if not all of them. Often in a pub 🙂 the thing is, we should all embrace the fact that we all want the best for the greatest club in the world and should stand by each other through thick and thin. Support our club, sing YNWA in unison, belt out incorrect facts, who cares as long as we're united in our cause!
The next time you feel a bit of fume coming on remember that a golden sky is due and we'll soon all be on the same feel good bandwagon.