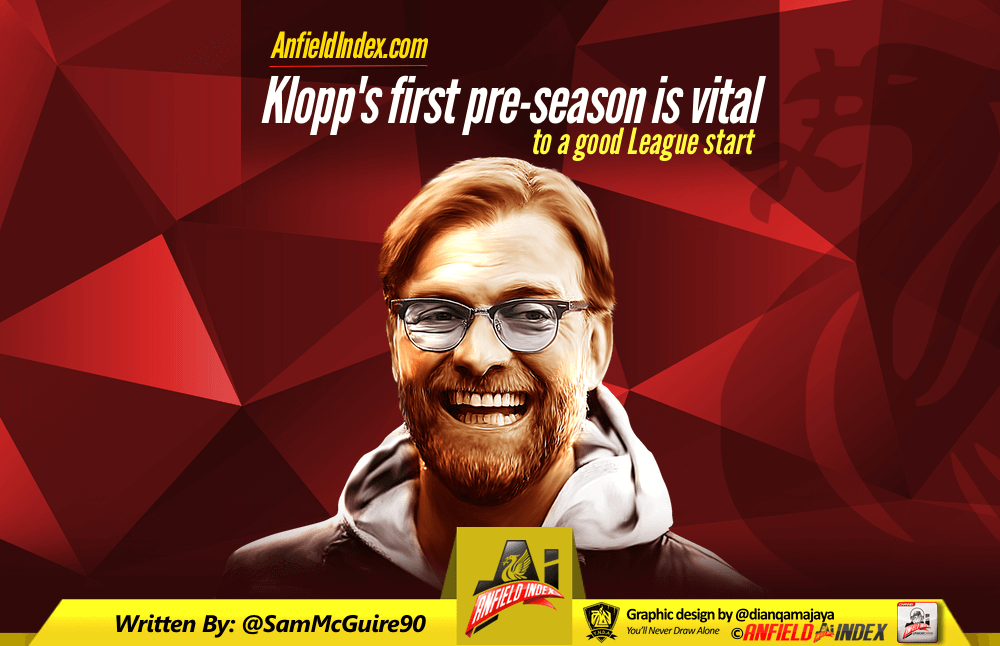 Klopp's first pre-season is vital to a good League start
Liverpool's preseason preparations under Klopp will be a stark contrast to the ones experienced under Brendan Rodgers.
The 2015/16 preseason preparations felt a little too nice. It's all about conditioning for the season ahead and there's a reason Klopp was reportedly disappointed with squads fitness levels when he took over in October. Fans expecting to see a vengeful Liverpool side after the humiliation of the season prior were left feeling a little underwhelmed as the friendlies unfolded. The team had no impetus, no dynamism and no urgency. It was all a bit pedestrian. How was this Liverpool side supposed to take the Premier League by storm?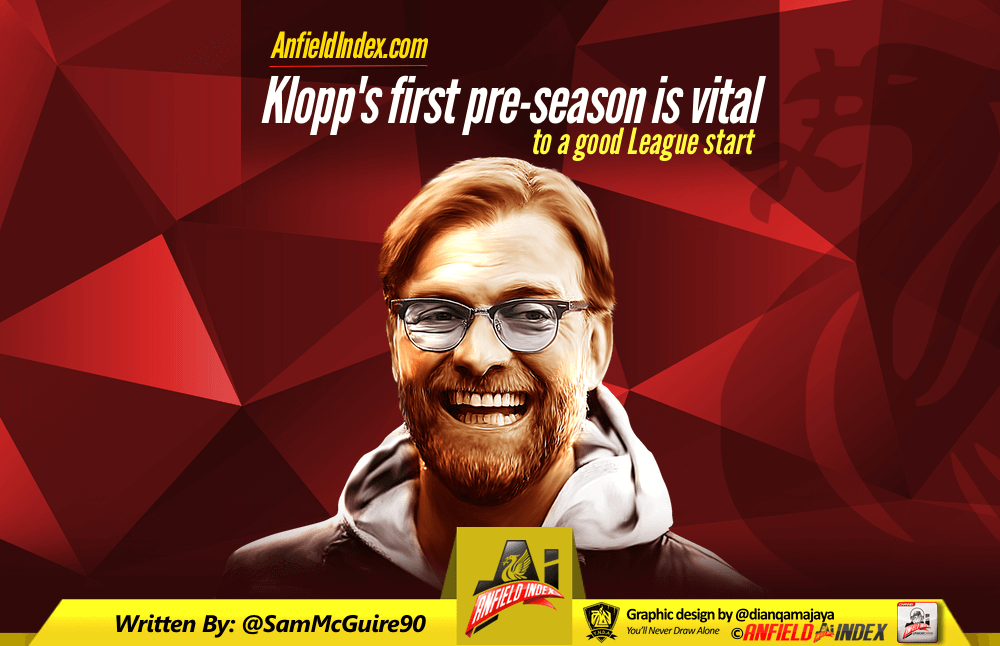 There wasn't much rotation in the games and the starters all seemed to view these games as a formality. I'm certain there was a plan behind it but to an outsider it all felt a little bit flat. After that preseason a slow start in the league was inevitable. You can't step it up immediately, it has to be gradual. You can't flat line and then be running a 100m race within the hour.
Wind me up, put me down, start me up and watch me go.
Klopp's preseason will be different. The German has already announced the Liverpool players will be in for triple training sessions as they navigate nine friendlies before the Premier League season kicks off.
He's gearing them up for war. Liverpool can't afford a slow start and Klopp knows this. Come the opening game of the season Klopp wants this team in the best shape possible given the time he has with them. People are hesitant about such an approach.
"It's too much. The players will suffer burnout."
Klopp has a diploma in sports science. This isn't your Sunday League team manager making you do laps of the pub car park until you vomit for fitness. He's not going to do anything to sabotage the season. Perhaps he'll push these players a little harder knowing there is no Europe to contend with this season, but aside from that it's not going to be too dissimilar to his preseasons at both Mainz and Dortmund. He'll inevitably tweak the schedules with the lack of a mid-season break in mind.
"We have to do a lot to create a base for one year. We have a special plan of what we want to do with the boys. Nearly all of them have national team games now but you cannot wait six weeks. Everything you do is based around physical potential and what you do in pre season is key to that."
Klopp not only recognises the importance of a good preseason for fitness purposes but also for team spirit.  If all the players are going through a hellish experience it will help camaraderie in the squad. Knowing a player is experiencing what you're experience creates a bond, and it's a bond that will help the team in the season. The whole I can't moan about this because everybody else is doing it helps breed a pack mentality. One for all and all for one. You're going to need to show resilience and character at some stage and such a preseason will help solidify the squad.
Klopp once took his Mainz side into the mountains for a preseason after being promoted to the Bundesliga.
"We took the team to a lake in Sweden where there was no electricity. We went for five days without food. They had to do this [he whistles and, using an imaginary fishing rod, casts off]. The other coaches said: 'Don't you think it's better to train playing football?' No. I wanted the team to feel that they can survive everything. My assistant coach thinks I'm an idiot. He asks if we can train there. No. Can we run there? No. But we can swim and fish!"
Experiences like that bond players, they as a team show great fortitude and all the while it's instilling great self-belief. Mainz surprised teams and pundits alike with just how mentally and physically prepared they were.
Dortmund won 14 of their 17 games before the mid-season Christmas break in the season of their first Bundesliga title win under Klopp. They lost their opening game of the season 2-0 to Bayer Leverkusen then only dropped two points in the next 15 matches.  Their second season started with three defeats in the opening six games but then they went undefeated from the 18th September to the end of the season. A tediously planned preseason definitely helped.
After England's premature departure at Euro 2016 it means the England contingent will be back and available for some of the American tour. This could be the season Sturridge really kicks on if he has a full preseason. Brazil's disappointing Copa America means the manager can call upon Philippe Coutinho early on in preseason to go alongside a fresh Roberto Firmino. New signing Sadio Mane has a full preseason at the club. These are all positives for Klopp as he looks to set Liverpool up for his first full season at the club.
Klopp's meticulous planning means there's reason to be confident going into the new season even if you're feeling less than convinced about the fixture list.