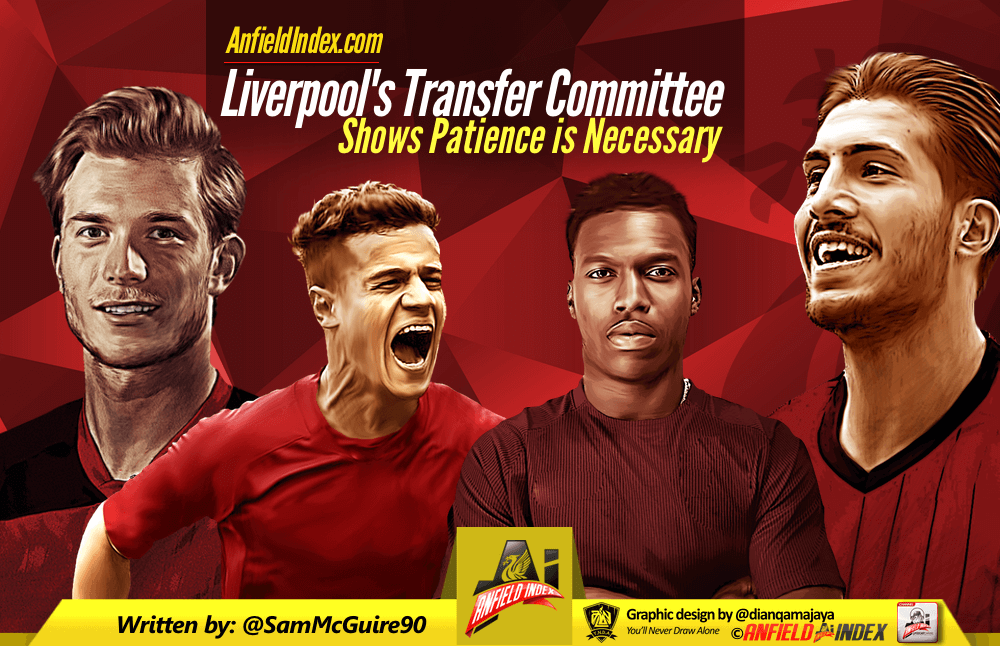 Liverpool's Transfer Committee Shows Patience is Necessary
Liverpool have this reputation in the transfer market for being grossly negligent in their recruitment of players. Make no bones about it, Liverpool have spent recklessly in the past and signed some average players for extortionate fees. There's no denying that and there's no escaping it.
As supporters of the club it's our cross to bear.
Fans of other clubs taunt us with the fees we've splurged on players like Andy Carroll, Dejan Lovren, Adam Lallana, Lazar Markovic and Christian Benteke. Over £120 million on those five players. The club recouped £20 million of that when they sold Carroll to West Ham, they expect to breakeven on the Benteke deal when he's sold this summer and are hopeful of getting £15 million for Markovic. Liverpool will lose money on those signings but it's not as though that £120 million was pissed down the drain.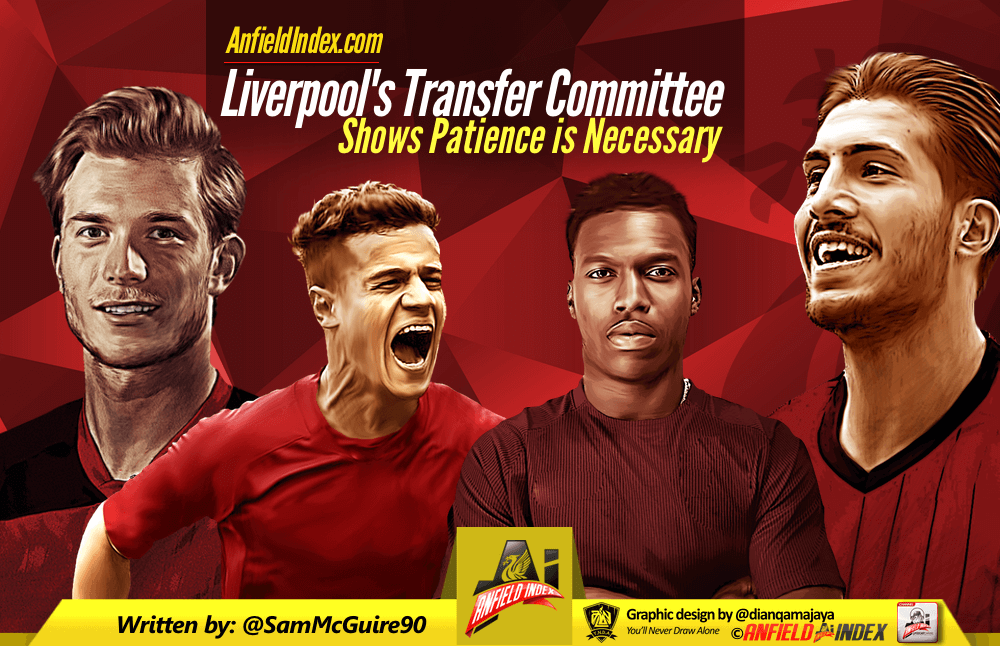 There's supposedly a 60% hit rate for transfers being a success. It's just unfortunate that Liverpool's big money signings tend to be the ones that fail. Costly mistakes that overshadow the good signings the club have made over the last five years.
The much maligned Liverpool transfer committee have had to bear the brunt of a lot of fan frustration directed at the questionable approach in the market. The anonymity and mystery surrounding the committee lead to greater scrutiny of it when a transfer seemed to flop, especially from fans who were very much on the Rodgers side of the fence. When Klopp was appointed people wanted them to be sacked.
The Liverpool transfer committee is under-valued and under-appreciated. They're by no means perfect but they deserve credit.
The way modern football is going, where the next big thing is hyped from the age of 16, it means it's hard to find value for money. Yet our committee delivered Emre Can, Divock Origi, Joe Gomez, Daniel Sturridge, Philippe Coutinho, Danny Ings, Marko Grujic, Loris Karius and Allan all for under £60 million.
You could probably recoup a large chunk, if not all, of that fee if you were to sell Daniel Sturridge after an injury free season.
Divock Origi cost a third of what each of his Belgian compatriots Romelu Lukaku, Christian Benteke and Michy Batshuayi went for. The fact Mahmoud Dahoud is rumoured to be available for £30 million put's into perspective just how good of a deal it was when Emre Can was signed for less than £10 million.
Eric Bailly moved to Manchester United for £30 million and Liverpool have a player with just as much potential in Joe Gomez who was signed for £4 million. Joe Gomez is going to be a bargain.
Kevin De Bruyne cost £54 million and Liverpool signed Philippe Coutinho for £8 million. Even though he's inconsistent, if Liverpool were to cash in on Coutinho today they would quadruple their investment at least. Sergio Aguero is the best striker in the league and he cost £32 million. Behind him, in my opinion at least, is Daniel Sturridge who cost £12 million.
At the time Manchester United paid £18 million for a goalkeeper with a lot of potential but who had areas to improve on in David De Gea. Liverpool have just paid £4 million for a goalkeeper who could become David De Gea-esque in Loris Karius.
To some extent Roberto Firmino for £21 million can't be seen as bad business given Watford just rejected a £30 million offer for Troy Deeney. Firmino is another who if he adds consistency to his game could easily be considered a £40 million player.
The committee may not have overseen all of these signings or be directly responsible for them but they've been the constant throughout and after the criticism and abuse they received for some signings the least they deserve now is acknowledgement for these extraordinary pieces of business in hindsight.
You can say it's luck that these players turned out to be the players they are today, or how the market is now grossly inflated so it's not right to compare. However, player identification isn't lucky. If a player fits the profile then he's more than likely going to be a success. The scouts had a brief and it seems for the most part they hit it with those signings. Similarly, do you not think the club knew about the new TV deal and expected a boom in transfer fees this summer? I'm convinced they signed some of these players a year or two ahead of schedule just to avoid the inflated fees this summer.
Of course, it's not all been plain sailing. Mario Balotelli, Lazar Markovic, Tiago Ilori, Luis Alberto and Iago Aspas arrived for £57 million. The squad has evolved since then but there is a part of me that thinks Markovic, Aspas and even Alberto could have played a part in a Klopp squad.
Liverpool and their committee have taken a lot of stick over the years but looking at that, have they really done that poorly in the market? Was it not more a matter of being patient before the fruits of their labour could be fully appreciated.