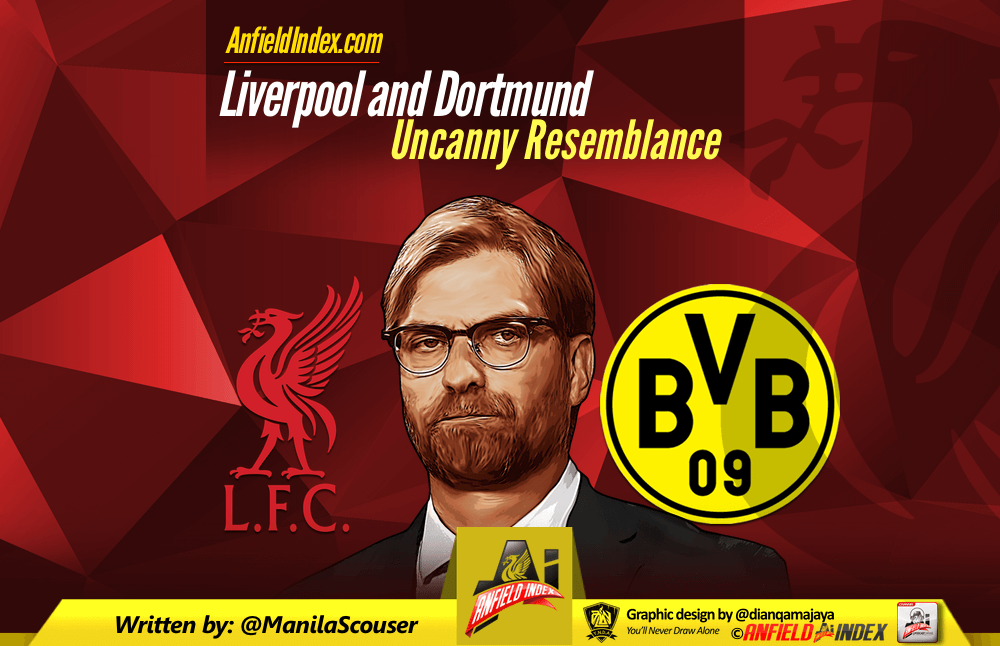 Liverpool and Dortmund: Uncanny Resemblance
The Liverpool squad had been granted a clean slate after the club parted ways with Brendan Rodgers and appointed Jurgen Klopp on October last year. It gave them a chance to prove themselves to their new manager, who is arguably the most popular manager in world football. While many have successfully predicted some players would have difficulties to adapt to the intense system Klopp demands of his players, there were was only one who surprised us most. Adam Lallana.
The German's heavy metal football requires three core values. Stamina, hard work, and intensity. And Adam Lallana has proved himself to be a key player for Liverpool Football Club throughout the club's somewhat successful domestic and international cup runs in the past season.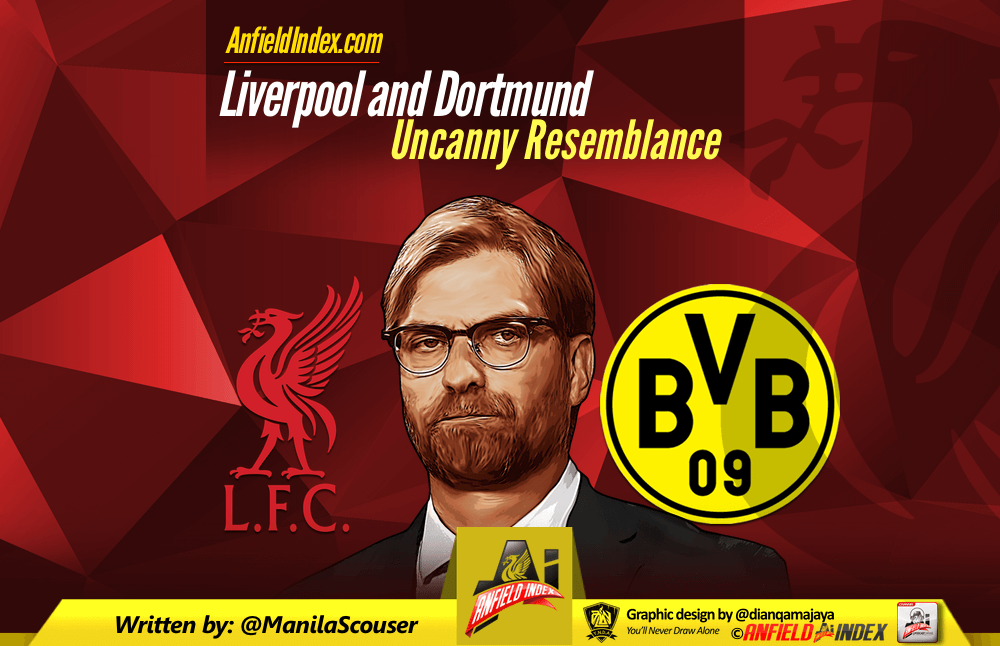 Adam Lallana was used on the right side of three midfielders behind a sole striker, and tirelessly ran, pressed, chased balls, harassed opponents, and is one of the most efficient players who do that job, joining the elite in Emre Can, and Roberto Firmino, as the Anfield Index: Under Pressure Podcast will prove so.
Today, our squad is starting to take shape and I can't help but see the similarities in the roles that players play for Dortmund. They used the same 4-2-3-1 system favoured by Jurgen Klopp during his seven year stint at the Bundesliga outfit, and Liverpool is starting to form a resemblance to his Dortmund team in terms of roles, especially on the front four.
Divock Origi vs. Pierre-Emerick Aubameyang
Divock could resemble to play the role of Aubameyang as sole striker. The 20 year old Belgian resembles the speed, height, and work rate of the Gabonese national. Origi has also bulked up some muscle and is now able to fend off defenders adding target man as a new skill in his arsenal, making him the perfect forward.
Philippe Coutinho vs. Henrikh Mkhitaryan
Mkhitaryan racked up 15 assists partnered with 11 goals last season (in the league), playing on the right side of the three, where Adam Lallana currently plays. Although Coutinho lacks the pace Mkhitaryan possesses, our little magician has an abundance in tricks he can pull out his hat to beat his man. Bear with me a moment and I'll explain later on how it's Coutinho I'm using as comparison to the Armenian footballer.
Roberto Firmino vs. Shinji Kagawa
Firmino produced impressive numbers in his first season at Liverpool, with double digits in goals and assists in all competitions. As stated above, he is the most efficient presser among all the Liverpool players. One of the best players as well to intercept passes and ignite a counter attack, as brilliantly shown during the 4-1 beating Liverpool gave Manchester City at their own ground. These two players produced near exact numbers in their respective leagues, and although Firmino has played a handful of games as a false nine, both originally play behind the striker
Goals 
Firmino – 10
Kagawa – 9 
Assists
Firmino – 7
Kagawa – 7
Key Passes p/90
Firmino – 1.86
Kagawa – 1.41 
Chances Created p/90 
Firmino – 2.18
Kagawa – 1.71
Interceptions p/90 
Firmino – 0.73
Kagawa – 0.67
Sadio Mane vs. Marco Reus
With the arrival of Sadio Mane, Adam Lallana should feel his position at the starting lineup is highly threatened for all the right reasons. Mane has everything Adam Lallana offers and adds pace to the mix, and could result in Adam playing a significant role off the bench rather than starting games.
This doesn't imply that Sadio Mane is equally as good as the German national. In the Dortmund formation, Reus has significantly more room to operate compared to the two aligned with him. It makes him somewhat a second striker to Aubameyang, playing slightly off and wide him, as displayed by the space he occupies when he scored Dortmund's third goal at Anfield during their Europa League tie, and Sadio Mane would, and could eventually take on the "Reus Role" for Liverpool as Marco Reus does for Borussia Dortmund.
As Reus occupies the left side of the three, with Kagawa in the middle and Mkhitaryan on the right, Liverpool could look to replicate this, but on an inverted formation. Coutinho is likely to have locked up that left hand side and with Firmino doing the same in the middle, It's Sadio Mane who will perform the "Reus Role" on the right.
Despite a few bad games, Sakho is already the ball playing centre-half Liverpool need, similar to Hummels. Again, not at par with Mats Hummels', but his ability to connect the defense and midfield with his direct passes create a more fluid motion of attack.
Then you also have Joel Matip, who's a strong, tall defender, who could also mimic the role of Subotic or Sokratis. Bar an addition to the left-back position, Alberto Moreno and Nathaniel Clyne has already made their respective positions their own. Emre Can will play the responsibility of central midfield like Ikay Gundogan, leaving Klopp to search for a player who could become Liverpool's Sven Bender and potentially play alongside Emre, or utilise Jordan Henderson, Joe Allen, or James Milner to play this role.
With regards to the goalkeeper, well, it's pretty much obvious that Loris Karius will become Liverpool's preferred choice, making Simon Mignolet play second fiddle to.
Although some of the recent signings can feel underwhelming to some, this might be the season that Liverpool and it's players will make a name for themselves, just like Dortmund did once upon a time.