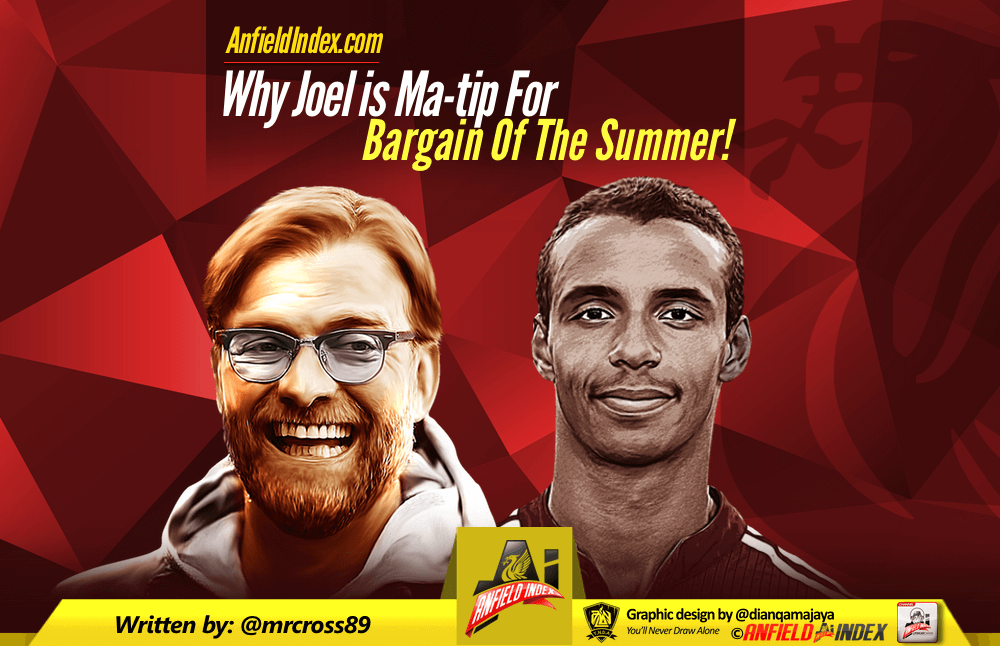 Why Joel is Ma-tip For Bargain Of The Summer!
Joel Matip officially joined Liverpool Football Club last week, after agreeing to a move from his boyhood club Schalke on a free transfer in January. The highly rated ball playing centre-back joins a league rich with defensive talent, and a fan base who know a good defender when they see one; the problem is, they haven't seen one in a while.
The truth is, Liverpool conceded more than 30 goals in each of their last seven Premier League seasons and for the second time in three seasons, let in 50 goals against their rivals; it's turned from an itching problem, to a full blown infection.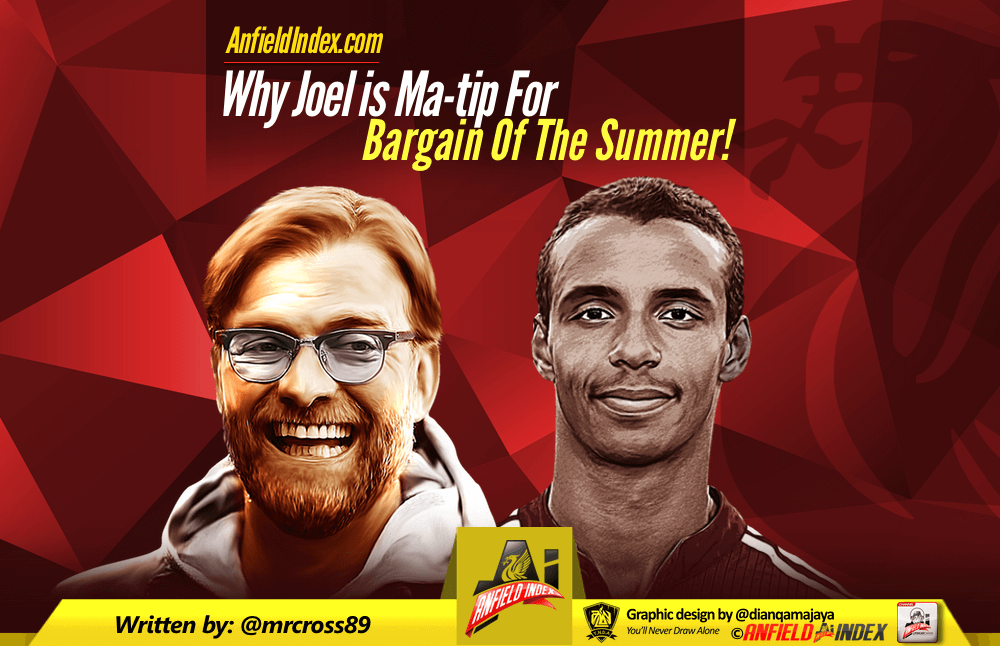 A lack of stability in defensive areas for the Reds is a far cry from the days of 2005-06 when the partnership of Hyypia and Carragher conceded the least amount of goals (25) in Liverpool's Premier League history. The era of Agger and Skrtel brought hope to fans that a smooth transition was underway. But Agger's injury problems and Skrtel's inconsistency meant the dream was never fully realised, with Daniel Agger announcing his retirement from football at just 31 and Skrtel now set to leave the club in this transfer window.
Enter, Joel Matip
Tall, quick and good on the ball, Matip's style of defending will hopefully see him adjust quicker to the pace of the Premier League than most defenders in their first season, and he's making sure he puts the extra hours in the gym to make that a reality. At just 24 years old, Matip brings a wealth of experience after establishing himself as a key player for Schalke and Cameroon over the last eight years. A man who is already rich in Champions League and World Cup experience, Matip will be a welcome addition to a squad that also boast experience in playing in major tournaments, as well as reaching a European and Domestic Final last season. Twelve Liverpool players were picked for the Euros, with Can and Allen still present at the semi-final stage, so there will be plenty of stories for Matip to trade with his new teammates as he gets settled in. He joins a young and exciting group of players now raring to go after last season's disappointment, and Matip could be the major piece in Klopp's centre-back puzzle.
In this article, we will look at how Matip stacked up against three of the best centre-backs in the Premier League last season. We will match up their defensive and offensive contributions to their team's last season, to decipher the strengths and weaknesses of Matip's abilities compared to his soon to be defensive rivals.
The three defenders picked will be based on the highest ratings received from WhoScored for their performance in the Premier League. These defenders are;
Virgil Van Dijk (7.56)
Laurent Koscielny (7.48)
Nicolas Otamendi (7.47)
Defensive Contributions
TotalAttemptedTackles/SuccessfulTackles/DribbledPast
VVD– 68/59/9
LK– 61/47/14
NO- 131/90/41
JM– 71/59/12
Interceptions/Clearances
VVD– 96/260
LK- 127/186
NO- 104/209
JM- 106/182
PassesBlocked/CrossesBlocked/ShotsBlocked
VVD– 11/5/22
LK- 14/8/27
NO- 19/11/13
JM- 18/3/33
Fouls/Booking
VVD- 16/2
LK- 31/3
NO- 31/9
JM- 51/3
At first glance, it's comforting for Liverpool fans to see that Joel Matip's defensive stats stack up well against the very best centre-backs in the Premier League. His successful tackle rate stands at 83%, with only Virgil Van Dijk boasting a higher success rate (86%) and the Cameroon international has contributed to more blocks than any of his rivals. What's particularly interesting, is the high number of interceptions Matip made for Schalke last season in comparison to Liverpool's current centre-back pairing Dejan Lovren(60) and Mamadou Sakho (52). Although Sakho and Lovren clocked up fewer minutes than Matip last season, the Cameroon internationals defensive numbers are far superior to his new defensive teammate across the board.
Fans will be informed by how good Matip is on the ball and moving forward with it, but his numbers prove that he is very effective in doing what he's been brought in to do; defend! Perhaps the only downside to his defensive attributes is the talk that Joel can be prone to errors, making stupid mistakes that lead to goals. He lost the ball 21 times last season, ten more than Virgil Van Dijk, and in a league that is played at a hundred miles per hour, Matip will need to adapt quickly to the pace of the league because one mistake can, and often does, lead to a goal.
Offensive Contribution
AccShortPassing/AccLongBall/Successful Passing%
VVD- 1034/119/83%
LK- 1390/83/87%
NO- 1223/97/84%
JM– 1535/156/84%
LongKeyPass/ShortKeyPass/Assists
VVD- 2/7/0
LK- 2/6/0
NO- 0/5/0
JM- 0/13/3
AttemptedDribbles/SuccessRate%
VVD- 22/72%
LK- 11/90%
NO- 14/78%
JM- 16/75%
Ariel Duals Won/Lost
VVD- 163/58
LK- 104/55
NO- 90/49
JM- 118/42
Shots/Goals
VVD- 29/3
LK- 19/4
NO- 27/1
JM- 31/3
Supporters of the Premier League who did not get to see Matip in his time at Schalke are informed that his offensive attributes are the very impressive for a defender, with many Bundesliga commentators highlighting that his ability in moving the ball from defence into attacking situations is sometimes stronger than his ability to defend. When you consider the entire Liverpool defence only managed five goals and five assists last season compared with Matip's three goals and three assists, it's exciting to know that Liverpool purchased a defender willing to contribute to goal scoring phases of play. What's particularly impressive when looking at his offensive stats is his ability to create key passes, his belief in taking on, and beating, his opponent when dribbling, and his dominance in the air. Matip's range of passing is also very impressive. He not only attempted more passes than his rivals, he attempted a huge number of long passes.
Matip's numbers are strikingly similar to Mamadou Sakho who also scores high in these areas, so it's thrilling to see that in Joel Matip, Liverpool possess a second ball-playing defender who is as confident on the ball as he is off it. It's little wonder then that Matip's 'error prone' tag is due to the fact that he has a desire to play his way out of trouble, but this is the pay off you must sacrifice with ball playing centre-backs. Much like Sakho, Matip will provide some heart in mouth moments because of this, but in comparison to his centre-back rivals, it's clear to see that in both defensive and offensive situations, Matip is up there with the best in the division.
Joel is Ma-tip for the bargain of the summer!