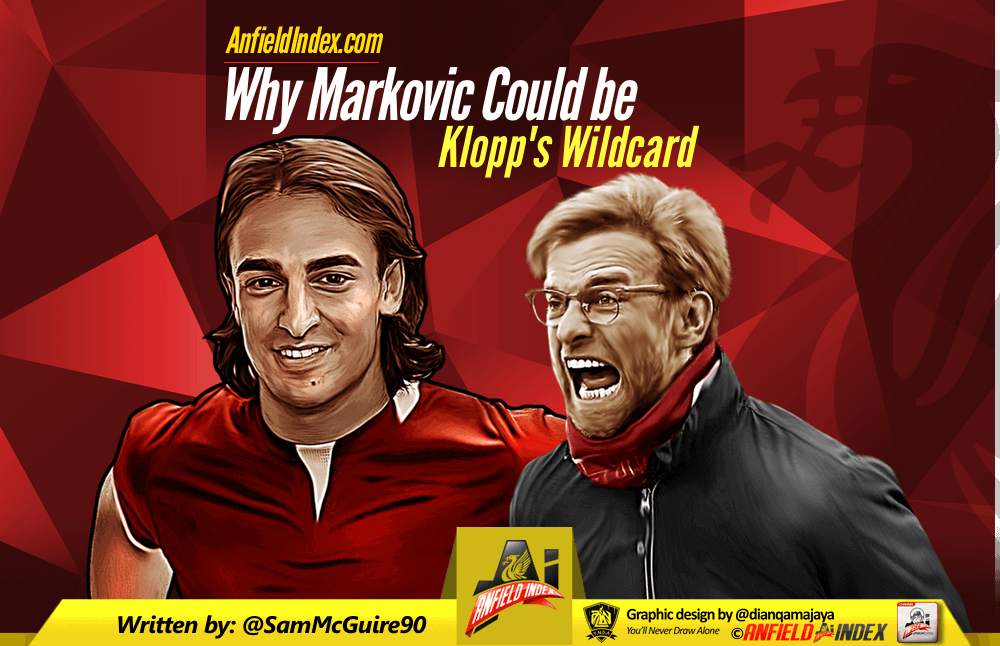 Why Markovic Could be Klopp's Wildcard
When Lazar Markovic signed for Liverpool in the Summer of 2014 it was seen as a coup. This was one of Europe's most exciting footballers who was coming off the back of a really impressive season with Portuguese giants Benfica.  He joined the Reds despite reported interest from Chelsea and Juventus. The Primeira Liga is a bit of a litmus test for players. More often than not players who do well in Portugal go on to impress in Europe.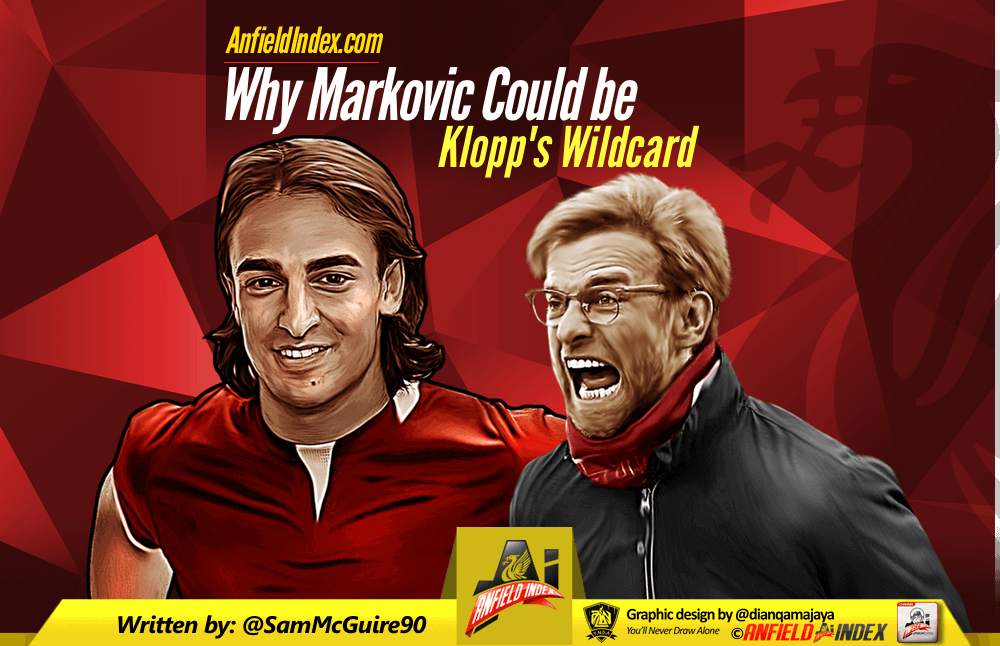 His signing was met with excitement. The prospect of Brendan Rodgers unleashing Markovic, Raheem Sterling, Philippe Coutinho and Daniel Sturridge left fans salivating.

This quartet wasn't going to be as destructive as the quartet which had included Luis Suarez the season prior to Markovic's signing, but it could be just as effective just in a different style to what fans had become accustomed to. Give them a season or two and they could be a dominant force in the Premier League. An intriguing blend of pace, creativity, clinical finishing and the fearless style that young players bring to the team would be a handful for any defence to cope with. If used properly.
On a video game Markovic would fit in seamlessly with the team, he'd start in an attacking position and he'd tear the Premier League up. This was real life though. Markovic was up against it before he'd even kicked a wall. He was viewed as a Transfer Committee signing so was immediately at a disadvantage. Believe what you want, there was certainly politics being played by then manager Brendan Rodgers with regards to players he liked and players the committee brought in.
His first appearance in Red was as a late substitute in a defeat to Manchester City in the August. He came on, played on the left hand side and showed glimpses. He was positive when in possession, he looked to get at the full-back and he looked to drive the team forward. This was the first time some fans had seen him on anything other than YouTube videos and it was the sort of cameo that made you glance at your friend in the pub and give that nod of approval which says "what have we got here?".
The cameo left many wanting more but it wasn't to be. Brendan Rodgers changed the style of the team. Markovic would've been ideal in the 13/14 tactics but the much more conservative 14/15 tactics seemed to stifle the player. Not only that, he was also being used out of position. The whole "he's a £20 million player he should be able to play any outfield position" is pure and utter bullshit when the same people then quote the lack of goals he scored that season as a reason to criticise him and sell him. He played as a right wing-back and didn't do too much wrong, he just didn't excel.
Arguably his best performance in a Red shirt came in the 3-2 win against Spurs when he was played as almost a second striker beside Daniel Sturridge. His movement and his pace stretched the defence and his goal was superbly taken. It was the sort of performance that left me wondering why Rodgers hadn't used him in an attacking role similar to that throughout the season. That's the Markovic that Klopp could work with and develop.
Klopp's secret weapon.
Markovic is back at Melwood training but many fans think he won't feature in a competitive match for Liverpool again. Those who have already decided that's that cite his lack of goals and assists for Fenerbahce as a reason to say his time is up at Anfield. These supporters are usually ones who don't give much credence to stats but then use them to bury Markovic.
People aren't looking at the bigger picture. They're looking at the past instead of the future. They're failing to acknowledge that Markovic's strengths seem to align with what Klopp looks for in a player. His time under Rodgers should be forgotten. Does he have what Klopp looks for in an attacker? Yes. Is he much more than your stereotypical winger? Yes.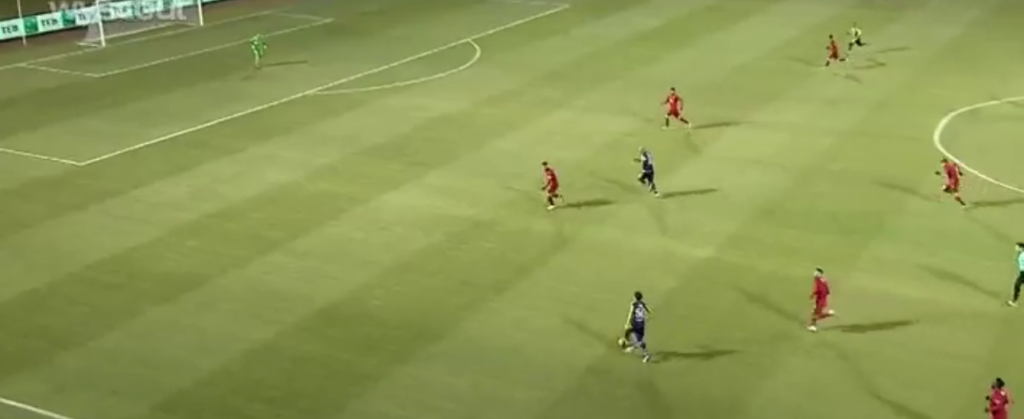 In the screenshot above Markovic has picked the ball up on the left hand side. In this scenario many wide players would drive into the space ahead of him and look to put a cross into the area.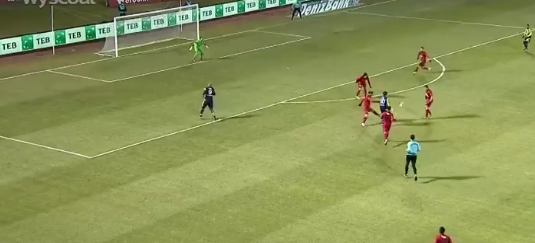 However, instead of Markovic doing what others expect him to he carries the ball centrally, at pace, and it opens up space out wide for the two Fenerbahce players. The ability to transition from defence to attack so quickly meant the oppositions right-back was out of position and both centre-backs had to move over to cover meaning those standing Markovic up are the two centre-backs. The left-back had to move over to cover the centre-backs moving across which then frees up Nani to the right of the screen. Markovic plays a pass to the ex-United player and he fires it wide.

This time Markovic is on the right and the opposition has doubled up on him. Some players in this instance would play the pass back to the player in the centre circle and make a run to open up space centrally.

Markovic carries the ball in field and the opposition get even more players back behind the ball. Ahead of Markovic in this screenshot there are nine white shirts and only four Fener shirts.

Despite having three players trying to shut him down he's able to play a perfectly weighted pass over the top after clever movement from the three attackers ahead of him. It's flawlessly executed.
In both instances above the good pieces of play don't result in a goal but that's through no fault of his own. He's put two players through one-on-one with the 'keeper and they've failed to finish.
He's a player who creates something out of nothing. Cast your mind back to 2014/2015 in matches against Manchester City when Markovic players a delightful pass to Lallana who drags the shot wide and then against Old Trafford in December when he picked the ball up in his own half after pressing Fellaini, he then drives into the space similarly to how he does in the first screenshot before playing a precise pass inside of Jonny  Evans for Mario Balotelli to run onto and fire the shot at David De Gea.
Markovic brings pace, versatility and creativity to the side. When he's confident he's got that bit of bite about him. He's ideal for a counter attacking side and he's well suited to a pressing team. Liverpool aren't blessed with an abundance of pace in attack with only Sadio Mane and Divock Origi really offering that. He has the ability to play passes between the lines, something Liverpool lack at times when trying to break down compact teams. His link-up play is neat in and around the area. His movement off the ball is always trying to stretch the play so to open up space for his teammates and his work rate isn't lacking. What's also important to consider is he's still only 22. He gives Klopp a lot to work with and already has a skill-set well suited to the manager.
If the German could harness that ability, and potential, that Markovic clearly has then he could be a game changer and a long-term player for the Reds.