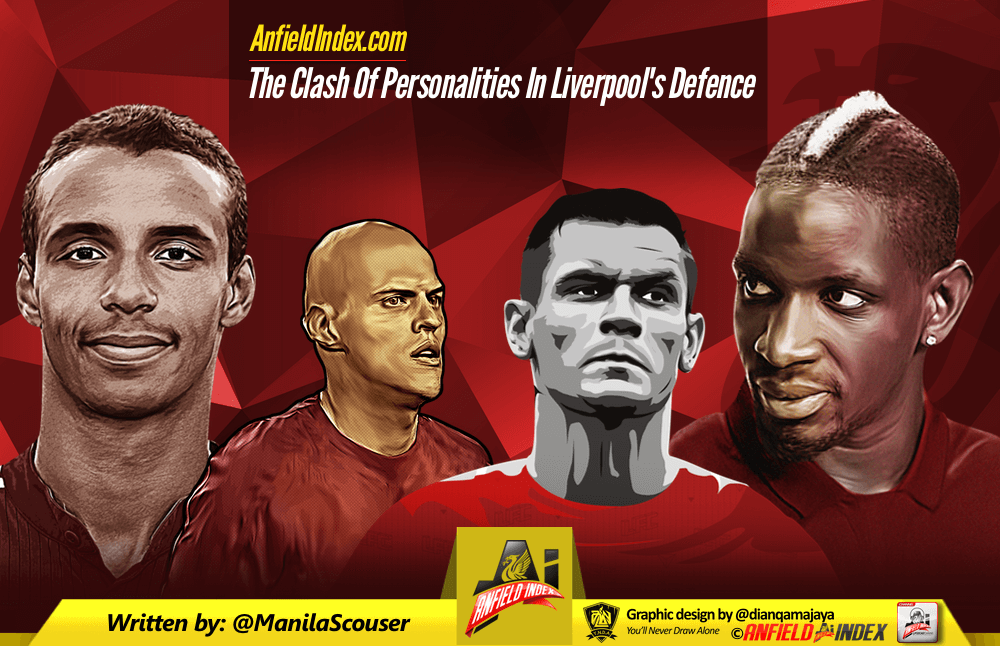 The Clash Of Personalities In Liverpool's Defence
Liverpool's back four has been an issue that most Liverpool fans are aware of, and was the biggest reason as to why we were not able to lift the Premier League trophy 3 years ago.
Our defence has leaked 191 goals in the league for the past four seasons, averaging about 47.7 per season.   That by any means is not acceptable for a team looking to challenge for the title, let alone a regular top four position for consistent Champions League qualification.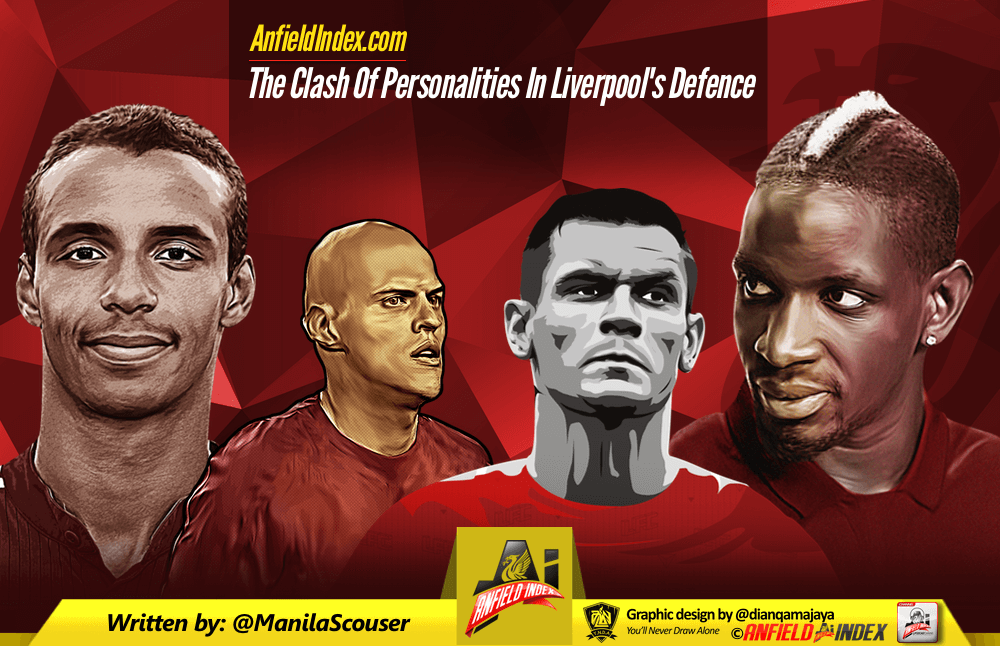 Champions over the past four years average only 37 goals conceded in their title winning seasons.  It might not look so bad conceding for Liverpool conceding an extra ten goals per season, but that figure has been largely increased due to Manchester United conceding 43 in their title winning run four years ago.
However, fixing the defence isn't as easy as buying the best centre-half available.  There are plenty of factors to consider when selecting a player to play for your team, and that goes for goalkeepers, defenders, midfielders, and attackers.  Whether you play a high line or sit deep, you need defenders who excel in the system being used.
Leadership has always been an issue for Liverpool's back line. In my opinion, to achieve chemistry between both central defenders, you need two types of personalities. Dominant and submissive.
If you take a close look at Manchester City's defence over the past few years, coincided with Vincent Kompany's spells on the sidelines, there's no doubt that they consistently struggle defensively whenever he's not on the pitch.  Kompany, apart from being the team's captain, commands the backline.  Same goes with Chelsea and John Terry, and Manchester United with Nemanja Vidic.  All teams have both dominant and submissive personalities as their central defenders.
For Liverpool in recent history, it was Daniel Agger or Jamie Carragher as the dominator.  Playing with two dominators in your backline is a recipe for disaster.  There would be friction among both players that could cause the team to concede goals.  Same goes for fielding two submissive personalities, as both would not know what to do in each situation which results in yet again, leaking goals.  You need chemistry, not a clash of personalities.
The same can be said for Mamadou Sakho in recent years.  The Frenchman is a dominant force of nature.  He commands the backline and does it exceptionally well, which is displayed when he has either Kolo Toure or Dejan Lovren, who are both, in my opinion, submissive types of defenders beside him.
That's also a big reason why Martin Skrtel in the squad with Sakho has been an issue.  The Slovakian thinks himself to be a leader or a dominant type of defender, but truth to the matter is he's not.  Although he plays considerably well in the Slovakian National Team (apart from his personal errors) as their captain and dominating personality, bringing that to Liverpool has never reflected well, and him playing a submissive role for Liverpool hadn't ended resounded as good either.
Despite me making it publicly known that I'm not Skrtel's biggest fan, this isn't me targeting him.  It's just my belief on how the personalities of your two central defenders on the pitch shouldn't create static, but instead go well together like peanut butter and jelly, and not like pineapple in a pizza.
With Joel Matip's transfer complete, I look at him a submissive type of defender, as it looked when he was paired with Benedikt Howedes at Shalke 04.  He would be a perfect partner for Mamadou Sakho's personality.  But if Matip plays a role of a defensive midfielder (which he can) alongside Emre Can, it would be a win-win situation for LFC as Matip would provide very good cover for our backline, leaving Dejan Lovren as Sakho's submissive partnership.