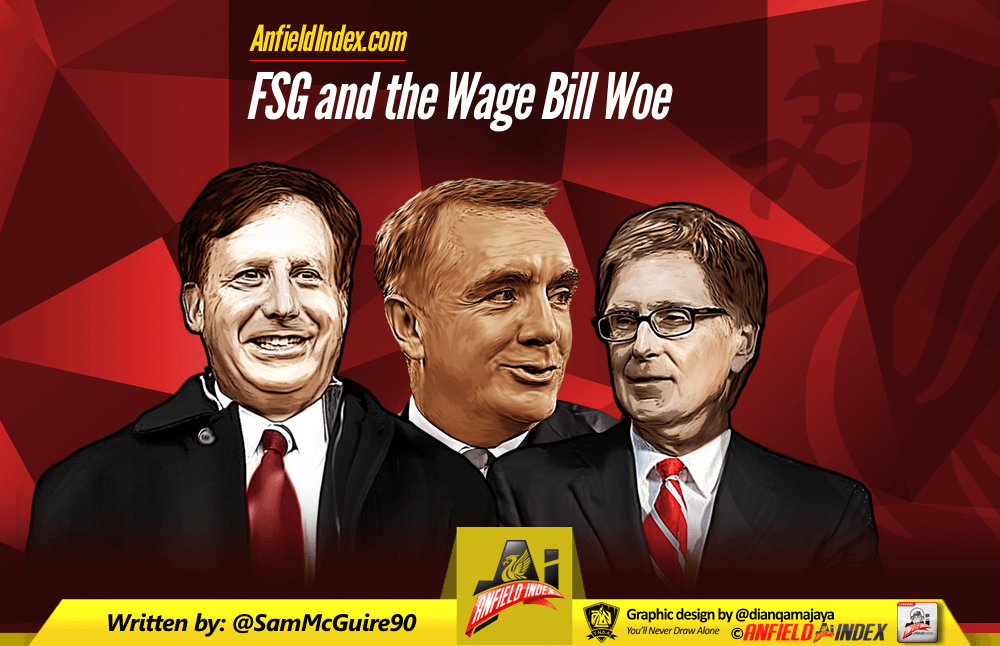 FSG and the Wage Bill Woe
The feeling on social media around Liverpool is a little eerie as of late. The club have made some impressive signings in Loris Karius and Sadio Mane and look set to practically recoup what they spent on Christian Benteke yet the supporters online aren't how you'd imagine them to be after such news. They're discontent. Unhappy with the owners' apparent lack of spending. The club seemingly being left behind as rival clubs flex their financial muscle.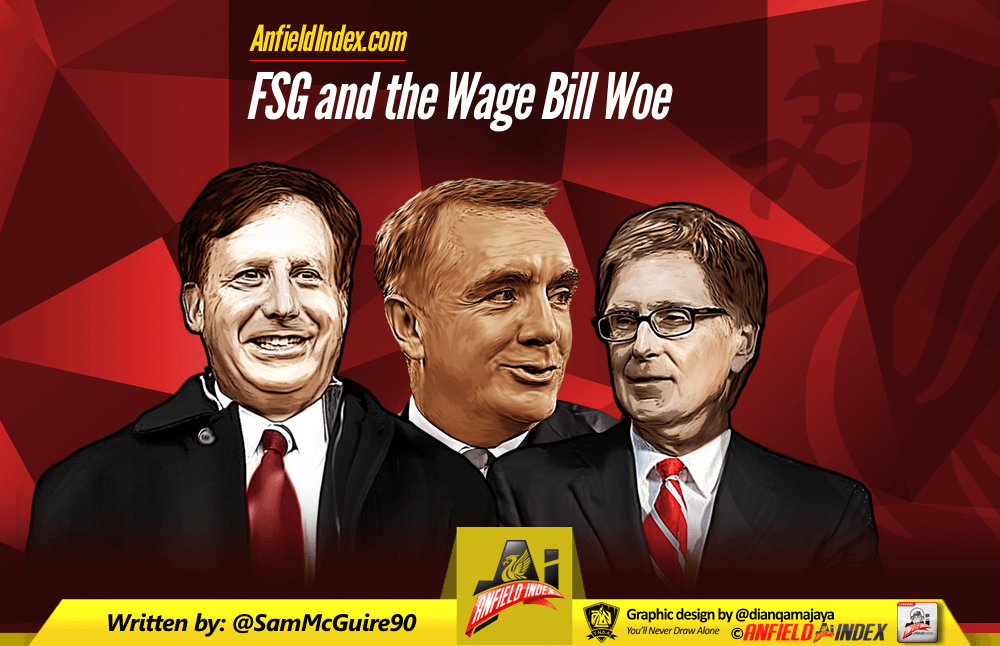 The Liverpool Echo ran a piece on this very topic. While it's difficult to disagree, the timing of the piece is bizarre – a week after spending £30 million on Sadio Mane and a few days after reports that Liverpool were willing to spend £25 million on Gladbach's Mahmoud Dahoud surfaced.

Of course, there are fans who are indebted to the owners for saving us from administration. They cite how they've always reinvested money and although this is hard to argue with, the net spend debate is something entirely different. People seem to fixate on transfer fees. The hate is misdirected. The problem all along with FSG has been the wages at the club.
When FSG bought the club the wage bill was recklessly out of control. Average players on not just Champions League wages, but long contracts too. They've been reducing the annual wage bill at the club year upon year and once again look set to decrease the outgoings this summer with high earners on the move.
Liverpool currently have the 5th highest wage bill in the league spending £152 million per season. Arsenal are in 4th (what a surprise) with £179 million, Manchester City in 3rd with £193 million, Manchester United 2nd with £205 million and Chelsea lead the way with a staggering £215 million. If rumours are to be believed first teamers such as Christian Benteke, Lazar Markovic, Kolo Toure, Jordon Ibe and Martin Skrtel all look to be on their way. That's £435,000 per week off the way bill if TotalSportek are accurate with their figures. Combine that with the £75,000 Jose Enrique was reportedly earning and Liverpool are already £510,000 better off per week. That's without taking into account the wages for the likes of Mario Balotelli, Adam Bogdan, Jerome Sinclair and Sergi Canos. That's potentially another £100,000 right there.
Just to reiterate these figures come from TotalSportek.
New signings will arrive but it's unlikely their wage demands will be as high as those leaving due to the fact they're probably going to be playing in a financially poorer league so their existing wages won't be as much.
It's also important to remember that FSG have often spoken about incentive-based deals meaning if the club is successful the players earn more money. It's seen as a way to have everybody working for the same goals. In an ideal world it's a flawless plan. However, agents aren't ones to structure deals that don't pay-off for them immediately.
Liverpool are rumoured to have missed out on signing players because of this strategy. Graeme Kelly recently spoke on an AnfieldIndex Podcast about how Liverpool have worked on a deal giving off the impression they'll pay X amount up front but when the agent is going through the deal they effectively find out that figure is dependent on other factors. It's not guaranteed money.
It's a questionable strategy because not only are the individuals expected to perform to a high level throughout they're also reliant on teammates. A player could score 25 goals in the league, play out of his skin but his teammates don't chip in, the team finishes 5th and the player doesn't earn what he could have earned had they qualified for the Champions League. Just because we aren't in the Champions League shouldn't mean we expect players to accept anything less than the going rate.
These deals may be beneficial to youngsters and those with a lot of potential they aren't going to be the best way to appeal to the better players. The game changers.
Manchester City signed Kevin De Bruyne for £54 million and put him on wages of £170,000 per week. They also signed Raheem Sterling for £49 million and he was put on a £180,000 per week deal.  Two players for £103 million on £250,000 per week.
Manchester City are in another league to Liverpool financially but their willingness to pay higher wages means they can attract such talents. People say the club can't compete with the City's and the Chelsea's but that's not entirely true.
Liverpool could if they really wanted to gamble. After all they paid a combined £43 million for Lallana and Lovren but their wages per week equate to £130,000 between them. Then there is Christian Benteke and Lazar Markovic. Signed for a combined £52 million, they get paid a rumoured £175,000 per week.  Four players for £97 million on £205,000 per week.
Instead of spending £45 million on a player and offering them £160,000 per week, FSG try to get two players out of that. It's possible but it's not going to help the club progress. Money doesn't always lead to success but there's a strong correlation if the style fits the player. Mesut Ozil cost £42 million and he's on £190,000 per week. Eden Hazard cost £35 million and he's on £220,000 per week. Sergio Aguero cost £33 million and was originally on £140,000 per week. The same summer he signed for City, Liverpool spent £36 million and £160,000 per week on Jordan Henderson and Stewart Downing. Players of that ilk, your Aguero's and De Bruyne's, aren't unattainable if you have the right financial package on offer. With the new TV deal that shouldn't be a problem for a juggernaut like Liverpool.
The club try to spread the risk. Investing a lot of money into one player for them to fail is a disaster. Investing that same money into 1-3 players means there's more chance of 'success'.
The club seems to have a problem paying players what they're worth. Philippe Coutinho only renewed his deal last summer but he's on £100,000 less than Kevin De Bruyne. That's up to his agent to negotiate a better deal but it's also on the club to try to help make their star players feel valued.
Until FSG start paying the going rate to recruit and keep players Liverpool are always going to be trailing behind. We'll never compete with the likes of Chelsea, United and City but the odd star player here and there could bring the club closer to Arsenal. It shouldn't be out of the question given the platform already at the club. People need to acknowledge that it's possible it's just the owners have a different strategy compared to the other big clubs.