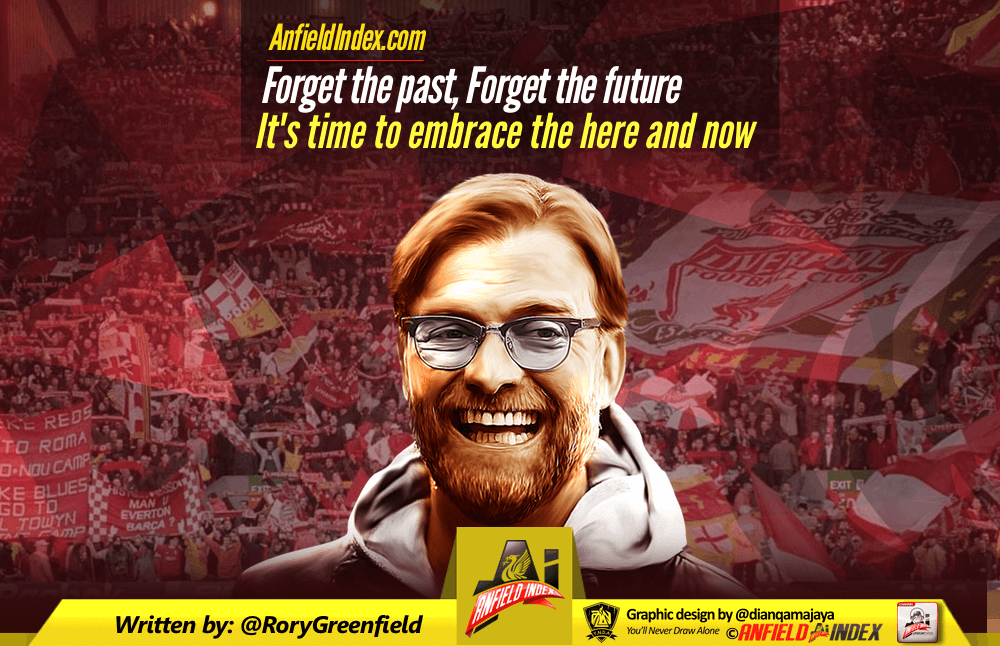 Forget the past, Forget the future - It's time to embrace the here and now
Liverpool Football Club stands at a crossroads. A club blessed with the most illustrious of histories, struggling to find success in the modern game. For too long our supporters have focused on the clubs past achievements, past players and past managers. A fanbase living in the splendour or the squalor, of years long past. I've always found it important to embrace the past, as it moulds and shapes the club we've become, the supporters we now are. But we need to learn from the past positives and negatives, to become something greater still, not be bound by our former glories, or shackled by our recent failings.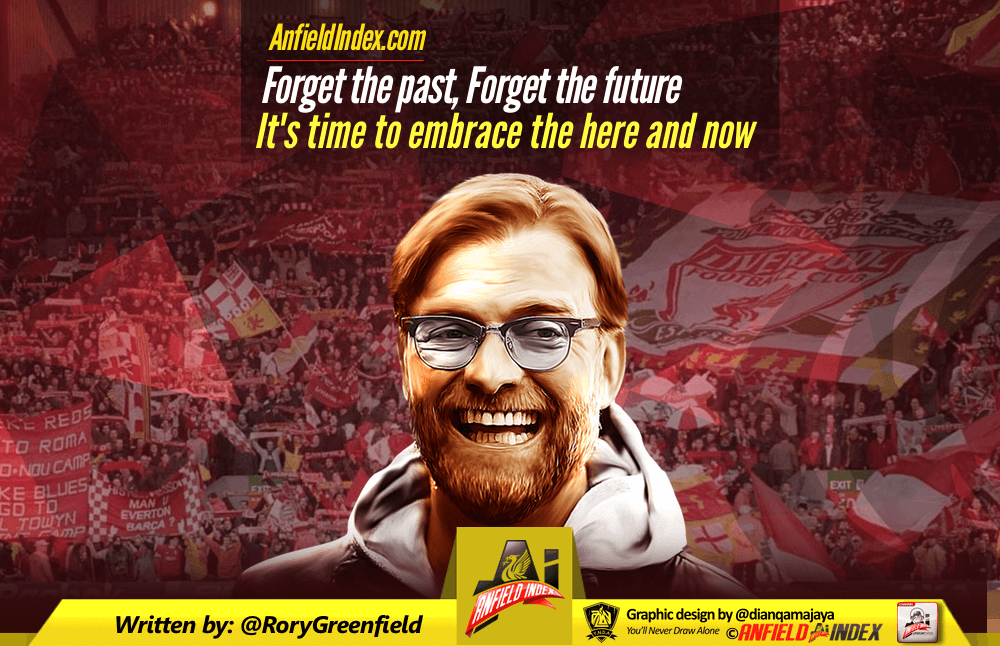 Supporters must learn to embrace the now, not focus solely on the future, or the past. It's only then, that expectations will be adjusted accordingly. I'm proud of the clubs outstanding achievements and former dominance in both the domestic and European competitions, but those days are long past. We last won a league title over 25 years ago, a quarter of a century! Even Istanbul, is over 10 years ago. Yet, we're forced to suffer a yearly reminder of that special night, like it's read from an obituary. Our club is living and breathing, it exists now, not solely in the past.

Most of our recent signings weren't even born, when we last won the league. Those claiming we're still one of Europe's giants, need to adapt and accept what we've become. We've had one forgettable Champions League campaign, since Rafael Benitez left and have only just started to see brief signs of what we might become, with a world class manager at the helm. Whilst Jürgen Klopp is clearly a significant draw for players, simply put we're no longer the club we once were, yet why do supporters expect a sudden rise to prominence? For players to be falling over themselves to sign for us?
No European football, or guarantees that'll come consistently anytime soon. No significant salaries, an argument for another article, another day. No easy ride, at this club or in the EPL as a whole. The pressure of being a Liverpool player is significant, supporters are merciless and unforgiving. Coupled with the demands of playing in a Klopp system, of the high intensity training, maybe just doesn't appeal to all. That's why signing players such as Sadio Mane, who played a similar all action style at Salzburg, makes more sense than perhaps initially thought, at least for when focusing on the significant outlay.
I've always felt that certain sections of supporters act like it's the clubs right, to always dine at the top table amongst Europe's elite. Right now we're wedged in the corner of the room, surrounded by Europe's forgotten giants, with a pillar blocking our view. Yes we were just one game away from propelling the club forward, back into the forefront of European football, but in reality we've not the players, or the structure for the instant improvement required to make that leap of balancing EPL and UCL. I believe that will come, but it will take time.
I don't see it as simply a case of going out and buying expensive acquisitions and expecting a guaranteed return. It's about buying the right players, for the right system. Klopp showed, without any signings last season that opposition struggle to deal with the high energy, high press approach he adopted and began to ingrain into the team. We forced mistakes, but at times didn't have the quality to capitalise on individual errors. We're also prone to errors of our own, which gives opponents confidence that we're no longer a formidable side or that Anfield is a fortress. Winning at Anfield is no longer a scalp, it'll need to be if we're ever to establish ourselves in the league.
I've seen many argue that Klopp's tactics are flawed, that clubs just need to play directly, bypassing the press to capitalise on our weaknesses. That may have been true, but by signing Matip and Grujic the height of the team has significantly increased, with others likely yet to join. I've never once said Klopp's the messiah, in fact one of the reasons I'm optimistic, because he's still developing as a manager. To achieve what he did last season, with confidence of the players, of the fanbase at rock bottom, is a serious achievement for me. If he can beat title contenders, it's only a matter of time before he learns to beat the rest.
It's easy to get swept up in talk of academy players, of signing youth with potential. I do like that approach, as it gives Klopp time to mould and shape individuals, to unearth potential and build a team, unified in their goals for the future. My only reservations is forgetting about the teams needs now, when it matters most. If you can form a team, with a mix of youth and experience, it's likely to provide the right balance to prevail and succeed, if forged with the right quality.
Experience is vital, as it offers just that, players who've won before, who've lost, who have developed tactical knowledge over a greater playing period, have played and learnt from more teammates and likely different coaches. Youth offers a confident, fresh, sometimes arrogant approach to the game, with players that don't often fear the unknown. We as a club, desperately need this balance, and we're starting to get that.
It's time for our new manager, a world class manager to bring his identity, to stamp his authority, on his side. That's not going to happen overnight, but we've already had a taster of what could become and I have no doubts he'll deliver silverware in his tenure. The key to success isn't just about winning that elusive title, or achieving occasional Champions League qualification, but finding a way to achieve this consistently. The league has developed, but clubs have shown it can be done, if you learn to consistently beat teams in the lower half of the table.
If I'm being honest, we may never become the force we once were, it may never happen. There are simply no guarantees, given how the game has evolved, knowing that Liverpool must play catch up to develop, as its rivals have around them. Klopp will without doubt provide a lift, a significant one. It maybe enough to kickstart success, to win a trophy even a title. To establish the club in Europe once more, I don't know.
I'm always left wondering will it be enough to bring together the fractured fanbase?! We must put aside what we once were, ignore what we may become and accept the club for what it is now. Otherwise, we'll never take satisfaction in the club we support, we'll never live in this moment. Enjoy the goals, the victories, the moments that make you smile in football. Enjoy the now.