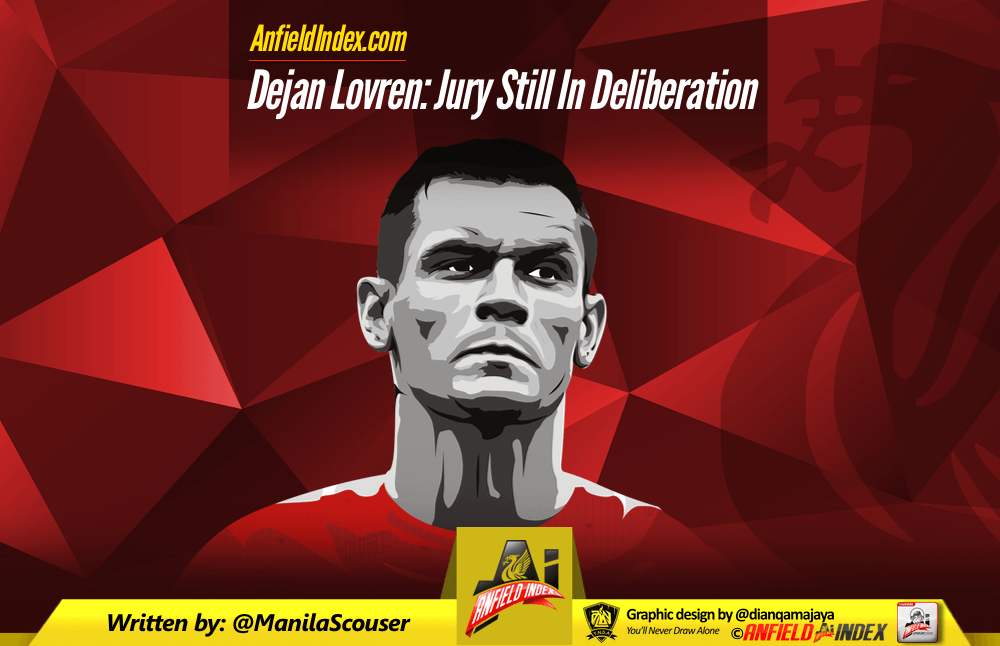 Dejan Lovren: Jury Still In Deliberation
Much has been said about Dejan Lovren since his big money move to Liverpool Football Club in the summer of 2014. The expectation of becoming the leader of Liverpool's defense had quickly faded and also coincided with fans slamming the gavel on him as a failed piece of business. Error after error was also the cause of fans fuming over social media, some even directly at him regarding his poor form. And even so, former Liverpool manager Brendan Rodgers stuck with him despite having other options on the bench in Mamadou Sakho, Kolo Toure, and new signing Joe Gomez.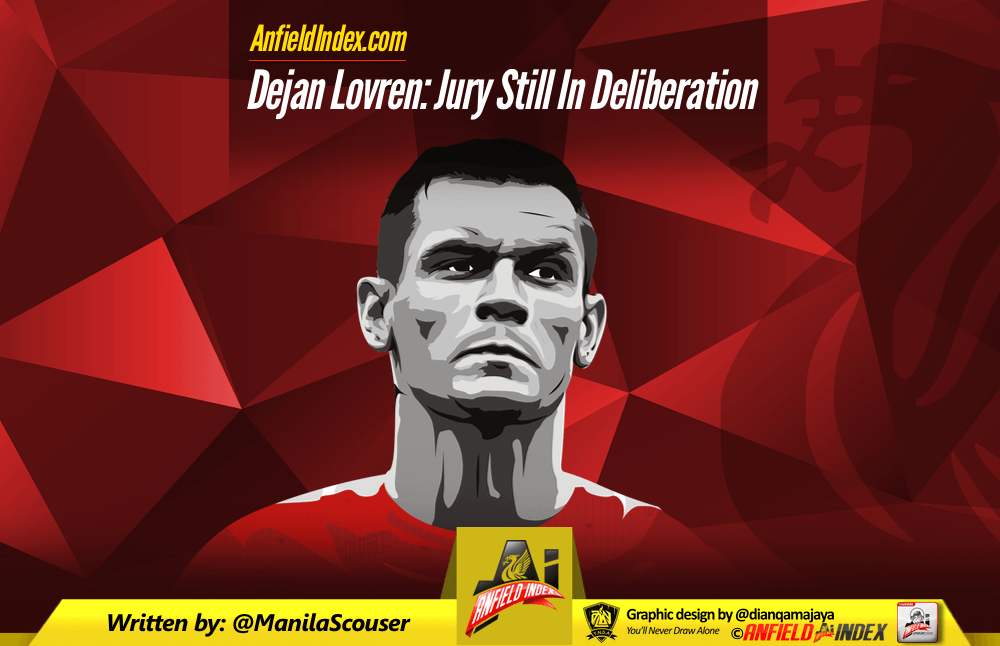 Despite a debut season to forget for Dejan, the more optimistic fans hoped for a reverse of fortune for the Croatian defender as the 2015/16 season had begun. Although despite our prayers and wishes, he seemed to have picked up where he left off the season before, and it wasn't until the switch of managers had he started to show signs of why Liverpool bought him for a large sum of money.

As the season continued under a new manager saw Lovren improve vastly. He looked cooler and more composed on the ball rather than overthinking situations, clearing balls instead of attempting to outsmart the opponent in front of him. There were even times he's covered for his partners, bailing them out when needed. And in the dying moments of a cup-tie against a certain team The Kop Boss once managed, he produced the goal of a night to remember that sent us to yet again, another European semi-final.
His resurgence to form has the fan base suddenly divided in their opinions as to the fate of the 27-year old defender. The player who was once guaranteed a unanimous vote to be sold had now racked up supporters on his side to give him more time to prove he deserves to play for Liverpool Football Club.
Today, there are some who will tell you that he's dug himself so deep, that anything remotely to decent is seen as amazing. Others could convince you he's still not good enough. But there are also fans that think he's proved himself worthy of another season with the Mighty Reds.
In my opinion, Dejan Lovren's recent form has warranted him another year at Anfield, not because I think he's right for the club or he's exactly what we need, but because there isn't enough of his better performances to release a verdict on whether he's a bad or good piece of business, without looking at his fee.
The partnership he formed with Mamadou Sakho has been somewhat formidable, and I even remember a certain run in the early stages of the year wherein the club had conceded only three goals in nearly 800 minutes of football with the Frenchman and the Croatian defender.
Having said that, while I believe Lovren should be given another season at Liverpool, I also think that the club should look to bring in another strong, young central defender, and that could mean Lovren would be on his way out over the next year or so, maybe even within this window or in January, pending a new centre-back signing and where Klopp plays Joel Matip as well as the amount of games Liverpool could potentially play the next season.
Lovren seems like a guy who'd run through a brick wall for the club, which is a standard all Liverpool players should be held high to, but it's also clear that he is not the answer to our defense for the foreseeable future, especially with the possibility of European competitions over the coming seasons.
Acquiring the services of someone like Jonathan Tah or Alessio Romagnoli (although my dream would be Aymeric Laporte) would be a great piece of business for Liverpool Football Club, and should solve their issues defensively over the next decade.