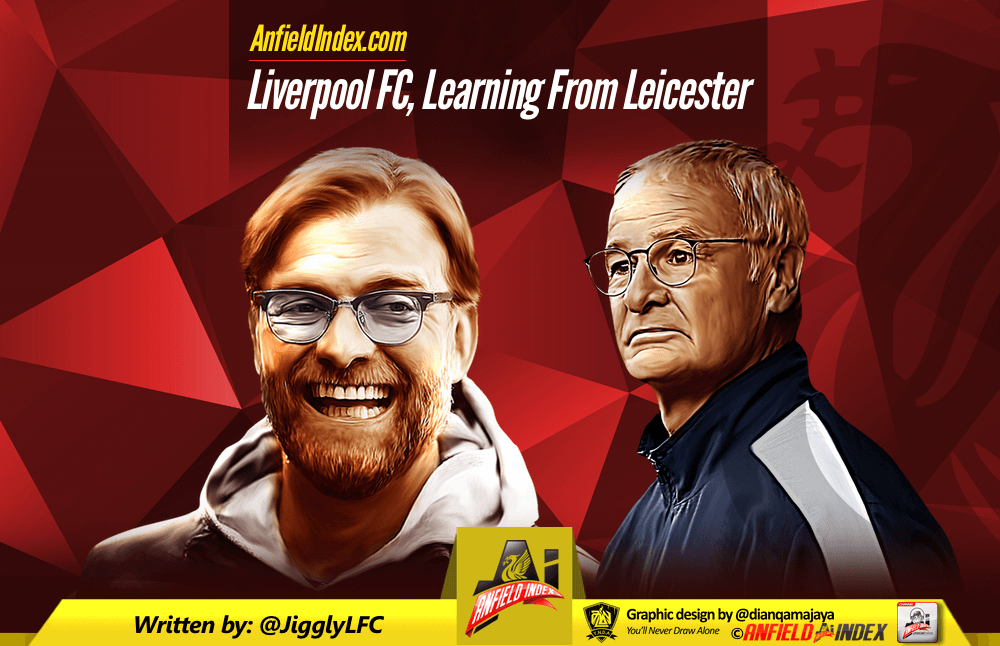 Liverpool FC, Learning From Leicester
This past season, Leicester City have taught every football fan in the world a very important lesson… but nobody seems to have listened. Sure, everyone can grasp the scale of the season long miracle that occurred, and yeah we all learned not to count out the little guys, but that's not the real lesson we learned. The lesson we all learned whether or not we realise it, is that money isn't everything in football, and in an even broader sense, individuals aren't everything either.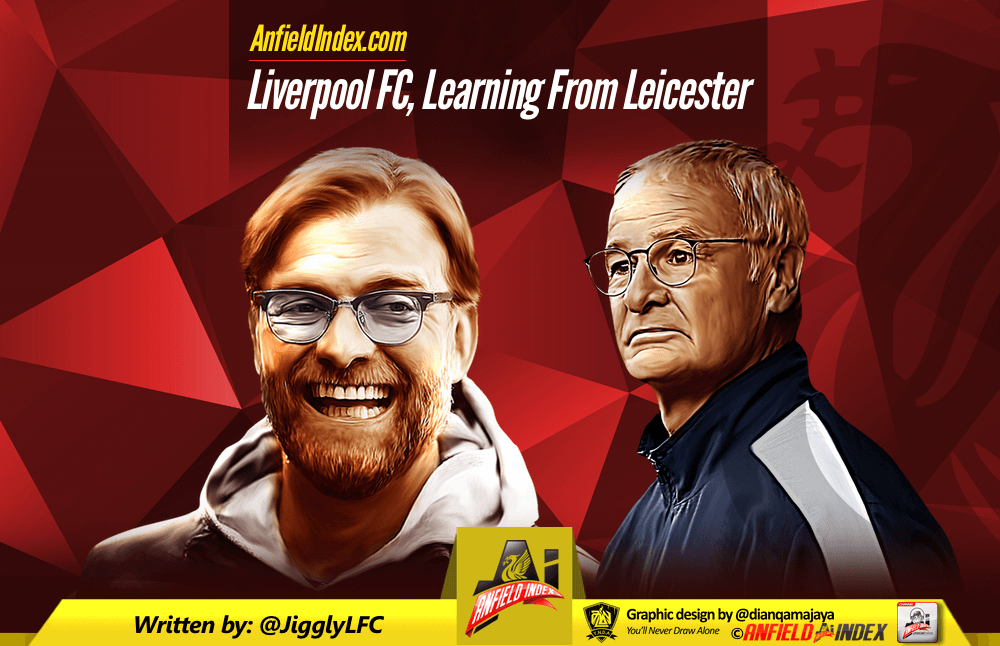 People love to talk about the money involved in football these days. Most of them love to bemoan its prevalence, and when Real Madrid is buying Gareth Bale for 100m Euro and Neymar is signing a new contract rumoured to be around 480k a week after taxes, it's a valid gripe. And in today's footballing world, it seems that nobody loves to talk about money quite as much as Liverpool supporters. It fascinates us. It holds a magical spell over us. One of the greatest clubs in world football history bypassed by billionaire club takeovers. But that's not entirely true. There's a lot more to the world of football than just money, and it's becoming increasingly difficult to see.

I'm sure I don't need to drone on about how Leicester smashes down the wall of big money clubs buying titles, because anyone that's followed football for at least a couple of years will have enough context to understand. But for a lot of people, Leicester City is written off as a fluke. In some eyes they're merely a team that's taken advantage of an exceptionally poor Premier League season. Honestly though, that's pretty true. I'm also of the opinion that Leicester won't be able to repeat or recreate this season. It seems too far-fetched. But that doesn't make it a fluke. There's nothing "flukey" about the way Leicester handled their business this year. They had a defined system, they had players specifically purchased to perform a specific job in that system, and only that job. And obviously, it worked. A team that played far beyond the sum of its parts.
But once again, everybody knows this. Everyone knows what happened and everyone understands, but they refuse to apply it in future thinking. It's as if the 15/16 season exists in a vacuum and affects nothing after it. What I saw this past season was more than just an unbelievable title run, I saw a revolution in team building. I saw a revolution in the sport. A swing to open the eyes of the big clubs and make them realise, "Hey, we're looking for the wrong things." Too many transfers are made because of one brilliant season, the profile of a player, or worst of all, one good international tournament. These are financially inefficient, and unreliable transfer approaches that often lead to grossly inflated transfer fees. Thus, leaving the door open for teams like Leicester to exploit market inefficiencies and recruit criminally undervalued players.
The transfer market is about as inefficient as markets come, and they're rife with failed deals, misinformation, and disappointment in general. There have been a couple managers over the years that have successfully "gamed" the transfer market. The most notable ones being Brian Clough, Arsene Wenger, and now recently, Jurgen Klopp. Clough used personal issues with certain players in order to buy them at a discounted price. He would buy terrific players that were also alcoholics for example, because personal problems dragged down transfer fees. The man recognised that it was cheaper to buy players with issues and help them fix those issues, than it was to just buy players without them. It was revolutionary. Wenger was a bit different however. He was the first manager to really use statistics to inform transfer decisions to help him find the right players, and often undervalued players. Arsenal ended up hiring an awkward looking Frenchman managing a nobody club in Japan in 1996, and in turn he gave them the Invincibles.
And now as Liverpool supporters, we've got our own awkward Frenchman. Granted, he's not French, and he's about as charismatic as they come, but we've got someone who understands the sport of football with and without the romanticism. We have a manager now who's shown that he thinks a similar way. It's what he did at Dortmund. He's a manager that understands that when shopping for players, it's better to have the best fit than the better player. Klopp understands the transfer market, and he understands the "science" behind creating a football club from the ground up. But at the same time he also understands that the love of the game is crucial for fans, for the team, and especially for Liverpool Football Club. We have the best manager in the world for our rebuilding situation as a club, and all signs are pointing in the right direction for us.
But people haven't been listening. It doesn't even seem like the other big clubs are listening either, but that's not our problem. Our problem is very different. A lot of us seem to like to moan about not signing "big names" and we especially love to compare our transfer record with United's. And to be fair, United has had a terrific window. In my opinion though, so have we. We need to understand that Klopp is here for the long term. He's building for the long term. We're talking about a manager who spent 7 years at both his previous clubs which in today's game, is unfortunately rare. He's going to value players that fit his personality, fit the club, and fit the system. He doesn't care whether or not people on twitter are moaning about who he signs, and thankfully he never will.
Ultimately we need to trust Klopp. Leicester may have taught us as supporters something this past season, but they haven't taught Jurgen. He knows. The future of football is spending tons of money on players that fit, not just players that are brilliant. But those days aren't here yet. For now though, he's going to do what he does best, and that is build a team, and cultivate an unbreakable team spirit. We're along for the ride, and all we can really do is relax, and just try to enjoy it. Isn't football meant to be enjoyed after all?