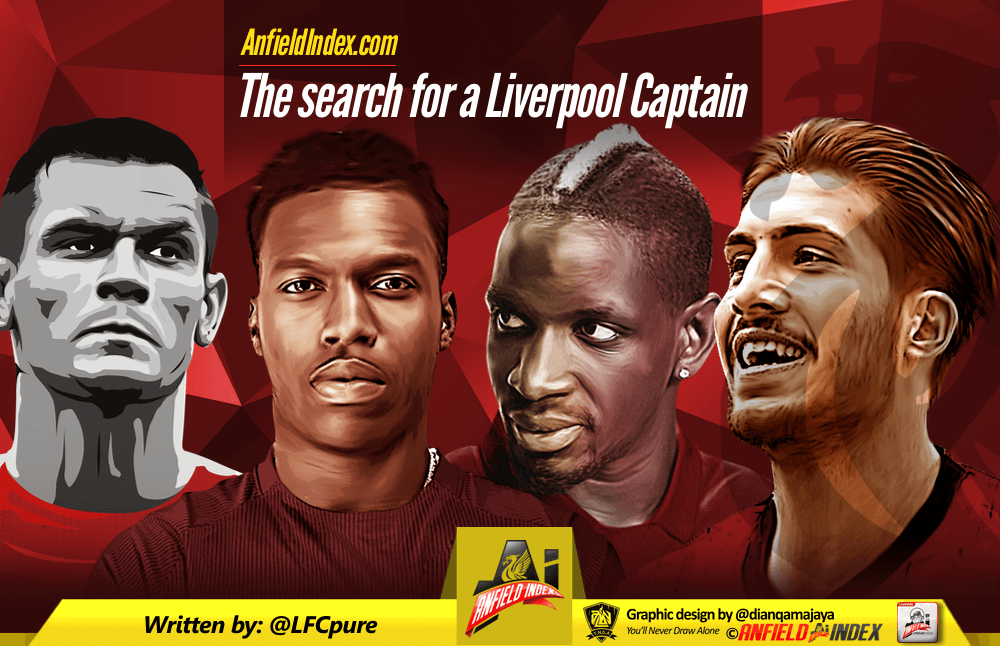 The search for a Liverpool Captain

A captain is something Liverpool has taken for granted this may well be due to our two previous captains being Sami Hyppia and Steven Gerrard. Both of them, not a single person could questioned, Gerrard took over the armband from Hyppia on October 15th against Slovenian side Olimpija Ljubljana and from that moment until the day he left for LA Galaxy, the captaincy was not up for debate. Gerrard, a local lad, gave everything for the shirt, was a role model on the pitch, came up with some unreal match winning performances (West Ham 2005 FA Cup Final; Olympiakos 2004 Champions League … To name a couple), he was an idol. And prior to him, Sami Hyppia was a solid centre back, was a calm head and was a fantastic role model, this was seen when he lost the armband to Gerrard; he accepted it, moved on and remained professional.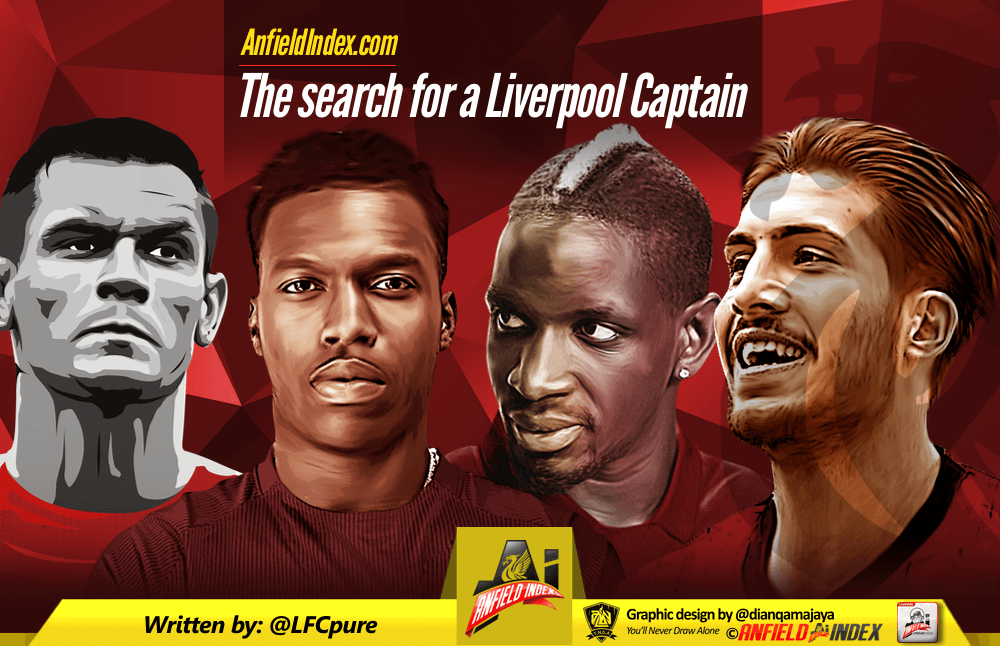 However, these guys have gone. Jordan Henderson has now been captain officially for one year; however he often was captain in Gerrard's final season. Henderson was pivotal in the title chasing campaign of 2013/14 and proved himself a key player under Rodgers. So why the question over his suitability? From considering his stats over the last three season (comparing it with 90 minute metric on Squaka) – his season of 2014/14 trumped the following seasons in every way – first he has a higher score which was almost double what it was in other two season (was around 23 went to nearly 50). Additionally his ability to contribute to the goals and assist reduced, he went from scoring a goal every 4 games to averaging a goal every 5 games and his assist went from nearly 1 in 2 to 1 in 4. This may well be due to the fact that Gerrard in the 2013/14 season sat deeper allowing Henderson to move forward whereas now he is next to Emre Can who likes to burst forward reducing the chances for Henderson to attack. However, this is not entirely accurate as his defensive stats also reduced as he went from making around 3.5 tackles a game to below 2, whereas logically, he should be making more tackles due to being more defensive post-Gerrard era. There is a further reason that Henderson has declined and that is due to his long term foot injury – Plantar Fasciitis which would affect his game. Additionally, this issue was confirmed back when Klopp (after a game) stated "he did really well for the team. Long-term injury and still having pain". Its human instinct to not 'give it all' when you are fearful that any stretch may mean a few missed games and therefore Henderson, who's game relies a lot on his athleticism, has seen a decrease in performance.
So who replaces him if Klopp doesn't think he can be Liverpool captain any further? There are slight mutterings for Lovren also there is the wildcard of Daniel Sturridge. I will also look a two clear favourites in Emre Can and Sakho.
Dejan Lovren
Maybe not a popular choice, but still deserves to be considered. Firstly, he appears to have Klopp on his side. Klopp seems to trust him, and this is important as it will most likely be Klopp's decision. Furthermore, his name seems to be the one most spoken in media outlets when talking about the next Liverpool captain. He is a good athlete and who can forget that winner against Dortmund, his story is a good one and how he has turned his Liverpool career around. However, he often loses concentration and Sakho has had to cover him on multiple occasions. Additionally, if Sakho is not banned, it may well be Lovren that loses his place in the starting line-up and there are still many Liverpool fans that aren't convinced that he is good enough. Therefore, sorry Dejan, maybe captaincy isn't right for you; however another solid season and he may well become a key player for Liverpool.
Daniel Sturridge
Sturridge, I am sure some people won't be pleased with his inclusion in this debate however, let me just give my rationale. Firstly, from watching Sturridge, he appears to make all those around him raise their levels, he can tell someone when they aren't doing their job and the players listen to him, this is something that Henderson does not appear to do. Sturridge looks like he has the grit to be a leader, such as when Balotelli took the penalty off of Henderson, it wasn't Henderson who was telling him he was in the wrong it was Sturridge. Additionally, Sturridge is, when fit, our best player, he has quality that we lack, such as that goal in the final, and with the added responsibility he may well raise his game on a consistent basis and he has the ability to come up with big moments, something we've missed since Stevie and Suarez have left. However, he WON'T be made captain, he is selfish at times (however, most good strikers are) and often can become uninterested, and we need a captain that gives it all and leaves nothing behind so for that reason I don't think Sturridge will be the next Liverpool captain. However, he should have a song.
Emre Can
Emre Can, for all the grief people give the committee, this was some deal that they have pulled off. Currently, the only Liverpool midfield even remotely comparable to Steven Gerrard. He has become an integral part of the current Liverpool team and he looks like he will be in Klopps plans for the foreseeable future. He has got good knowledge of the league now, and he is also a good role model (you never hear anything about him in the media). He is the player that Liverpool needs to build their midfield around (just like we used to with Gerrard) and with a player next to him who can sit in front of defence I think the best of Can will come. Also, I fear someone will come knocking for him, and hopefully having the arm band will get rid of any thoughts of leaving. However, there is one thing he lacks that I think is vital for Liverpool over the next season or two, and that is experience. Therefore, I feel that the armband should be given to a more experienced member of the squad and given to him maybe in a couple years' time and for now allow him to be vice captain. And similar to Hyppia passing it to Gerrard, in two years' time, we may once again see an experienced aging centre back passing the armband on to a new young, powerful, exciting centre mid.
Sakho
Sakho has been loved by the Liverpool fans for a long time now, and the media are starting to figure out that he is a great player, the flippant remarks about his ability on the ball is slowly ceasing. Just before his infamous ban he was at a high point of his Liverpool career, where he played brilliant in the 4-3 thriller against Dortmund before declaring in the post-match interview that it was for 'the Liverpool Country' people thought it was poor translation, but I don't think so.
So what qualities will he bring as a CAPTAIN, well firstly, he is experienced in that role having been made the youngest captain in both PSG's history and Ligue 1 at the age of 17 by manager at the time Le Guen. Fruthermore, he is not considered one of Liverpool's more experienced players in both age and also caps with many of the 'old guard' no longer around or not considered starters. Furthermore he is still only 26 and therefore has a good 5-10 years ahead of him, so giving him the arm band could be long term (or until a certain German is ready).
Now I need to be critical, and of course there are two 'negatives' to having Sakho as captain. Firstly, a captain needs to be a role model on and off the pitch and whether he knew about the banned substance or not, he should not be taking anything without knowing exactly what it is and this does not set a good example. However, should he be judged on this alone? No, Sakho has proven himself to be not just a great footballer but a great person, whilst other players are jetting off over the world for luxury holidays, Sakho gives up time to dedicate to charity, and he does this throughout the season as well. Additionally, Sakho has given a lot back to the City and therefore, one mistake is not enough for him to lose his title as a 'role model' and he is still loved both on and off the pitch.
The other concern was with his tendency to sometimes switch off or have 'a funny 5 minutes' and this is true, he sometimes panics and makes mistakes. There is not too much I can do to defend this, however, having a settled partner next to him will help a lot, as you saw when him and Lovren started to gel. Additionally, the three other areas around him are the three areas Liverpool needed to strengthen. The left back, Moreno often went wondering a left Sakho exposed to being double upped on. Additionally, he did not have a commanding keeper behind him, and hopefully with Lloris Karius now in goal, he will be able to talk to his defence as he can see what's happening with the backline clear. And finally, we need a settled CDM next to Emre Can to provide cover for Sakho.
Therefore it appears clear that Sakho is the smart choice, this is dependent on his trial, but it appears clear that for what looks to be a rollercoaster season, we have a man such as Sakho lead us both on and off the pitch, just to make the 'Liverpool Country' happy.