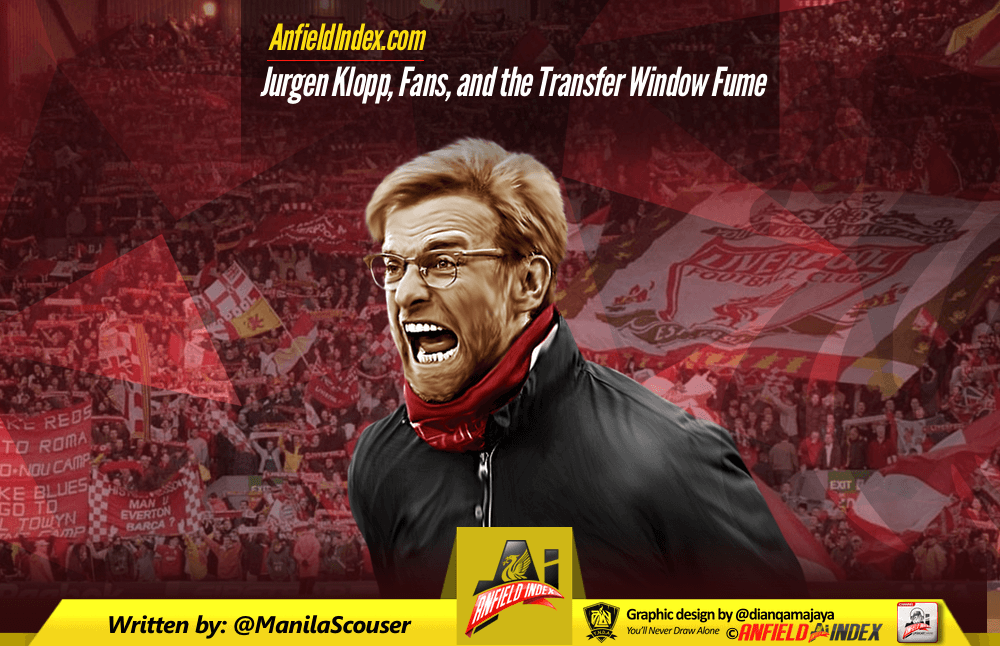 Jurgen Klopp, Fans, and the Transfer Window Fume
The synchronization of pistons that makes an engine run smoothly, percussion which provides the soul of music, a dance performance completely in sync with a song, or a football team consisting of eleven individuals playing a game in perfect coordination. That's chemistry. A complex emotional or psychological interaction between people is an element vital for a group of people in order to perform to the highest level.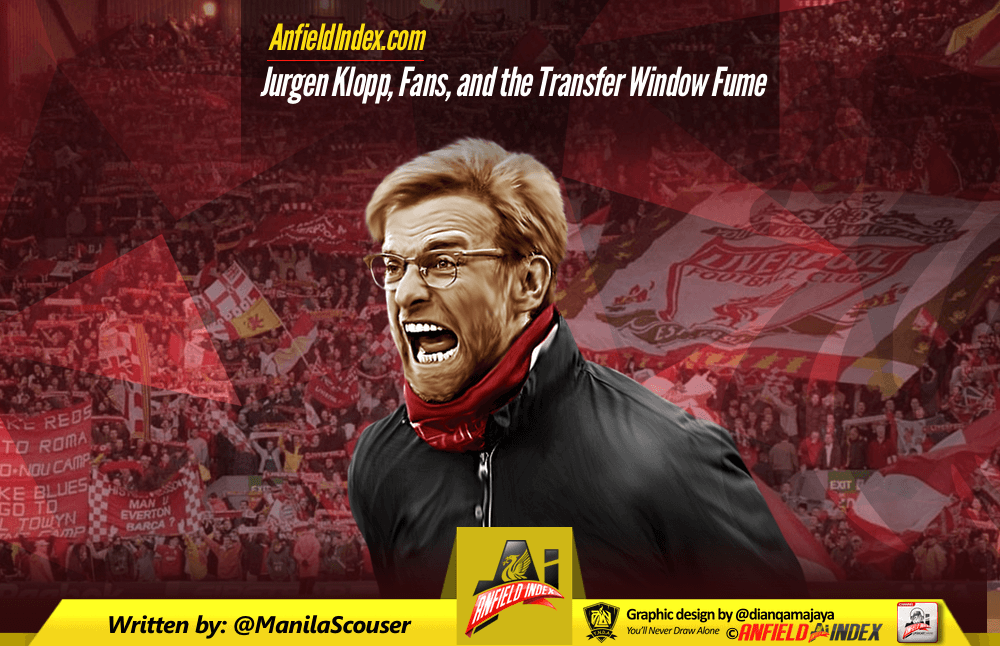 FC Barcelona is a great example. The chemistry their players provide causes such beautiful synchronicity in their seemingly flawless system. Even if they have possibly the deadliest front three ever seen in football, it's the selfless approach and understanding between Lionel Messi, Luis Suarez, Neymar Jr., and the rest of the players on the pitch that creates a harmonious build up to a goal which makes the hair in the back of your neck stand up in awe.

Although it certainly helps, it's not only about the quality of players in the team, because we've seen teams that yield a starting line-up more expensive than the club you support, but lack the chemistry and balance that some other teams display.
Liverpool's 2014/15 season had been awful, and somehow we finished the campaign managing to nick a place in a European competition mostly through individual brilliances like Philippe Coutinho's own goal show.
When Jurgen Klopp took over Liverpool Football Club on October last year, we've seen glimpses of what we could expect in the seasons to come under his guidance. One of them being what a system, chemistry, and symmetry can do for a team, a team that had looked so bleak and toothless when the season started. He somehow managed to transform our players on the pitch who were making by with individual performances during the early stages of the previous season into a real team. He worked with what he was left with and managed to take this formerly awful team into a domestic and European cup final.
Long before the season ended, there has been evidence of the need to upgrade the squad in plenty of areas. As fans, we've discussed numerous times exactly which areas needed improvement on based on our own opinions and findings. And now that the transfer window is open, the Liverpool manager has been doing exactly that.
He's addressed the lack of pace within the team, bringing in Sadio Mane.  The need of an upgrade on the goalkeeping position in Loris Karius, reinforced the defense with the arrival of Joel Matip, and brought in a strong, tall midfielder in Grujic.  He's addressing the concerns that we've been urging the club to fix, but somehow we're still upset and disgruntled at how unconvincing the names of the pieces that was being brought in, rather than being happy about finally getting the pieces we wanted for so long.
Granted, there are plenty of reasons to feel furious when the big names are going to our rivals, Henrikh Mkhitaryan moving on to Manchester United, Granit Xhaka leaving for Arsenal, and Michy Batshuayi arriving at Chelsea. Surely there are a number of reasons why we hadn't brought in specifically these players, maybe scouting, failing to get a deal done, or lowballing teams into selling their best players. But it could also be that Klopp had an eye for the players we've brought in, and not with the players who've moved on to different clubs.
We can offer our opinion as often as we'd like, but Klopp has his own opinion about it.  The players coming in would not be at Liverpool if our manager had not believed they could contribute something to the cause.  Neither would they be there if he didn't believe these players would fit his system perfectly in order to create a system that looks fluid as FC Barcelona's orchestra in his own, heavy metal genre, creating a team filled with chemistry rather than a team of soloists.
Of course, Player X from Club Y would be a great upgrade on a player we already have. But should the transfer window end and we've not brought the player in, why say that the club has failed the manager in getting Player X? Are we sure that the club failed? Why must we always see the glass half full or be such pessimists and turn good news the club announces, such as Klopp's new six year deal with Liverpool, into disastrous statements? Can't we be, for once, as optimistic as our manager?
No matter how unpopular the names of these players we've brought in, as broken record as it sounds since the manager took over, trust in him.  Trust in Jurgen Kloppp.  He's been doing this longer than some of us have been alive.  Don't waste your time being envious at our rival's acquisitions but instead, let's try to focus on what the boss is building at Liverpool, because it's guaranteed to be something special.