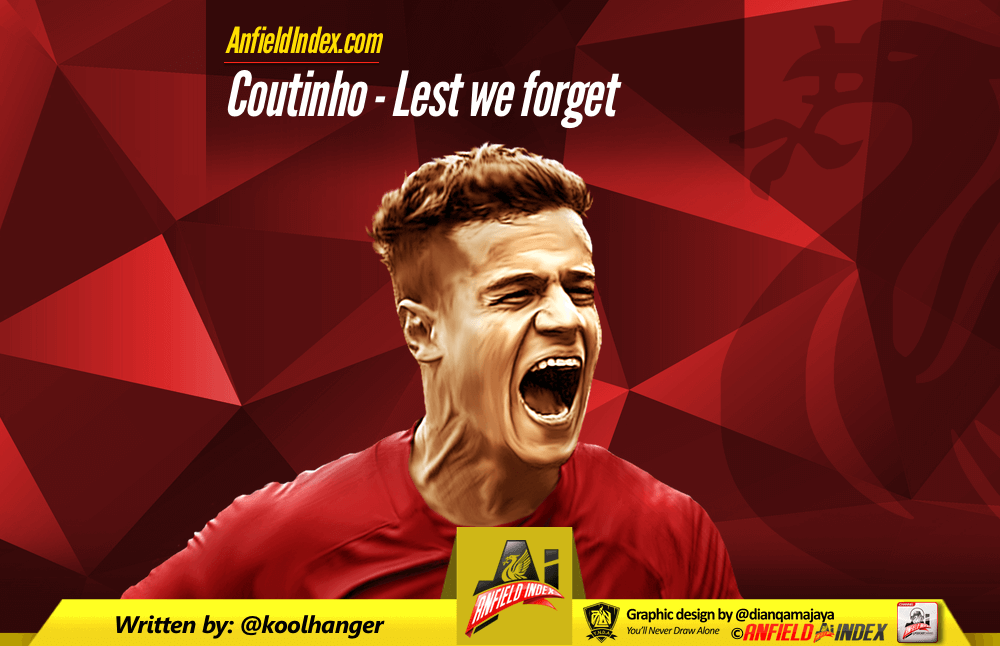 Coutinho - Lest we forget
Helpless
Is there any worse feeling for a football fan than knowing your team may be losing one of its stars, one of the most vital cogs in the machine?  All we can do is get our latest updates on what's going on behind the scenes, hoping the player realises he can't leave our club, because he loves it as much as we do…
Besides Gerrard's u-turn in the summer of '05, that very rarely happens.

So far this summer we've had the arrivals of Karius, Matip, Grujic and Mane.  I'm excited to see how Klopp and his staff develop these players, and our existing squad, and feel that we will be in a fantastic position in three years time.  However, my concern is over losing Coutinho.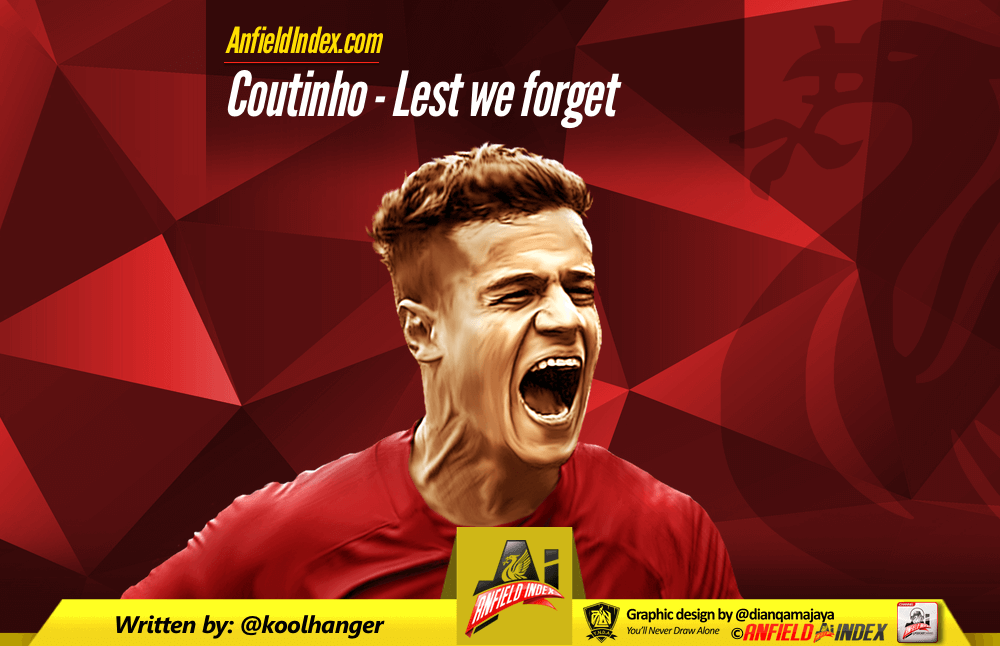 Change is Coming
My opinion is that our little magician lacks the consistency to make a significant impact at Barca. He will have to reach his full potential to join his mate, Neymar, in Spain.
Frankly, Philippe is good enough to make our best eleven but would struggle to get many minutes at Camp Nou.  Explaining that to a professional footballer with such ambition is a tricky task though.
During last month's Copa America I had the bittersweet experience of watching Coutinho's hat-trick (against Haiti).  I was delighted to see him in such great form, but that feeling was short lived, and followed by the dread of knowing his profile would be projected into the transfer spotlight for the rest of the summer.
Also, with Lucas possibly leaving too, this weakens the Brazilian community these players have forged on Merseyside.  Firmino, Coutinho, Lucas and Moreno seem to be the best of friends off the pitch.  Will it be easier for Coutinho to leave if Lucas is gone?  Unfortunately, yes.
I'm just hoping Lucas survives another cull this summer.  Keep that community together.  He seems happy enough being a squad player, much like Kolo was.  Their impact on squad morale and team spirit can not be overlooked.
Speaking before our League Cup final defeat to City in February, Coutinho told the Daily Express of how he convinced Bobby Firmino to sign.
"I told him that he would be coming to a club that is like a family."  

He also spoke of how Liverpool's aim was "..to get back in the Champions League.  Liverpool are a big club and that is where they should be.  I'd be happy if I was part of a Liverpool side that kept winning titles, cups and made history.  I just want to win, and carrying on winning for Liverpool."
In Gerrard's book, My Story, he mentioned how Suarez had singled out Coutinho before leaving Melwood for good.
"Before Luis Suarez left Liverpool's training ground for the last time he spoke to me about Philippe Coutinho.  'Make sure you look after him,' Luis said of Philippe.  That told me how much Suarez rated Coutinho as a player.  I knew they were close, because all the South Americans and Spaniards loved Luis. But it struck a chord with me when Luis singled out Philippe as our most special young talent.  It echoed my own view."
A Creative Dream
Coutinho is still only 24, not yet in his prime.  If he continues to improve at the rate he has over the last two years then he may well be at the required standard to earn a move to La Liga's elite. Until then Philippe, stick with us.
Coutinho links very well with Firmino as may be expected, but have we forgotten how well he reads those runs of Sturridge's?  Sturridge sees a space and exploits it.  Coutinho sees the run and feeds our striker.  They both crave each other.  If Coutinho leaves it will be a tough ask to find someone else who can link with Sturridge nearly as well.
Quiet and Reserved
Notoriously shy, Coutinho's wife, Aine, had to ask him to be her boyfriend years ago.  Now married, Coutinho and Aine have settled into life in Liverpool since arriving in January 2013.  He travels back home to spend time with his family when he can.  The tattoos on his arms pay tribute to his wife, parents and his two brothers.
Growing up in Rocha, on the north side of Rio de Janeiro, Philippe honed his skills playing futsal on the local concrete "pitch".  After being advised (by a friend's grandmother) to enrol him in a football academy, his father did just that, when he was seven.
Internazionale brought him to Serie 'A' in 2010, having signed him in 2008 and let him continue to develop for another two years in Brazil at then club, Vasco.
Rodgers brought him to Anfield in January 2013 along with Sturridge.  That was a successful transfer window.
The rest, as they say, is history.  Let's hope Coutinho's Liverpool chapter has not reached an end just yet.