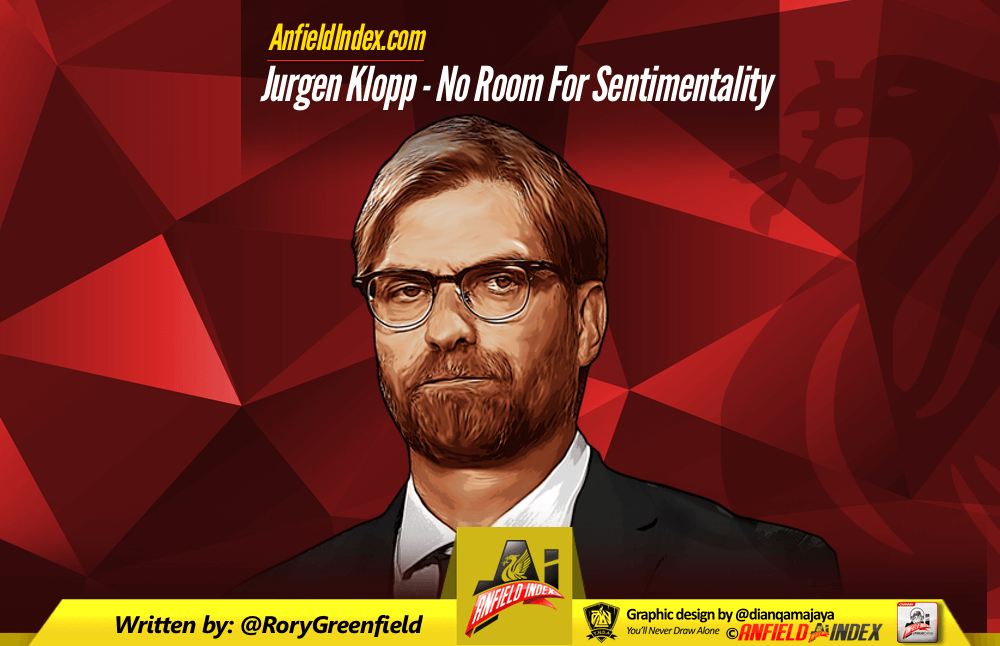 Jürgen Klopp - No Room For Sentimentality
With the transfer window open and in full swing, it's a time when Liverpool supporters completely lose all their inhabitations and start offering up players to the footballing gods, in hope of the gift of a positive season ahead. To the fanbase, most players are ripe to be the sacrificial lamb, very few are sacred enough to be spared. It's this mentality most hope Jürgen Klopp will adopt, as he goes about moulding, trimming and shaping his squad for the trials to come.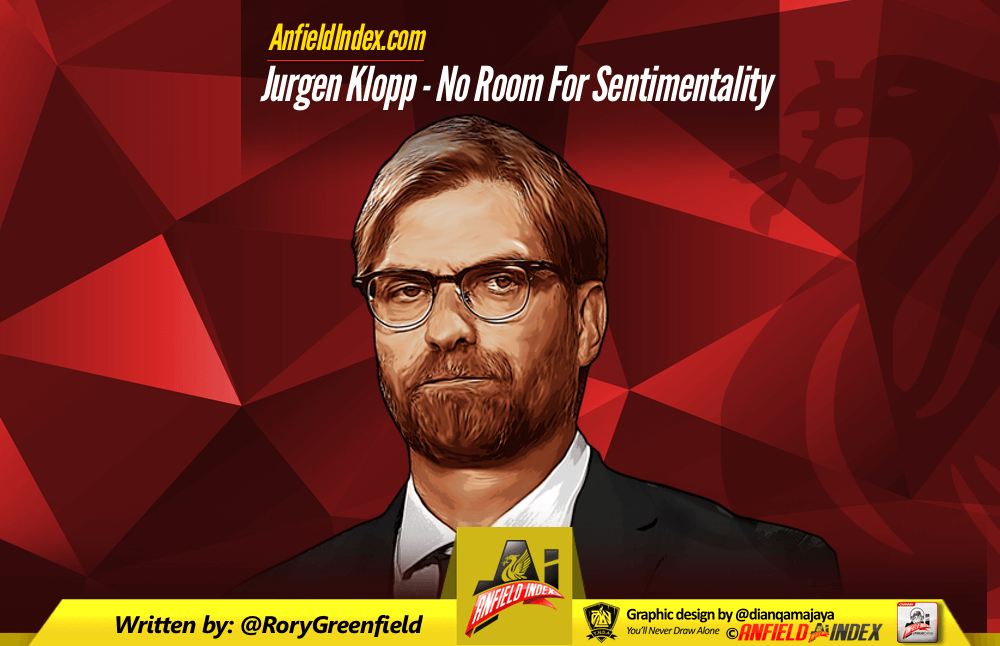 There are some high profile departures on the cards, but non currently more so than Christian Benteke. The player Brendan Rodgers hoped would help keep his job, will survive just 12 months when a departure to Crystal Palace is complete. The Belgium international is likely to fetch the highest fee of those guaranteed outgoings, with a potential return of nearly all the £32.5 million outlay last summer. No doubt they're impressive negotiations on the part of LFC, albeit in a cash rich market place, one like we've never truly seen before in the Premier League. But the player is an asset to the right club, he was just the wrong fit from the start.

Jordan Ibe, who I had very high hopes for personally, is also due to depart, with a £15 million fee agreed with Bournemouth, including sell on and buy back clauses. His potential is clear for all to see, but his decision making and severe regression in form, makes it a smart move for all parties. In truth it's a significant fee far in excess of why I'd expected, with the added bonus of continental clauses so rarely seen in the Premier League. It's a sign of change at Liverpool, with the same clause applied to that of Sergi Canos, whose expected to leave to Norwich for £2.5 million. The Spaniard arrived with great hope, but isn't deemed ready for the wages he's requesting, so swiftly departs with just minutes of first team football under his belt.
Jerome Sinclair's departure for £4 million to Watford, as with Jordan Rossiter (Rangers) and Joao Teixeira (Porto) has shown a distinct change in Liverpool's young player policy. No longer are they paying significant sums to youth, who haven't earn't the wages, or length of contract they demand. None would feature in the managers' plans for the foreseeable future, so it's not surprise that they've left rather swiftly and sharply, to me none will be greatly missed. Whilst part of me wonders what could have been for all three, we need to focus on the coming seasons and only the fittest survive. These players leaving, make both financial and practical sense, for all parties.
Martin Skrtel doesn't survive another season at the club, and it is likely only a few of the old guard will, with Kolo Toure (sheds a single tear) already departed, as his contract expired. A move to Fenerbahce for over £5 million seems all but sealed for Skrtel. Whilst he may not have suited Liverpool, he survived three previous managers, and supporters feared they may see the Slovak retire at the club, it's clear Jürgen felt otherwise, which can only be a positive change for the heart of the clubs defence. A more proactive, aggressive defence is what's required, which recent signings allude to.
Luis Alberto and Joe Allen are both interesting Sevilla. The former survived just one season at Anfield, before being loaned back to La Liga. Without doubt he's talented, an intelligent player, but clearly struggled with the pace of the game. If we receive the £7 million price, it's another good deal and a sign that we're looking at maximum value for all players sold. Joe Allen is a conundrum. He's become adored by a section of the fanbase, but with 12 months left, he holds the power of his fate. It's known he wants to play each week, which likely won't happen under Klopp, as shown last season. Joe holds abilities others in the squad lack, but I think he'll leave if we receive a £10 million, plus offer.
There are others, including those in a bloated defence (which still needs reinforcing), that will need to vacate. Andre Wisdom and likely Tiago Ilori will depart, I'd imagine on permanent deals. Question marks also remain over Connor Randell, Brad Smith, Jon Flanagan and perhaps others. Again, it's a shame but it's just another sign of Klopp's ruthless streak. He'll have patience and time for the younger players with the potential to succeed, but for those slightly older who need regular games, it's either be sold, or perhaps at a push a loan. There really is no need to hold back the careers or even ruin in the case of Ilori anymore. Let them go and forge a career, in a league or at a level more suitable.
It seems Mario Balotelli's hope at redemption lasted less than a week. It's a shame, given his undoubted qualities, but it appears that ship sailed long ago. As with all the others departing I wish him well, I just hope he finds the right club and manager to find some consistency, to show his real potential. None of these players departing don't have qualities to offer other clubs, hell even Bogdan does to a lower league club. For one reason or another, it's just not happened, but non should leave on sour notes, Klopp has been respectful throughout, never dismissive of the effort each player has given.
The sheer scale of those above tell just a small story of the departures required. It's clear that these changes are only the beginning of trimming the squad, which won't just be during this transfer window, but the next one or two, as Klopp looks to increase the competitiveness and quality within the squad. We've been too generous, too patient for players to rediscover form, to make consistent contributions to matches, but that just won't happen any longer. The manager will keep players for just as long as he needs them. Whilst that may sound cutthroat, it's seriously about time.
Financially this will stir debates, as many expect us to spend far in excess of our sales, which are expected to top £100 million, as widely reported. That's all without a potential star leaving, a certain Brazilian still concerns me. Personally I hope we keep the core of our best players within the squad, as we can't afford to lose any, going into the season ahead. It's going to be very competitive league, so our squad development is critical. We're clearly being ruthless with departures, but need to make some final additions to add some quality and depth to the spine of the team. I don't doubt this will happen however, then we'll really start to see what Jürgen can really achieve, with his squad, playing his way.