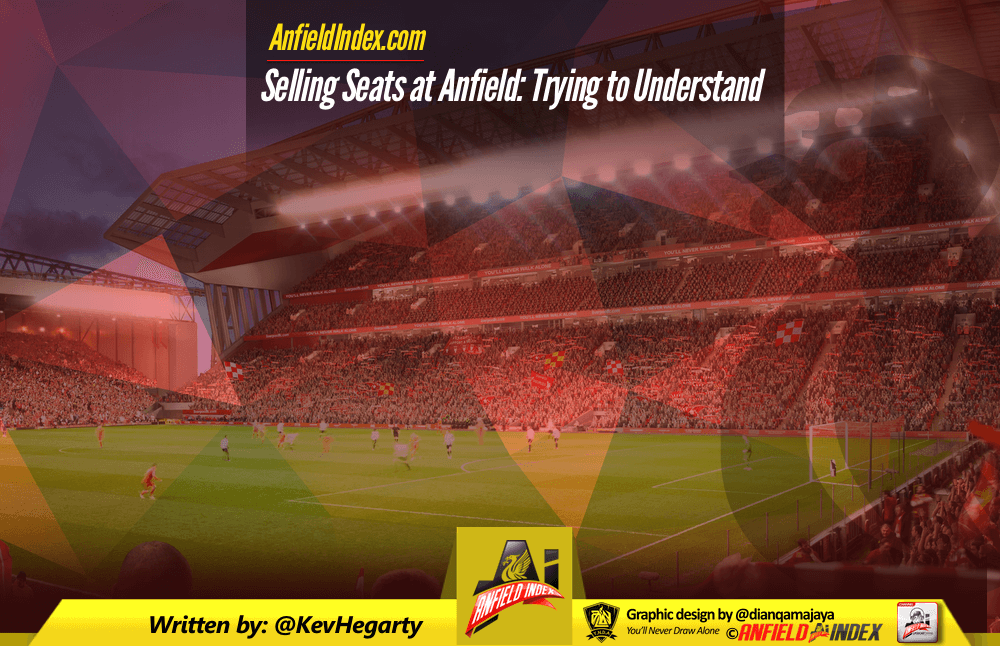 Selling Seats at Anfield: Trying to Understand

I don't really know how to start this but I'm going to go with: I'm trying to understand.
When the news started to hit social media that Liverpool Football Club were selling the seats from the old Main Stand (for obviously too much money), my initial reaction was, "…and?". You see, this type of thing happens in the US every time a storied stadium gets an update or torn down or moved. The seats get sold, the equipment gets sold, hell even the grass gets sold. Maybe I'm jaded, but to me it was nothing new.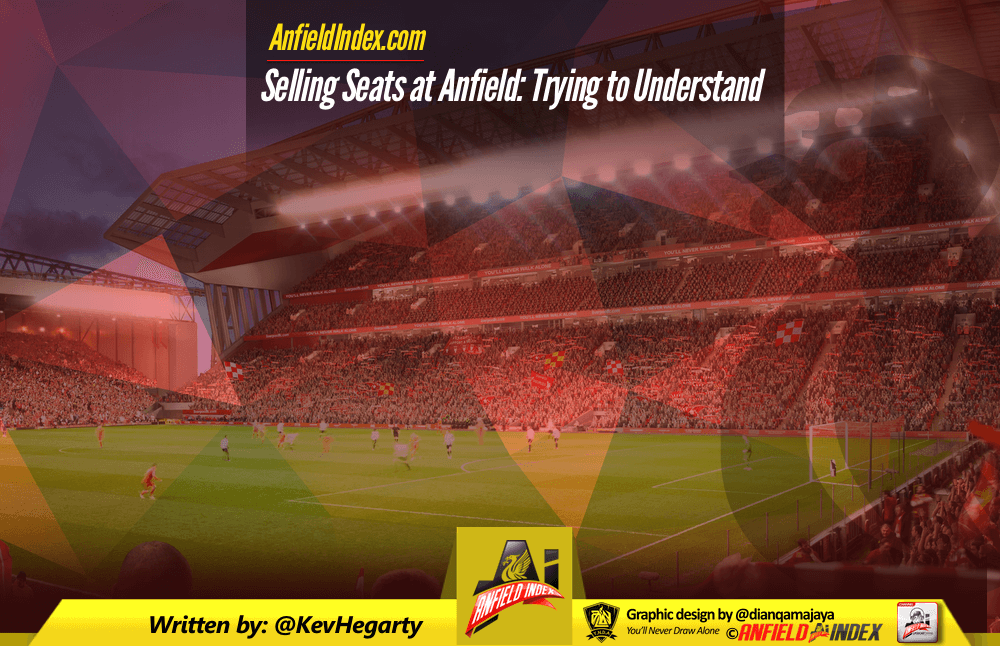 I'm used to the usual level of frustration as a sports fan, especially as a Liverpool supporter. Twitter is my social media platform of choice for sports, and if you took everything said on there seriously you'd probably think Liverpool was in the 9th division getting ready for liquidation. At this time of year, usually it is a knee-jerk reaction to some player we're signing, or not signing, or selling, or not selling. But this time was different. There was a different feel. People were angry. Disgusted even. I hadn't seen anything like it since the new ticket prices came out awhile back.
Season Ticket Holders, who have been going to Anfield for years, decades even, were upset that the seats they've sat in and supported their team in were being sold for an exorbitant price. And, to add insult to injury, the Season Ticket Holders were being offered them before the general public for a "discount". And by "them" I mean "a seat", not theirs. Just "a seat". From what I've seen and read, the answer was a resounding "thanks, but no thanks" (although not always that pleasantly put).
They don't want to pay for someone's seat. They want their seat. The one they've sat in, cheered in, cried in, punched in frustration. They wanted their seat back at the end of the season, after the last home match. They wanted the ability to take it then. Or maybe even be offered it later by the club. Anfield wouldn't need it anymore. The ground was getting an upgrade. So why not let the people who've paid to sit there for so long have them? The people whose fathers and mothers and uncles, aunts, and cousins have sat there. Whose grandparents might have sat there. The seats get passed on for generations sometimes. It's a tradition almost. They're tangible memories in some cases. So why not let the fans have them?
I don't know the answer to that. And I'm only now beginning to understand the question. But before I pull my digital pitchfork out, let me explain why I was (am?) so indifferent about it.
Fenway Sports Group isn't perfect (understatement, Kev). They've made more than a few mistakes over the past 5+ years. Some people hate them, some love them. I'm somewhere in between, as I am with all sports team owners (not that any of you asked). This was probably another gaff. Maybe a smarter decision would've been to offer the people that sat in them the actual seats they sat in. Who knows? Or maybe, if they couldn't get around selling them, donating all the money earned to support a local youth team or something. Good PR goes a long, long way with sports fans. But I wouldn't say they were wrong in not allowing people to take them after the last home match (although I'm assuming some people did anyway, and good on you if you got one). And I wouldn't say they are wrong to be selling them now. They own them when it comes down to it. But again, this happens all the time in US sports, so maybe that's where my thinking is flawed.
For me personally, season tickets holders at Anfield are privileged (I hate that word, but it's the only one I could think of that fits). They pay for that privilege of course, and entirely too much in my mind (another FSG issue). But they still are. Almost every other week they get to see Liverpool play football at Anfield. Just think about that. Almost every other week. And have done for years and years and years in some cases. That is more than I can say for almost every other Liverpool supporter on Earth. Literally. (And not in the annoying millennial sense – actually 'literally'.)
Even if I were to move back to Liverpool, I could try for the next 20 years and still not get a season ticket. It's hard enough to get a ticket to one match when I'm back, let alone all of them. There are lots of season tickets out there, but they get passed from fathers and mothers to sons and daughters. Which, I have to say; I would do given the chance. I'm sure my dad would've gladly given his season ticket to me, had he not moved to the US. And I would've passed it on to my son or daughter if they were interested, and not given it a second thought. But I'm asking you now to give it a second thought. There are millions of us (literally) who watch Liverpool every week at all hours of the day and night. Of course those seats you have spent hours upon hours sitting in mean a lot to you…but you were there. Actually there.
There are lots of fans who will gladly pay what the club is asking for those seats. They are collectors' items now, as gross as that may sound. And they'll mean a hell of a lot to whoever purchases them. It will be tangible representation of the club they love to the lucky buyer.
But I would put money on them giving up a purchased seat in a pretty box for the chance to sit on anything inside the ground.
I expressed some of these sentiments today on Twitter (I know, terrible choice), and I was told I should "go and support Chelsea" because I "clearly don't understand what this club means to its people", which I found quite funny actually, but it did prompt me to think on it and start to pen this.
Maybe I'll never understand.
Anyway, why haven't we signed Götze yet?